Space is typically a really popular topic with toddlers, including ours, so we put together a series of space sensory bins to help bring the solar system to life! The space theme lends itself to so many fun sensory bin set ups from moon sand to play dough to the planets making for engaging set ups with lots of learning opportunities.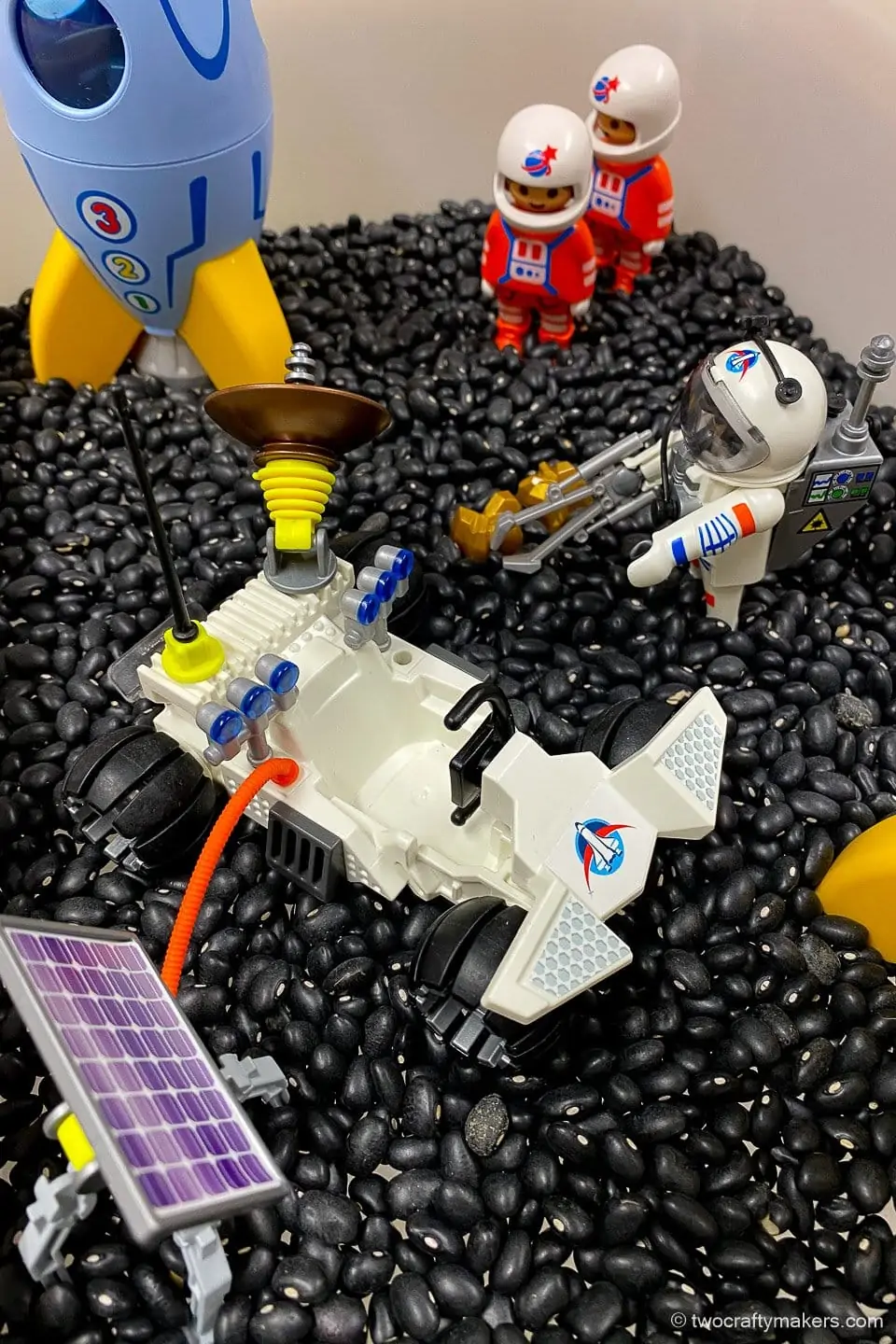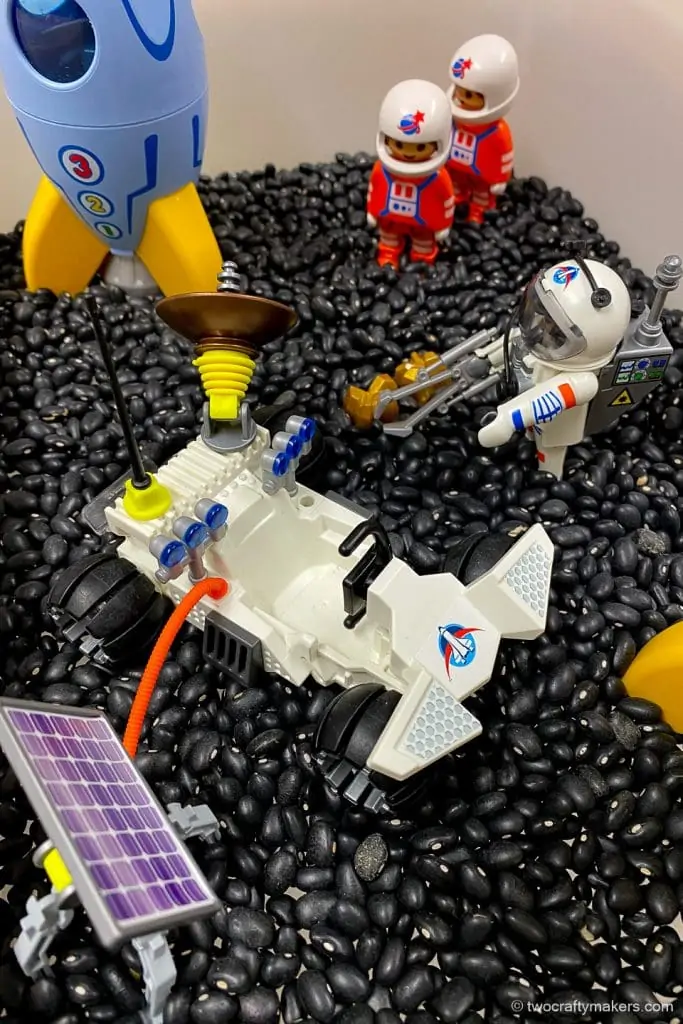 Space Sensory Bins
Sensory play is a fantastic tool to encourage kids to explore, engage and create. Our space-themed sensory bins are focused on developing a range of skills including:
Fine motor skills: incorporate funnels and scoopers to allow toddlers to transfer small sensory fillers and improve muscle strength in their hands
Language and vocabulary skills: our two year old learned so many new words through our space sensory bin play. He is starting to understand the concept of planets, that it's not possible to drive to the moon and his favorite new word is 'astronaut'!
Creative skills: the open ended play opportunities are endless. From rocket launches into outer space to astronauts exploring the moon we love listening in on our toddler's space tales. We've even had a doctor fly a rocket to the moon to check on the health of an astronaut!
Independent play: our toddler has engaged in some great independent play sessions with some of the taste safe space sensory bins. His play sessions have lasted up to 45 minutes and have been fantastic to observe.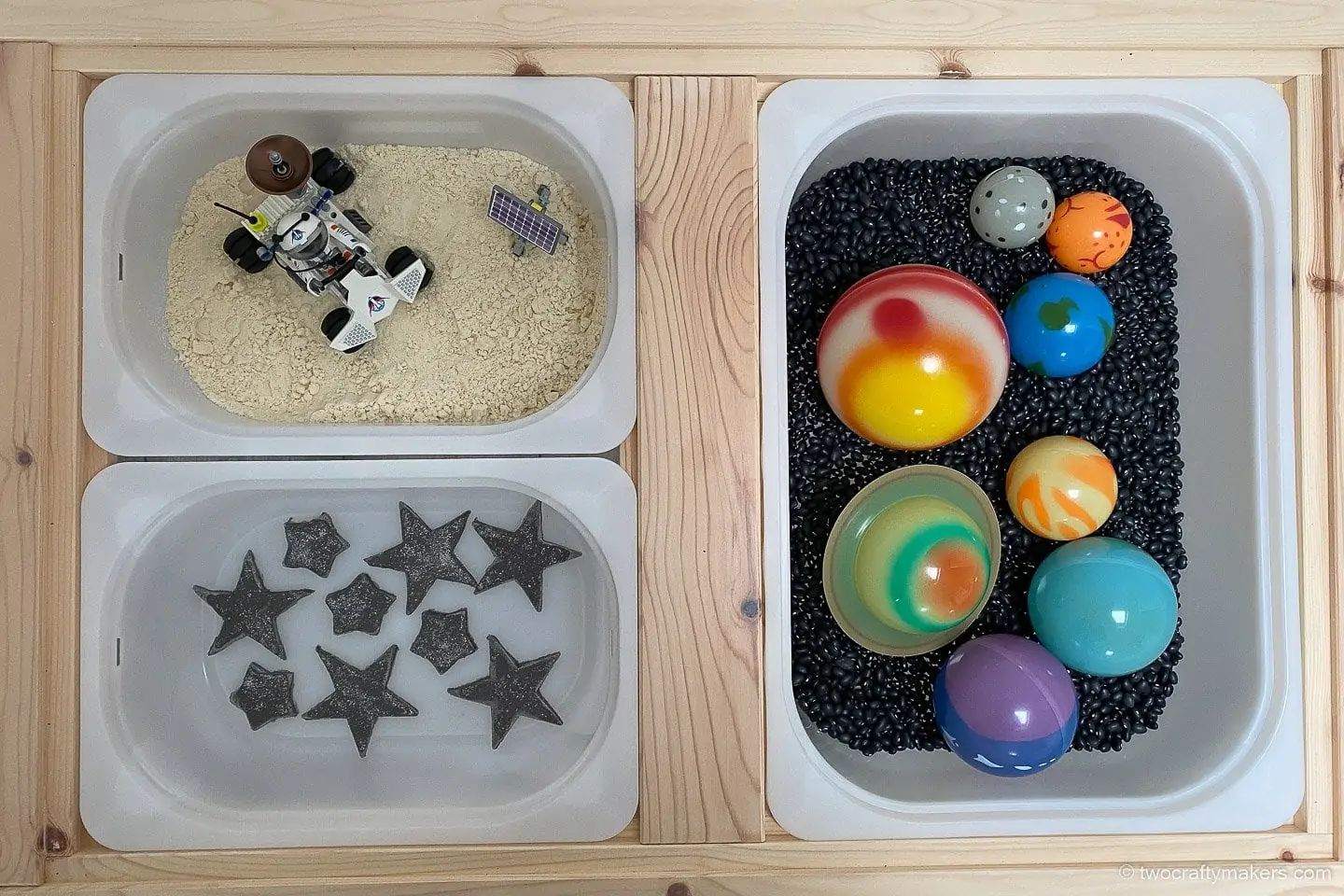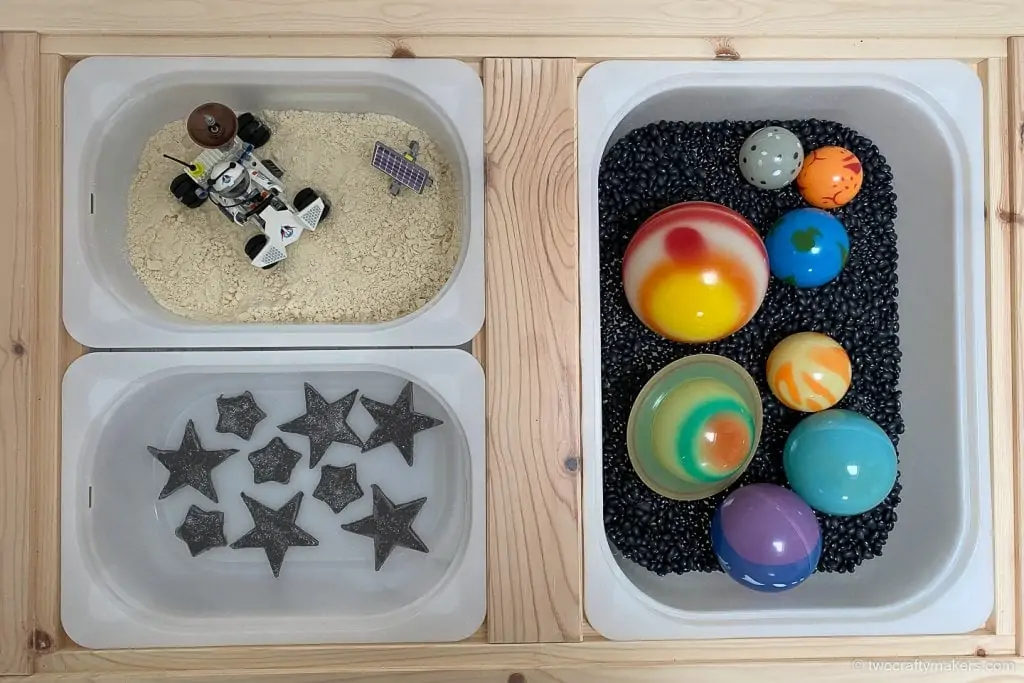 5 Easy Space Sensory Bins
We've included our 5 favorite space sensory bins which are relatively easy to set up and were mostly created with ingredients already in the cupboard and playroom! Our space sensory play is still a work in progress so we will make sure to share any new space sensory bins which our toddlers enjoy!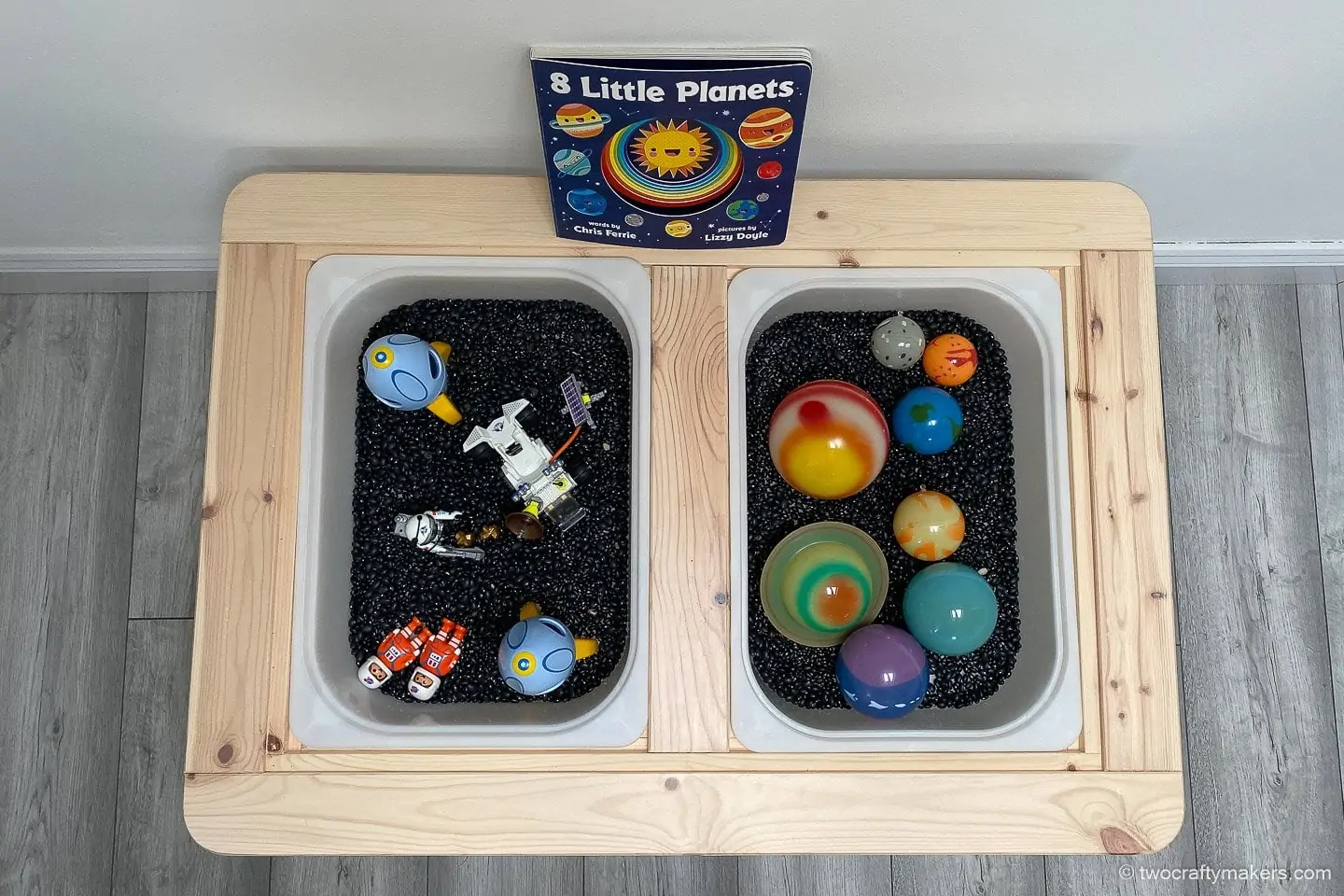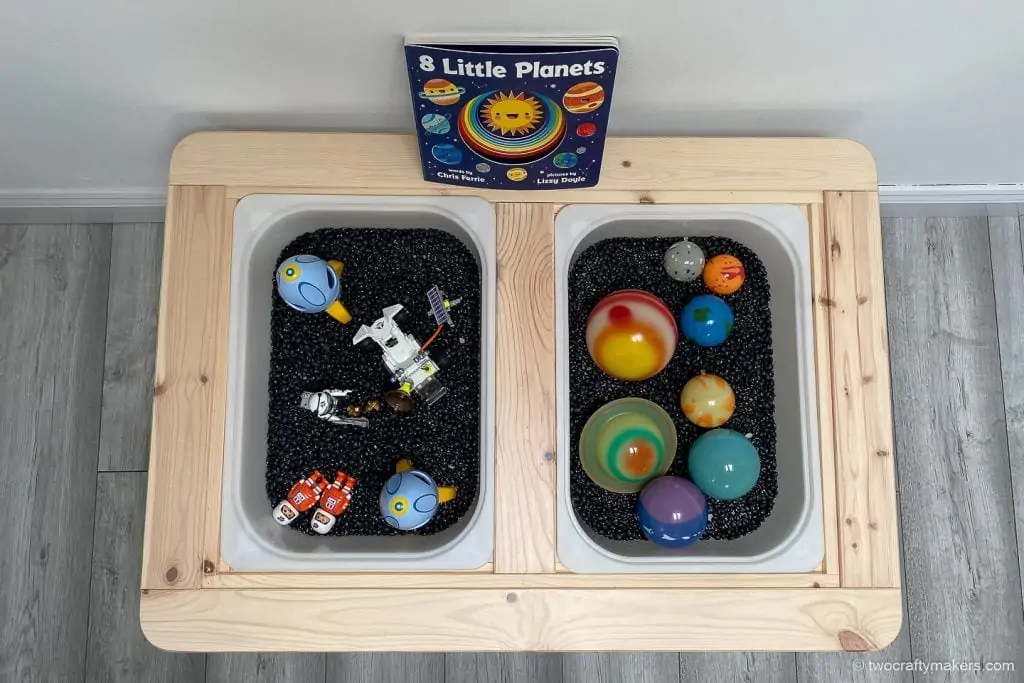 Space Sensory Bin Essentials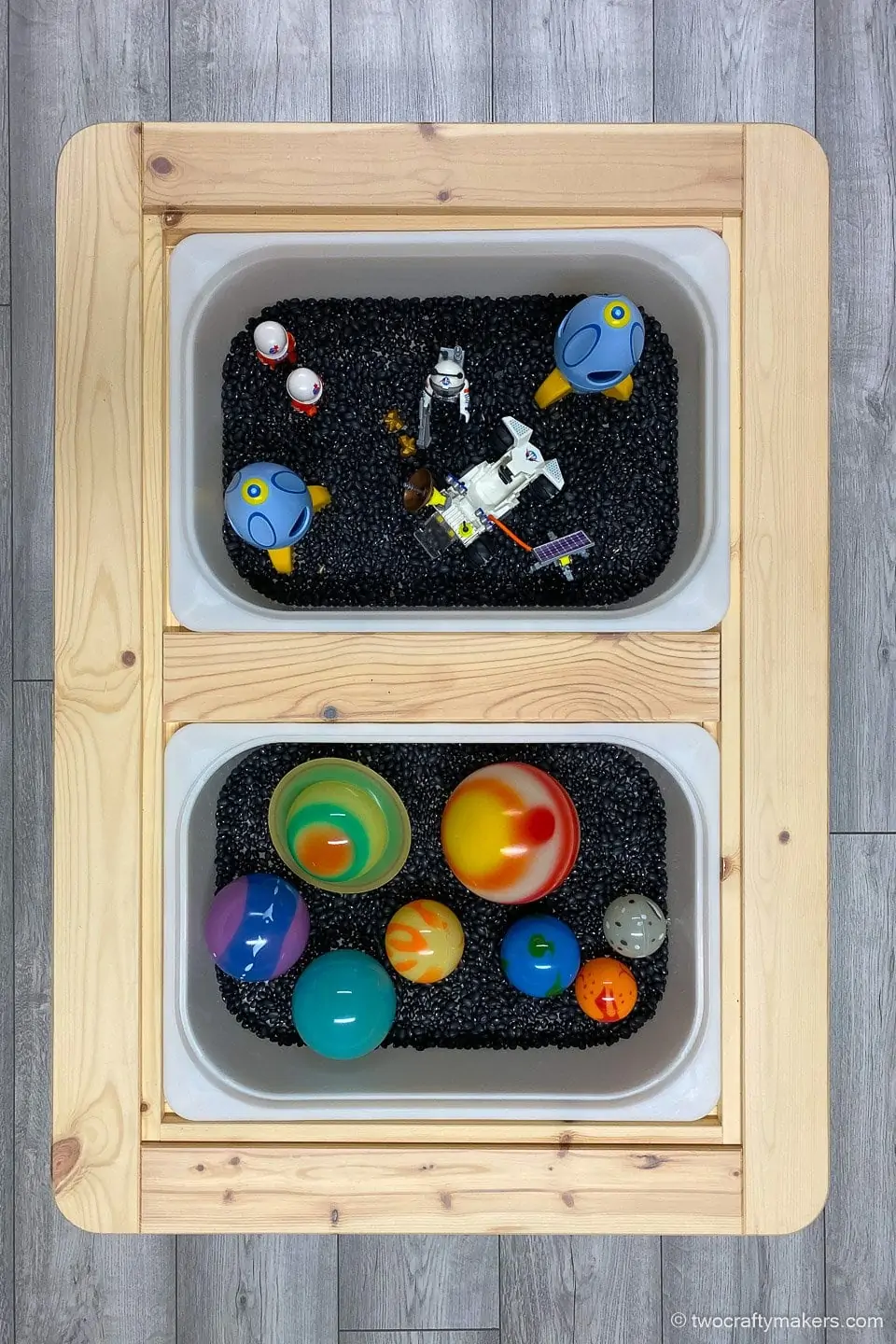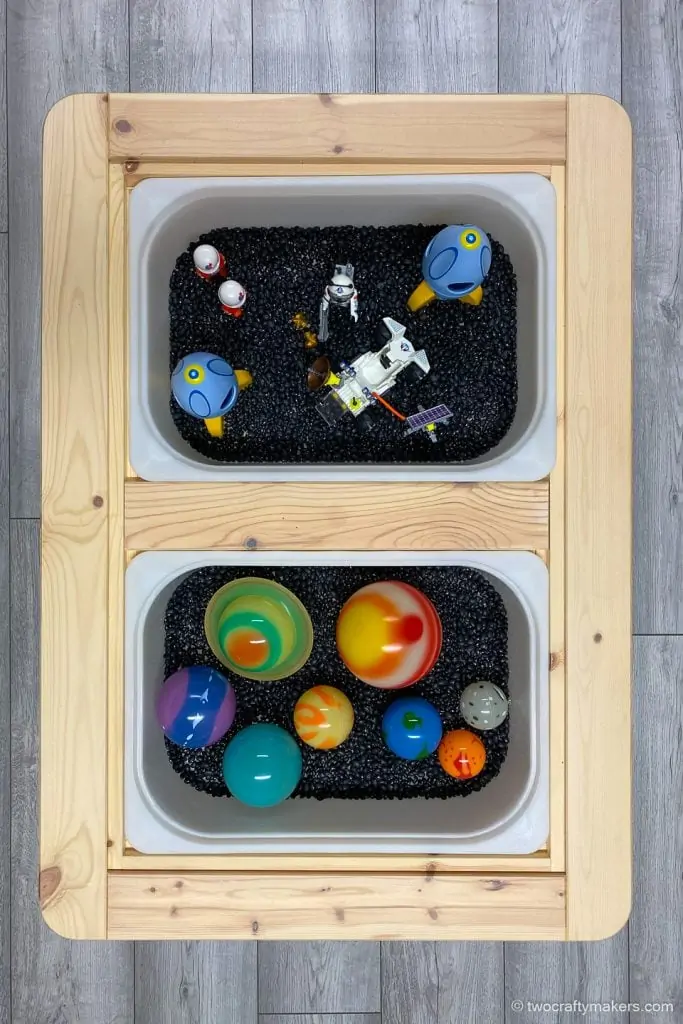 Sensory Table
We use and highly recommend the Ikea Flisat kids table for all our sensory bins. It's a fantastic addition to your playroom and is super versatile. While it's available from Ikea directly, it's usually out of stock. Luckily you can usually grab one on Amazon – No products found.
No products found.
We also use the Ikea Trofast bins for sensory play. They're easy to clean and our kids love them – check prices now!
Space Sensory Bin tip: we used the Ikea Flisat table for all our space sensory bin play. Don't worry if you don't have sensory table, you can use craft trays or storage bins to the same effect. If you have an Ikea Flisat table then check out our Ikea Flisat table hacks and, our favorite, the Ikea Lego table hack.
1 | The Planets
A planet themed sensory bin is a great introduction to the solar system and space. Our planets sensory bin has just two ingredients:
500g of black beans
Model planet set
Space Sensory Bin tip: uncooked black beans are NOT taste safe so you will need to closely monitor this sensory activity. Our two year old is really good with not putting things in his mouth or up his nose (so far!) but our one year old is only allowed to play with this sensory bin when we are watching closely for any stray beans making their way towards her face!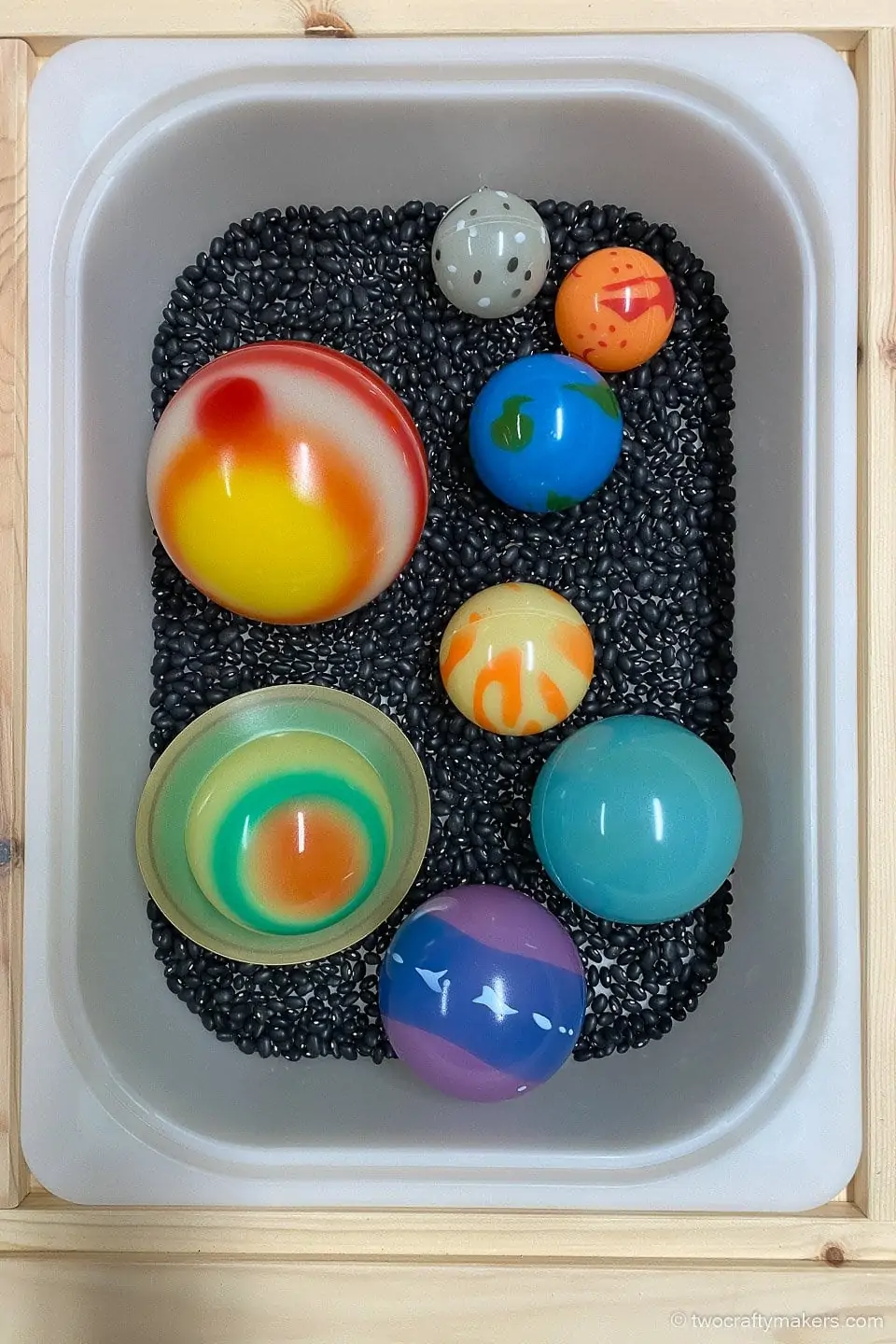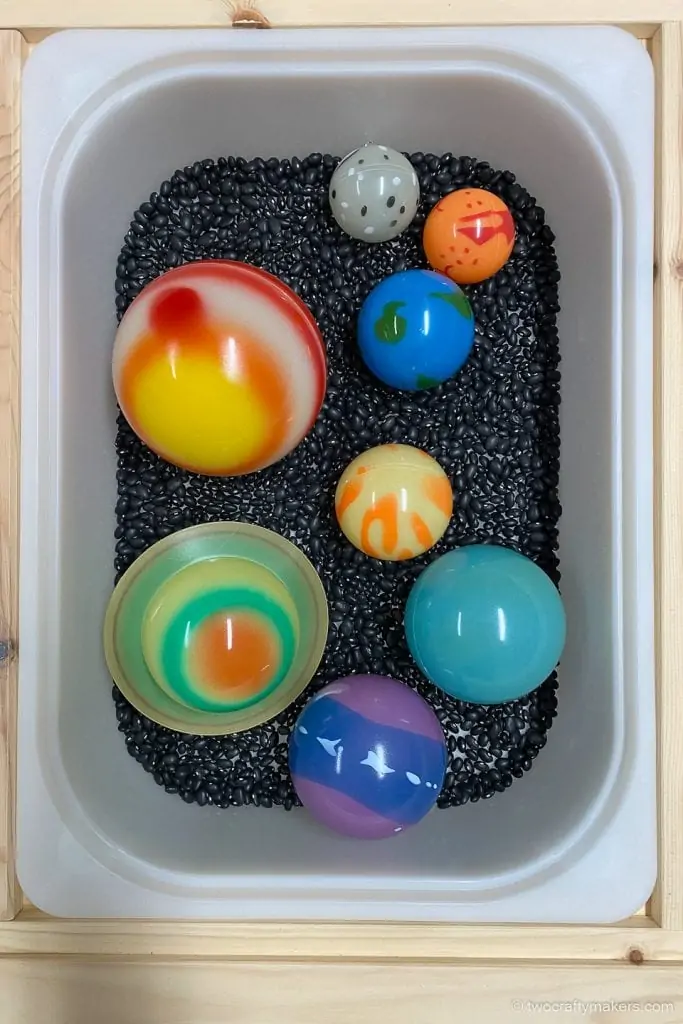 8 or 9 Planets?
We often accompany our sensory bins with some toddler appropriate books and opted for '8 Little Planets' to read alongside our space sensory bin. I was surprised to learn that, in 2006, Pluto was reclassified as a dwarf planet and there are now only 8 planets in the solar system. Who says you can't learn from toddler sensory play?!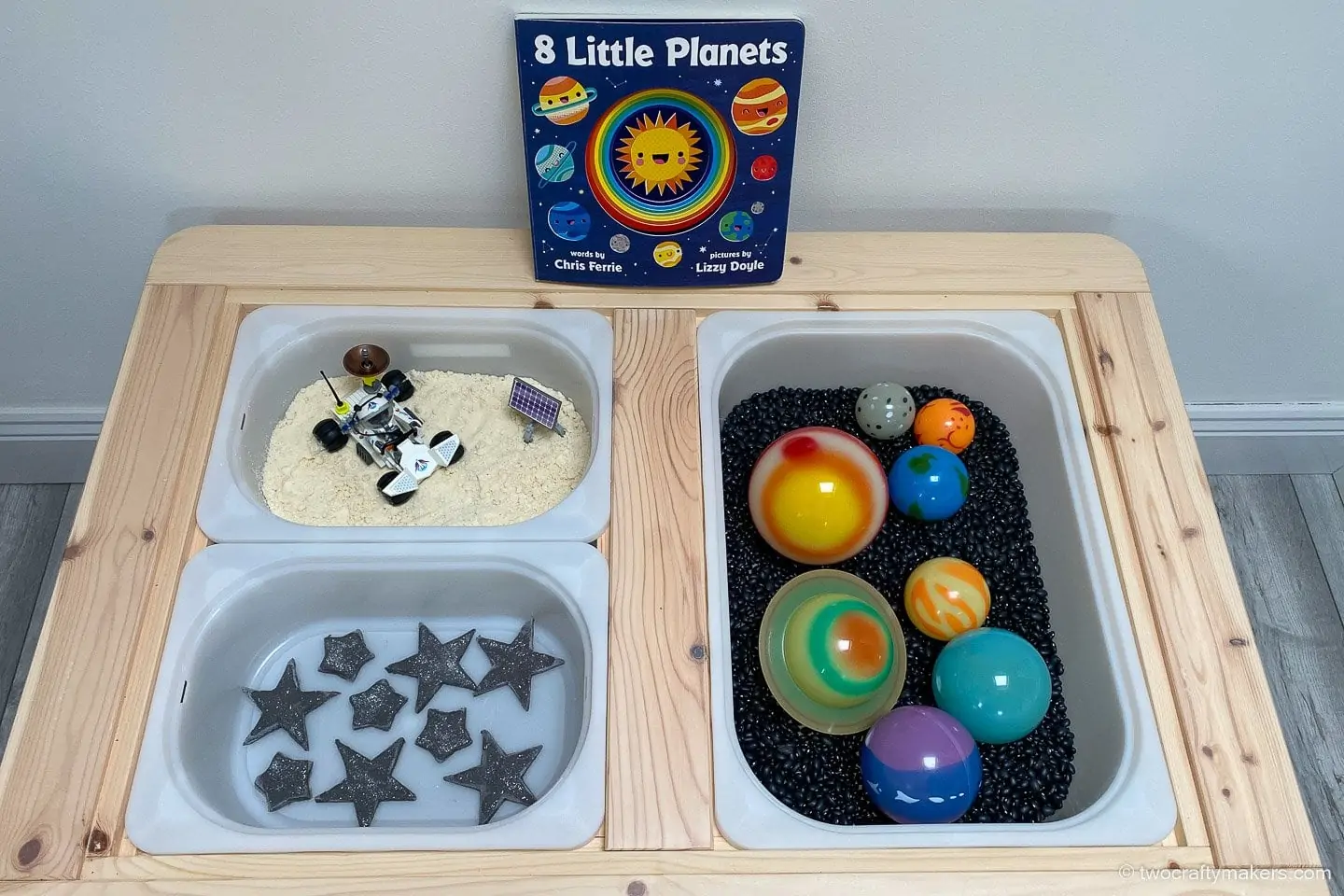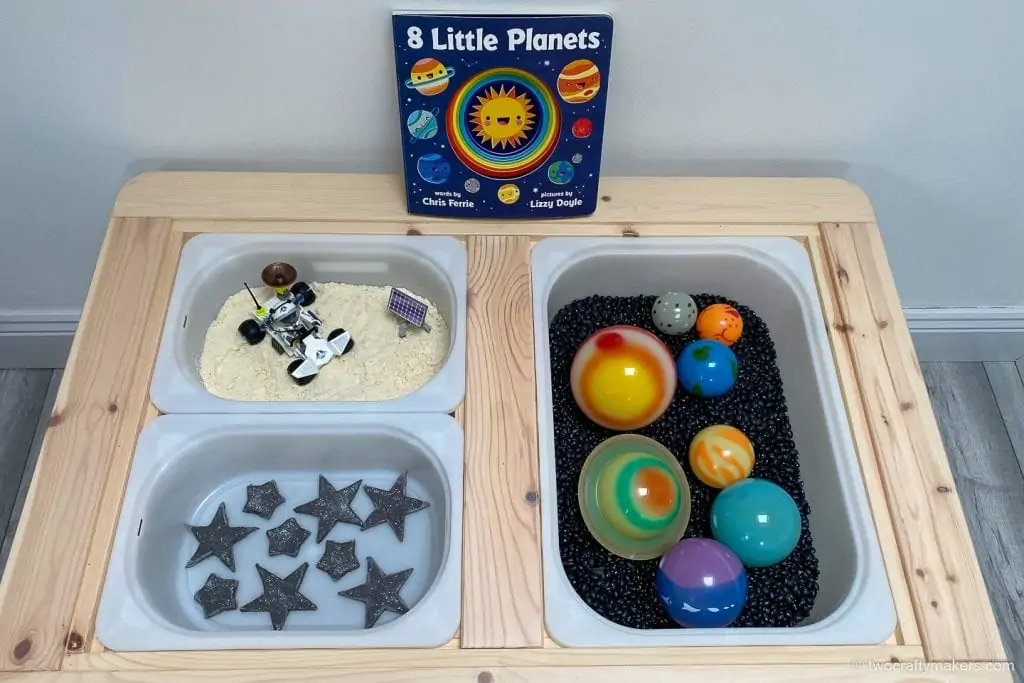 2 | Play Dough Galaxy
The play dough galaxy tray is a really simple space sensory bin which can be created with regular or DIY play dough:
Space colored play dough: black, purples and blues work really well for space themed play dough.
Space Sensory Bin tip: we made our play dough from a quick mix of some cupboard staples (flour, vegetable oil, cream of tartar, salt and food coloring) and added some glow in the dark stars for a space effect. The recipe is taste safe and always goes down a treat with our toddlers.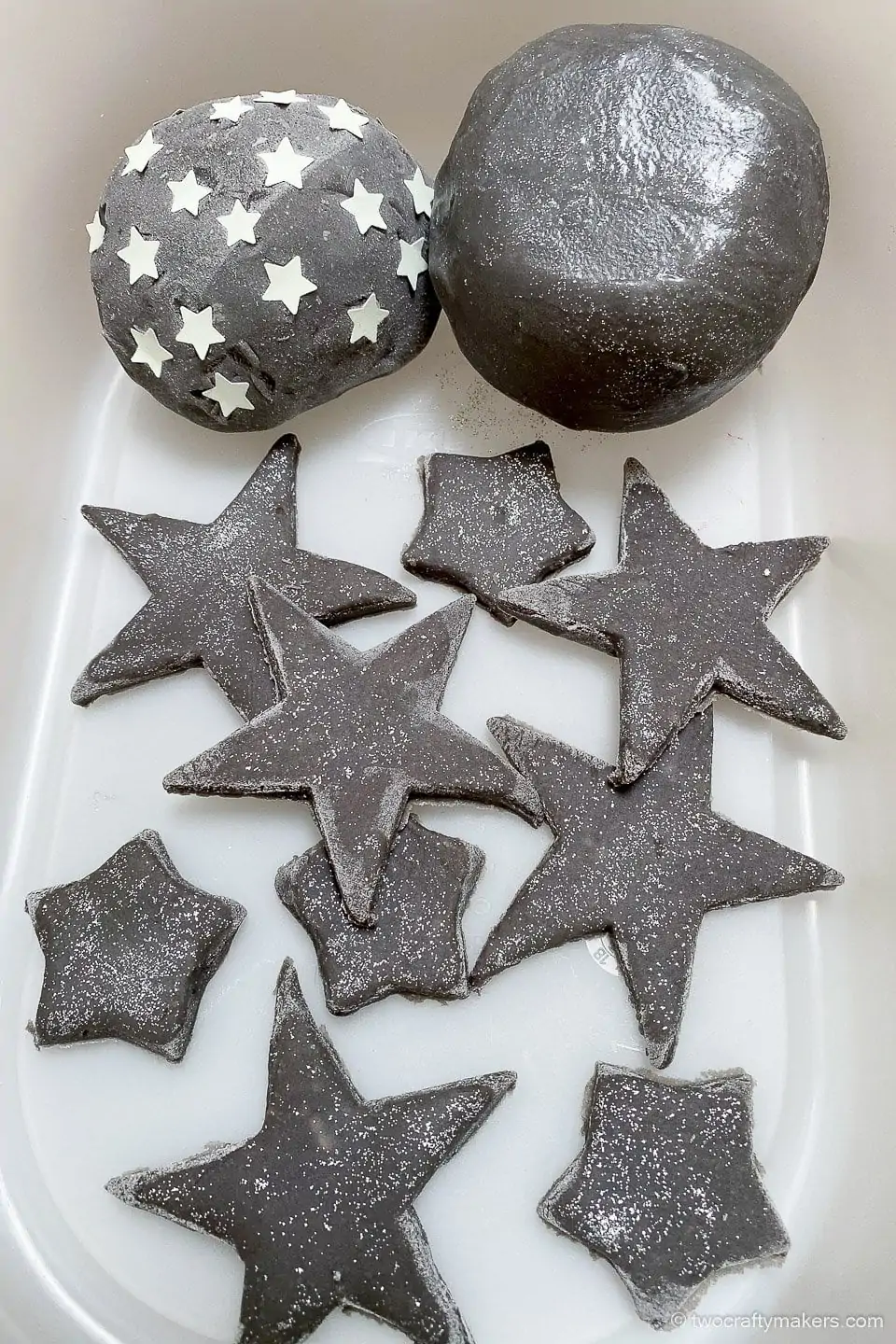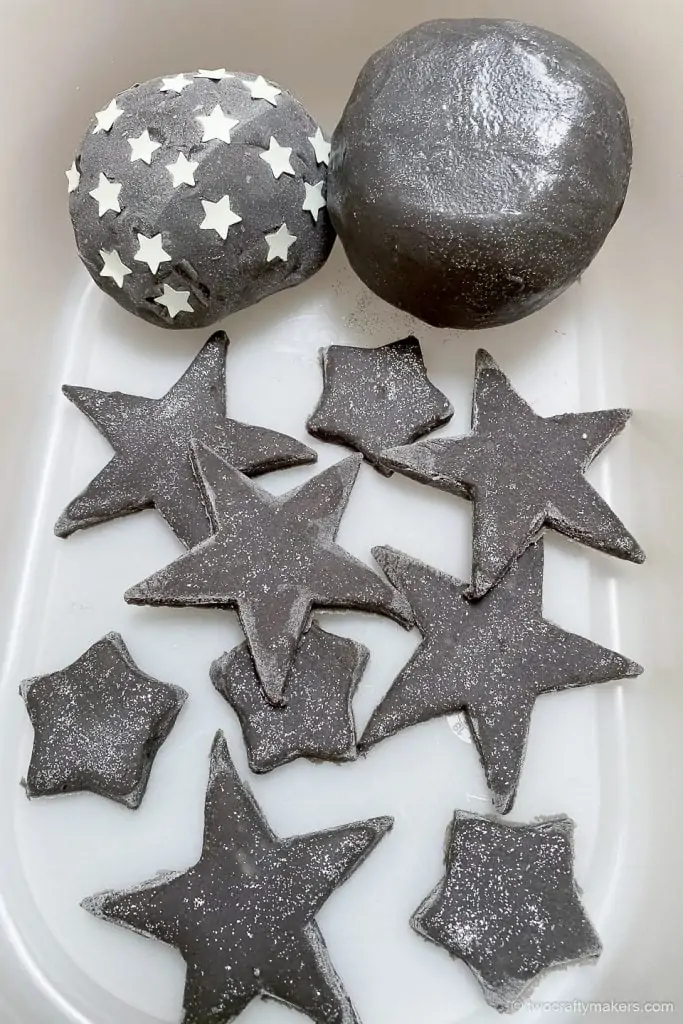 3 | Landing on the moon
Sand is one of the most popular sensory bin fillers with our toddlers and creates endless play opportunities. Again, you can use regular play sand or make your own.
Sand: we make our own DIY moon sand/homemade sand and the recipe is taste safe. The great thing about moon sand is that it is so easy to make: it requires just 2 cupboard staples, flour and oil.
Space play sets: we used our Playmobil 1.2.3 Rocket with Astronaut (age 1.5+) and our Playmobil City Action Space Exploration set (age 4+) with an astronaut, space buggy and satellite.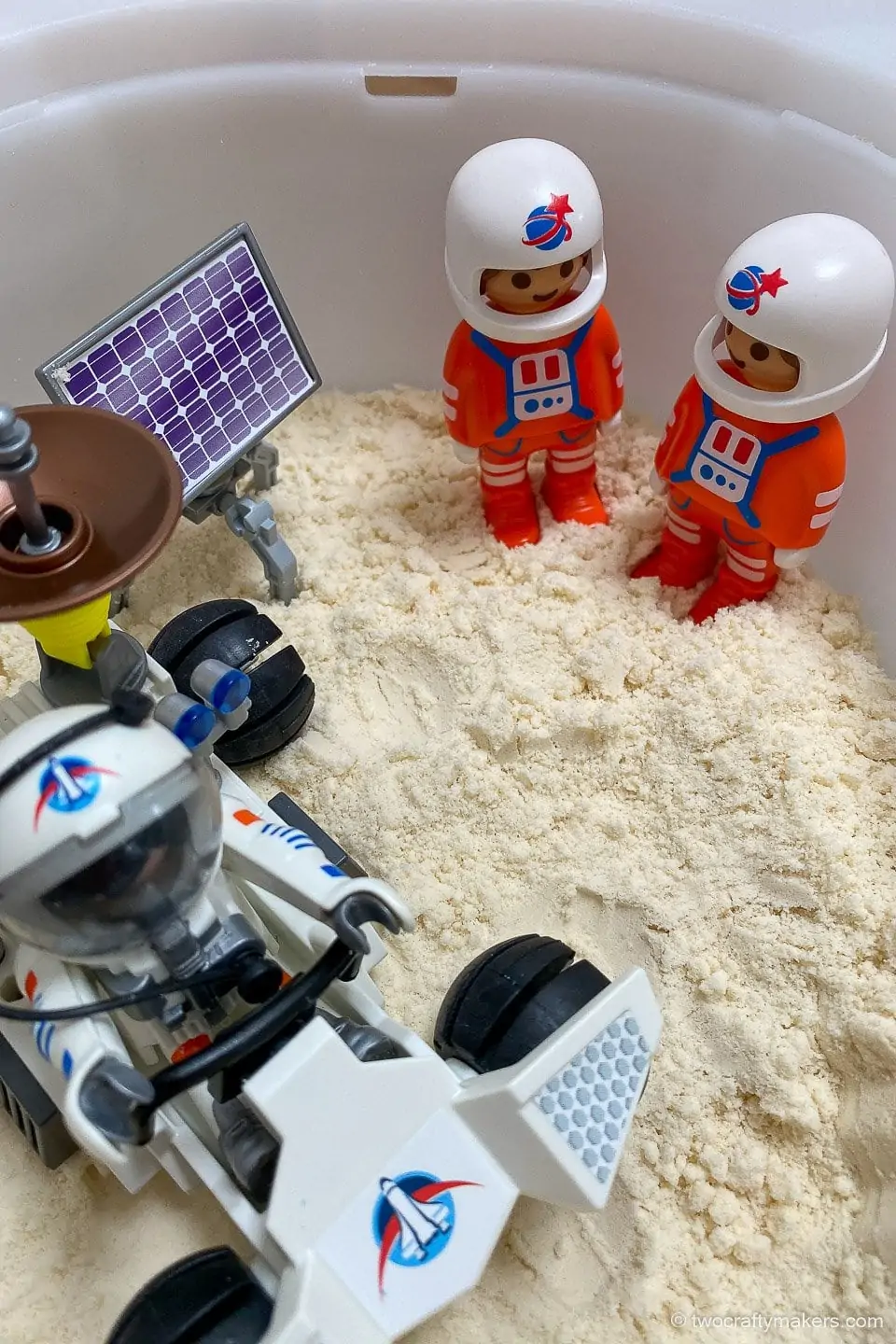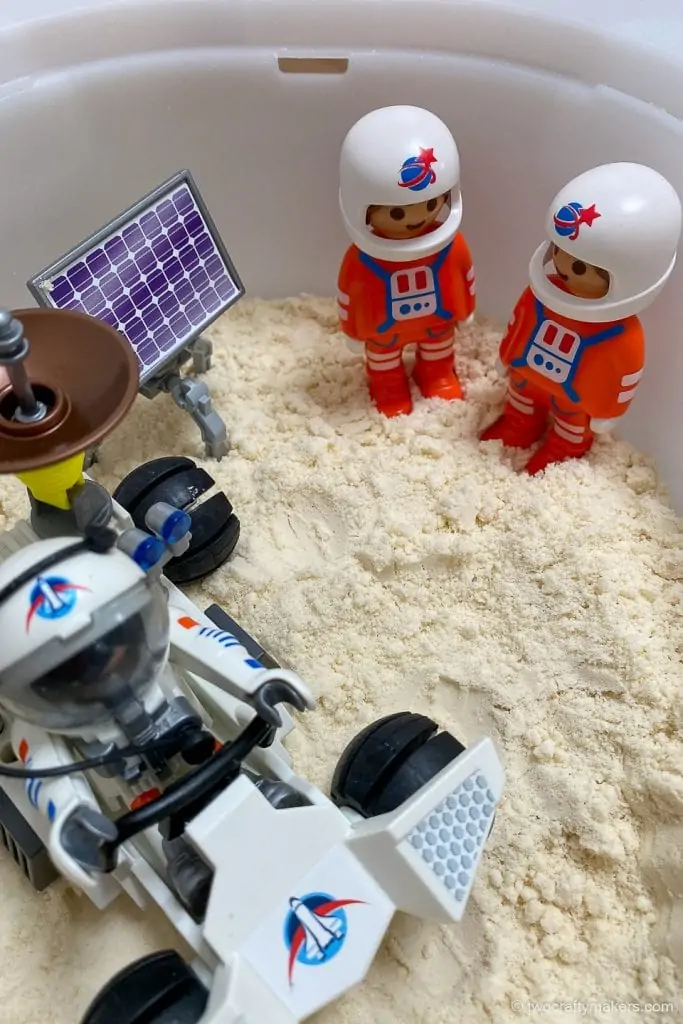 4 | Space Colored Rice
We experimented with some other sensory bin fillers in some space themed colors. Colored rice is always a favorite as were our space blue chickpeas which we used for a rocket launch scene.
Colored Rice: uncooked rice can be colored with either food coloring or non toxic paint. Note, uncooked rice is toxic so this is another activity to monitor very closely to ensure none of the ingredients are eaten.
Wooden scoops and bowls: a wooden scoop set and bowls works really well with a small ingredient like rice.
Space Sensory Bin tip: we find rice to be a really messy sensory bin filler! If you want to minimize mess then put a crib sheet on the table so it goes under the trays and catches spillages. You can also put a sheet under the tray so you can scoop everything up at the end.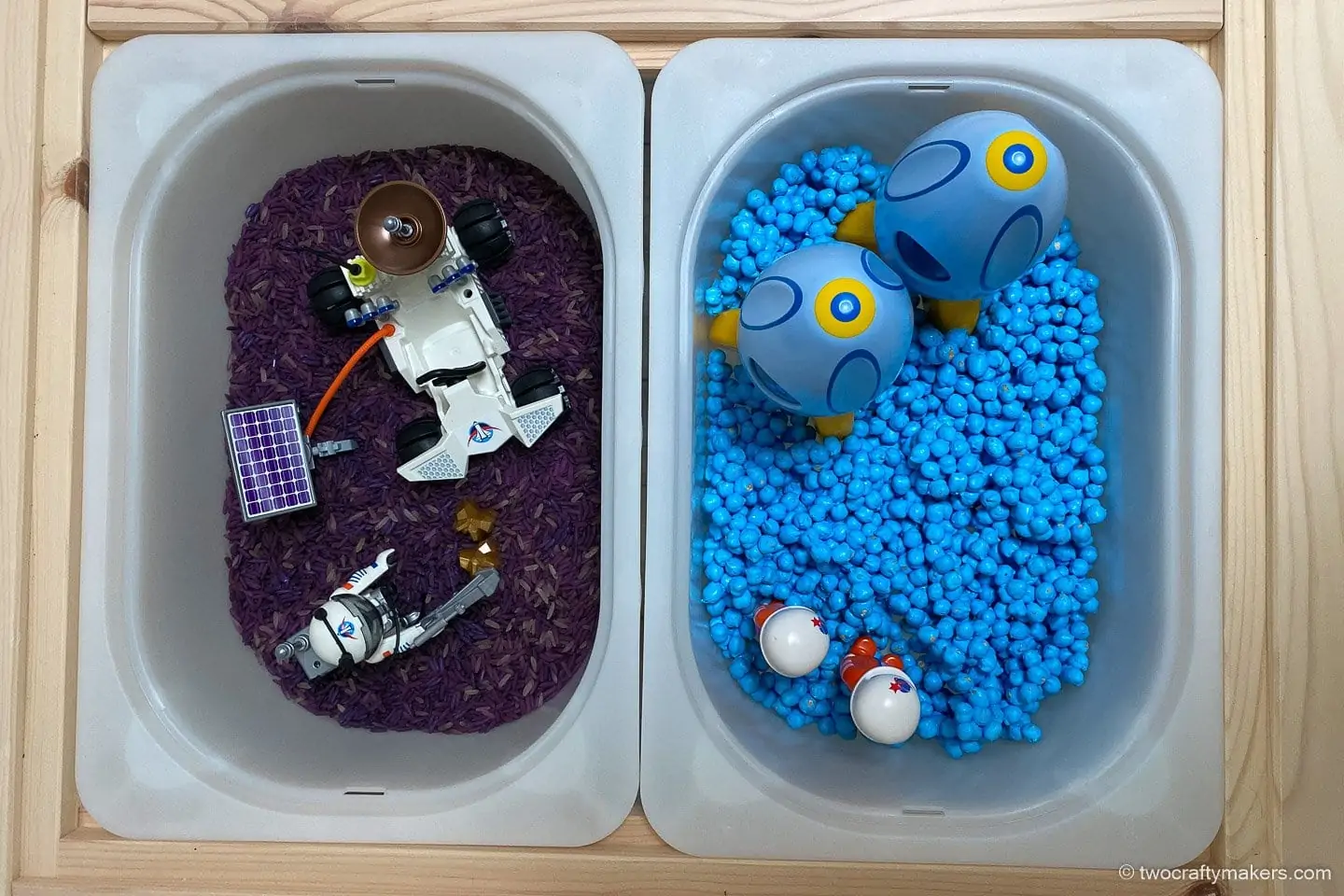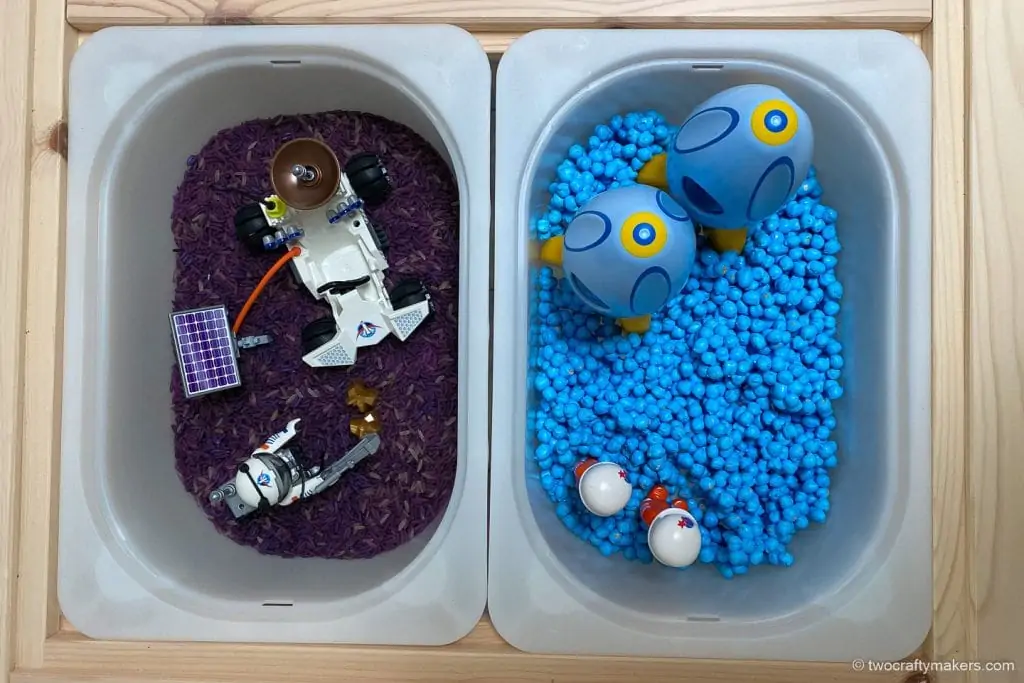 5 | Chickpea Rocket Launch
Chickpeas are another great sensory bin ingredient and we used some blue paint to set the scene for a rocket launch to outer space:
Colored chickpeas: uncooked chick peas can be colored with either food coloring or non toxic paint.
Sensory Bin tip: Note, uncooked rice and chickpeas are toxic so this is another activity to monitor very closely to ensure none of the ingredients are eaten.