If your kids love Lego and you have an Ikea Flisat table in your playroom then this Ikea Lego table hack is perfect for creating a DIY Lego table. This Ikea Lego table hack has everything you need for your kids to build and create their Lego masterpieces and it even incorporates storage for their Lego pieces.
Our kids love their Ikea Lego table and use it every day. It has brought so much fun to our playroom and we wanted to share our step by step guide for creating your own Ikea Lego table so you can get to work on this Ikea hack!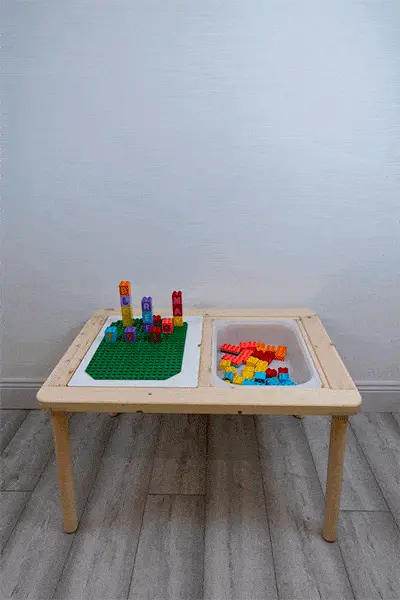 How to Make an Ikea Lego Table
This Ikea Lego Table is incredibly easy to make and, if your kids are already Lego fans, you will likely have almost everything you need for this Ikea hack. We used a Flisat to create our Ikea Lego table as its easy to incorporate storage but you can also use an Ikea Latt children's table if you already own one.
Ikea Lego Table Hack
We've included all the materials and a step by step guide to build your own Ikea Lego table.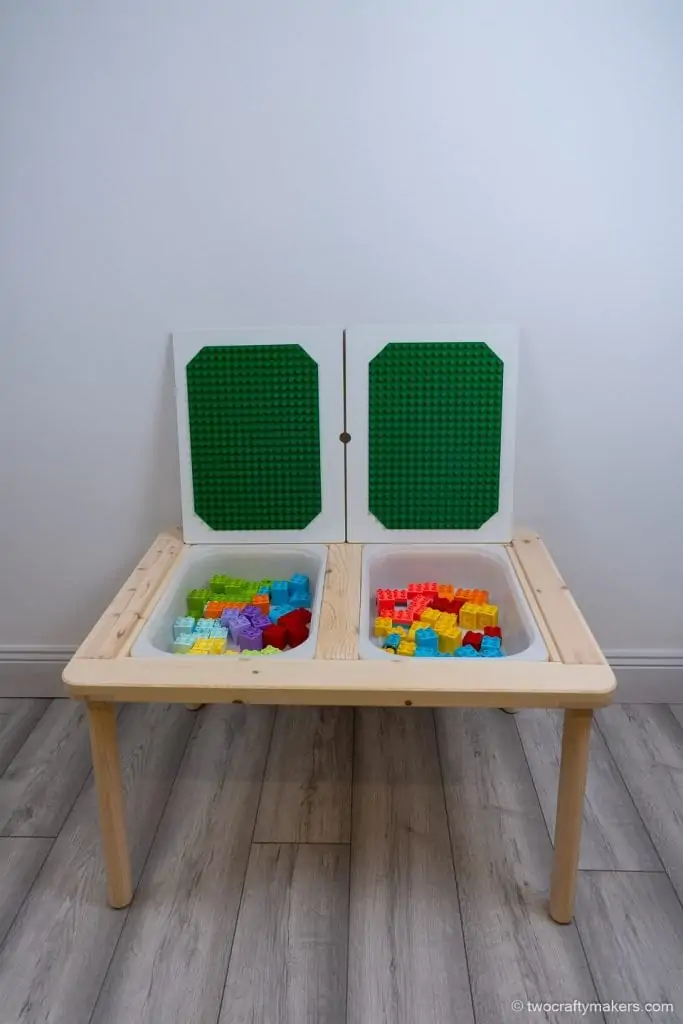 Ikea Lego Table Hack: What you'll need
Ikea Lego table hack tip: our toddlers use Duplo blocks so we used Duplo base plates. If your kids are using Lego blocks then purchase Lego base plates instead. We've found that Lego base plates are available in a wide variety of sizes while there is only one Duplo base plate measuring 15″ x 15″ (38.1cm x 38.1cm). You can use a Lego plate for Duplo blocks but we don't think the Duplo blocks lock in as neatly.
Ikea Lego Table Hack: Step by Step instructions
Follow these instructions to create an awesome Ikea Lego table:
Ikea Lego Table hack tip: we recommend cutting one of the plates first and checking the fit on the Flisat. When you are happy with the cut of the first base plate you can easily replicate on the second piece.
Step 1: Size the base plate
We sized the base plate by placing the Duplo/Lego base plate on top of a Trofast storage box to determine the number of studs we needed to match the Trofast storage bin width. The dimensions of the Trofast storage bin are 42 x 30 x 10 cm/ 6.54 x 11.81 x 1.18 but there are some curved corners that you will need to size to.
Ikea Lego Table Hack: we cut our 15″ x 15″ (38.1cm x 38.1cm) Duplo base plate to have a width of 17 studs (13 full length rows and 2 stud width diagonals on each corner). We didn't need to cut for length as the base plate fit perfectly length wise.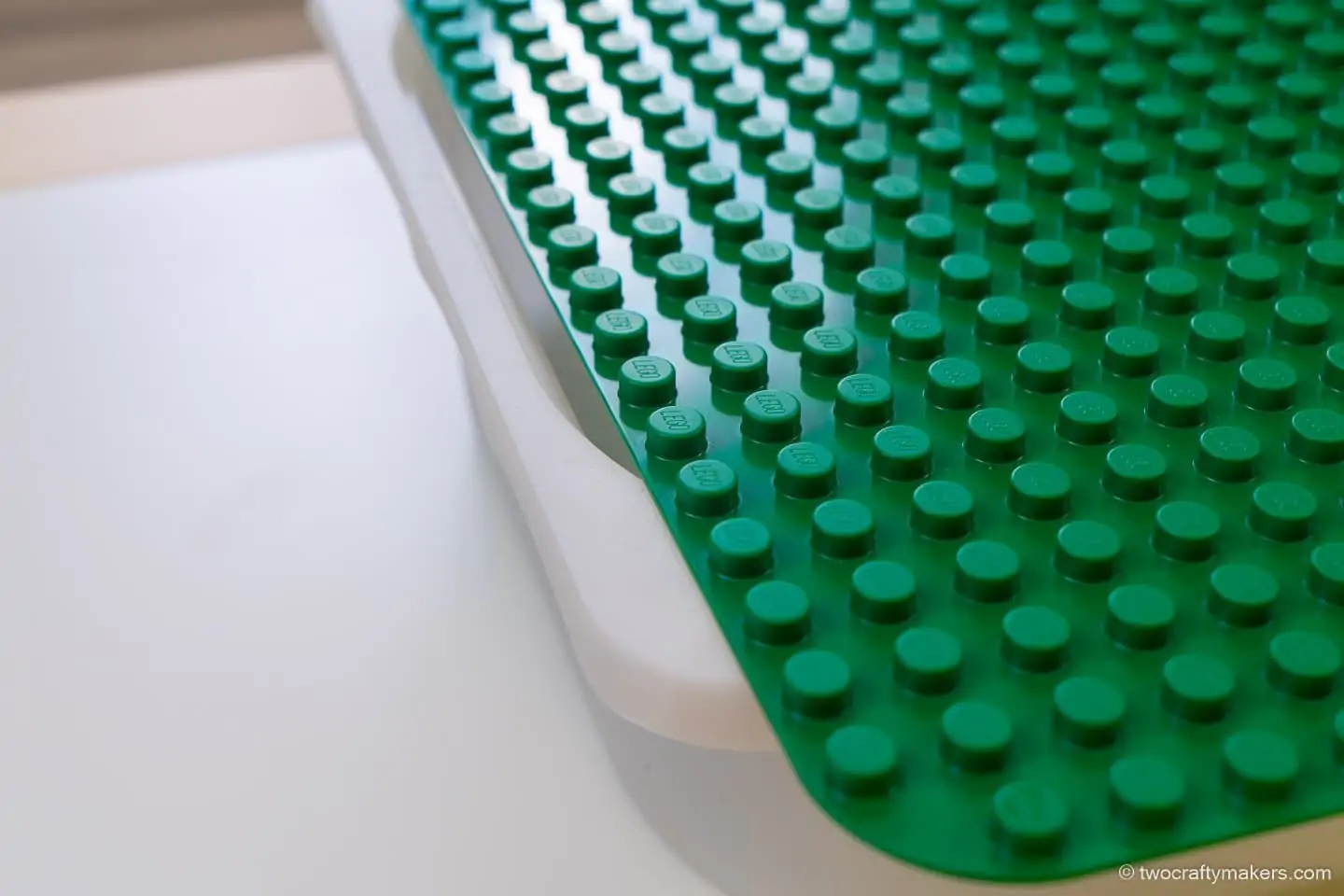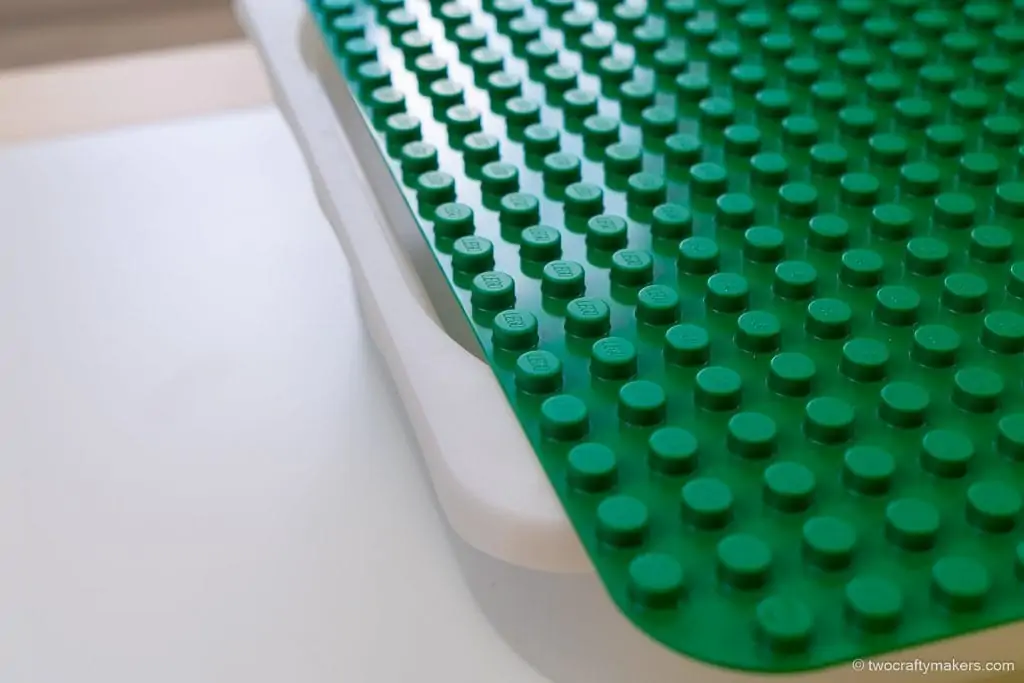 Step 2: Cut the base plate length ways
Having determined the width you need (it's easiest to count the number of studs required) then mark where you are going to cut with a line of narrow Duplo pieces. These narrow pieces make the base plate super easy to cut.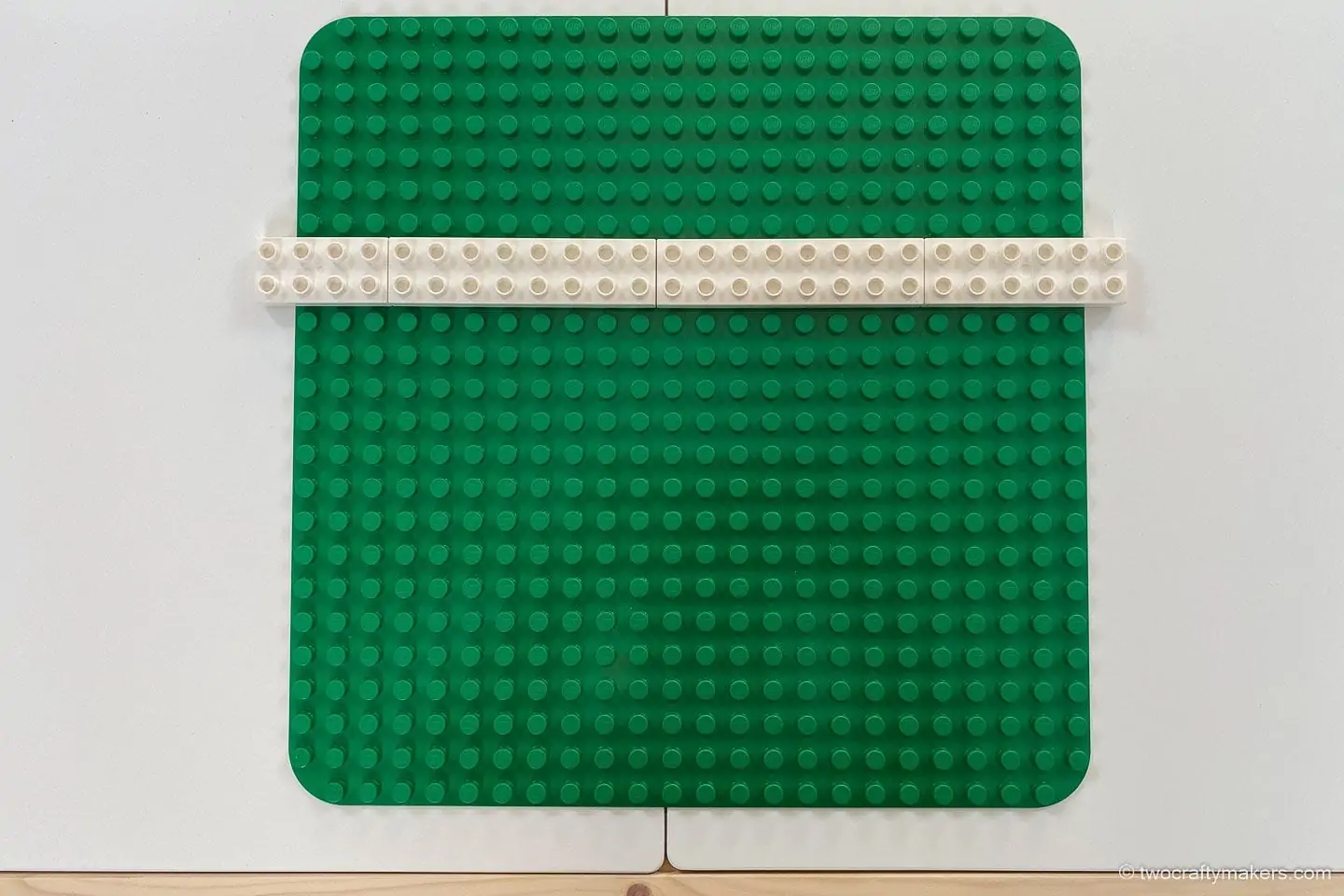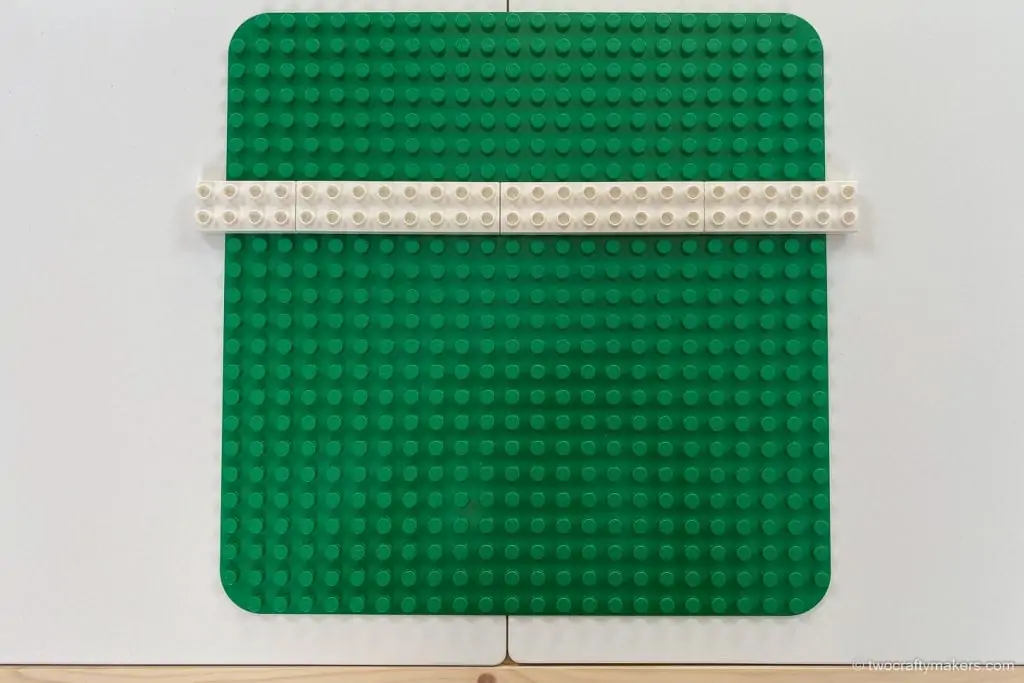 All you have to do is score along the Duplo pieces with your box cutter once or twice and then bend the plate backwards and forwards until it snaps in two.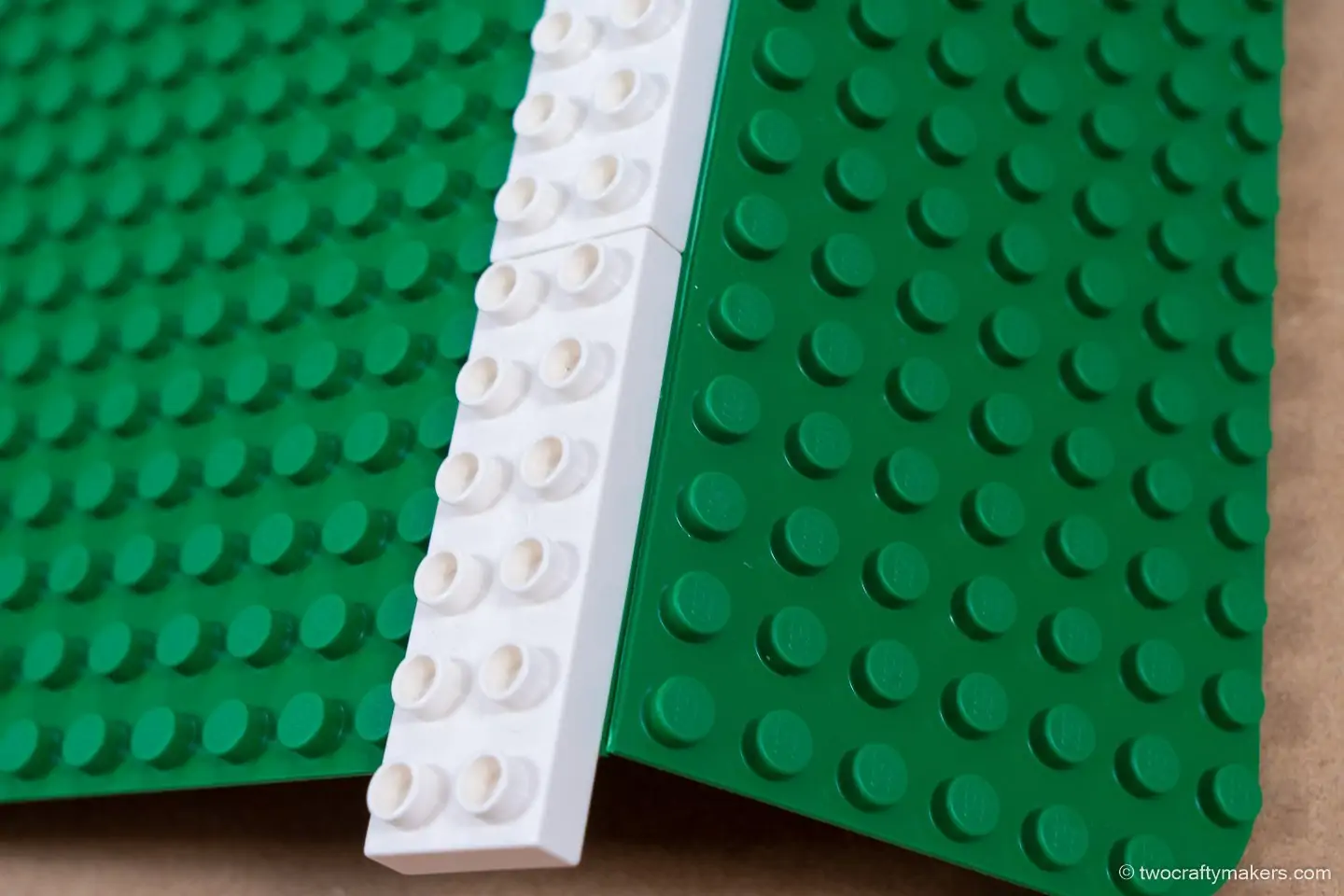 You don't have to apply a lot of pressure with the box cutter, it's best to just score along the plate. If you apply too much pressure the blade can go through the base plate and mark your workbench – we used an old MDF cut off to avoid scoring our workbench.
Ikea Lego Table Hack tip: if you are using a 15″ x 15″ (38.1cm x 38.1cm) Duplo base plate then you will need to cut the plate to a width of 17 studs. You do not need to reduce the length of the base plate. If you are using a different base plate then use the measurements you determined from sizing the base plate.
Step 3: Trim the corners
The next step is trimming the corners to fit to the Trofast storage bin. For the Duplo base plate you will need to cut diagonally the 3 studs on each corner. You will need to cut the diagonal edges free hand using the position of the studs for guidance.
Ikea Lego Table Hack tip: it's more challenging to cut a completely straight corner edge as you don't have the Duplo pieces for guidance. We give the corner edges a quick sand using 100 grit sandpaper and they smoothed perfectly.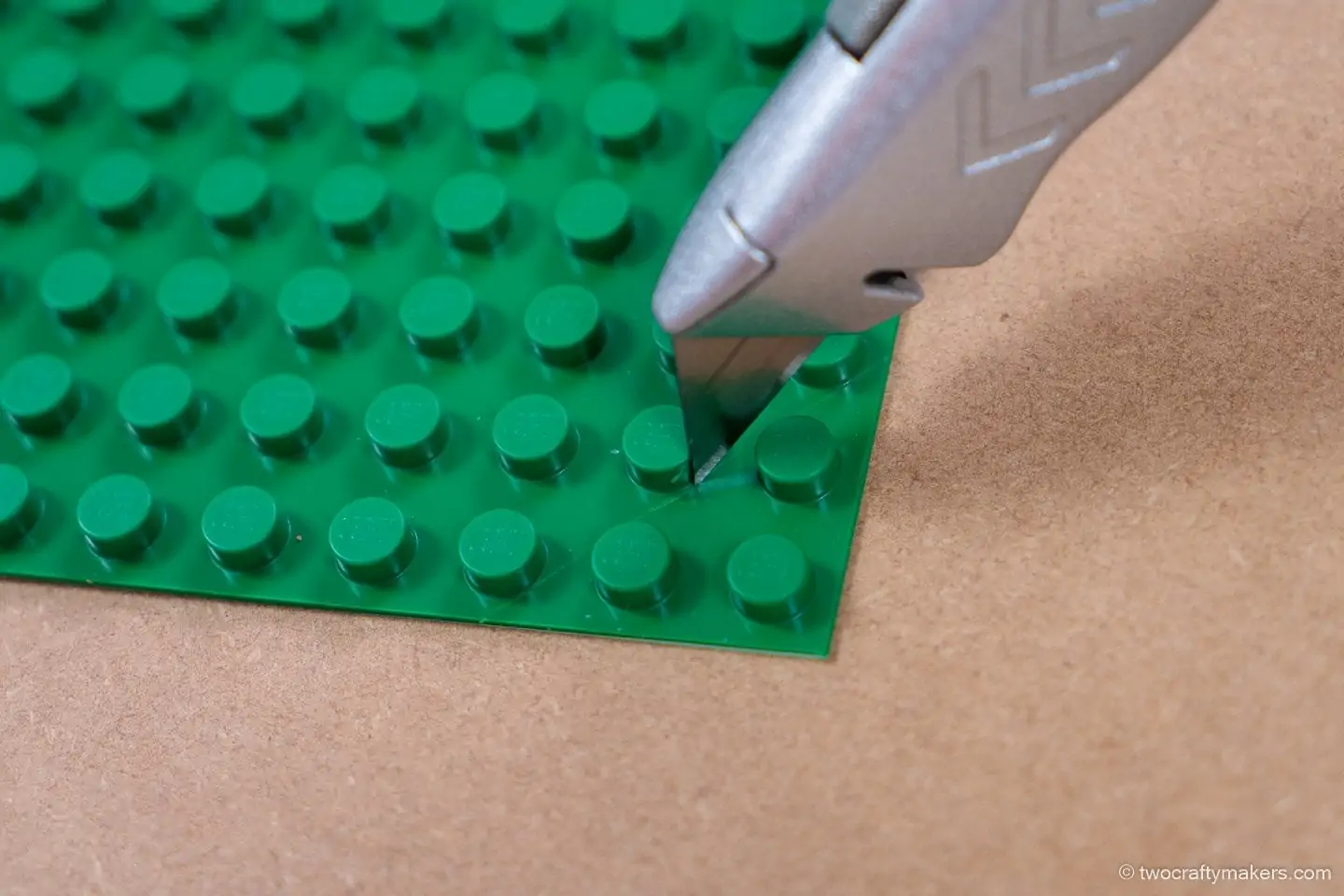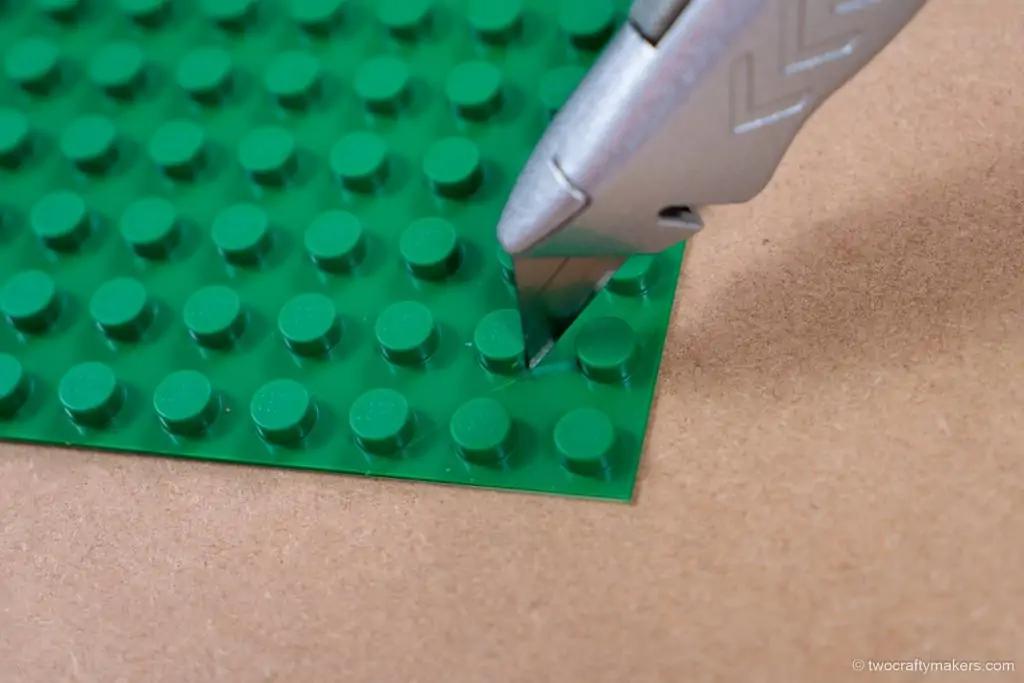 Test the fit on the Flisat table top: you will want to position the base plate so that you can flip over the Flisat table top and have the base plate align perfectly with the Trofast storage bin underneath. This is so you can continue to use the Flisat for sensory play and arts and crafts (check out our 13 awesome Ikea Flisat Table Hacks for ideas on how to incorporate the Flisat into daily play).
Ikea Lego Table Hack tip: we used duct tape to temporarily attach the base plate to the Flisat table top. Once we finalized the base plate position so that it aligned with the Trofast bin we used a pencil to make an outline. We then used this as a guide for where to place the adhesive Command strips.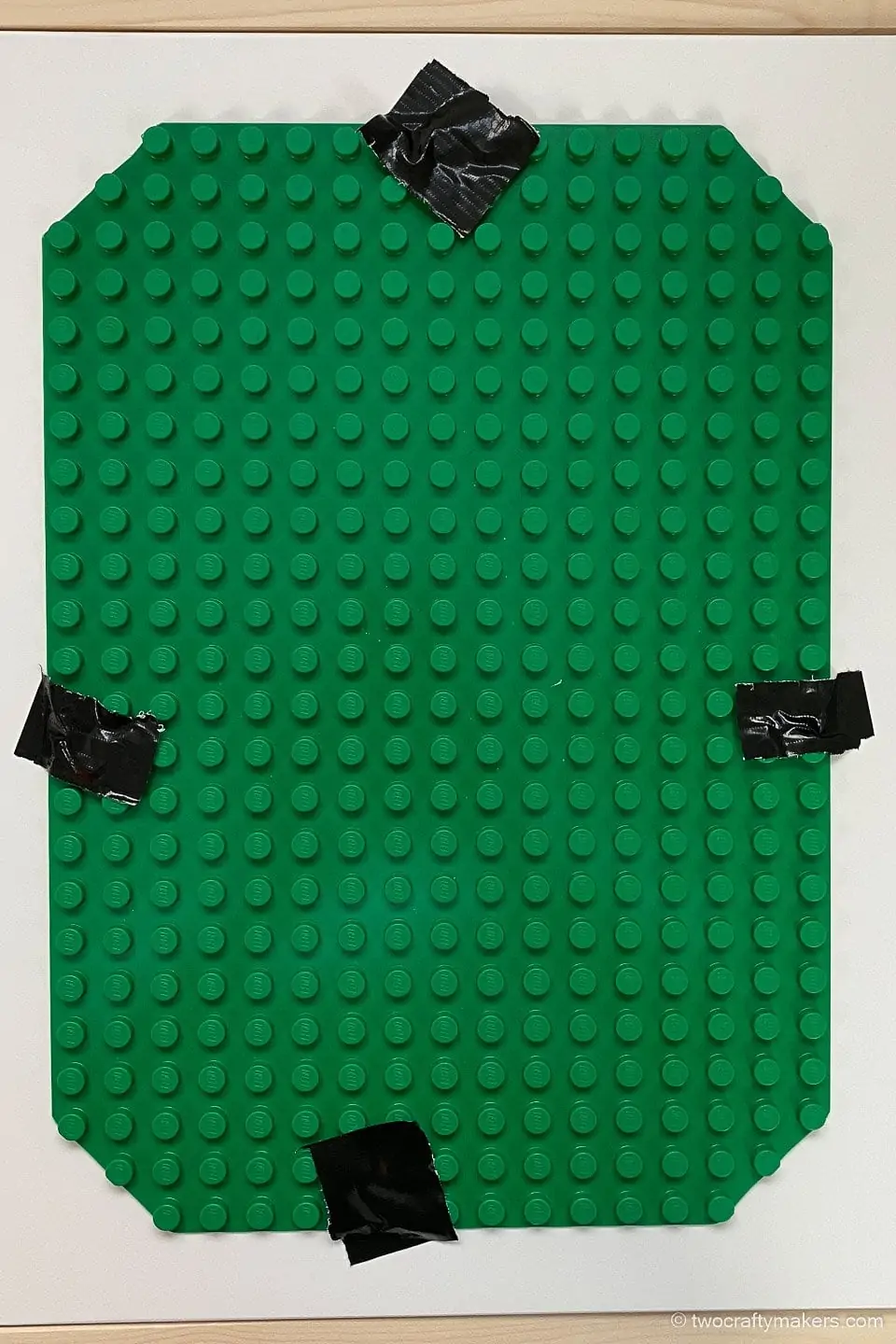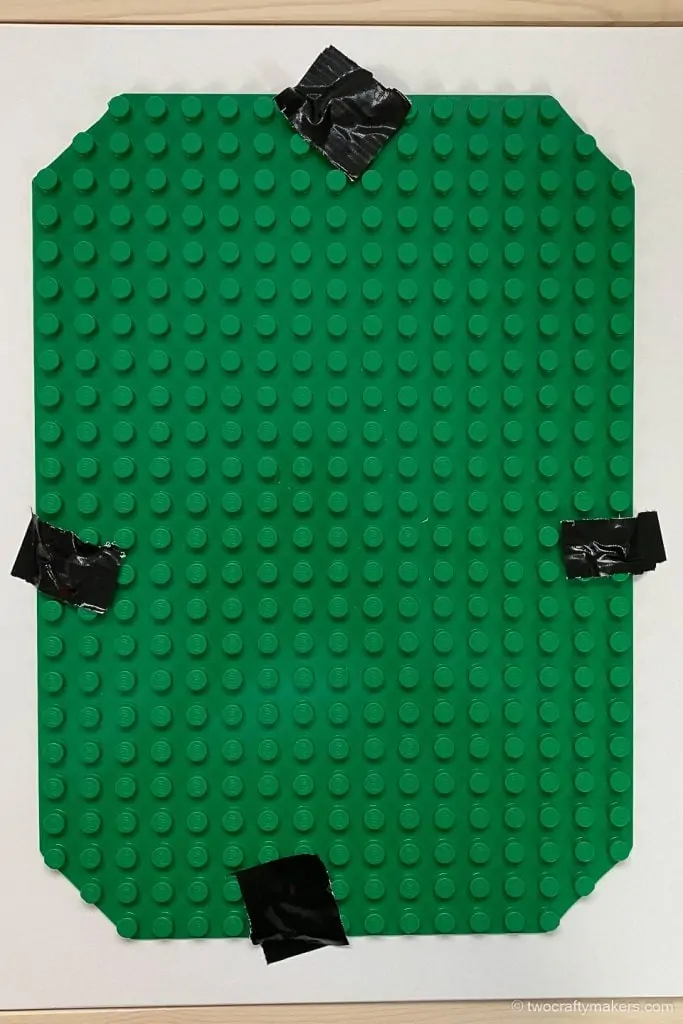 Step 4: Attach the base plate to the Flisat top
We found that 5 large general-purpose adhesive Command strips were the easiest way to attach the Duplo base plate to the Flisat table top. It's best to apply the Command strips on a workbench rather than on top of the Flisat table as you will need to apply force for them to stick well.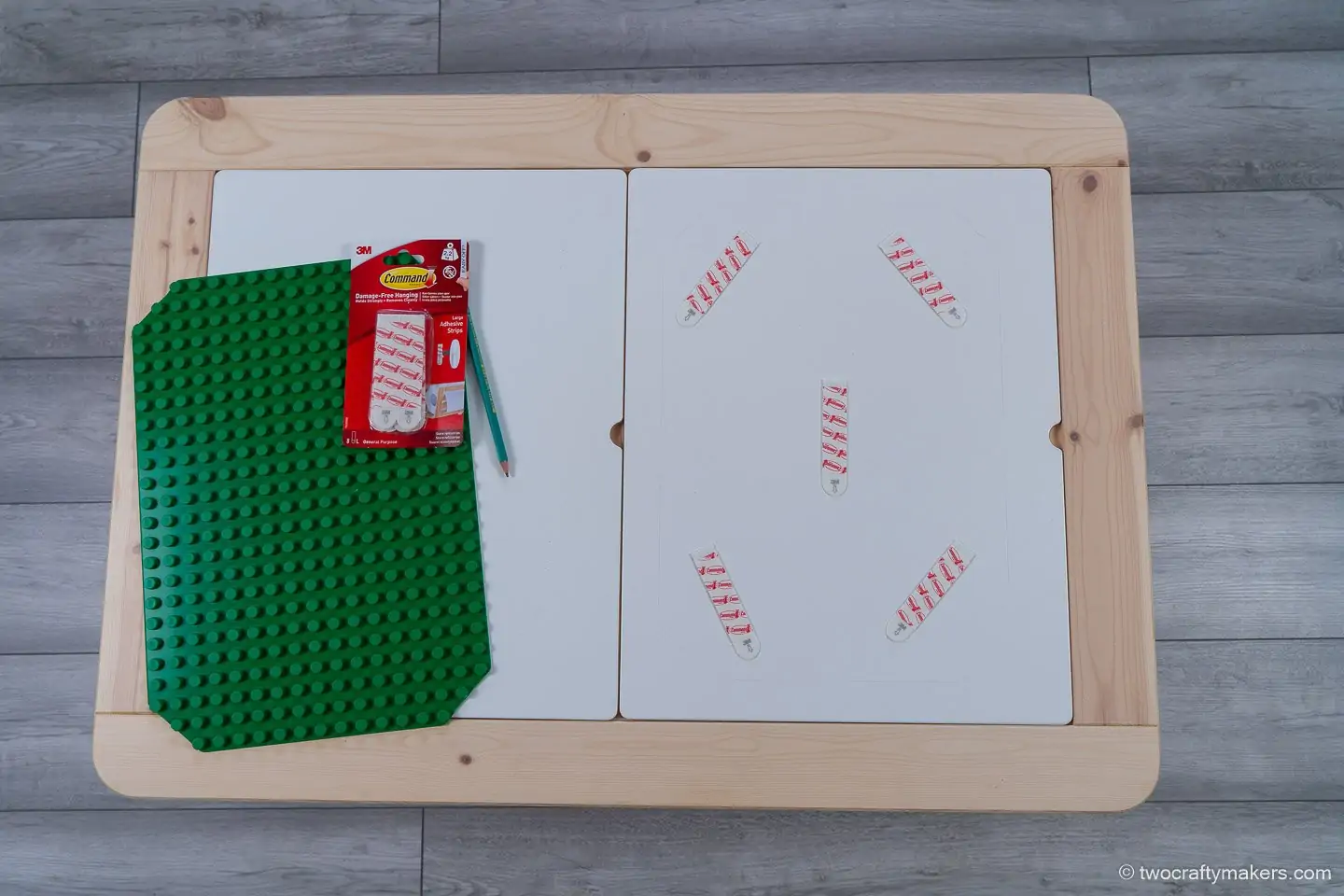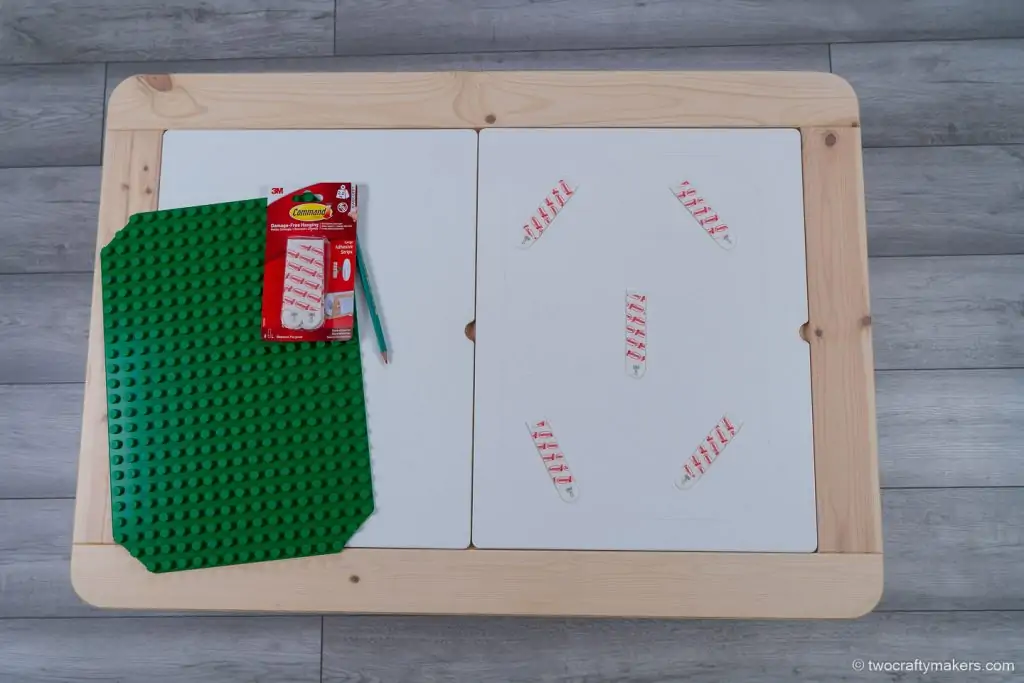 Ikea Lego Table Hack tip: the Command strips will not be centered on the Flisat lid so don't be concerned when you notice this! The middle and sidle panels of the table mean that the Trofast storage bin is not positioned exactly in the middle of the Flisat lid.
Step 5: Repeat for the Second Base Plate
Repeat all of the above for the second base plate and apply to the other side of the Flisat table top.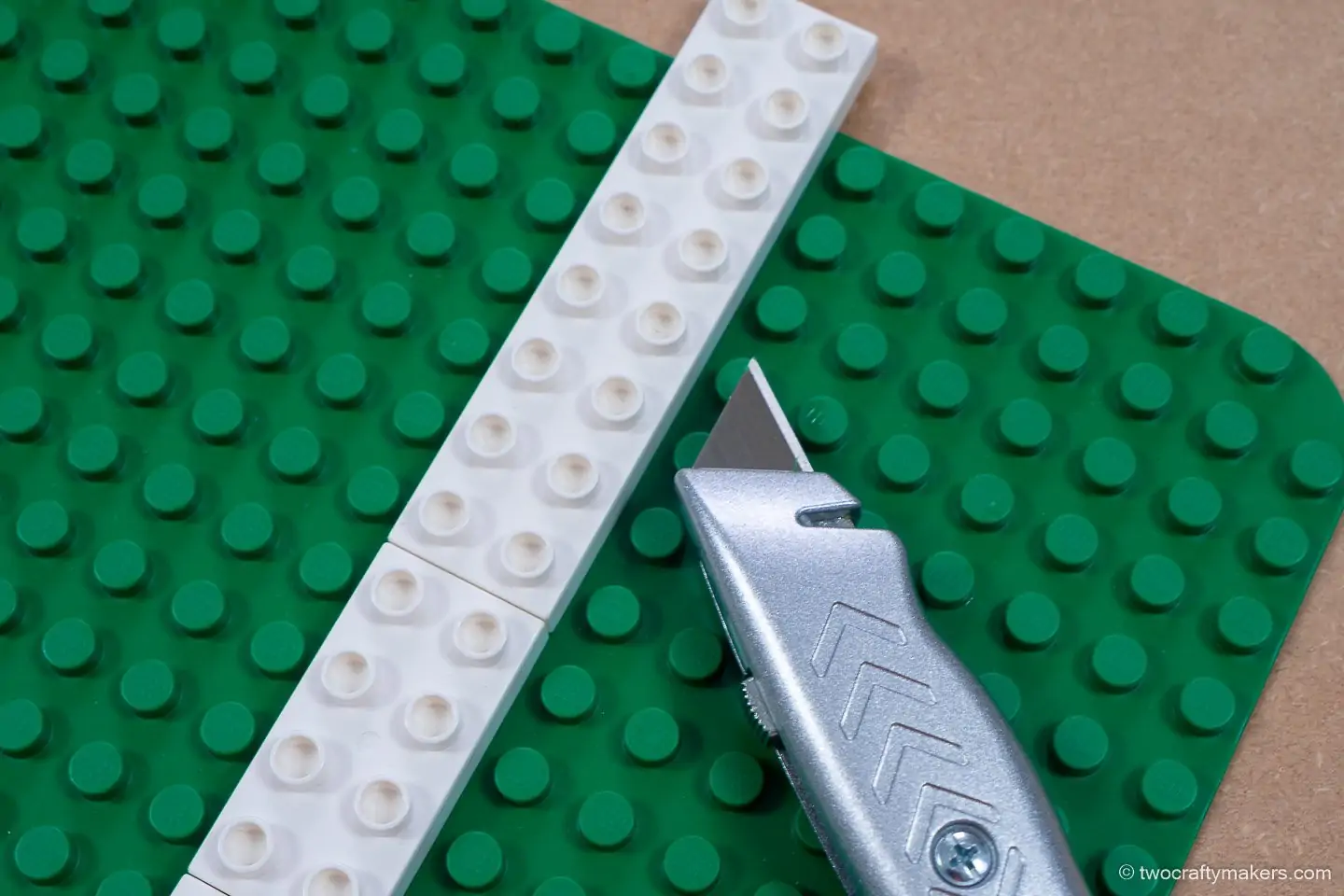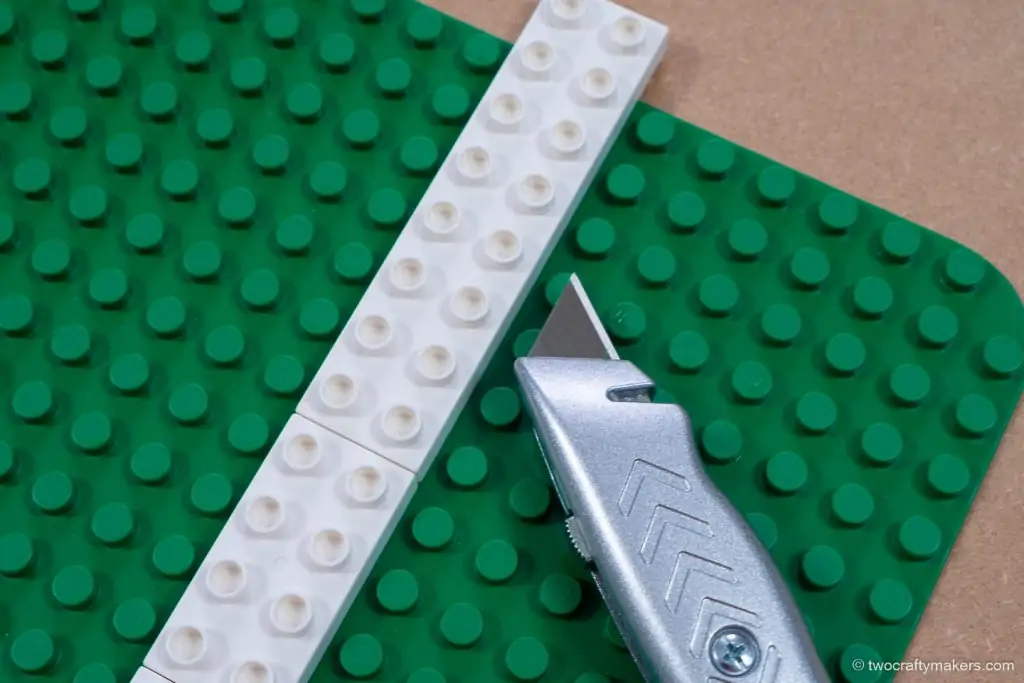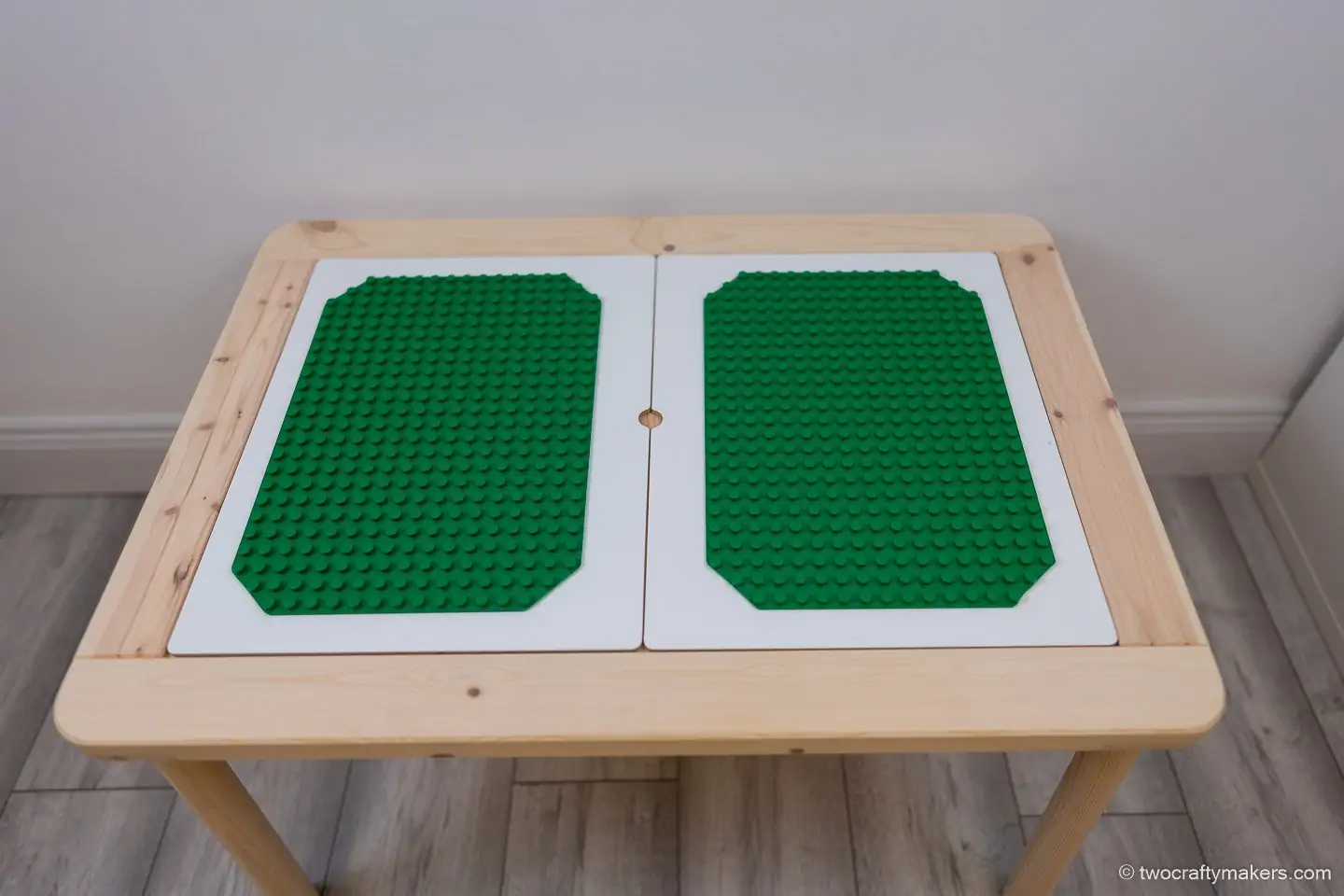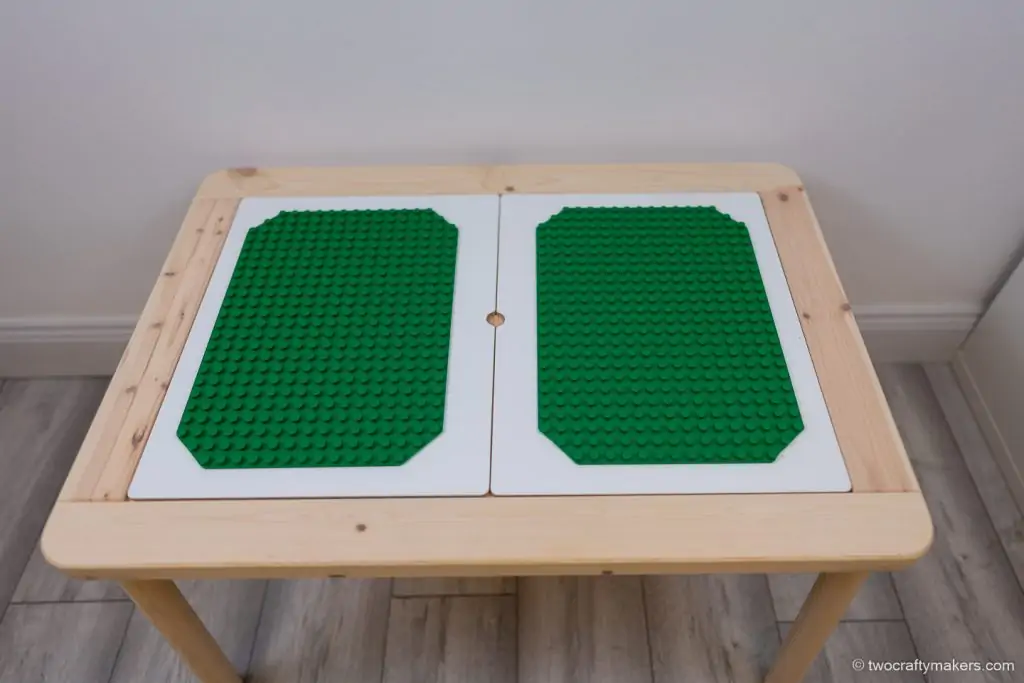 Step 6: Play time
Stand back and admire your DIY Ikea Lego table while your kids have fun building and creating!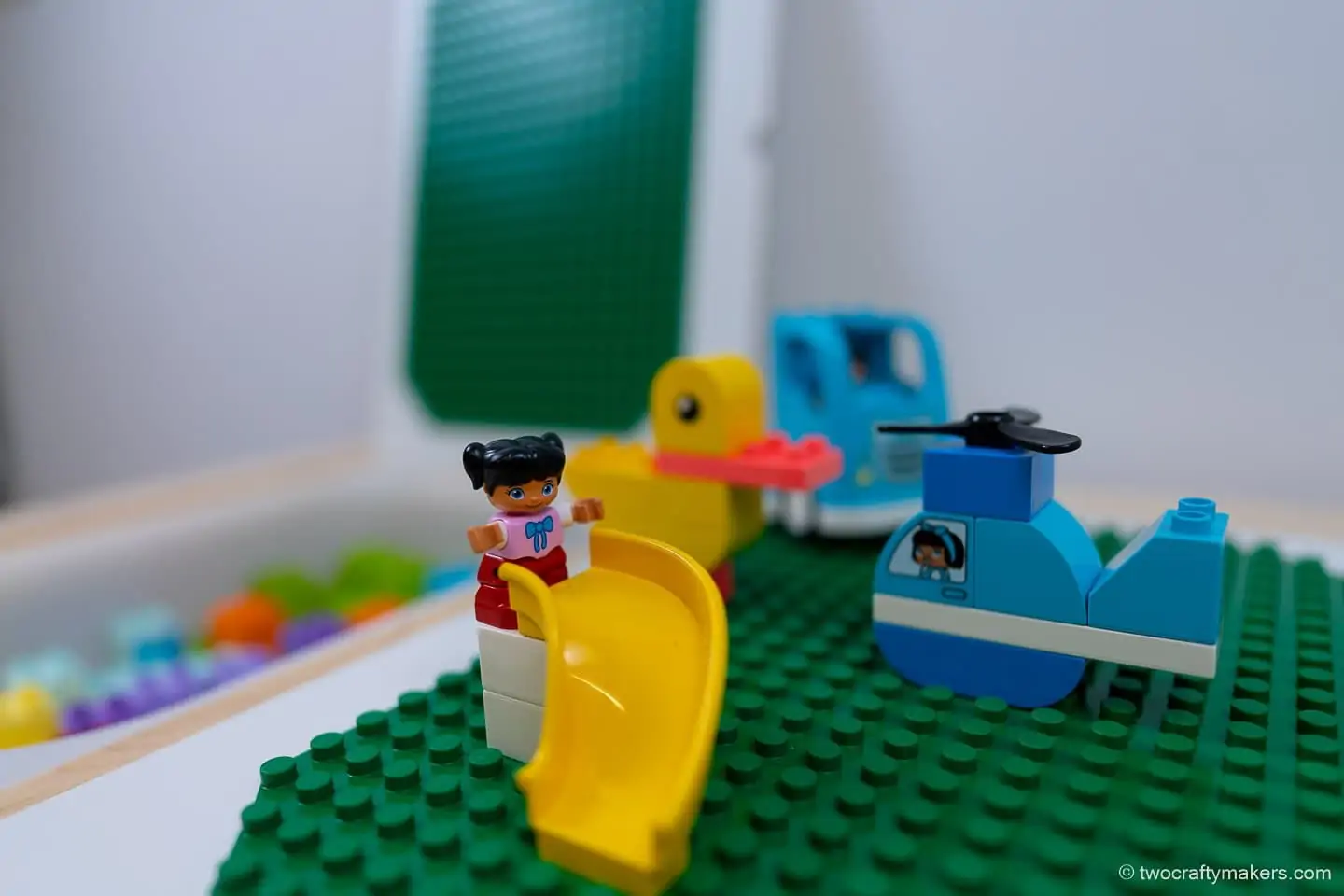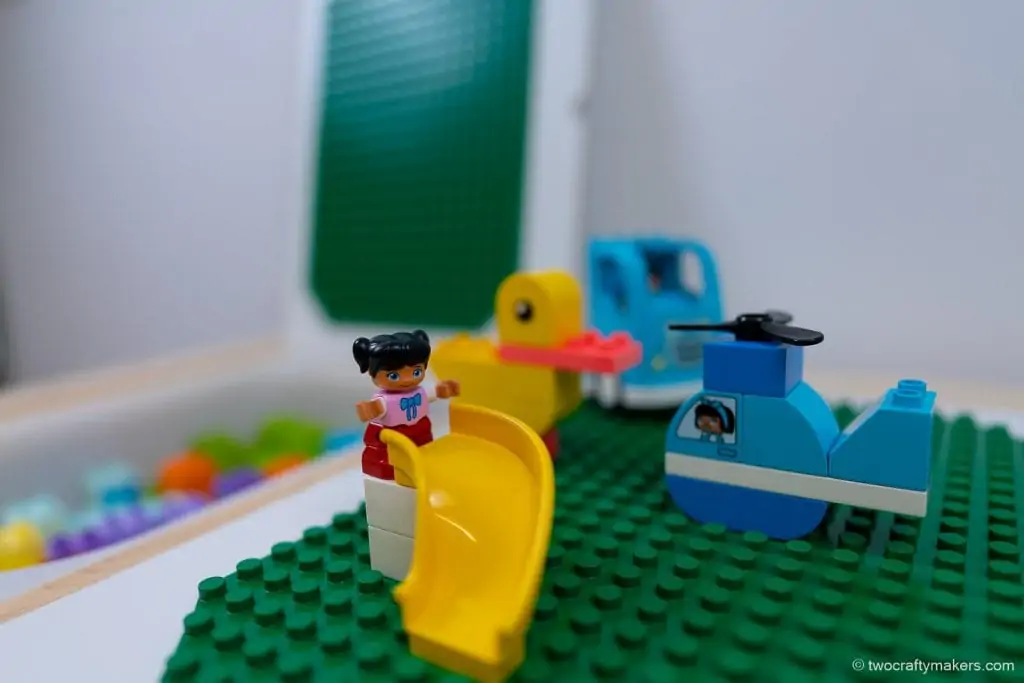 Alternative / Optional Steps
Use an Ikea Latt children's table: this Ikea Lego Table hack will work just as well with an Ikea Latt table. Just use multiple base plates to align with the width of the Latt and cut as necessary. We prefer the Flisat as the Trofast bins provide ready made storage for the hundreds of Lego blocks that live in our playroom!
Purchase a base plate to fit the table top: it may be possible to purchase the base plates in a variety of sizes depending on where you are based. Purchase the size which best fits your table top.
Use wider plates/don't shape the corners: we narrowed our plates and shaped the corners so that we could flip over the Flisat table lids and use the other sides for arts and crafts and sensory play. If you want to convert the Flisat into a permanent Ikea Lego table then you don't need to worry about sizing the plates to fit the Trofast bins.