My kids have recently started taking an interest in where their garbage goes and, with Earth Day approaching, I decided it was a great time to explore the subject in more detail. I set bout creating some waste and recycling sensory bins.
Our Earth Day sensory play is still a work in progress as we expand on our Earth Day learnings. We will make sure to share any new Earth Day sensory bins which our toddlers enjoy!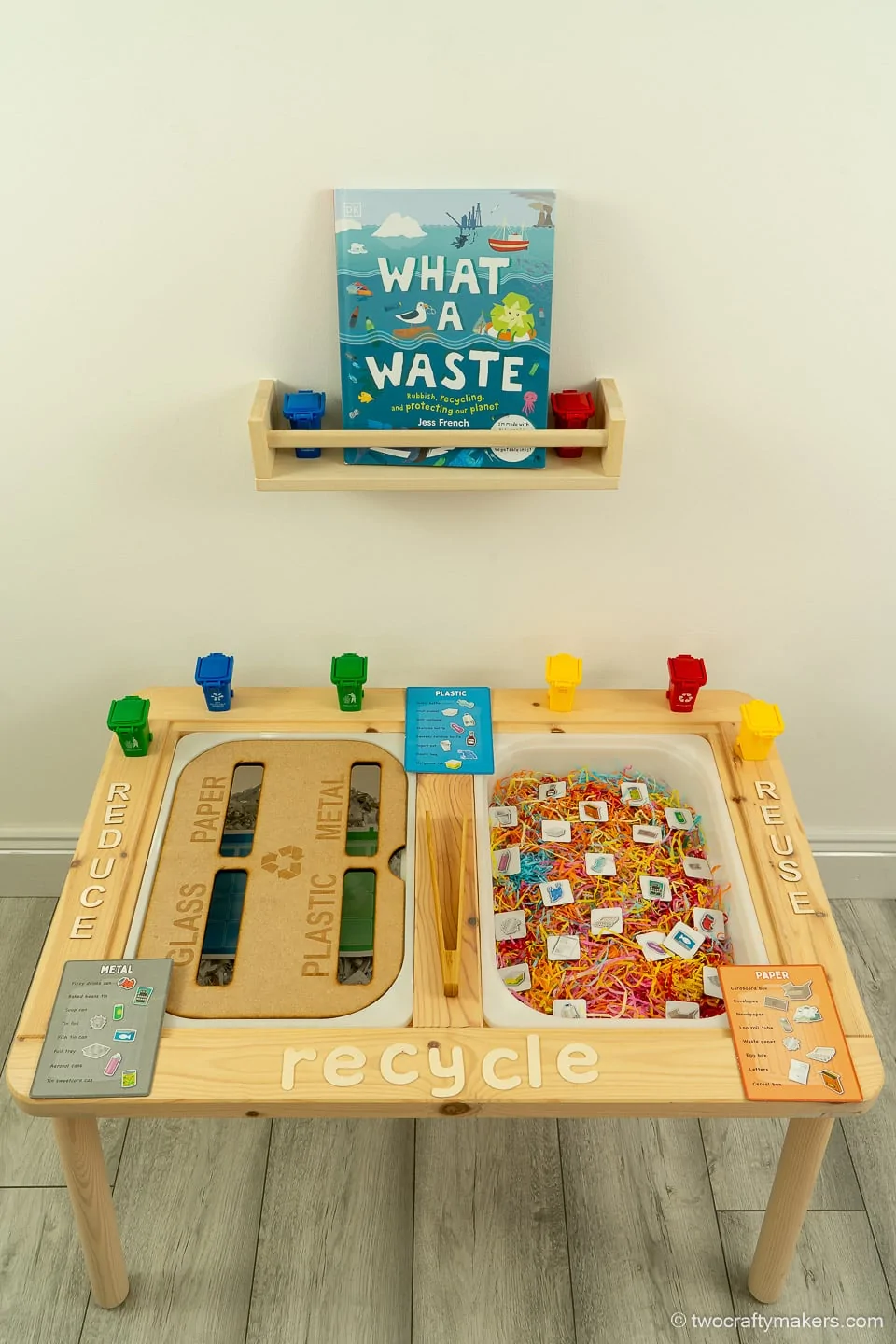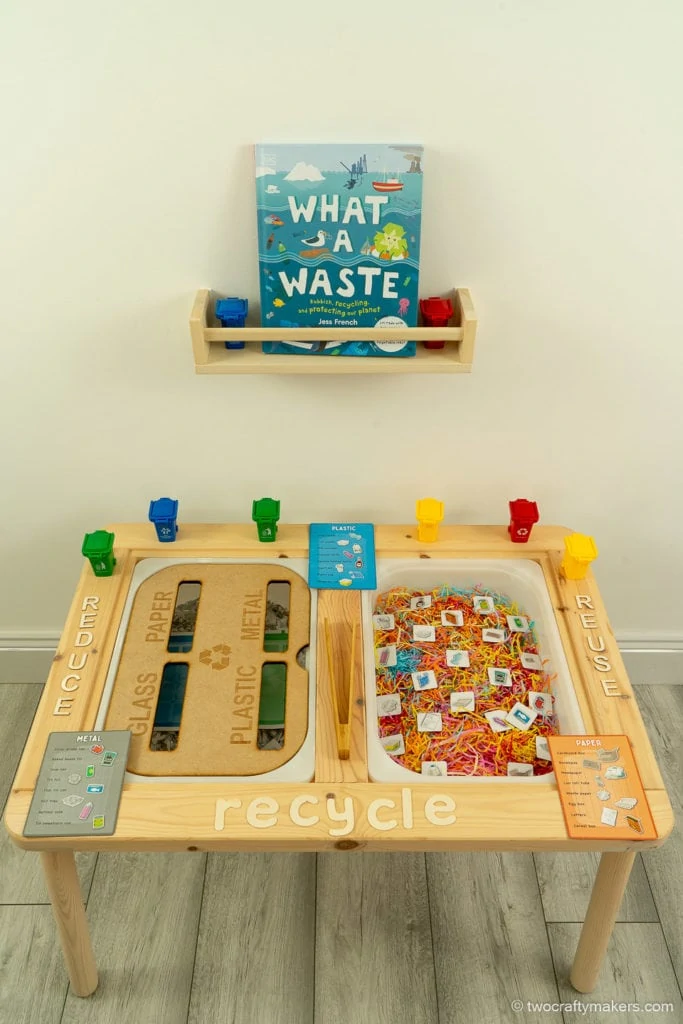 Earth Day Recycling Sensory Bins
Sensory play is a fantastic tool to encourage kids to explore, engage and create and it helps kids develop essential skills. Our Earth Day recycling themed sensory bins are focused on developing a range of skills including:
Fine motor skills: our recycling sensory bins incorporate lots of scooping, grabbing and pinching. All these activities mean little hands will work hard and improve muscle strength.
Learning through tactile play: the concept of recycling and understanding the impact of our waste habits is such an important learning for kids of all ages.
Language and vocabulary skills: conversations around these waste and recycling sensory bins will introduce extensive vocabulary.
Recycling Sensory Bins: I use a variety of fillers and accessories in our sensory bins which I consider appropriate for my toddlers. Ensure that sensory play is closely monitored and that everything you use in your sensory bins is age appropriate/taste safe/not a choking hazard and suitable for your toddlers as per manufacturer recommendations and as you deem appropriate.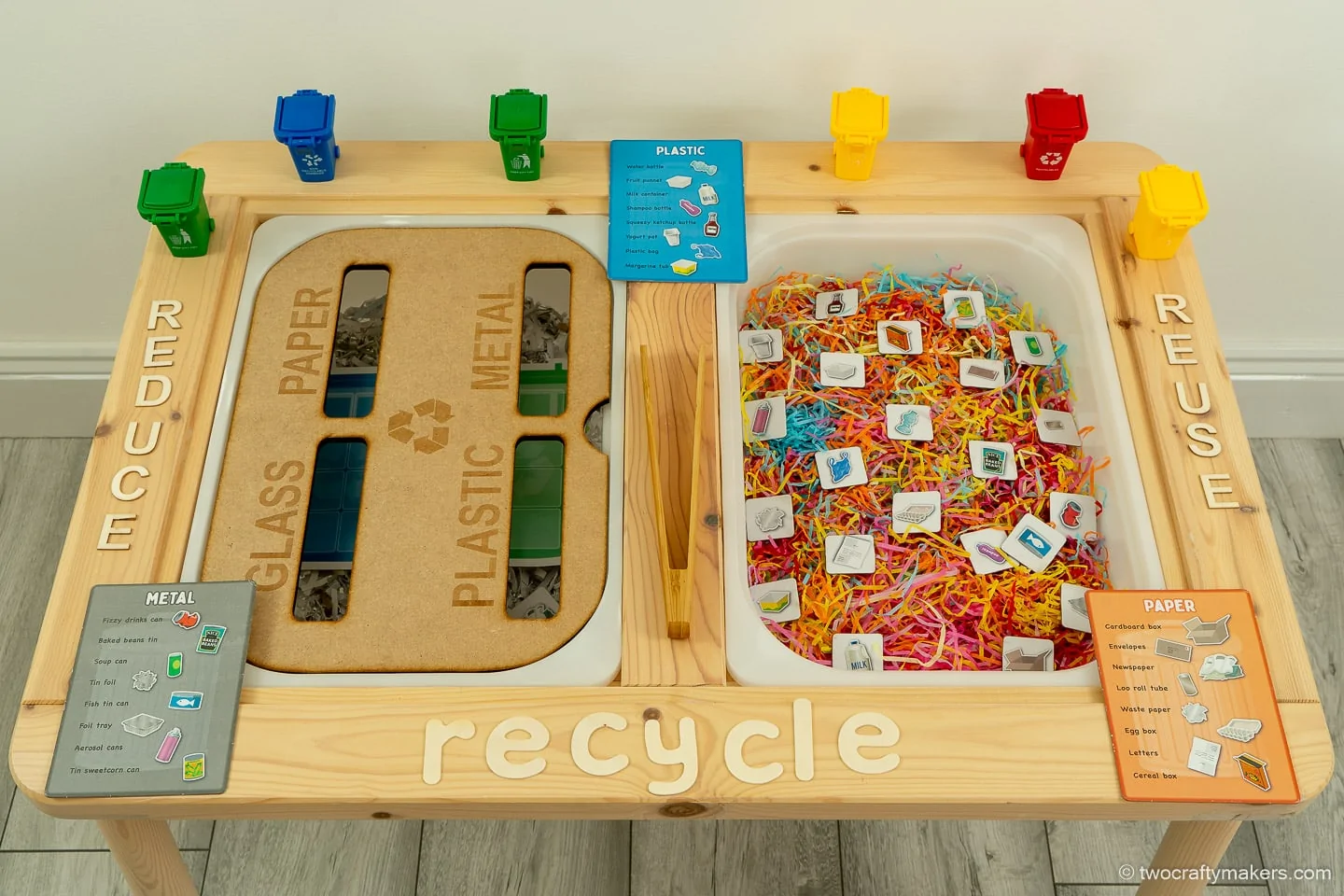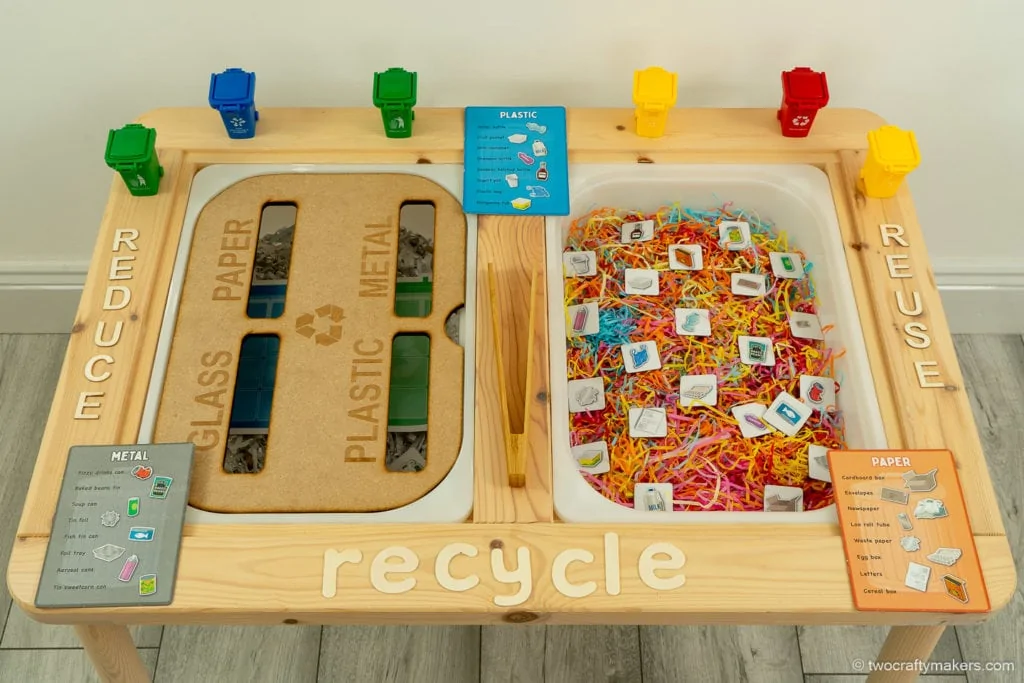 Earth Day Recycling Sensory Bin Essentials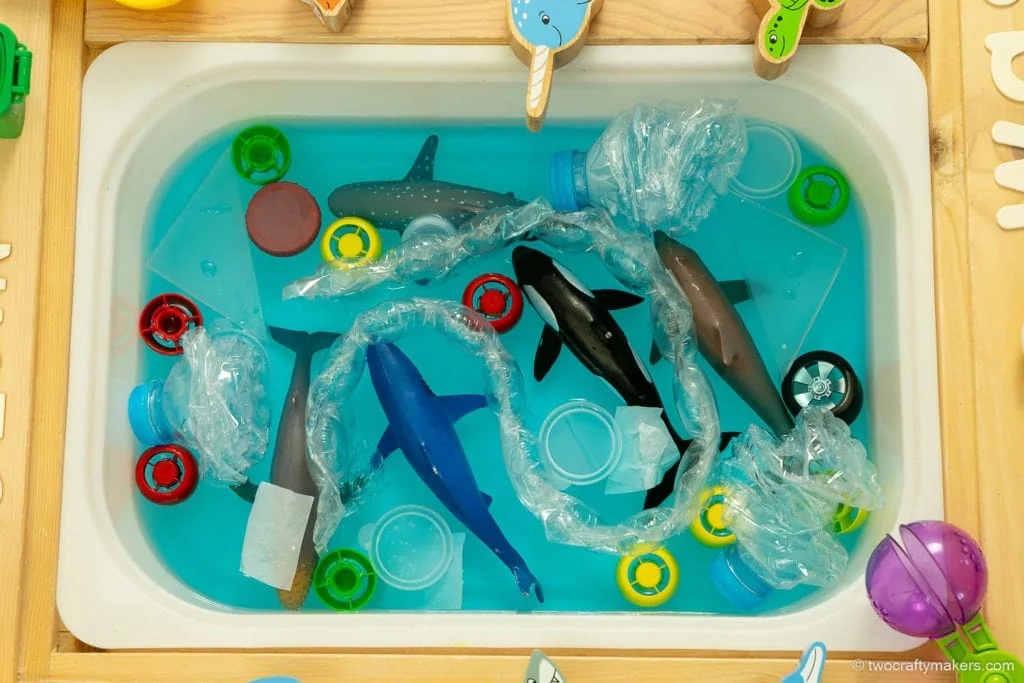 Sensory Table
We use and highly recommend the Ikea Flisat kids table for all our sensory bins. It's a fantastic addition to your playroom and is super versatile. While it's available from Ikea directly, it's usually out of stock. You can usually grab one on Amazon but it is more expensive – No products found.
No products found.
We also use the Ikea Trofast bins for sensory play. They're easy to clean and our kids love them – check prices now!
Recycling Sensory Bin tip: we used the Ikea Flisat table for all our Earth Day Recyclicing sensory bin play. Don't worry if you don't have sensory table, you can use craft trays or storage bins to the same effect. If you have an Ikea Flisat table then check out our Ikea Flisat table hacks and, our favorite, the Ikea Lego table hack.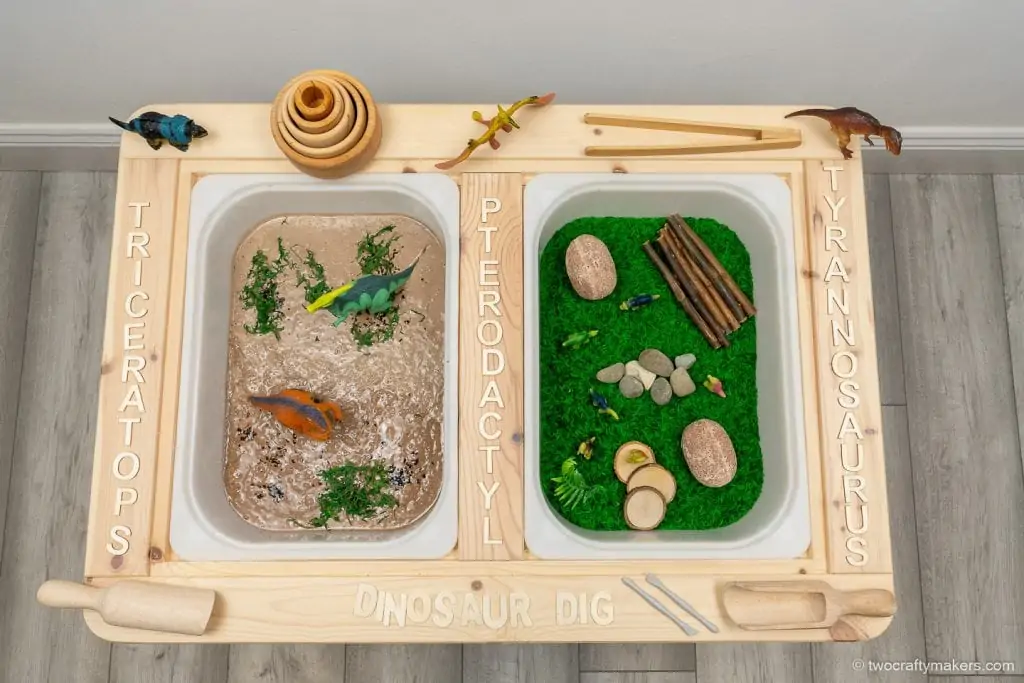 1 | Where Does Garbage Come From?
Before we explored the topic of recycling I wanted J and E to understand where our trash comes from and where it ends up.
I went on a hunt for some random garbage items that would work in our garbage sensory bin – I used things like the packaging from our recent deliveries, plastic, leftover holiday gift wrap, yogurt pots, lids from food pouches, and some toy food we had in the playroom.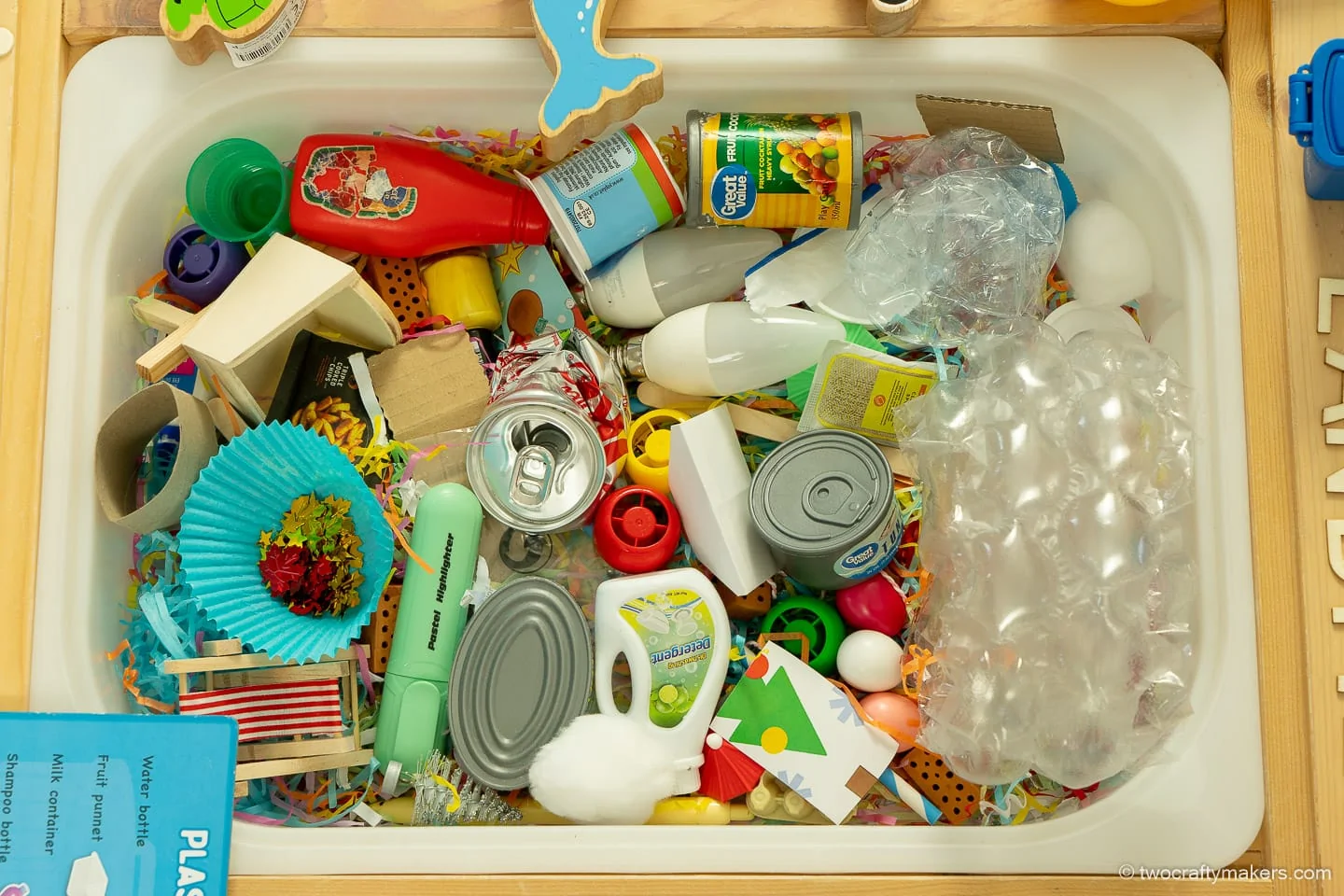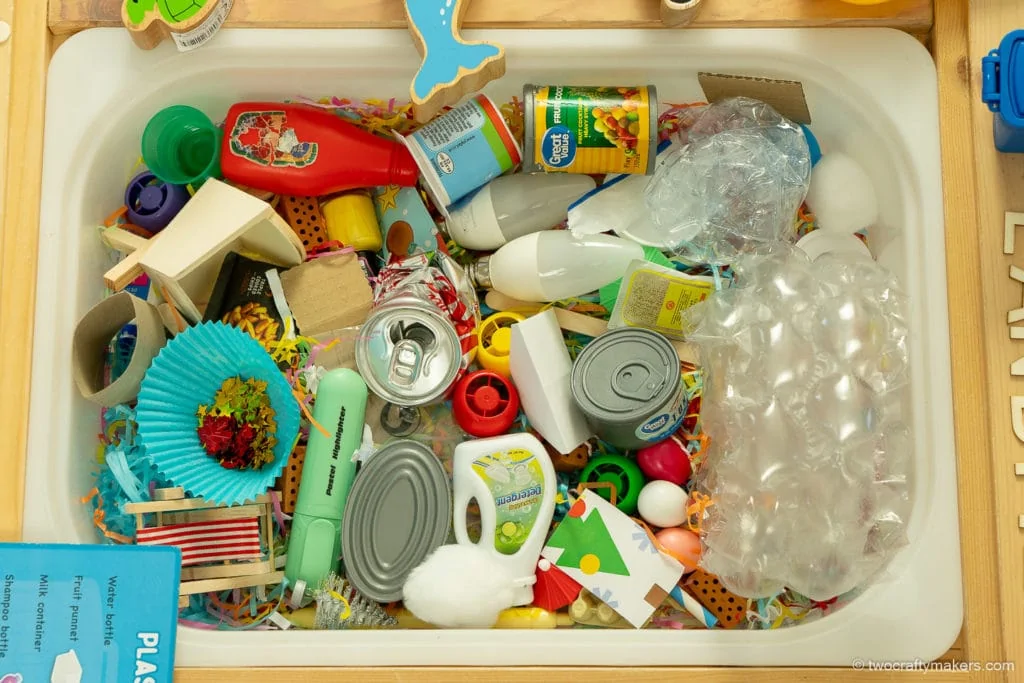 We talked about where the thrash had come from and if there was anything we could do to reduce the amount of garbage we generated. The kids had some great ideas – they pitched their reusable water bottles to remove the plastic bottles from our landfill and suggested we turn out all the lights so we wouldn't have to change the lightbulbs.
I find age-appropriate books a really helpful tool in helping set the scene for the sensory bin contents. We used our Change Starts with Us book to help with the discussion.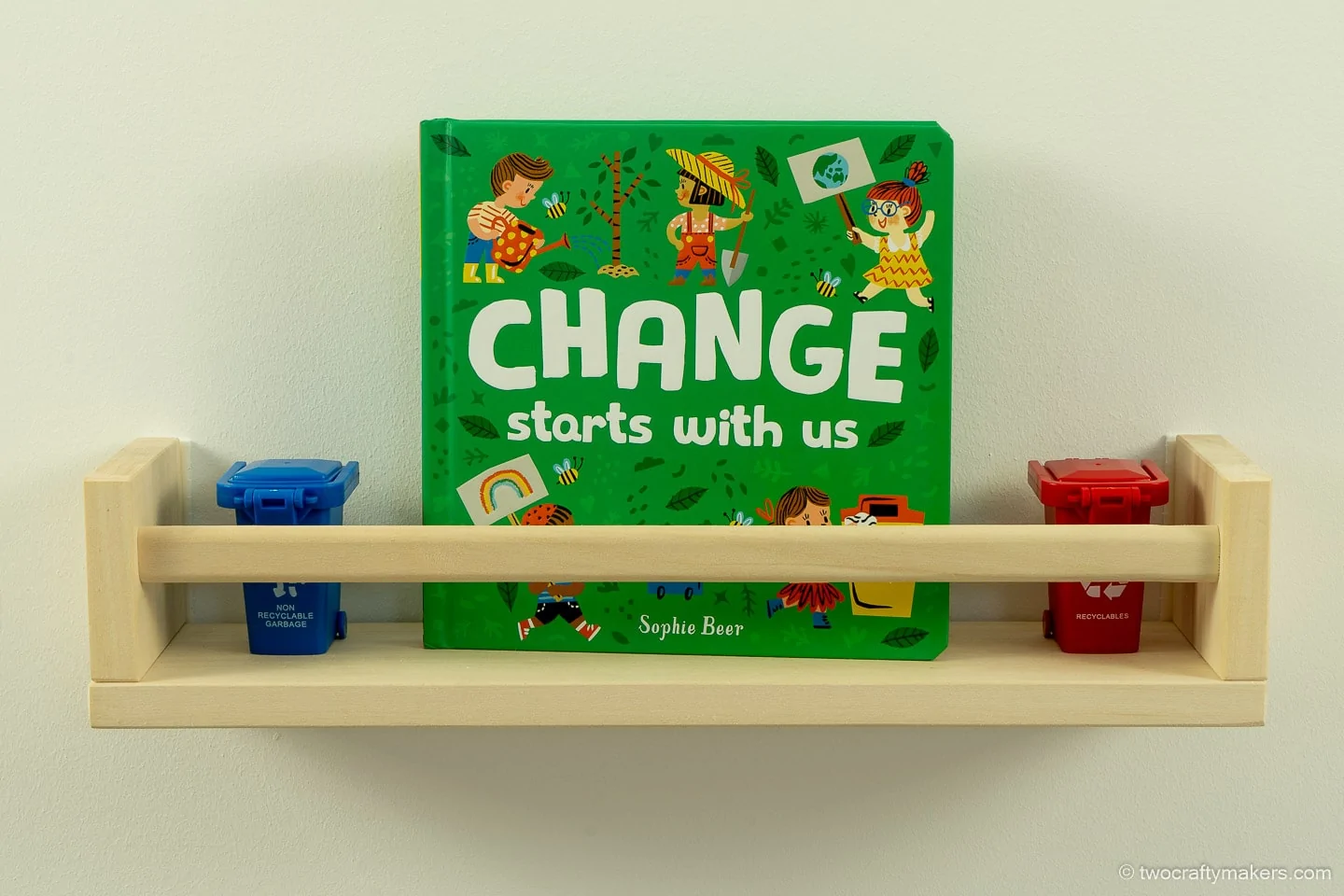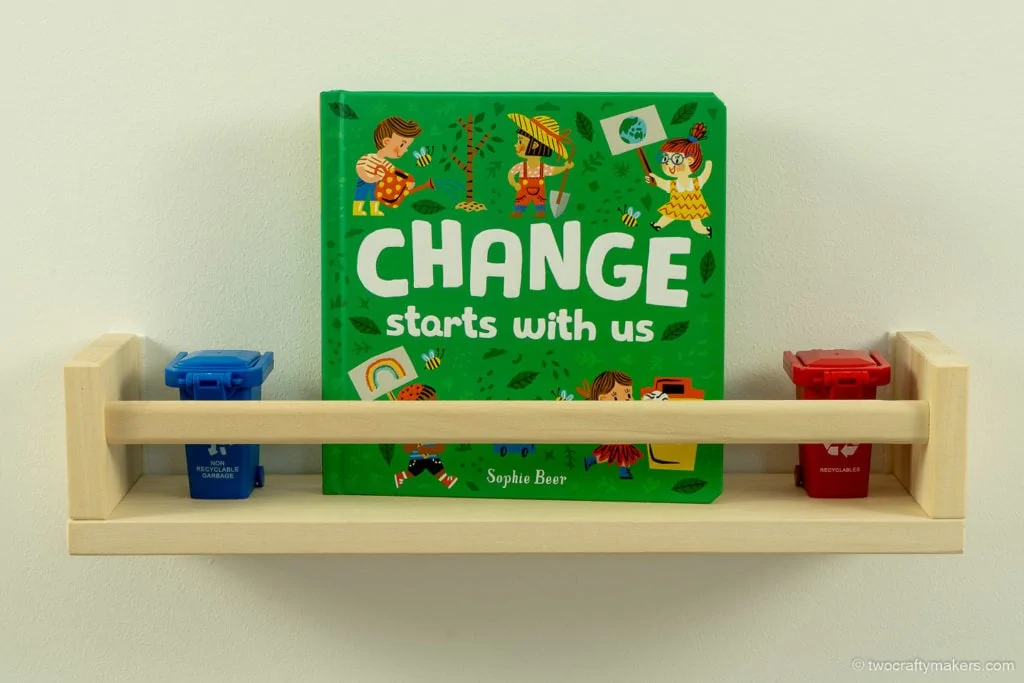 2 | Where Does Our Garbage Go?
I set up two sensory bins, one of a landfill and one of the ocean, to show where our garbage ends up.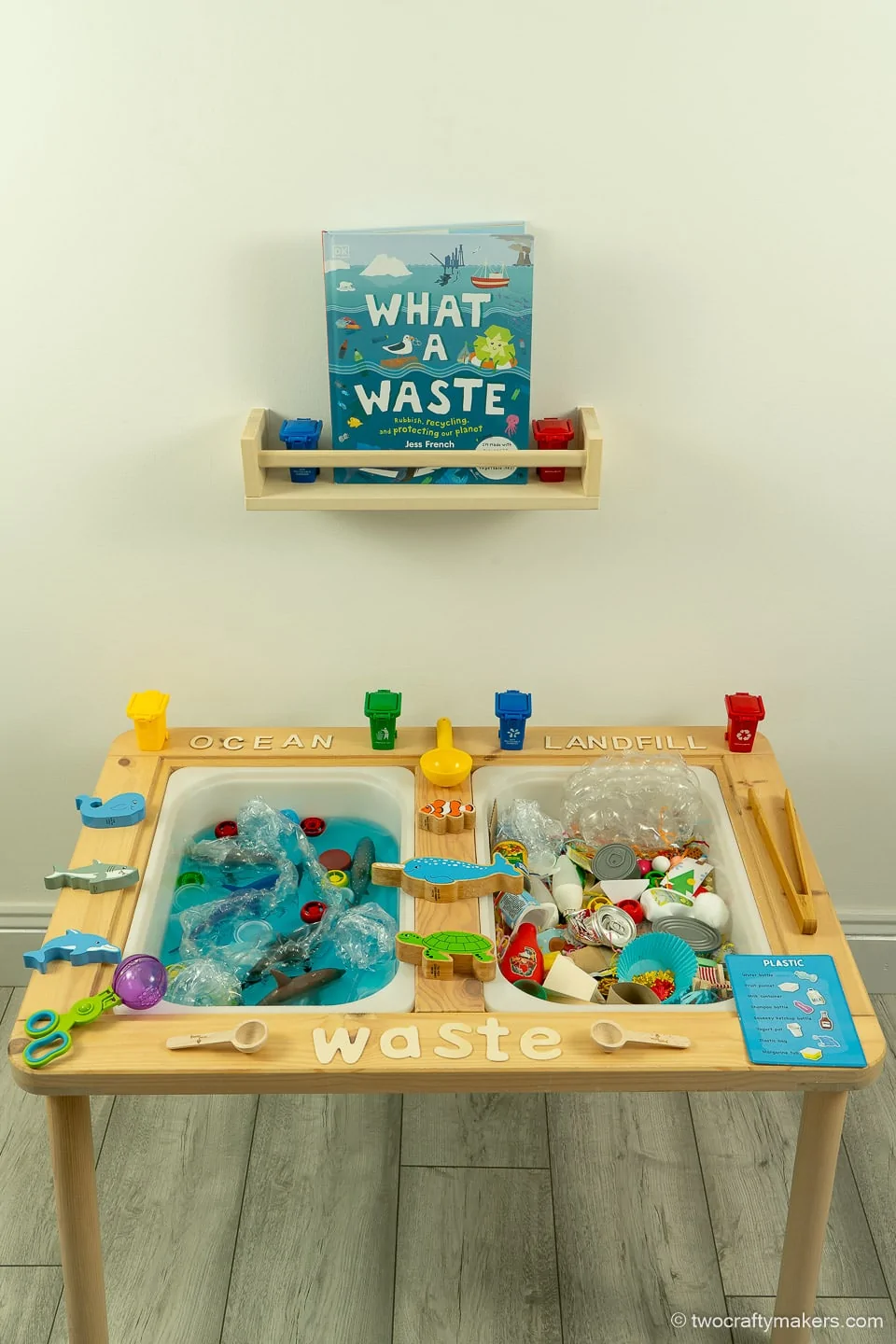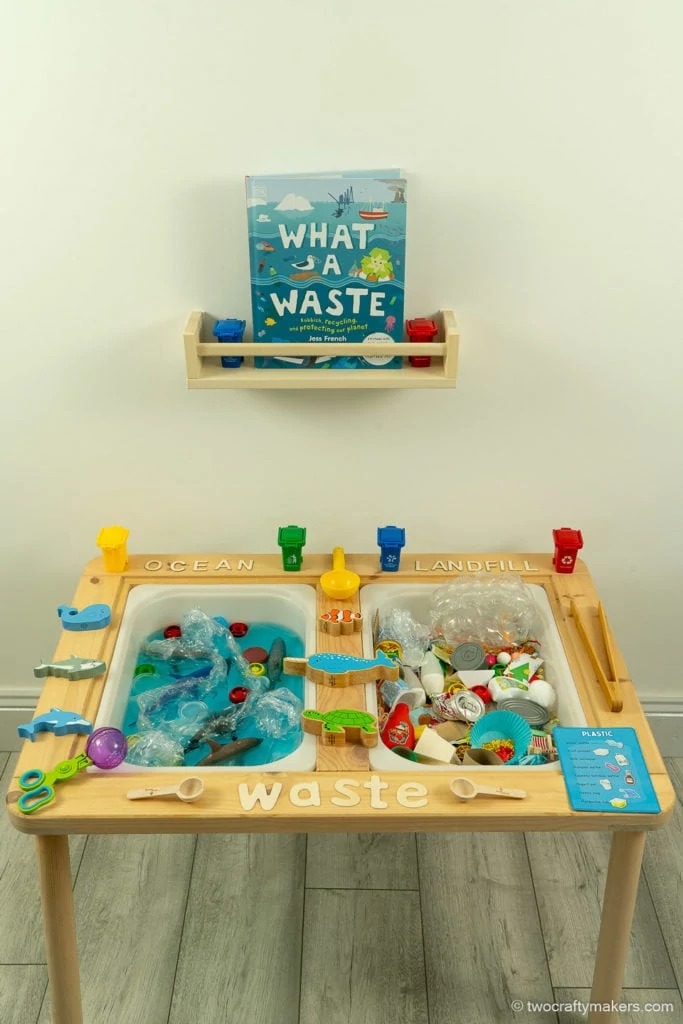 Landfill
We've already had lots of day to day discussions on sorting our trash (my kids love to put the garbage in the correct bin!) so we used our waste sorting cards and What a Waste book to talk through the different types of garbage in the landfill.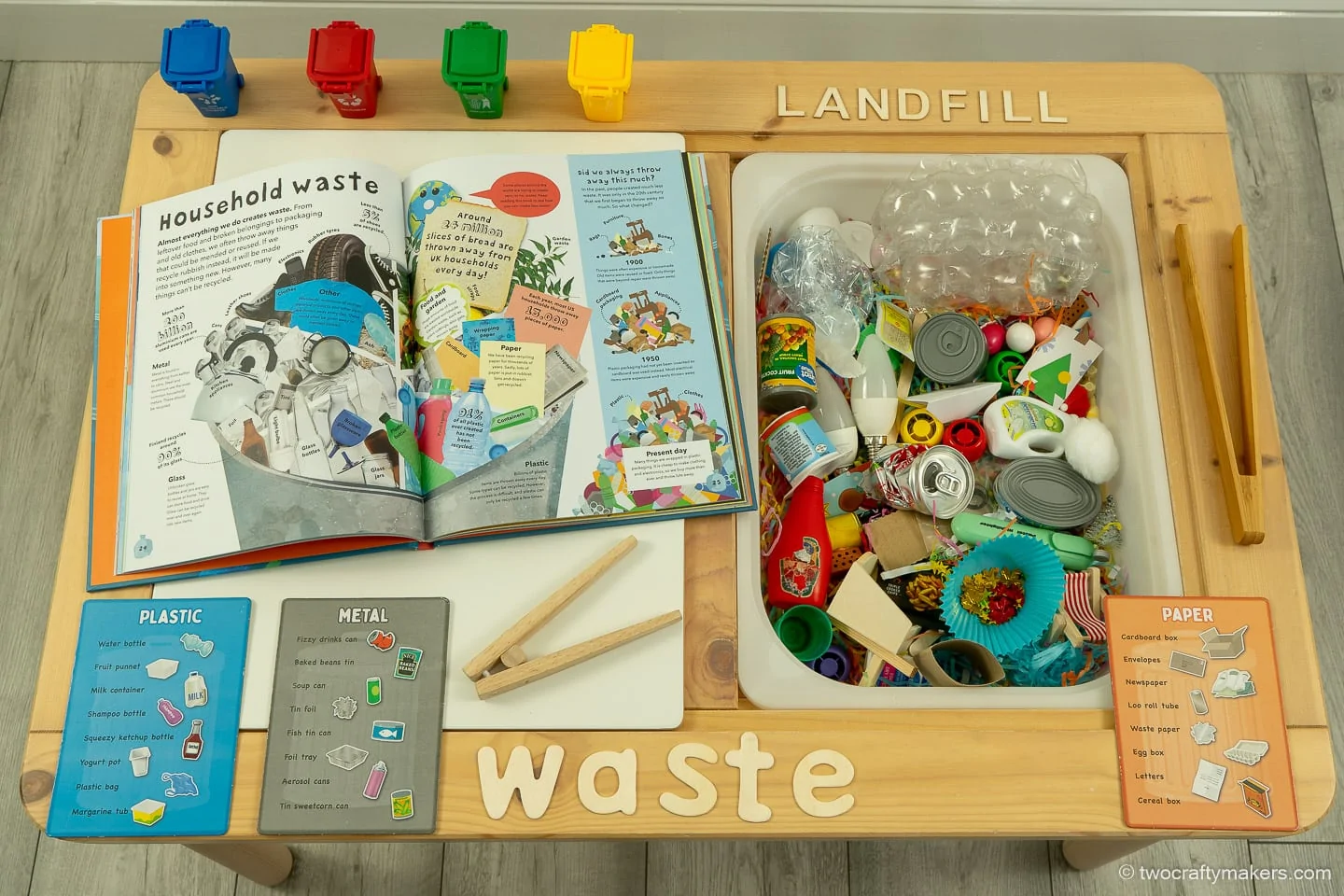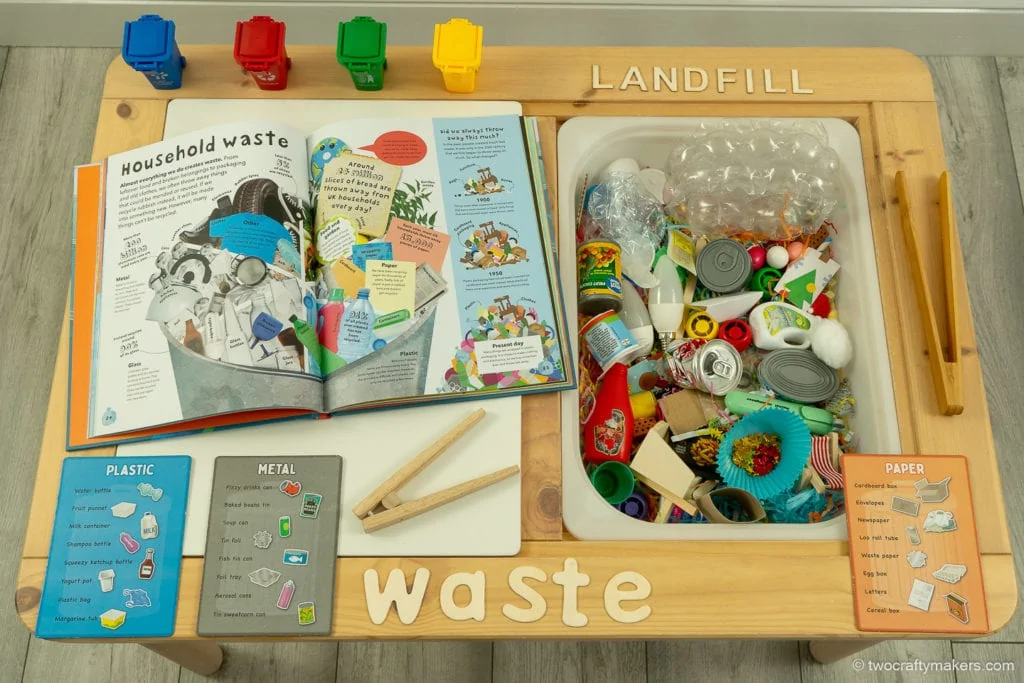 Ocean
As we live beside the ocean and often see it first hand, the kids are already familiar with the concept of our garbage reaching the ocean. They were fascinated to learn that so much plastic ends up in our ocean given that plastic is so resilient and can travel so far.
We talked about what happens to all the plastic when it reaches the ocean and how it is dangerous to ocean life. J, who is 4, wanted to learn more and we discussed the Great Pacific Garbage Patch and how there are 4 huge garbage patches where trash accumulates in the ocean.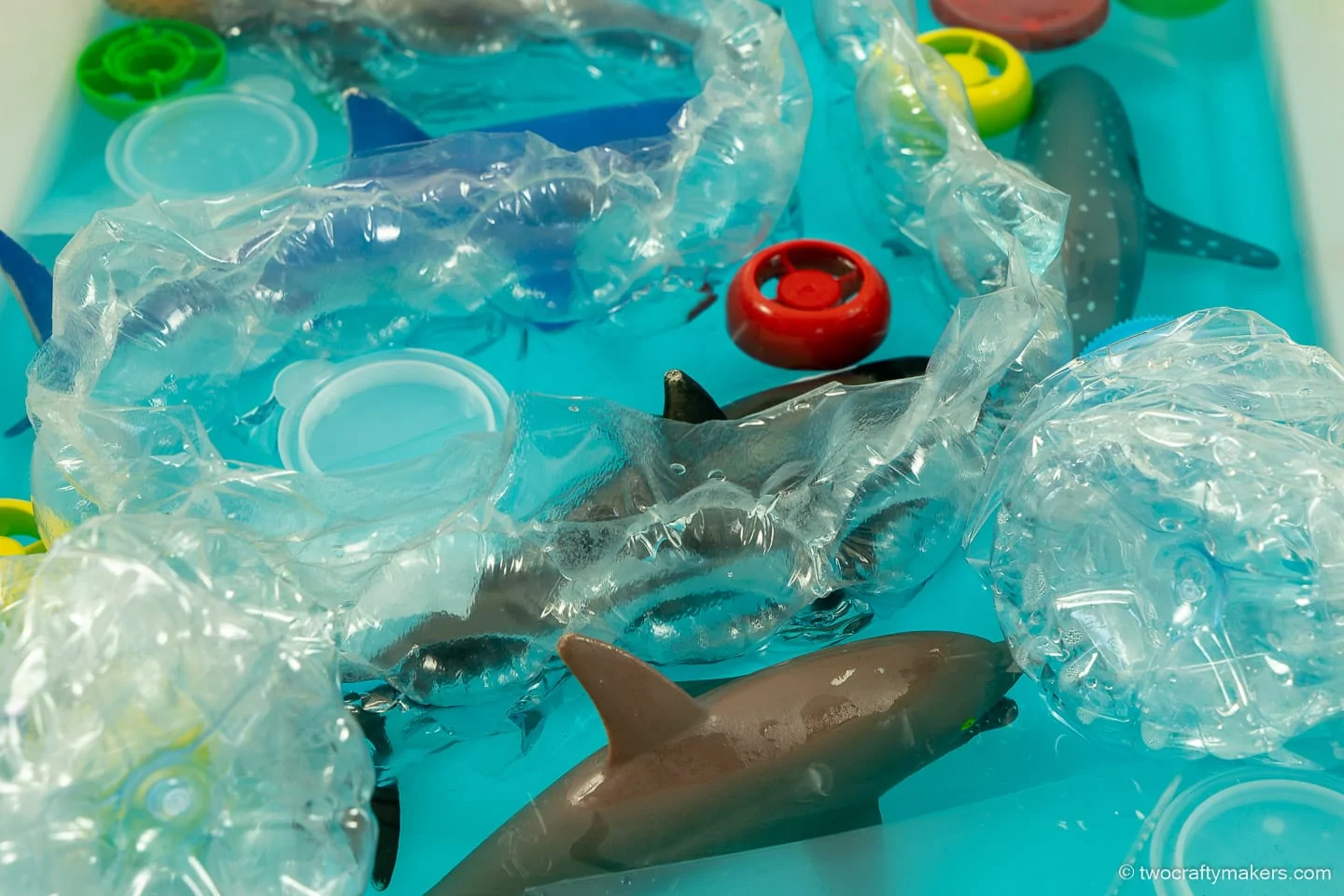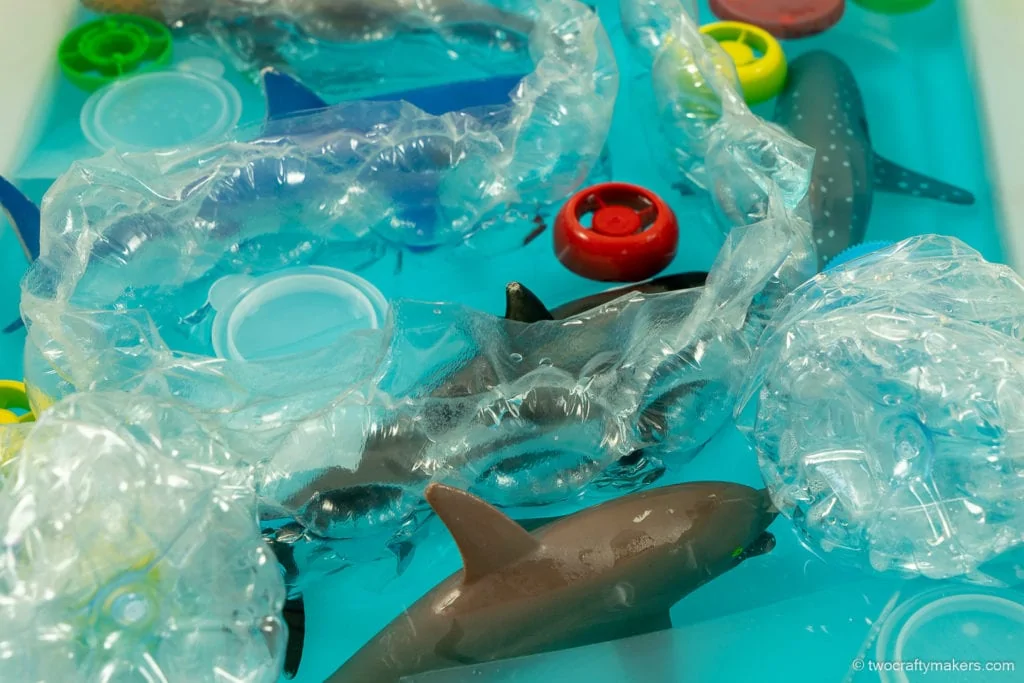 We used our scoops and tongs to perform a beach clean-up. As always, a water-based sensory bin was a huge hit, and J and E repeated the activity at least 5 times! This activity really helped highlight the impact of plastic on ocean life and how removing it allowed them to live in a much nicer environment.
3 | Recycling
The kids were ready to learn more about recycling so I set up a recycling sensory bin.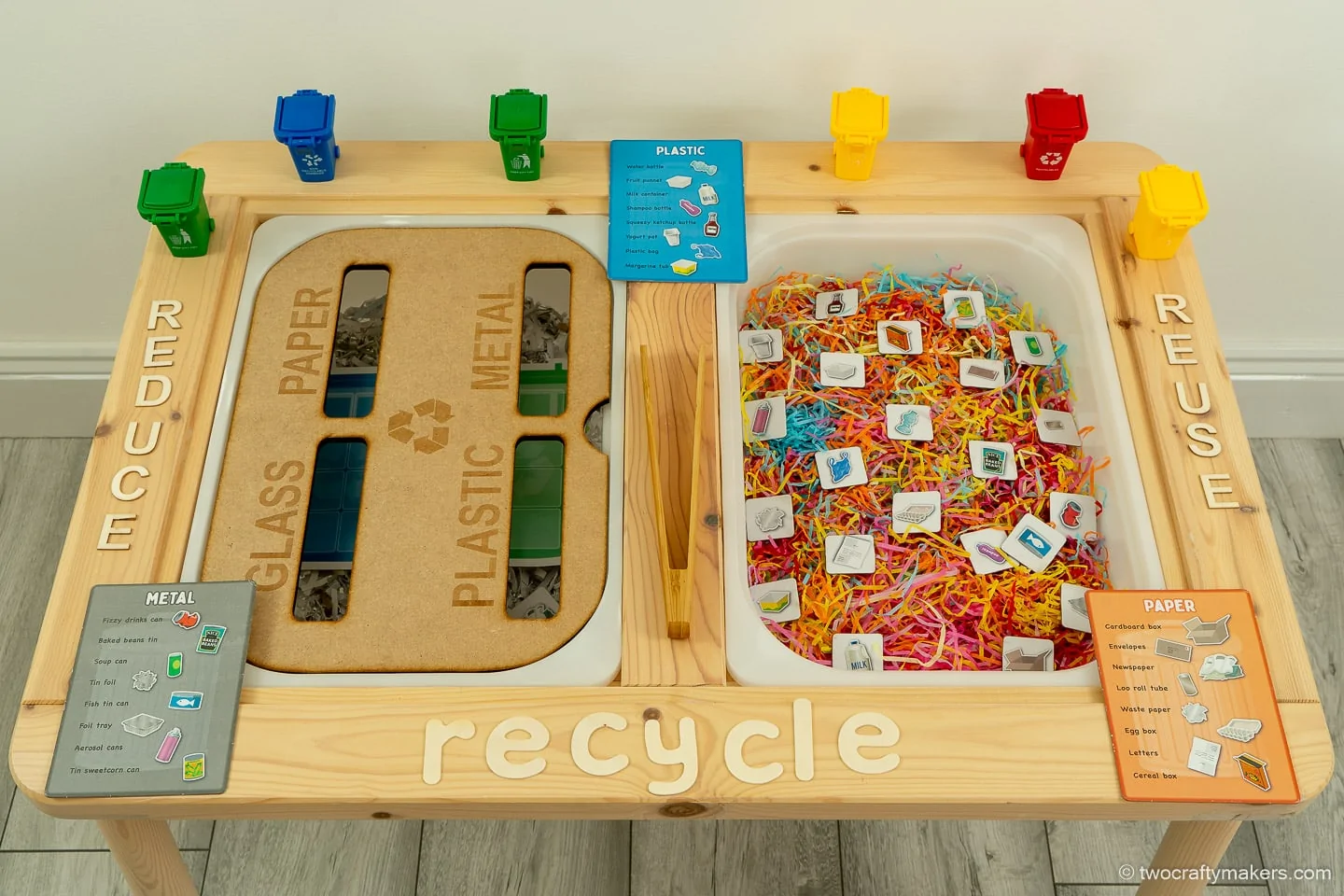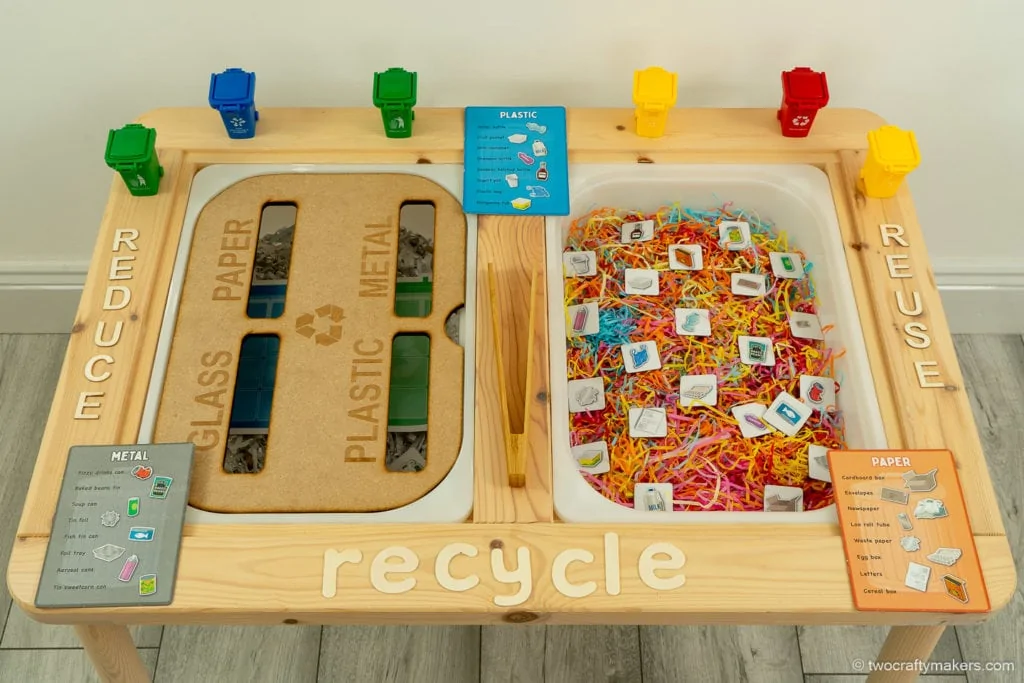 I used a recycling-themed Flisat insert which I picked up in the UK – Etsy usually has some great options if you are based in the US or Australia – along with the contents of a recycling game I picked up when the kids were younger – similar to this recycling sorting game.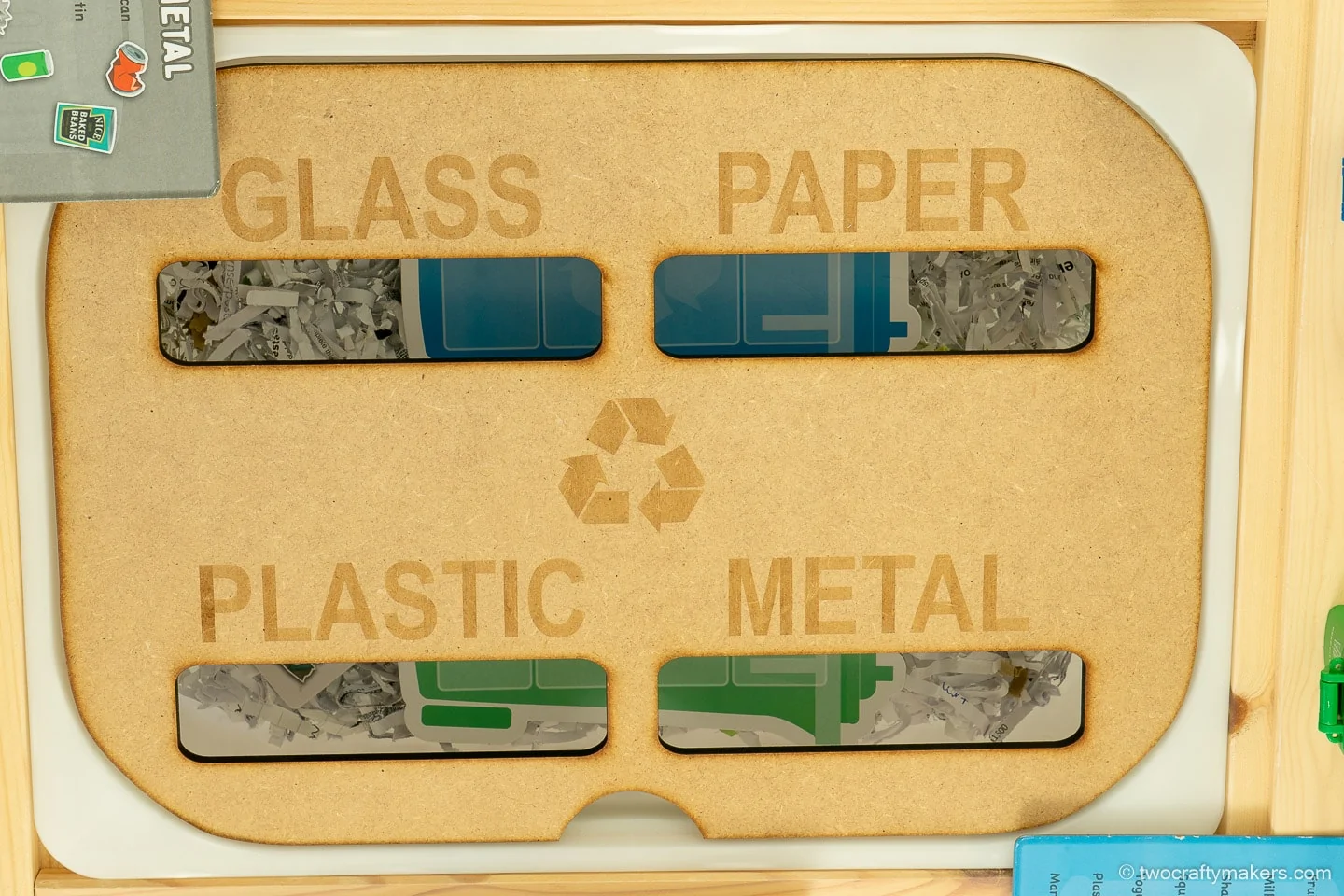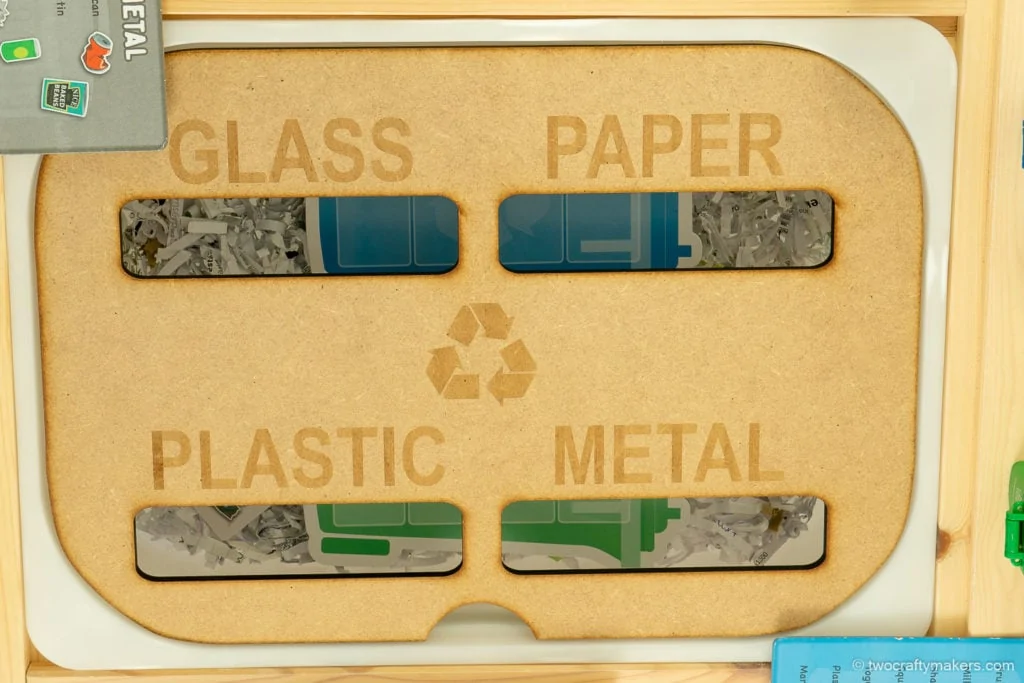 We recycled some of our shredded craft paper which is an awesome sensory bin filler and I popped a selection of thrash-themed cards from our recycling game on top for J and E to sort.
We talked through how to identify plastic, metal, paper, and glass, and then the kids set about putting the cards in the recycling slots on the Flisat insert. They also loved popping the cards in the colored thrash bins and filling them with shredded paper – this is an excellent activity for improving fine motor skills and my 2 year old especially loved this!