Happy Birthday little one! With my youngest recently turning 2, I set about creating a series of colorful and engaging birthday sensory bins to kick start her birthday celebrations. From a birthday cupcake station to counting and letter recognition, we had so much fun! Here are our favorite birthday sensory bin ideas which will make a lovely addition to toddler birthday celebrations!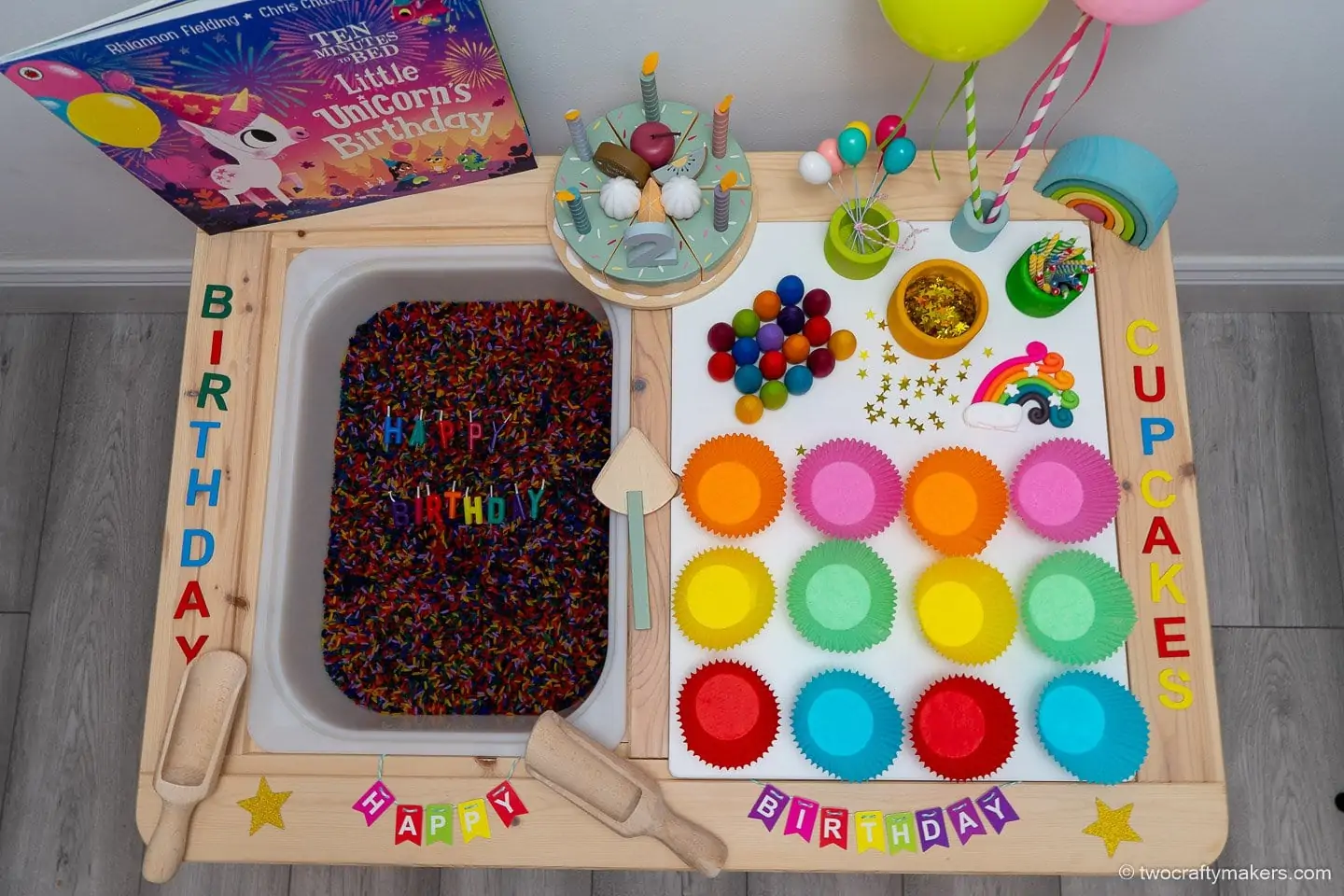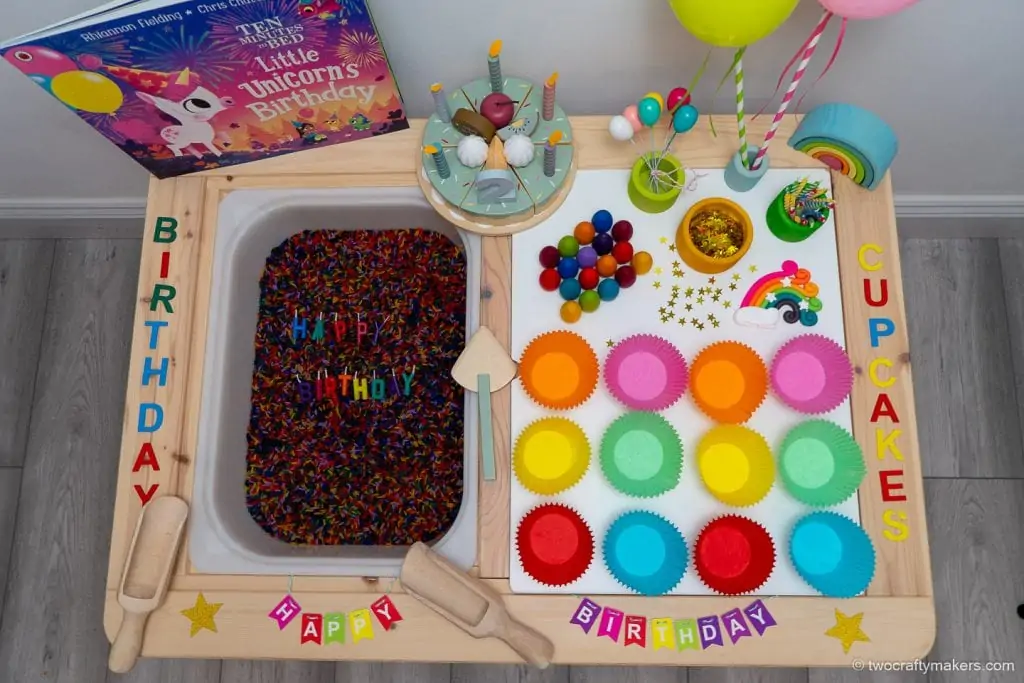 Birthday Sensory Bins
Sensory play is a fantastic tool to encourage kids to explore, engage and create and it helps kids develop essential skills. Our birthday themed sensory bins are focused on developing a range of skills including:
Fine motor skills: our birthday sensory bins incorporate lots of scooping, grabbing and pinching with tongs. All these activities mean little hands will work hard and improve muscle strength.
Creative skills: sensory bins offer open ended play opportunities and aim to capture their imaginations.
Number and letter recognition: I also set up a few letter and number focused sensory bins to allow us to explore number and letter recognition.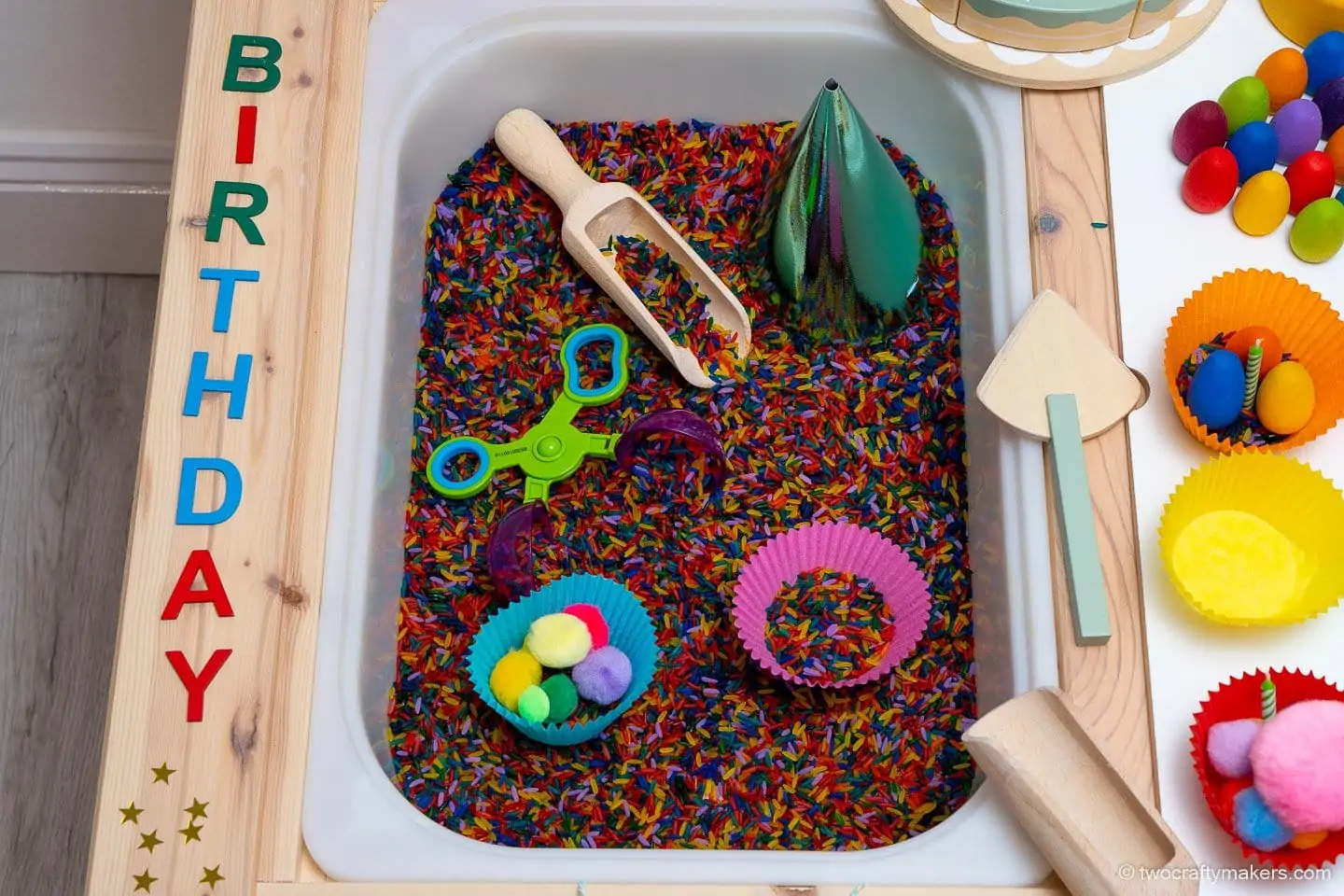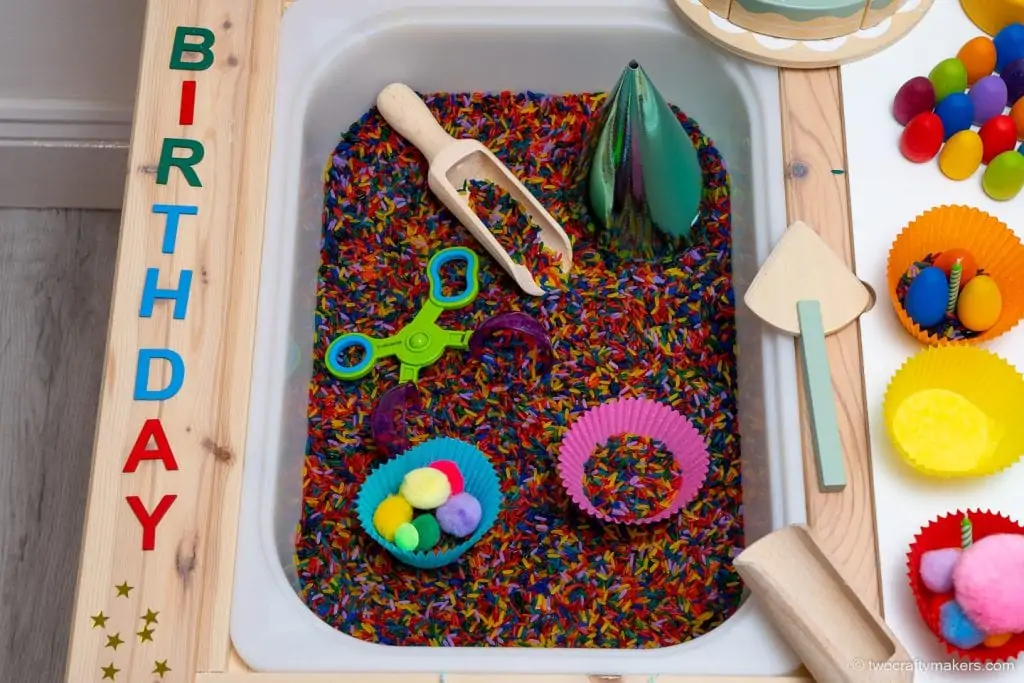 Birthday Sensory Bin Essentials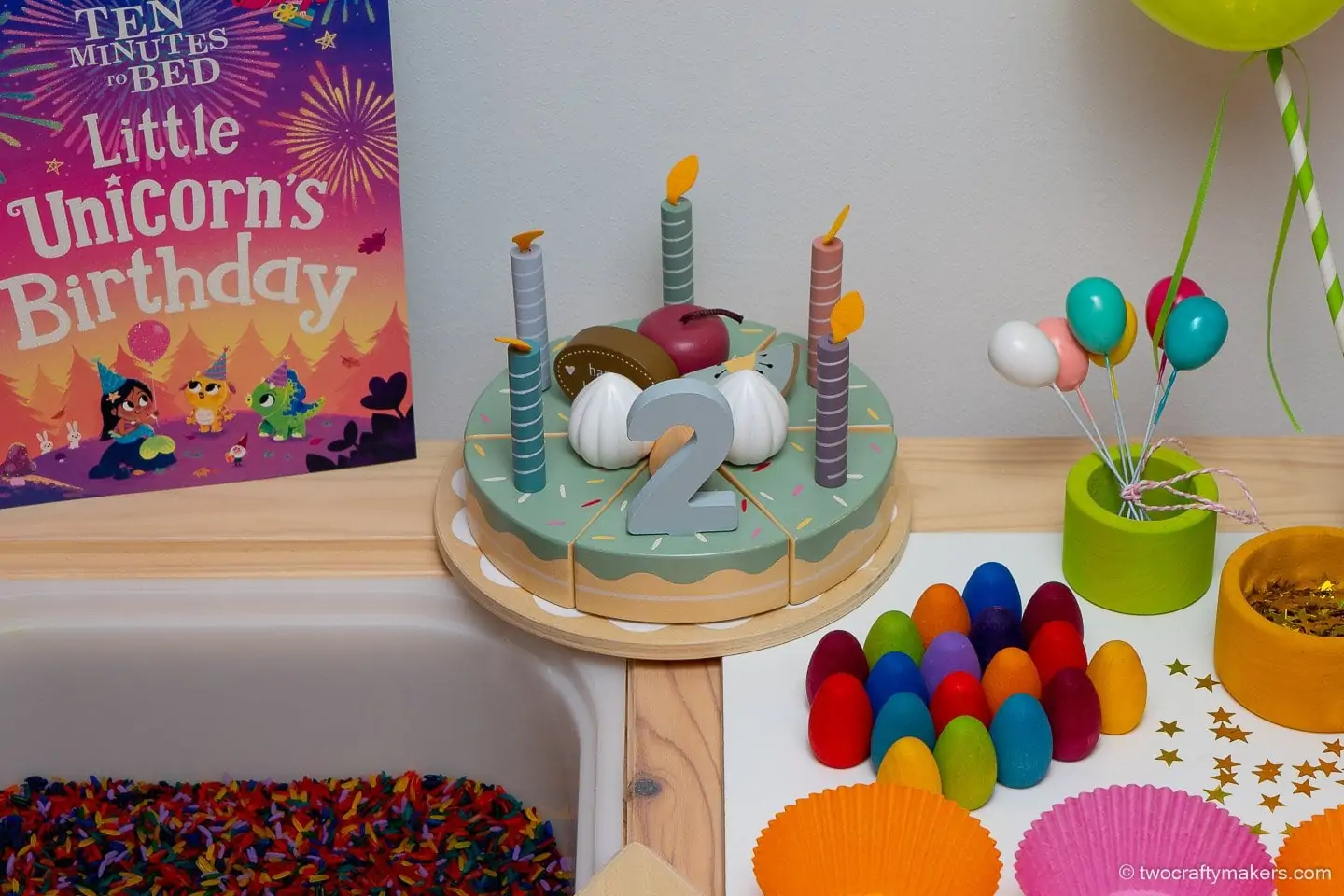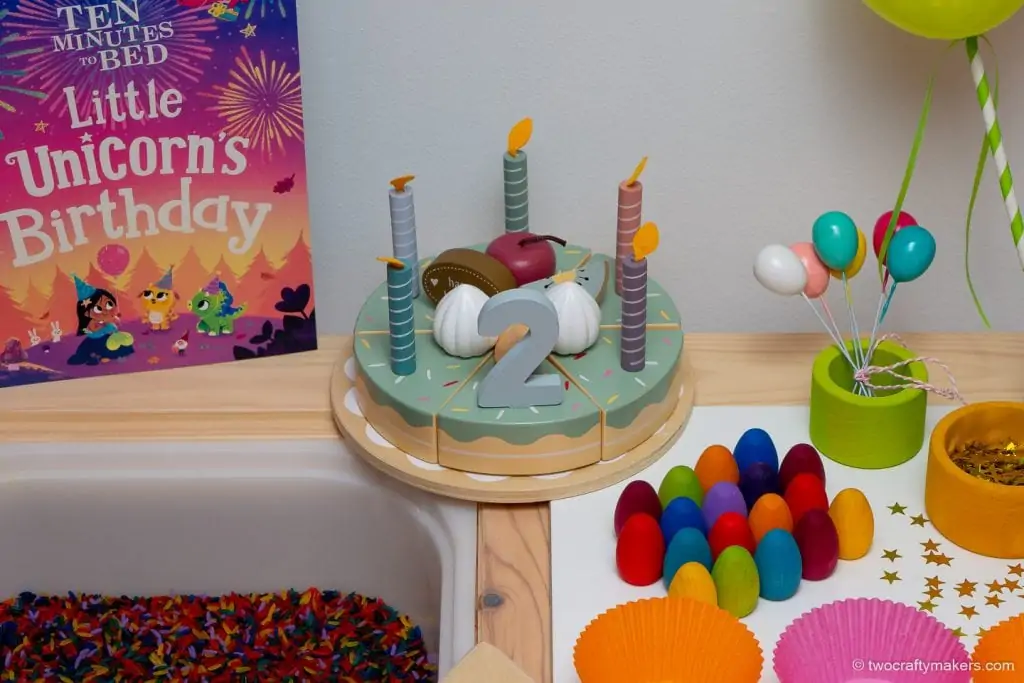 Food coloring or non toxic paint: we use Wilton Icing colors for most of our sensory activities as it gives such vibrant colors. This is the Wilton set – I used it for the rainbow rice and also in the play dough we made below.
Wooden scoops: a wooden scoop set works really well with a small ingredient like rice – something similar to this set will work great.
Wooden bowls: we love our Grimm's stacking and nesting bowls
Wooden letters: I use wooden letters to accompany our sensory bins and help with letter and word recognition. I've picked up so many sets in craft stores over the years but these colored wooden letters and this natural set are good options. Make sure to choose an age appropriate letter size if you are planning on letting your kids play with the letters.
Sensory Bin Table
We use and highly recommend the Ikea Flisat kids table for all our sensory bins. It's a fantastic addition to your playroom and is super versatile. While it's available from Ikea directly, it's usually out of stock. Luckily you can usually grab one on Amazon – No products found.
No products found.
We also use the Ikea Trofast bins for sensory play. They're easy to clean and our kids love them – check prices now!
1 | Birthday Cupcake Station
Both my toddlers LOVE cupcakes so a birthday cupcake station was the perfect addition to our birthday sensory bin fun!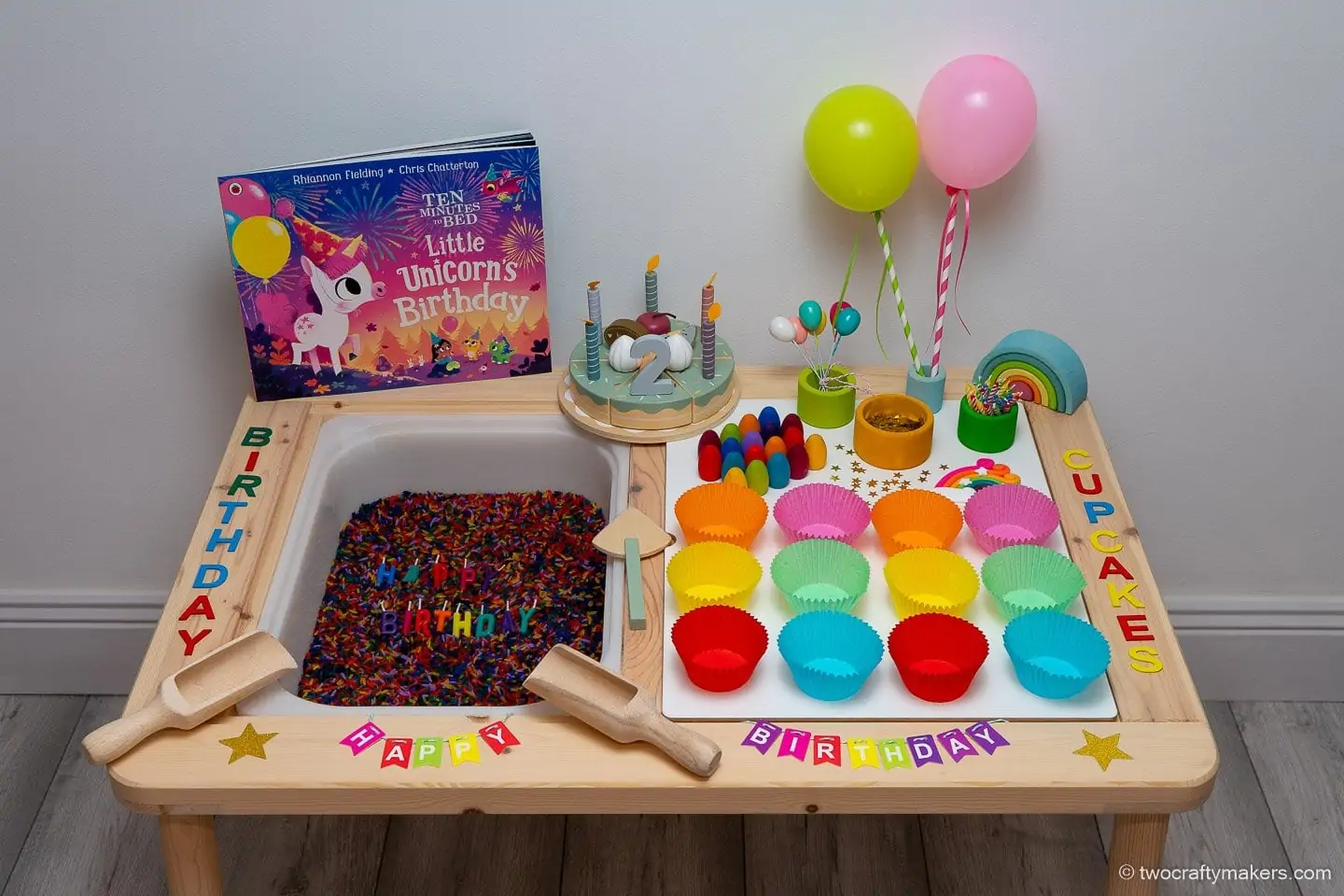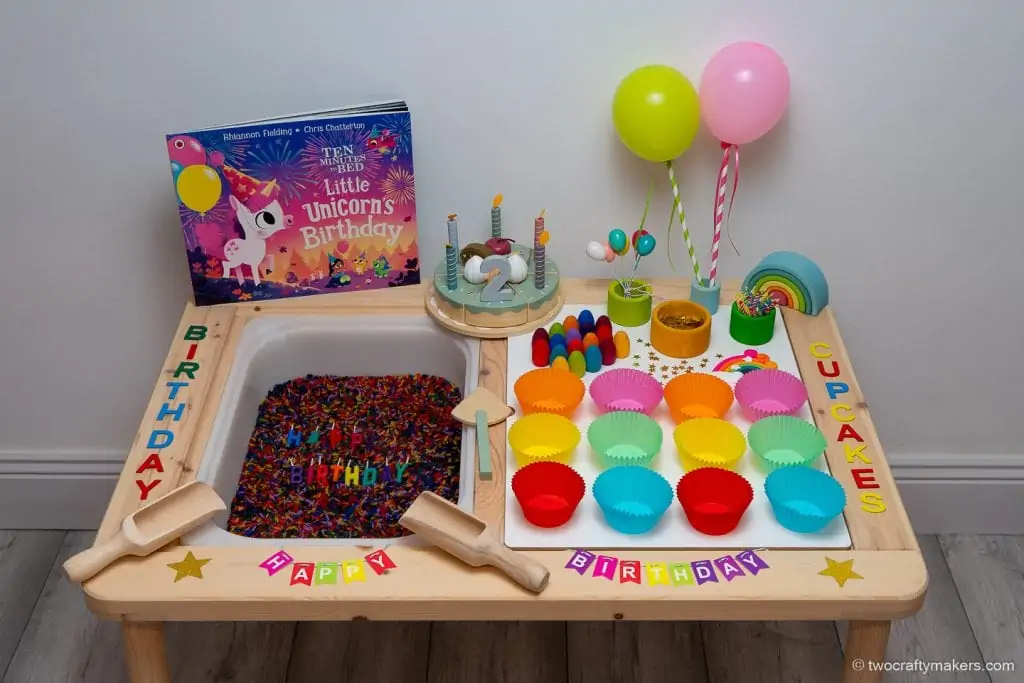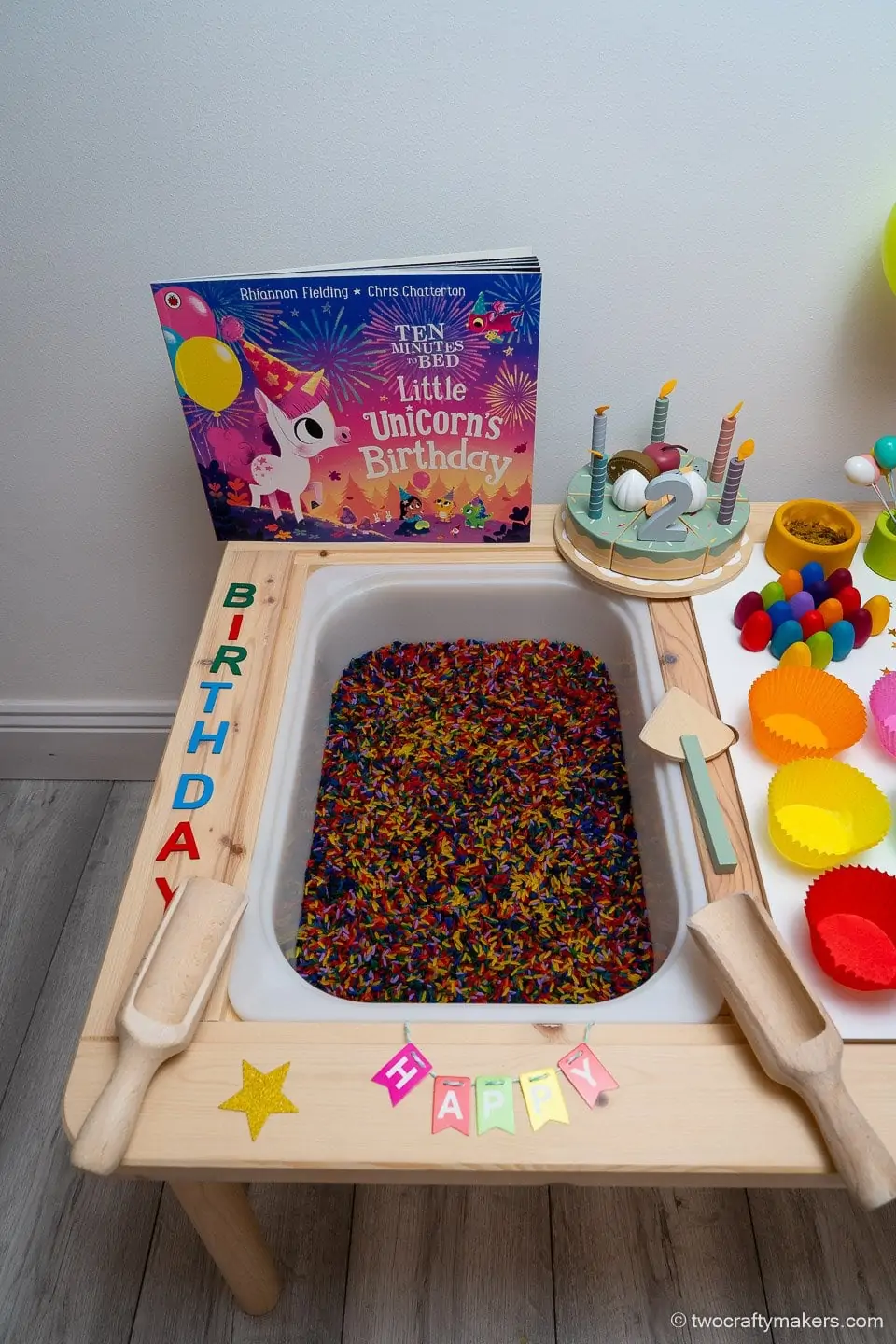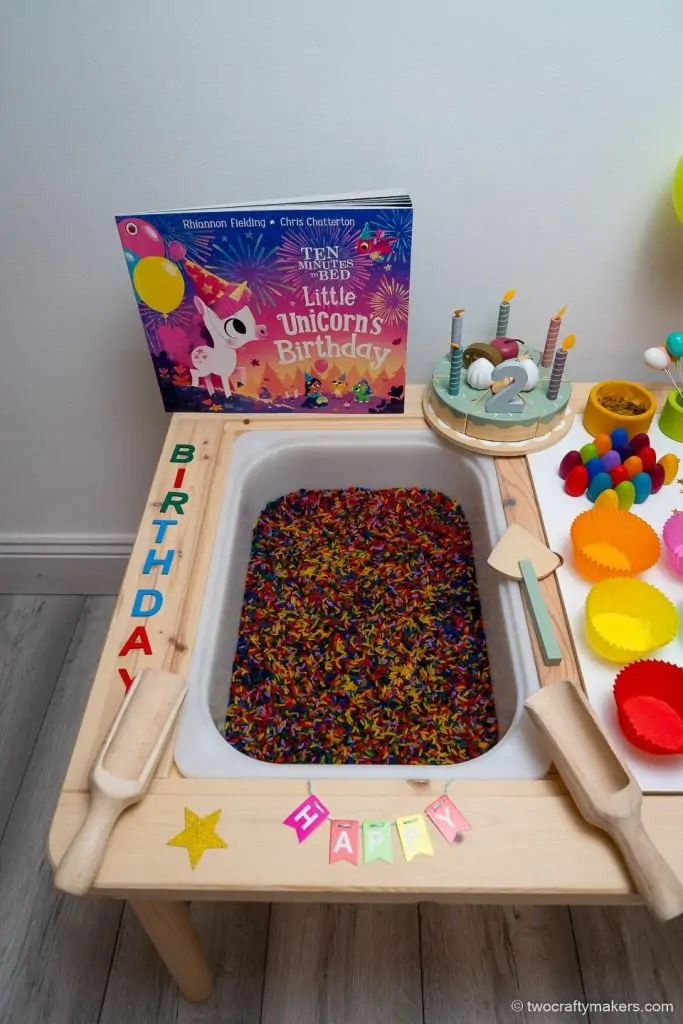 I set up a bin with mixed rainbow rice (proof that rainbow rice looks just as beautiful once it's mixed, right!), rainbow-colored cupcake liners, and some bright cupcake toppers.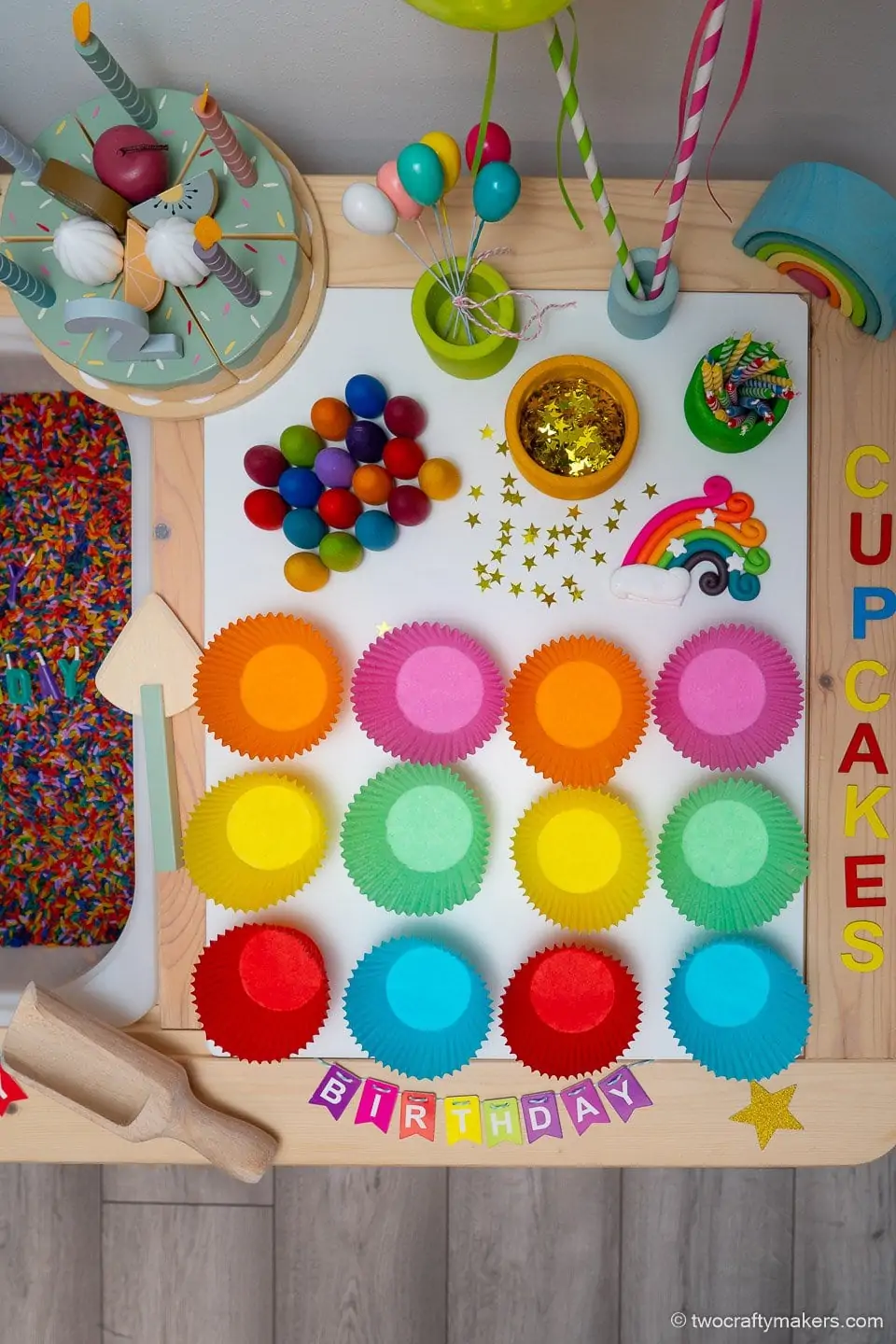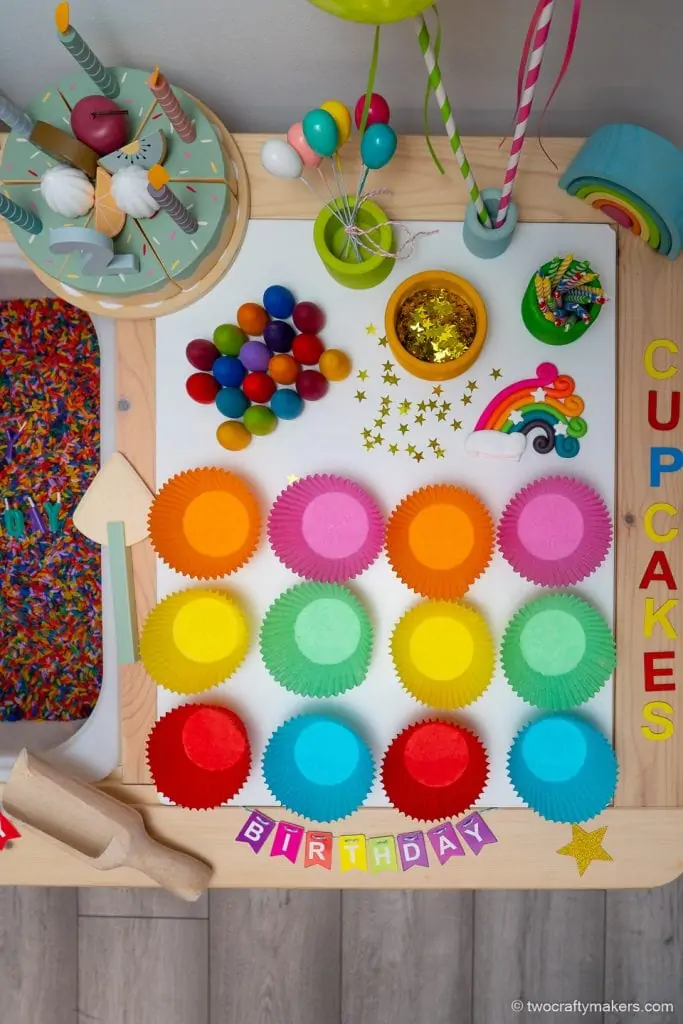 After a brief discussion outlining that these were not cupcakes of the edible kind, we got to work making our birthday cupcakes!
Birthday sensory bin tip: when we started with sensory play I worked with a 3 strikes rule when it came to my kids putting things in their mouth. I explained to them before we began to play that sensory bin items were not to put in their mouth and, if they continued to try after two corrections, I cleared the sensory bin away immediately.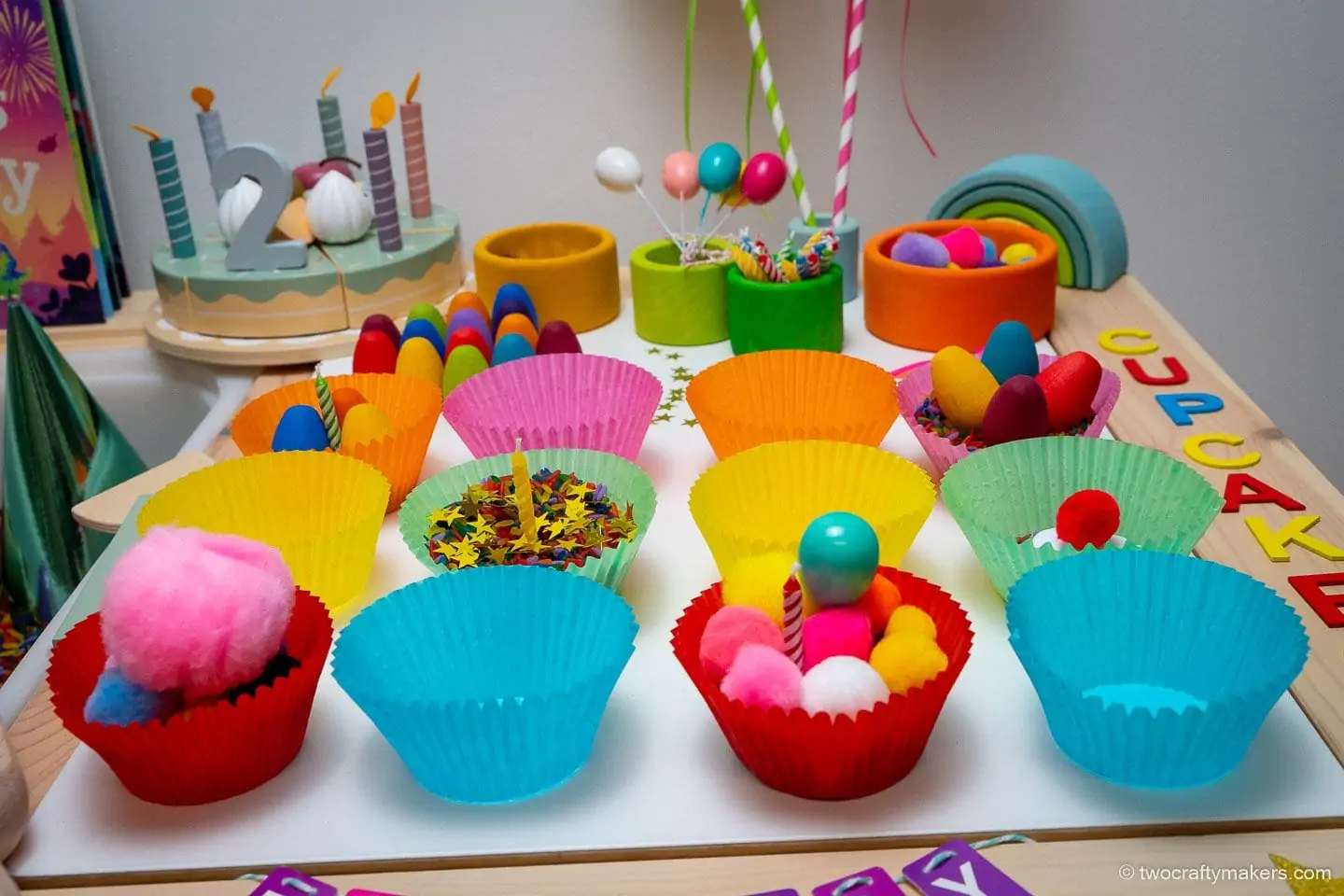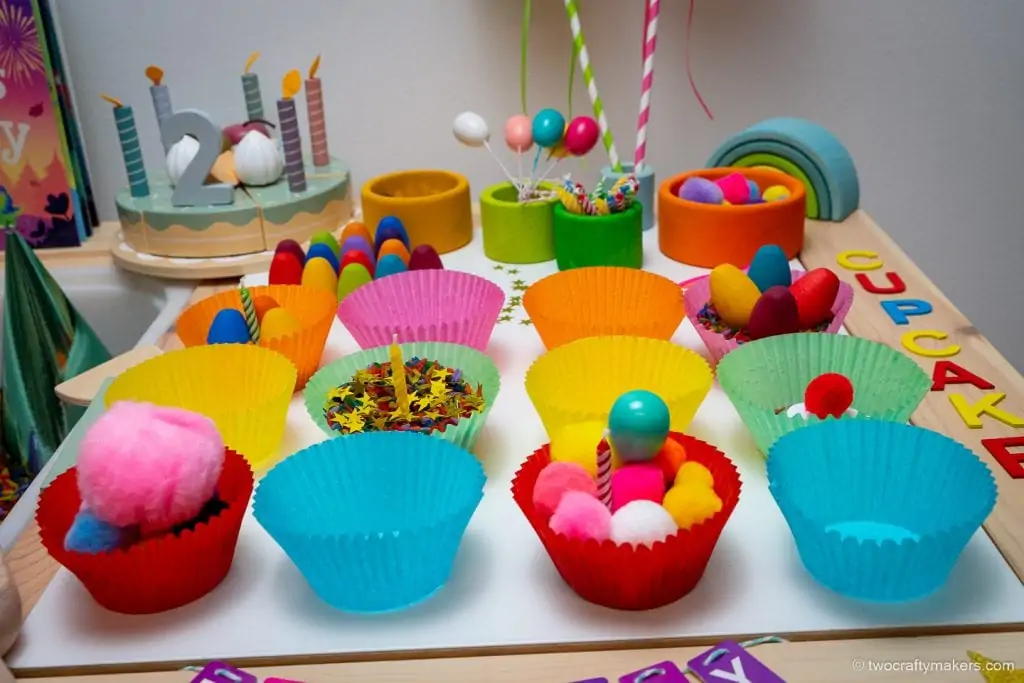 For the Birthday Cupcake Station sensory bin you will need:
Rice: note, uncooked rice is toxic. This is an activity to monitor closely to ensure none of the rice is consumed. I mix the rice and a generous amount of Wilton food coloring for a vibrant color and leave to dry – a few drops of vinegar or water will help the color spread.
Cupcake liners: I used some rainbow cupcake liners that I had in my baking cupboard. I've since purchased some reusable silicon cupcake liners and they are awesome!
Pom poms: my kids love working with pom poms! The variety of colors makes them an excellent prop for weather learning and they feature in many of our sensory bins. I have way too many pom pom sets to be sure which ones I used but these large pom poms are a good starter option!
Birthday sensory bin tip: remember, pom poms are a choking hazard so only use them if they are age appropriate. Make sure to closely supervise play at all times and avoid if your kid is likely to put things in their mouth.
Cupcake toppers: I use birthday odds and ends like birthday candles (not to light of course, just to pop in our cupcakes while supervised!), our new Grapat rainbow eggs, the banner from this cute little cake topper and some amazon link="B07BVSLNX3″ title="tissue paper confetti"]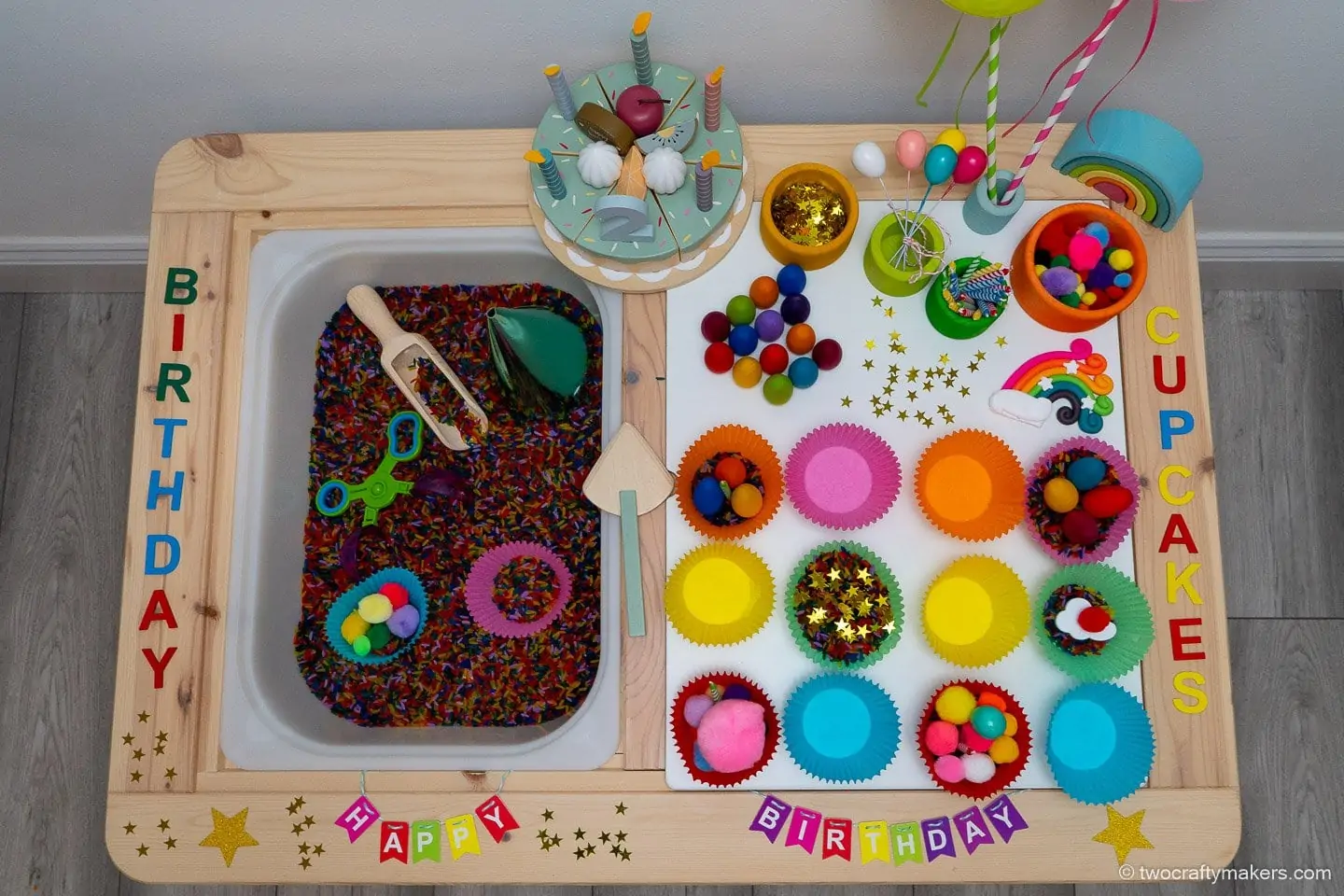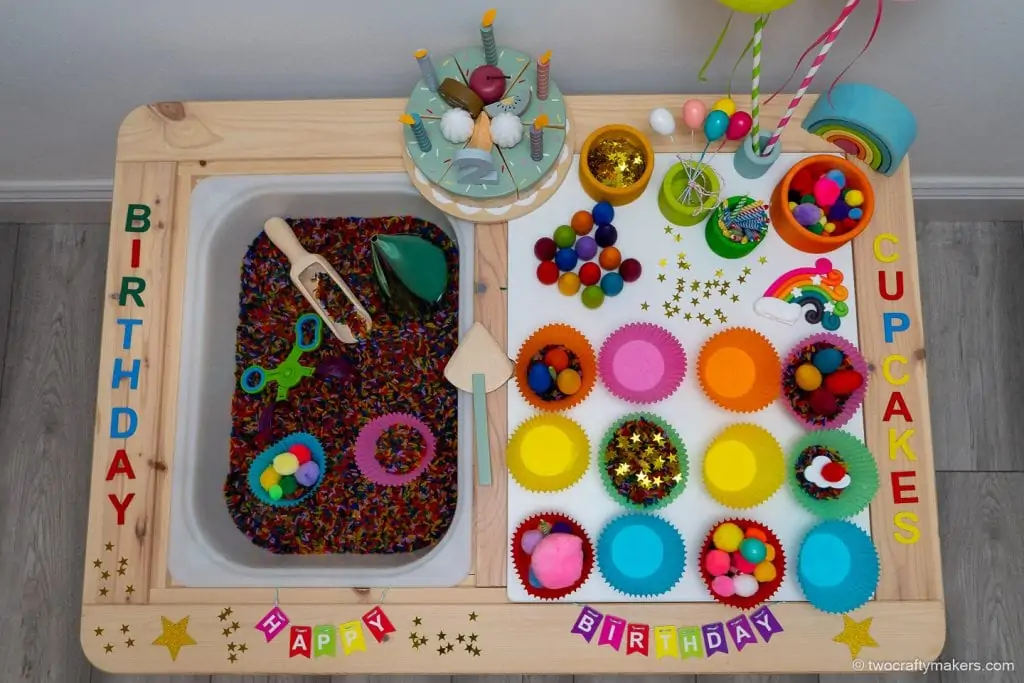 2 | Today I am… 2!
I love incorporating number and literacy fun into our sensory bins and our birthday play was a great opportunity to focus on number recognition.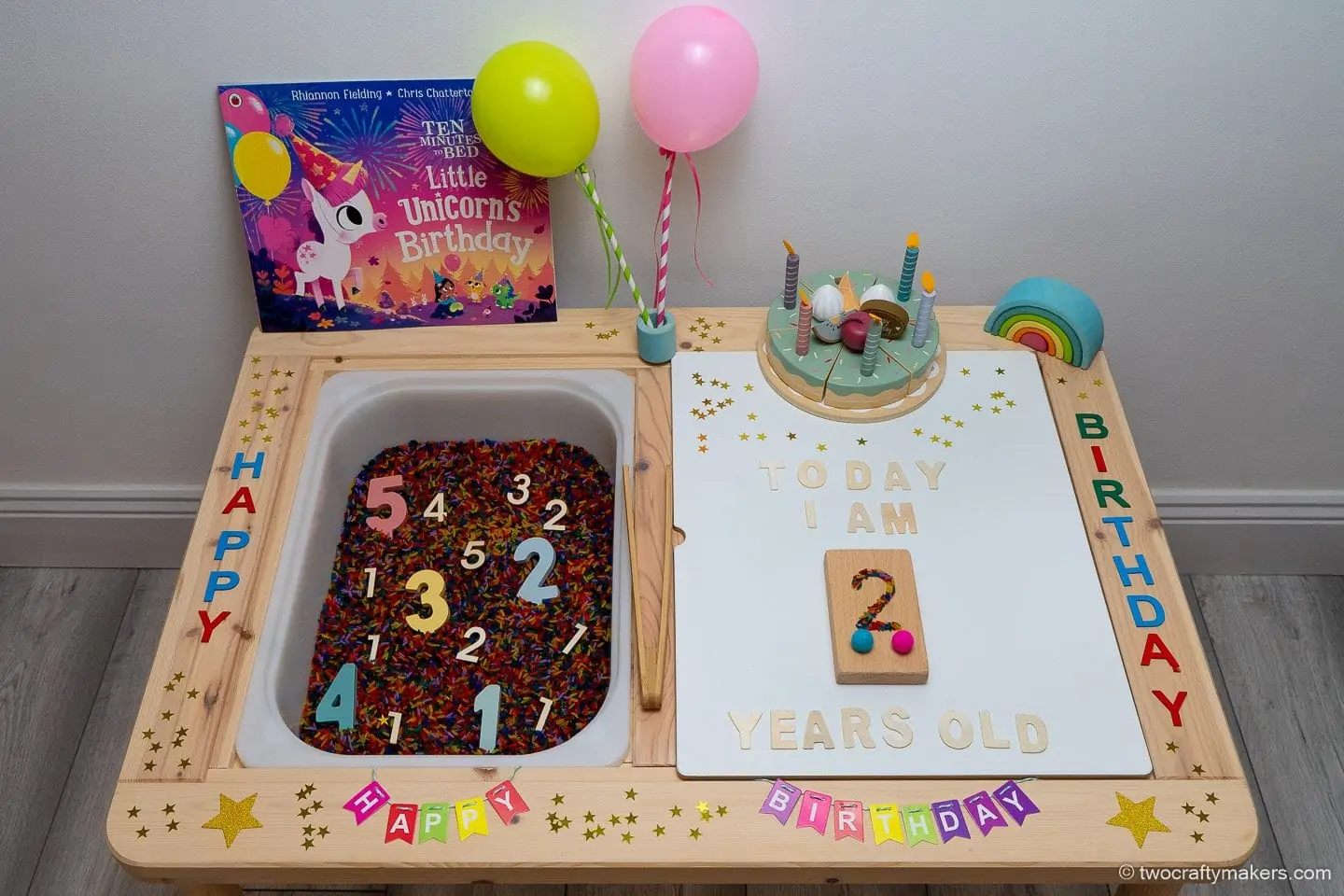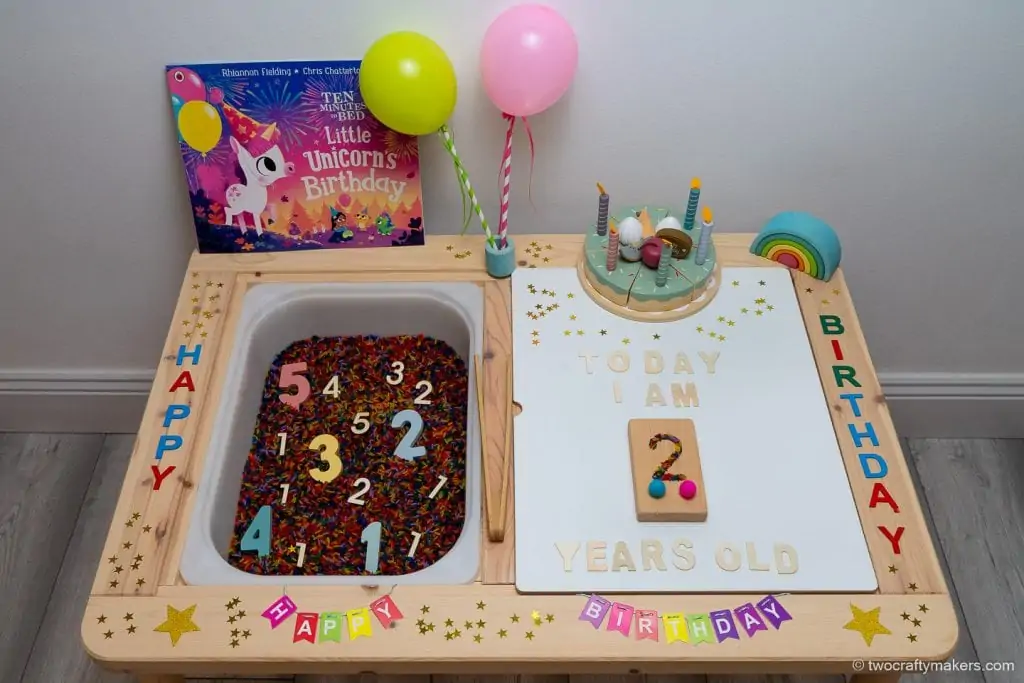 I started by focusing on the number 2, her new age, from our number board set – we traced out the number by hand before filling it with rainbow rice. We then practiced some counting up to 5 and used our felt craft balls to accompany our counting practice.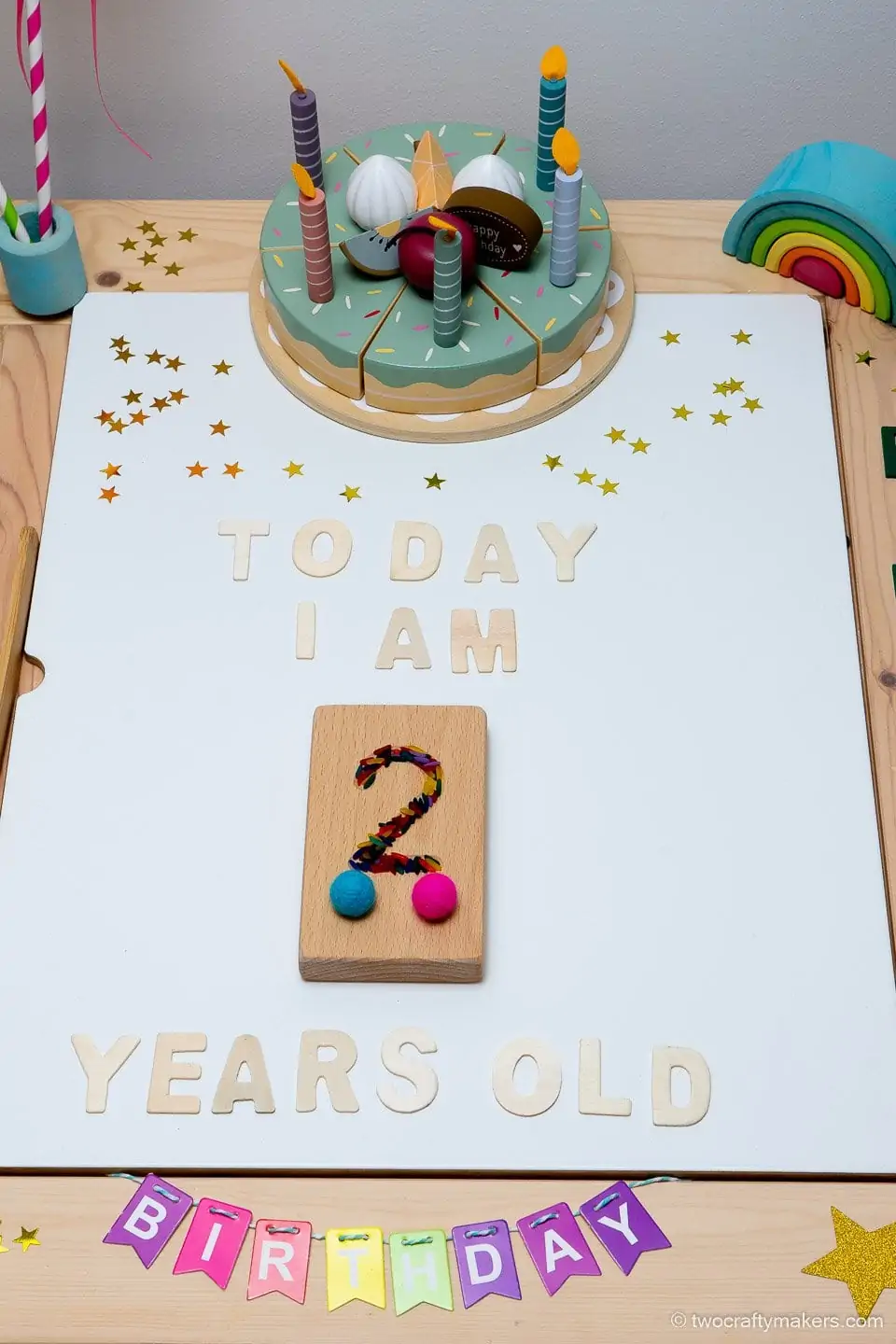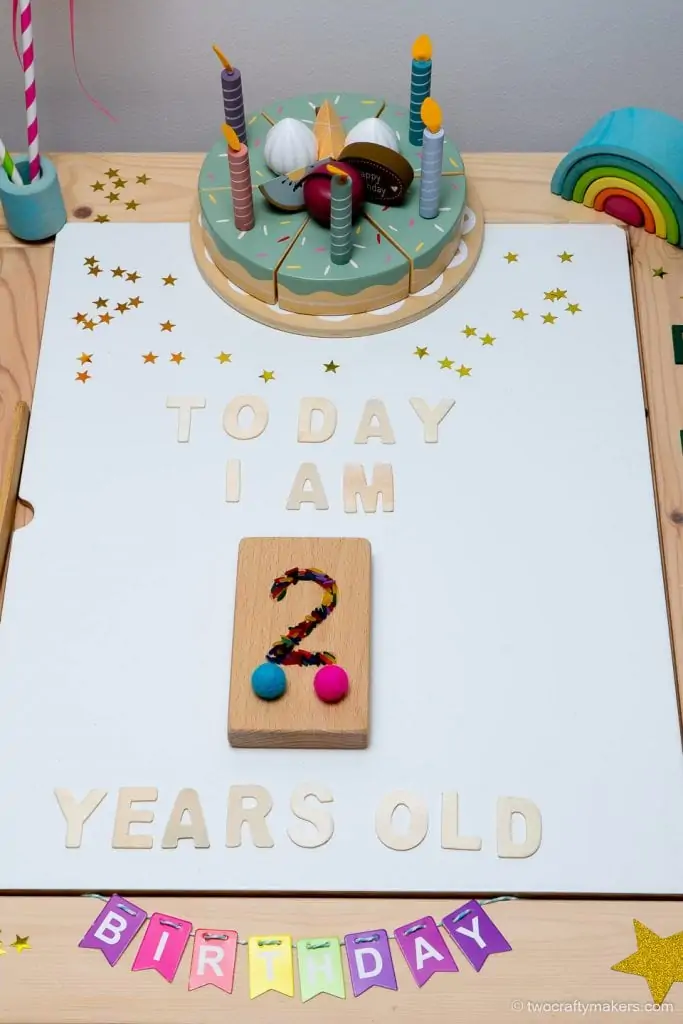 I then asked my newly turned 2 year old to rescue all the number 2's from the rainbow rice!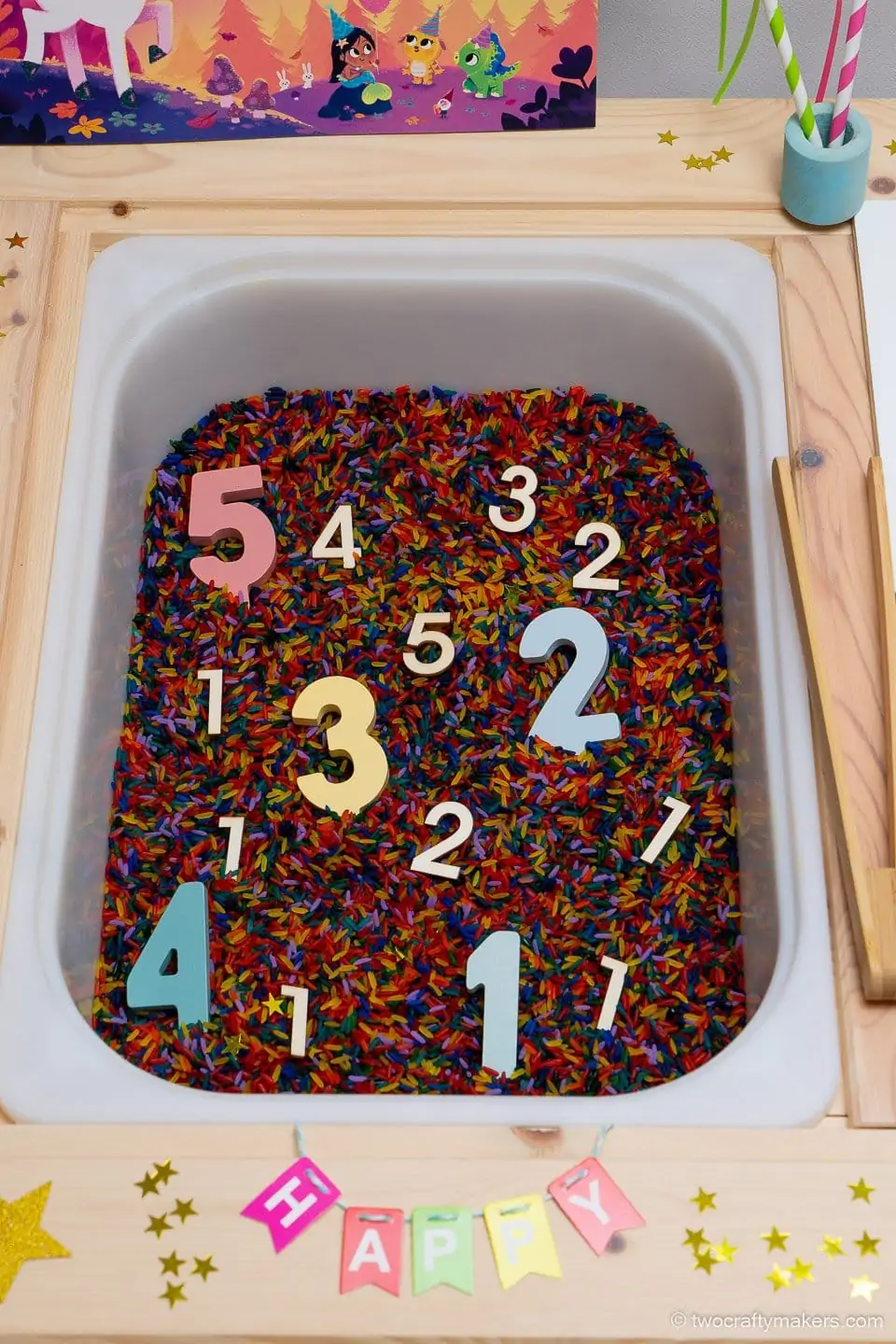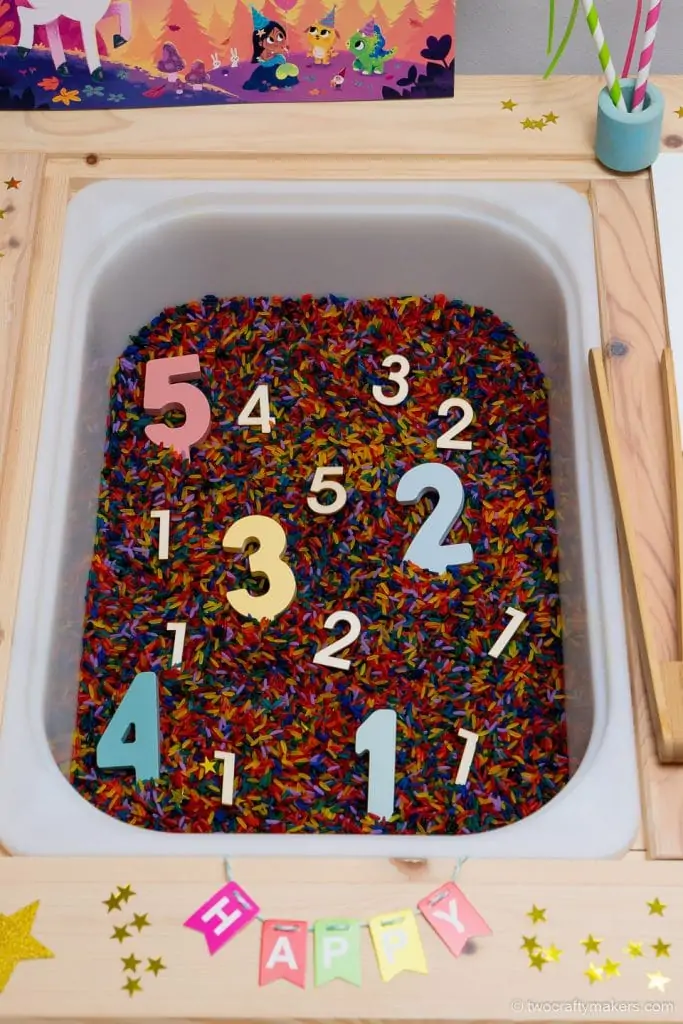 What you need:
Number peg board: I used the number 2 from our number board set. There are some great reasonably priced options available if you want to invest in one for your playroom learning. Some come with pegs but I prefer to use large felt balls or pom poms when I'm working with my toddlers – check prices here!
Wooden numbers: our wooden numbers were part of the birthday cake and some craft number sets I had – these large numbers are a fantastic option if you need some.
Felt craft balls: again, make sure these are age appropriate for your kids. We like these 1.6 inch felt balls for our sensory play.
3 | Happy Birthday!
Our next setup encouraged letter recognition and I focused on the words 'Happy Birthday'. We started with some letter tracings on our alphabet board and then matched the letters in the word and filled them with rainbow rice.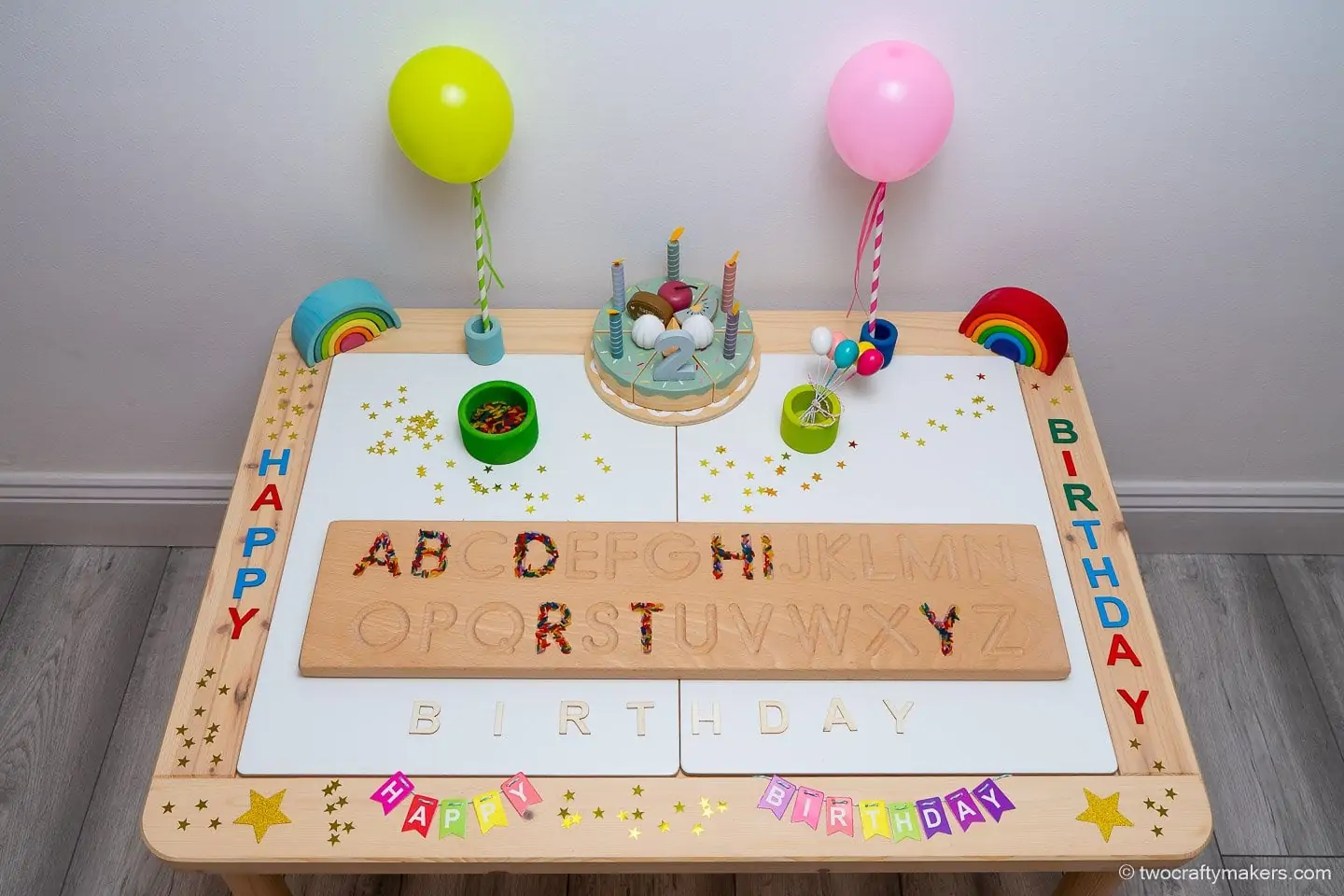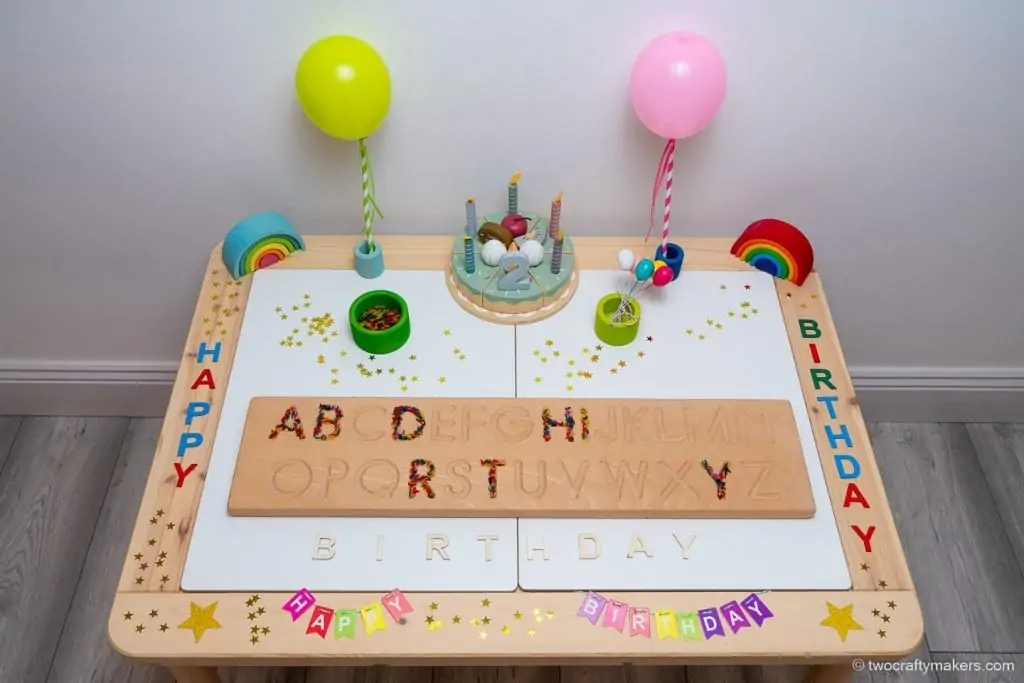 What you need:
Alphabet tracing board: I used our alphabet tracing board for this activity. There are some great reasonably priced options available if you want to invest in one for your playroom learning –

No products found.
4 | Play Dough Birthday Fun
Play dough is an excellent sensory tool and I always try to include it in our sensory themes. It works the muscles in small hands and helps with the development of tactile skills.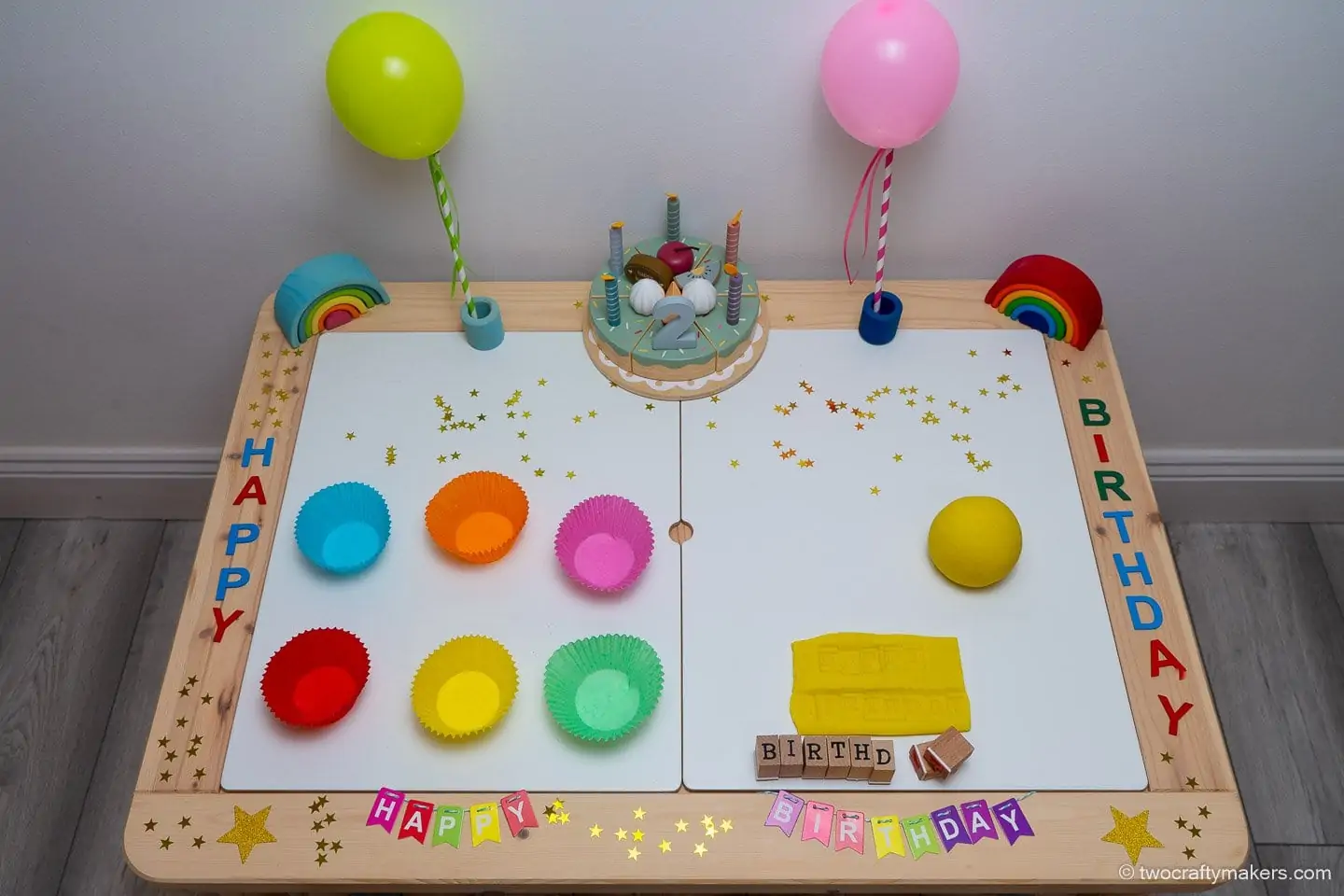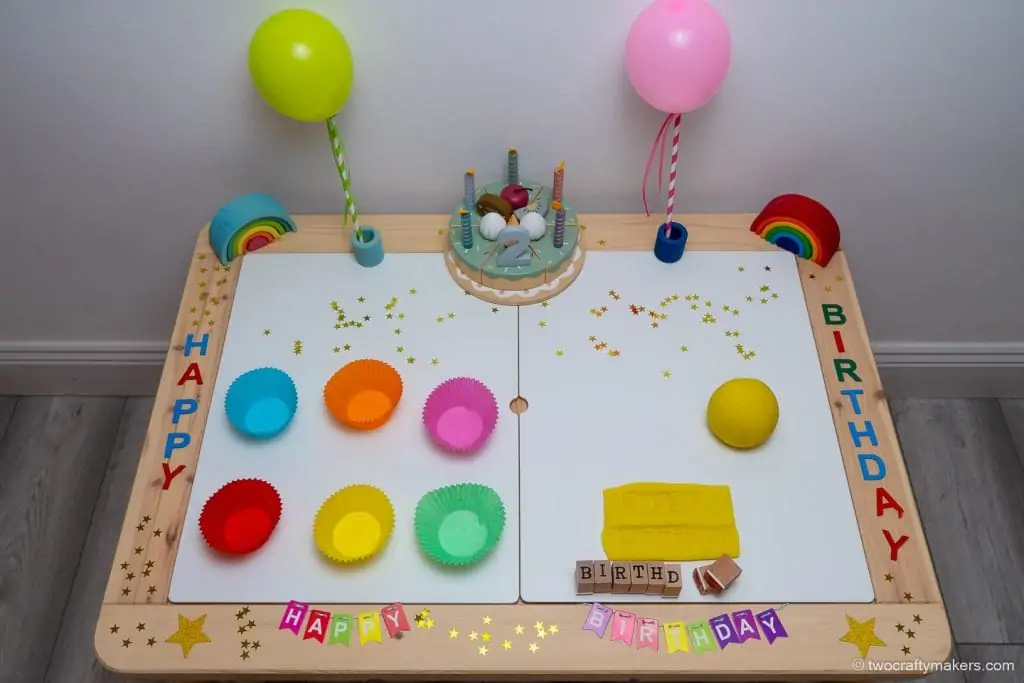 This play dough birthday tray can be created with regular or DIY play dough, I made the play dough for our birthday sensory bins.
Birthday sensory bin tip: I make my play dough from a quick mix of some cupboard staples (flour, vegetable oil, cream of tartar, salt, water and food coloring). The recipe is taste safe and always goes down a treat with our toddlers. We love the Wilton icing colors and find the vibrancy of their colors amazing. Make sure to wrap the playdough in cling film when you're done so it doesn't dry out.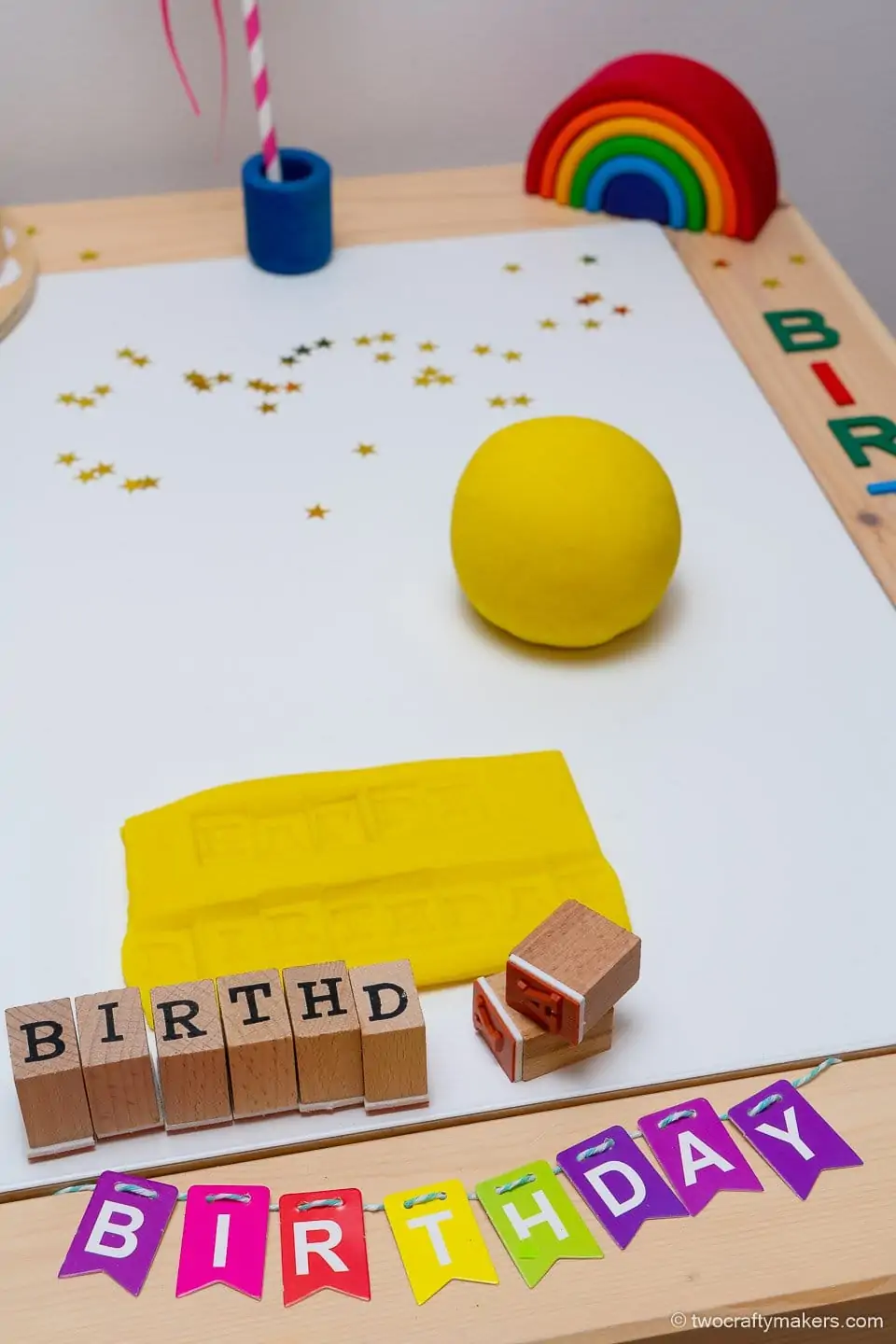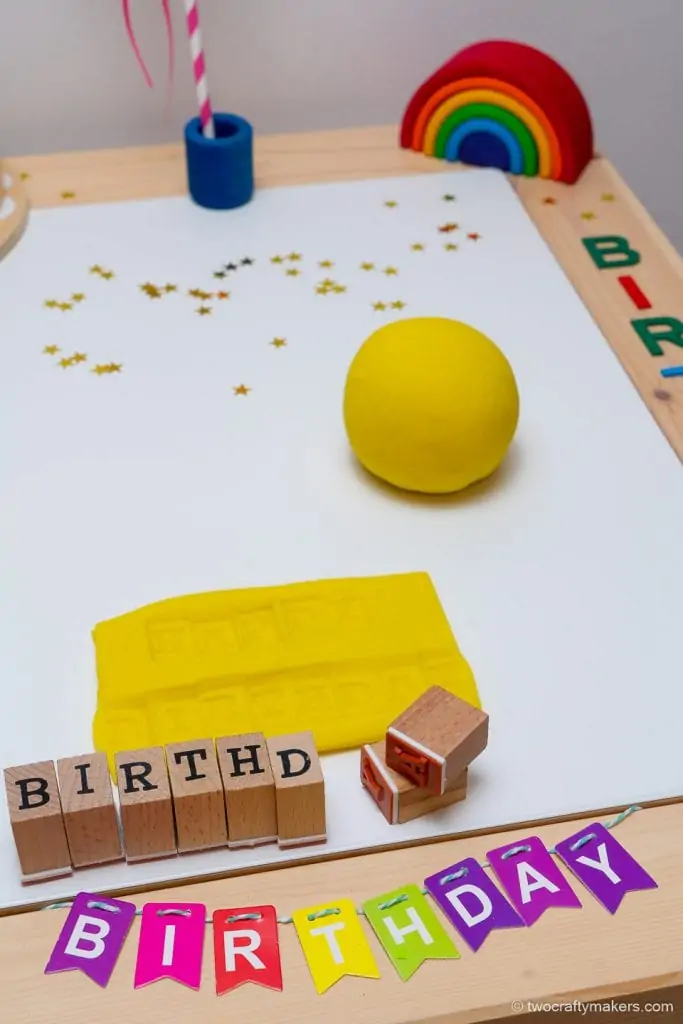 We had some fun creating some play dough cupcakes.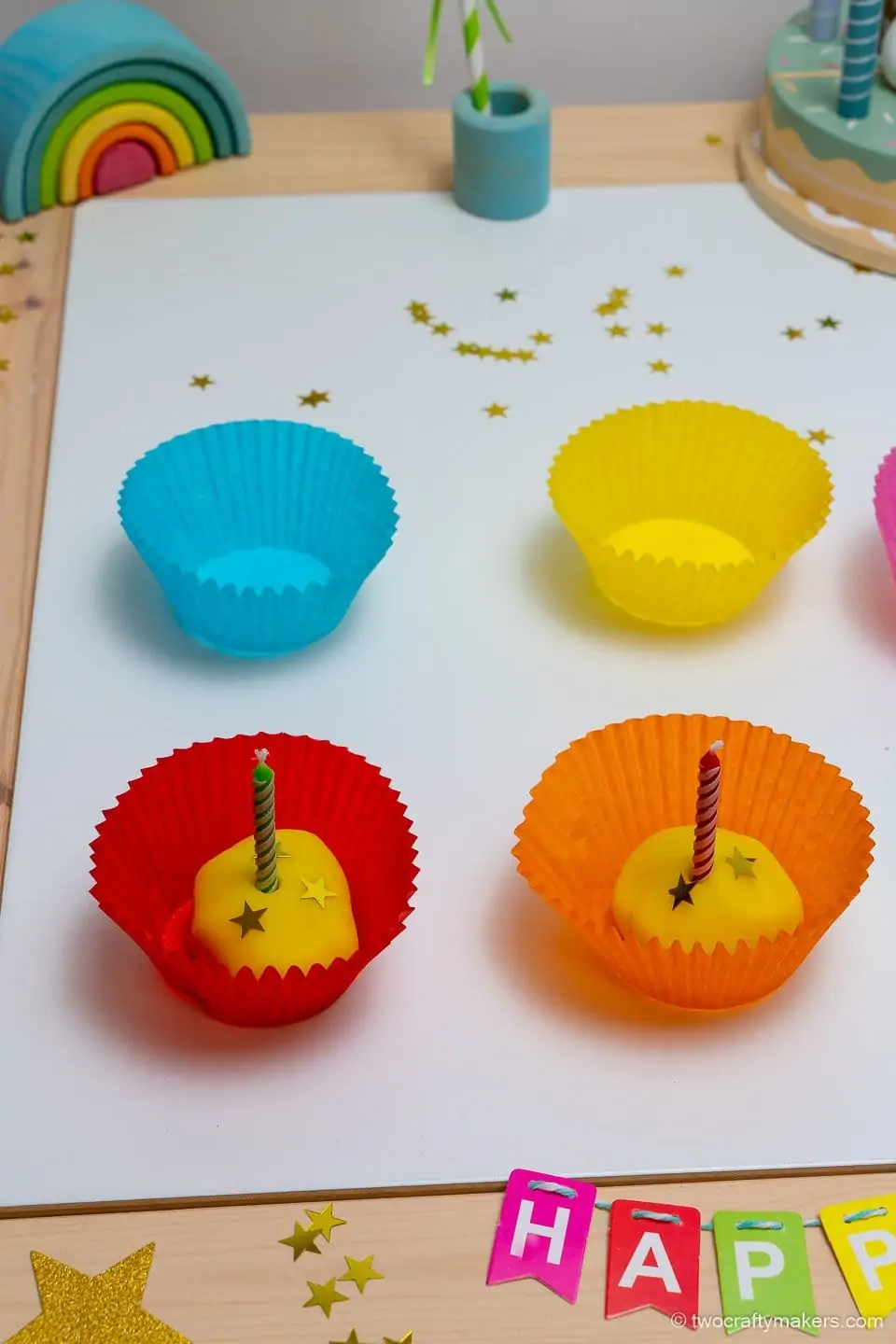 Then we used our play dough stamps to bring some fun to letter recognition.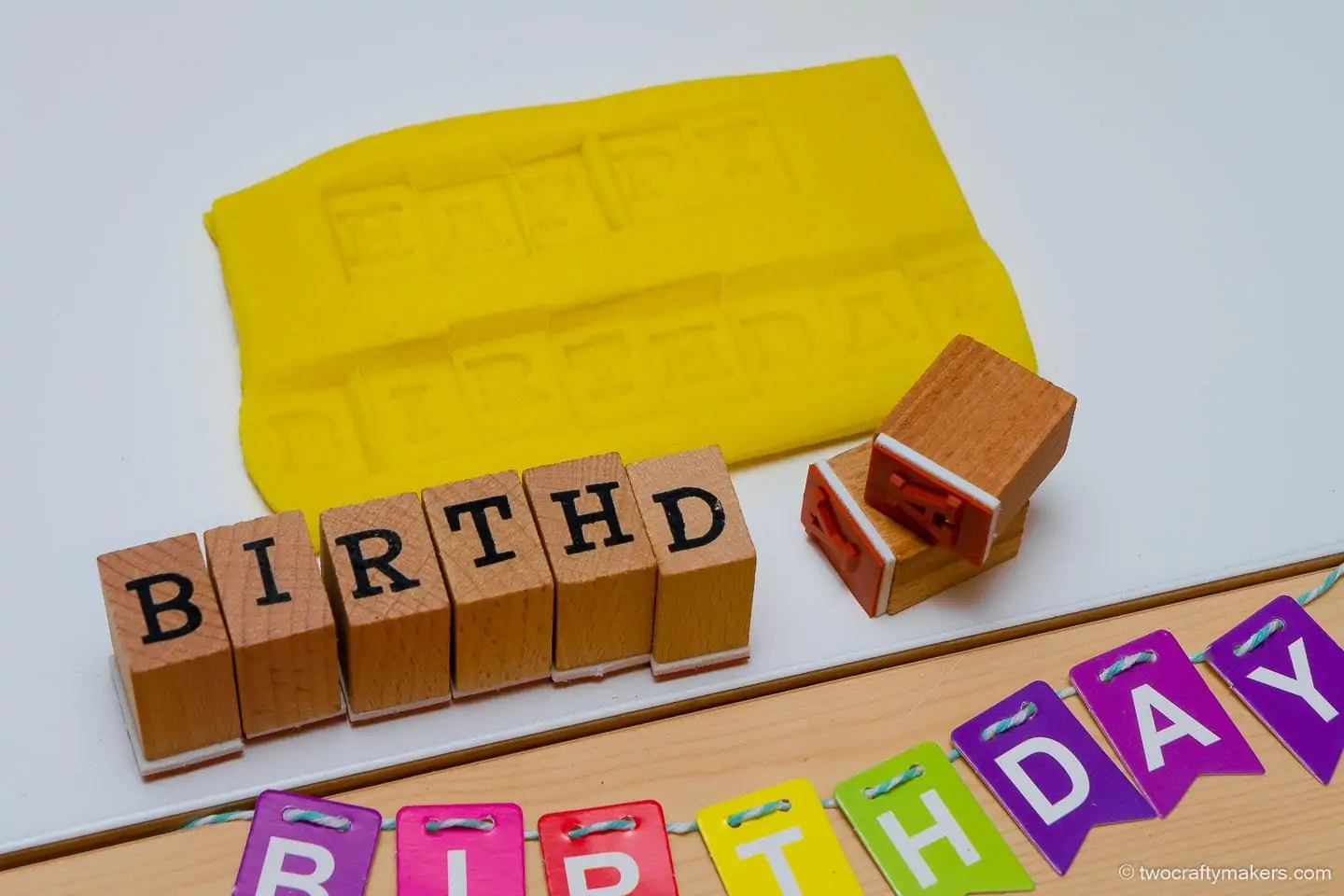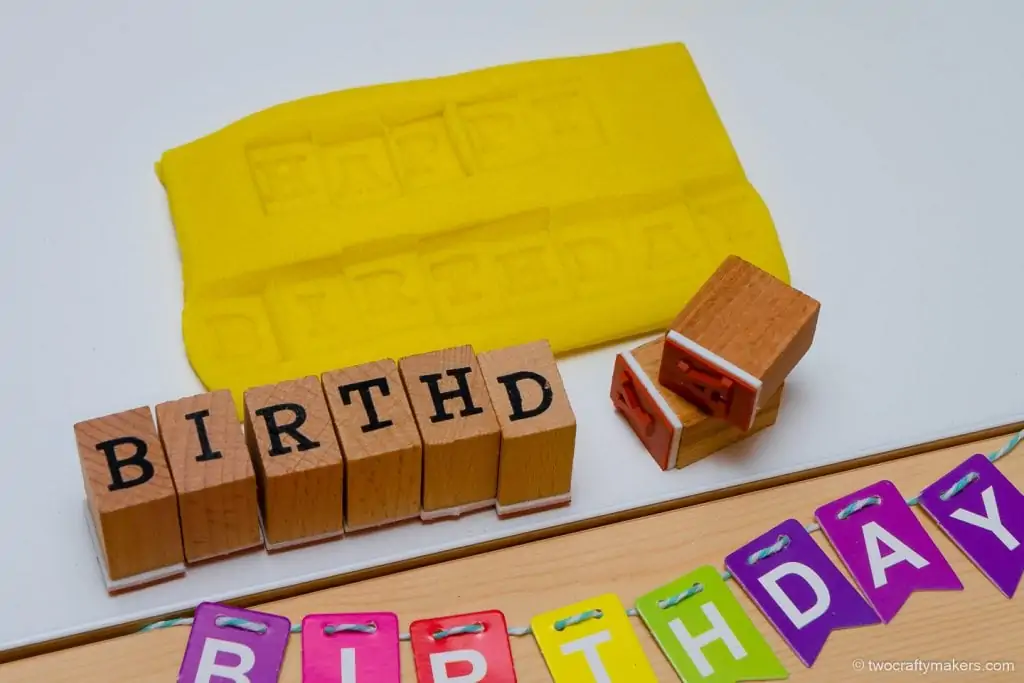 What you need:
Rubber alphabet stamps: again, I had some stamps I picked up in craft store but something like this Melissa and Doug alphabet stamp set
Yellow play dough: I made some yellow colored play dough so we could work on our play dough cup cakes and letters.
For more sensory bin ideas, check out our other posts:
Birthday Sensory Bin tip: we use the Ikea Flisat table for all our birthday sensory bin play. Don't worry if you don't have sensory table, you can use craft trays or storage bins to the same effect. If you have an Ikea Flisat table then check out our Ikea Flisat table hacks including this DIY light table and DIY lego table.