The story of the Three Little Pigs conveys a great message and is one of our kids' favorite books at the moment. Having read the book over and over I was keen to incorporate the story into our sensory play and try out some Three Little Pigs activities. The Three Little Pigs theme lends itself to so many fun activities from play dough to house-building crafts and makes for engaging setups with lots of learning opportunities.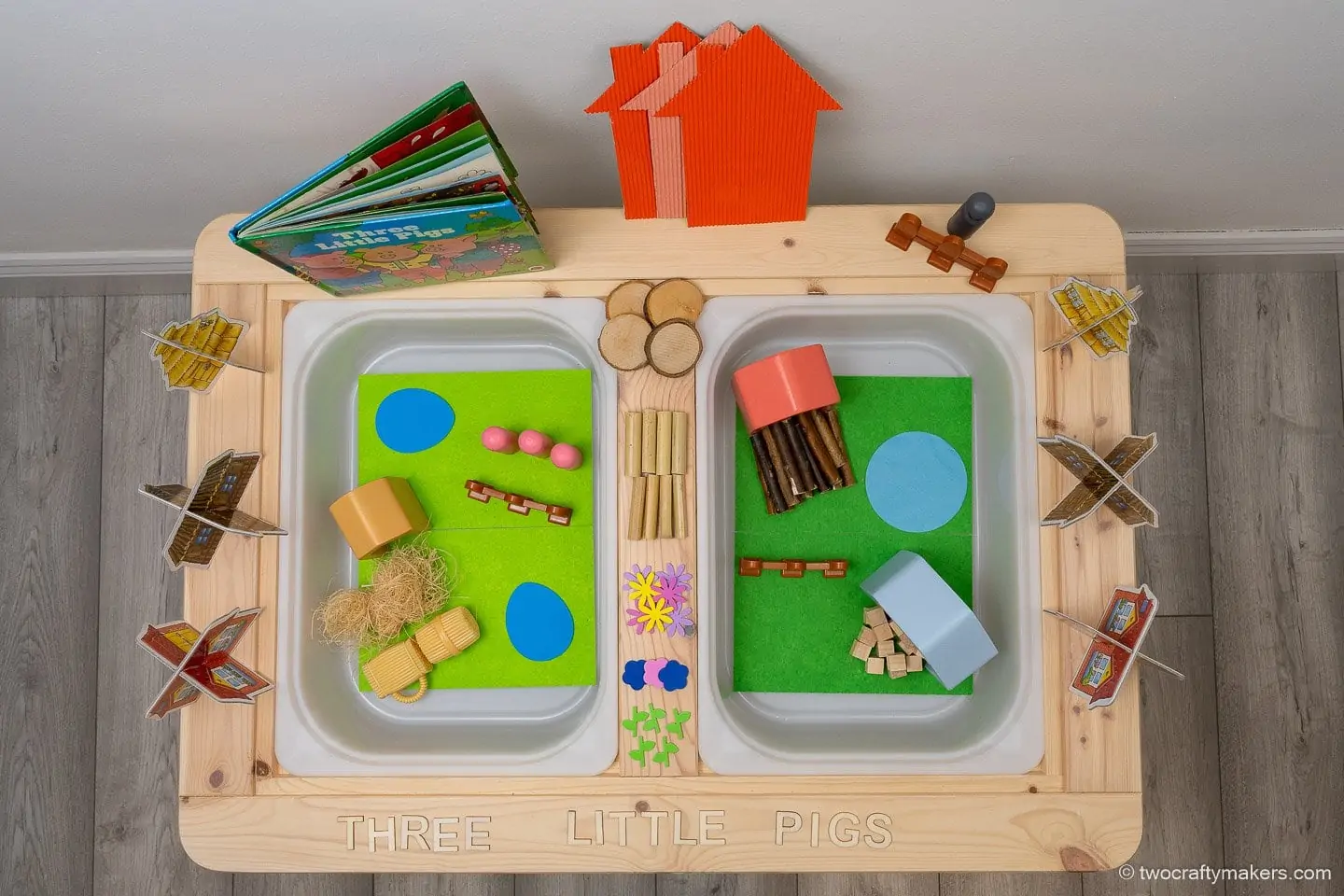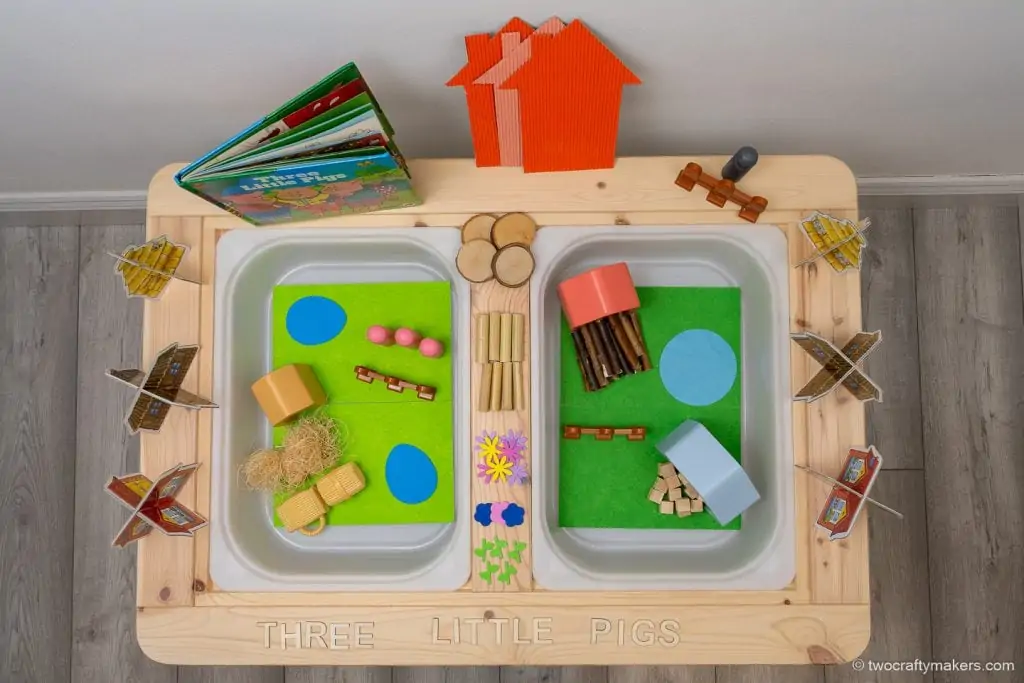 Three Little Pigs activities tip: these play sessions are a hit with my two toddlers and can be incorporated into Three Little Pigs preschool activities.
Three Little Pigs Sensory Activities
Sensory play is fantastic tool to encourage kids to explore, engage and create. Our Three Little pigs themed sensory bins are focused on developing a range of skills including:
Fine motor skills: incorporate play dough to encourage toddlers to improve muscle strength in their hands. Grasping and moving the peg dolls is a great way to develop fine motor skills.
Language and vocabulary skills: our toddlers were exposed to many new words through our Three Little Pigs activities.
Creative skills: the open ended play opportunities are endless.
Independent play: our 3 year old has engaged in some great independent play sessions with the Three Little Pigs activities. He especially loved taking the peg dolls on their own journey and story through our Three Little Pigs sensory bins!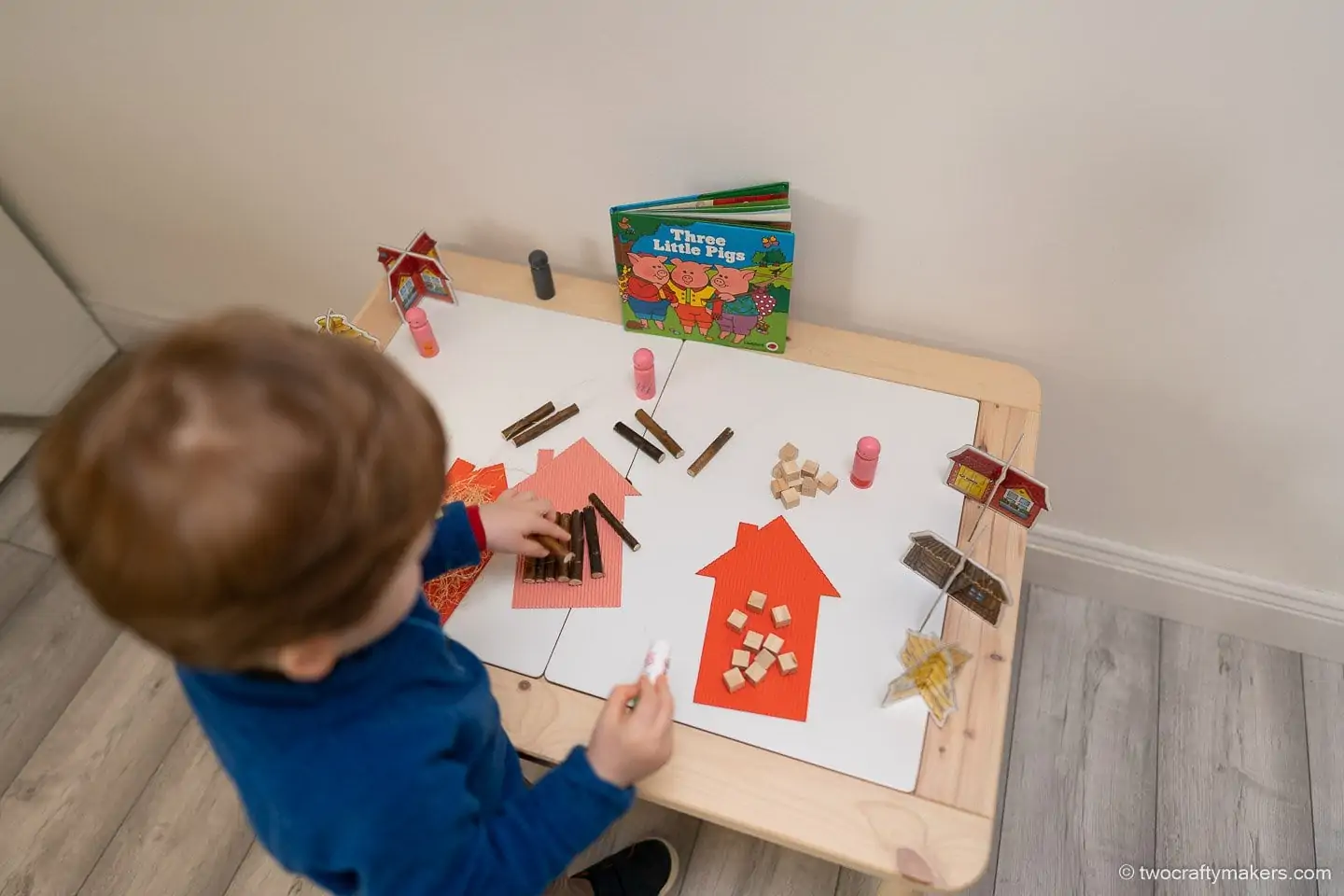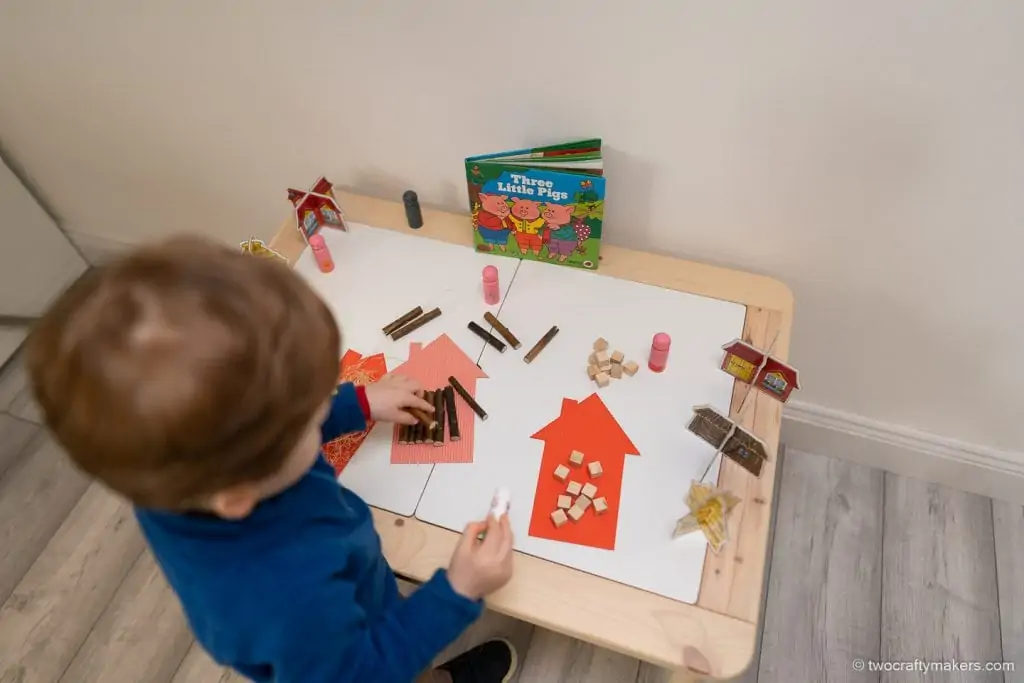 Three Little Pigs activities tip: we use the Ikea Flisat table for all our Three Little Pigs activities. Don't worry if you don't have sensory table, you can use craft trays or storage bins to the same effect. If you have an Ikea Flisat table then check out our Ikea Flisat table hacks and, our favorite, the Ikea Lego table hack.
Three Little Pigs Essentials
Three Little Pigs book: we have a really old version of the Three Little Pigs book, I think it's maybe from my own childhood or before!
Three Little Pigs accessories: my kids love this Three Little Pigs board gameand the props make for great sensory bin accessories!
Sensory Bin Table
We use and highly recommend the Ikea Flisat kids table for all our sensory bins. It's a fantastic addition to your playroom and is super versatile. While it's available from Ikea directly, it's usually out of stock. Luckily you can usually grab one on Amazon – No products found.
No products found.
We also use the Ikea Trofast bins for sensory play. They're easy to clean and our kids love them – check prices now!
Three Little Pigs Activities
We've included our favorite Three Little Pigs activities which are relatively easy to set up and were mostly created with ingredients already in the cupboard and playroom!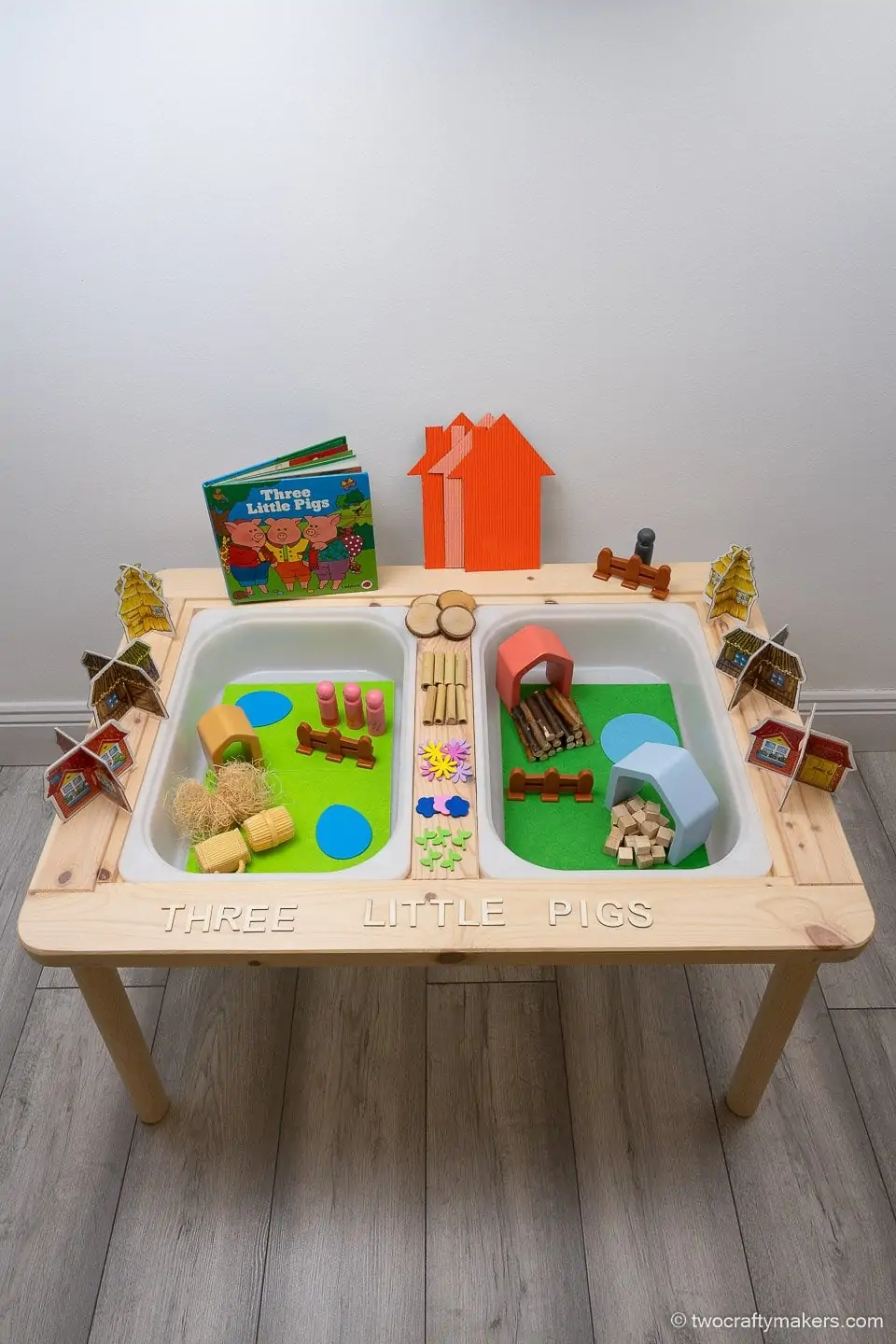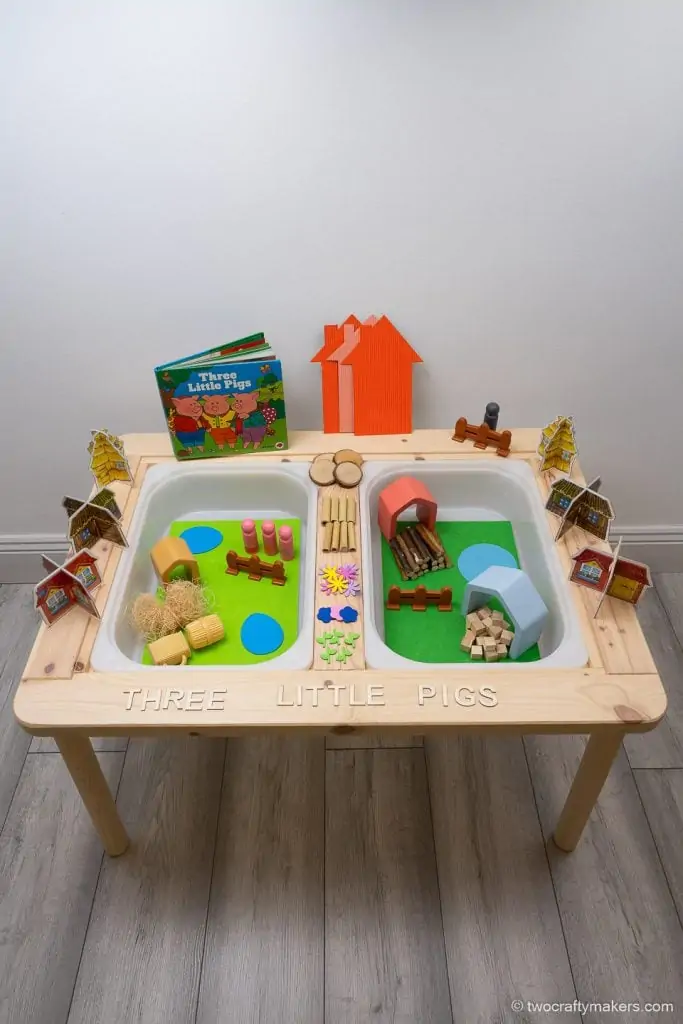 1 | Three Little Pigs Wooden Peg Dolls
To bring the Three Little Pigs story and characters to life grab some wooden peg dolls and get painting! I used four peg dolls representing the three little pigs and the big bad wolf. Wooden peg dolls are excellent for promoting imagination and story telling in sensory play.
Three Little Pigs activities tip: I included a symbol of the building material used by each pig on the peg dolls. My toddlers loved being able to identify each pig and match the peg doll with their house and building material.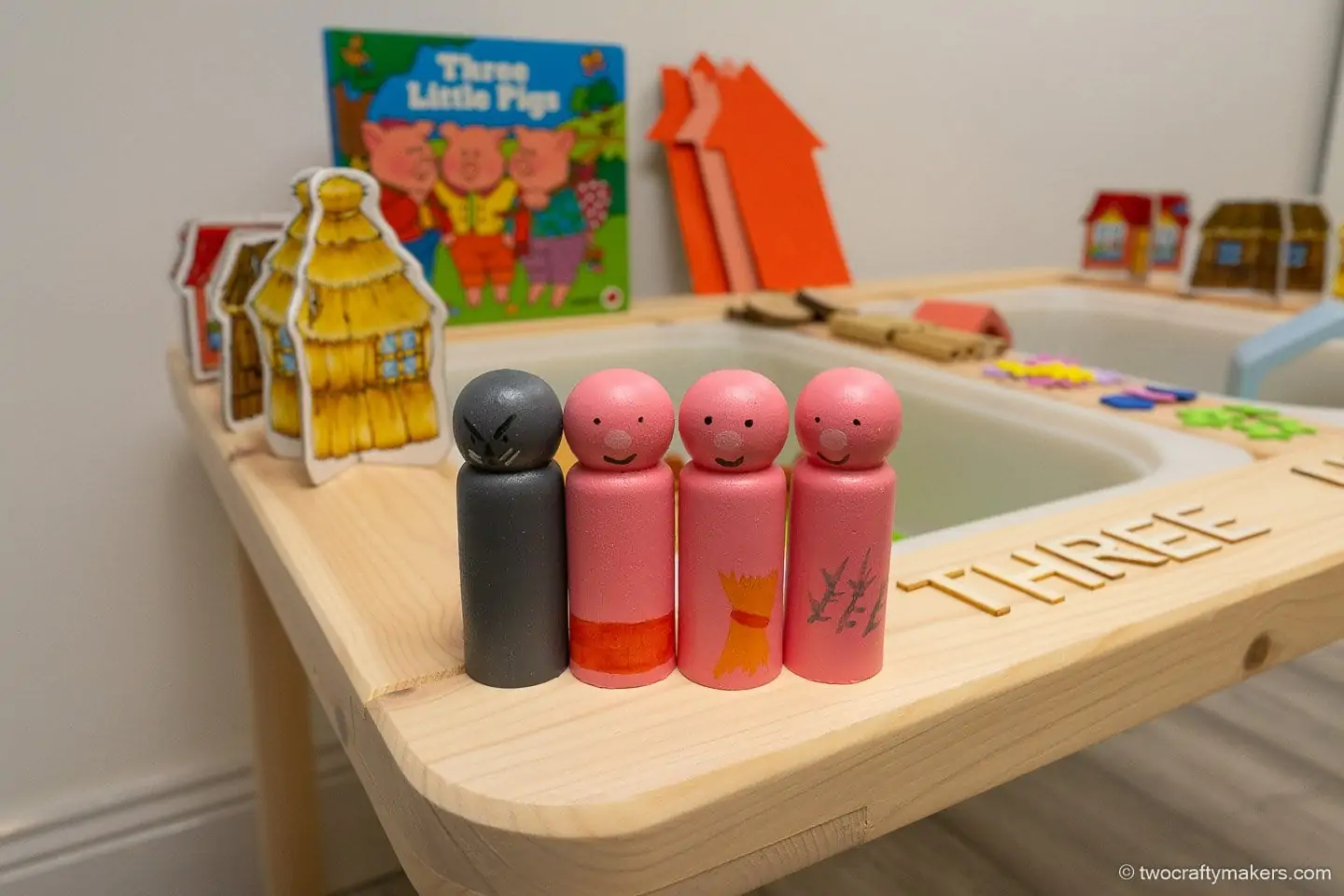 To create the Three Little Pigs characters you will need:
four wooden peg dolls
pink/black/grey paint
sealant
Three Little Pigs activities tip: make sure to use non toxic paints & sealant when painting your peg dolls.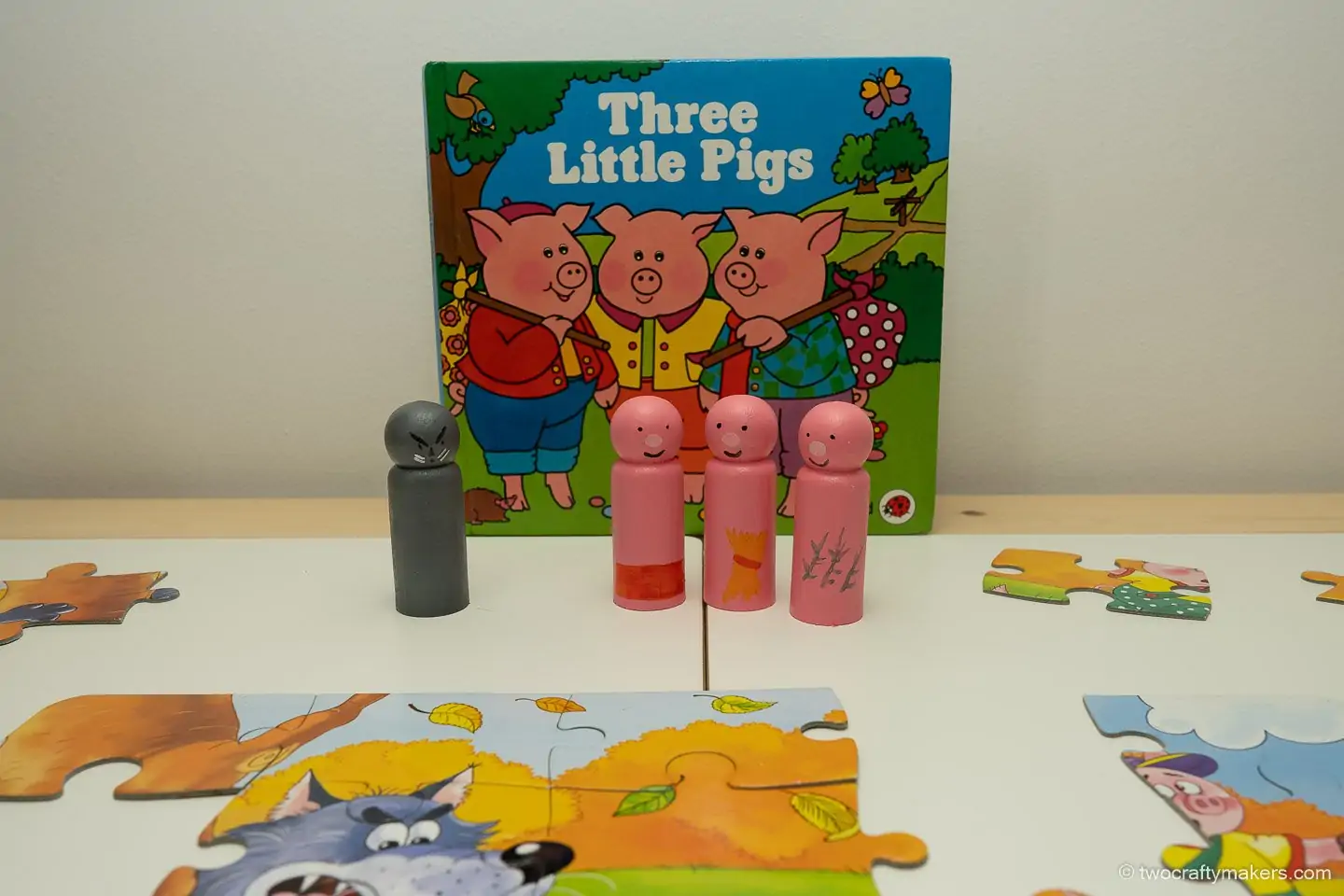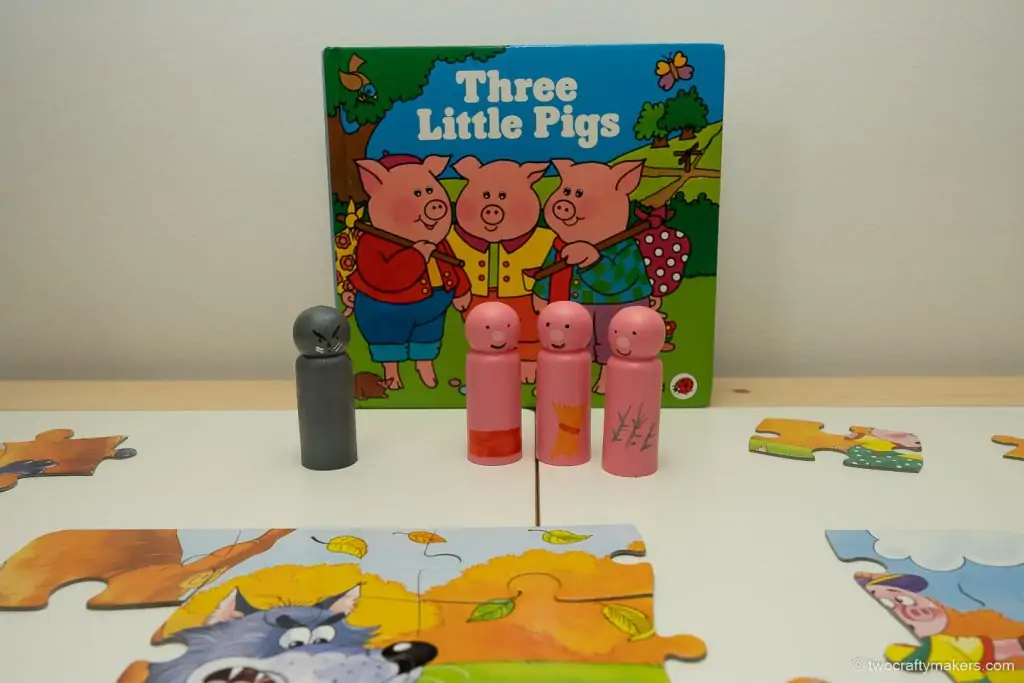 2 | Play Dough
Play dough is a really simple addition to sensory play and has many benefits: it's a great stress reliever, builds muscle strength in little hands and can keep toddlers amused for long enough to allow you to grab a coffee!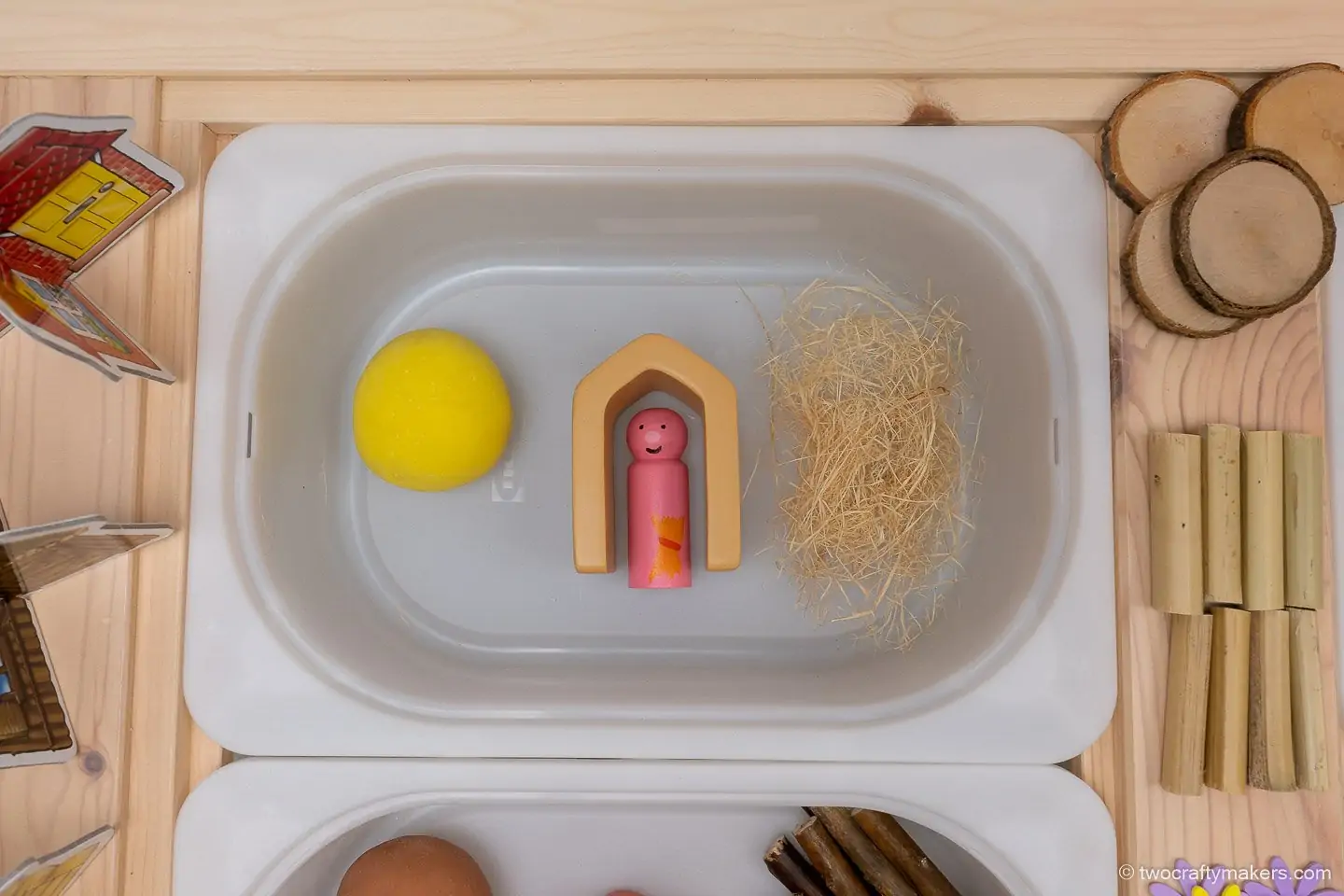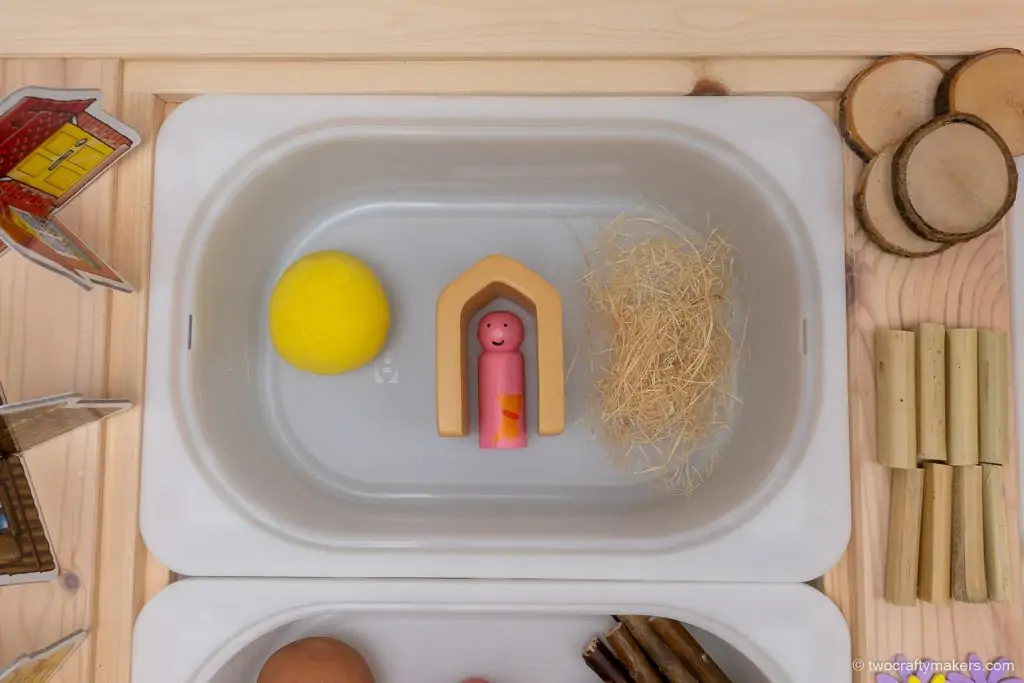 I set up three sensory bins with play dough, some houses from our playroom wooden house stacker and the material each pig used to build their house. After talking through the decisions each of the pigs made I let my toddlers loose with the play dough to construct their own play dough houses!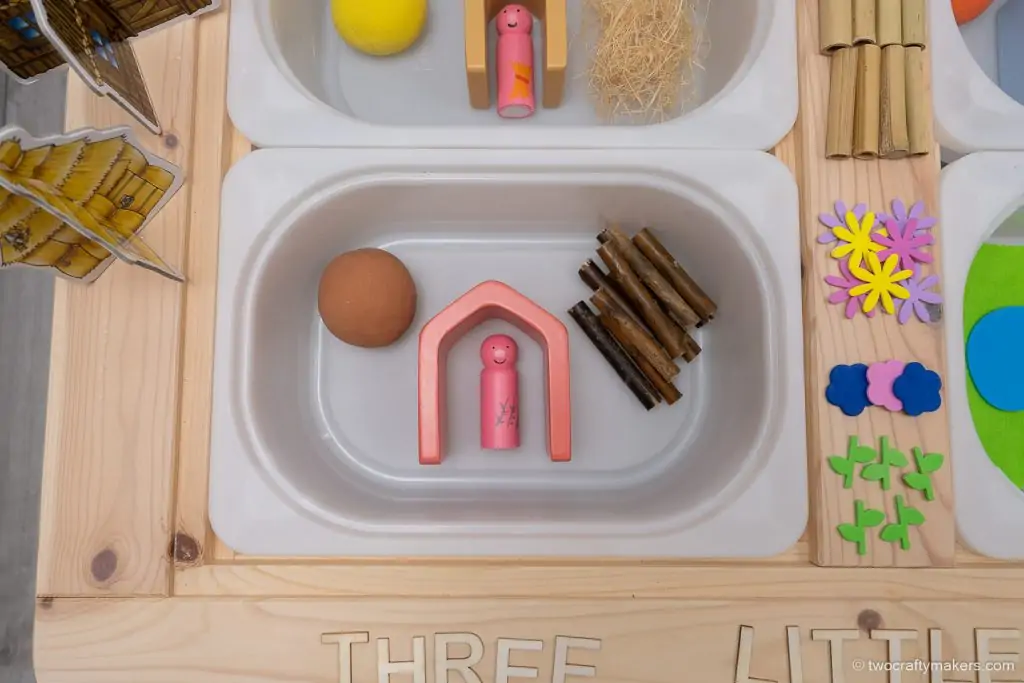 The Three Little Pigs scenes can be created with regular or DIY play dough. I opted for yellow, orange and brown play dough to represent the hay, brick and stick houses.
Three Little Pigs activities tip: we made our play dough from a quick mix of some cupboard staples (flour, vegetable oil, cream of tartar, salt and food coloring). The recipe is taste safe and always goes down a treat with our toddlers.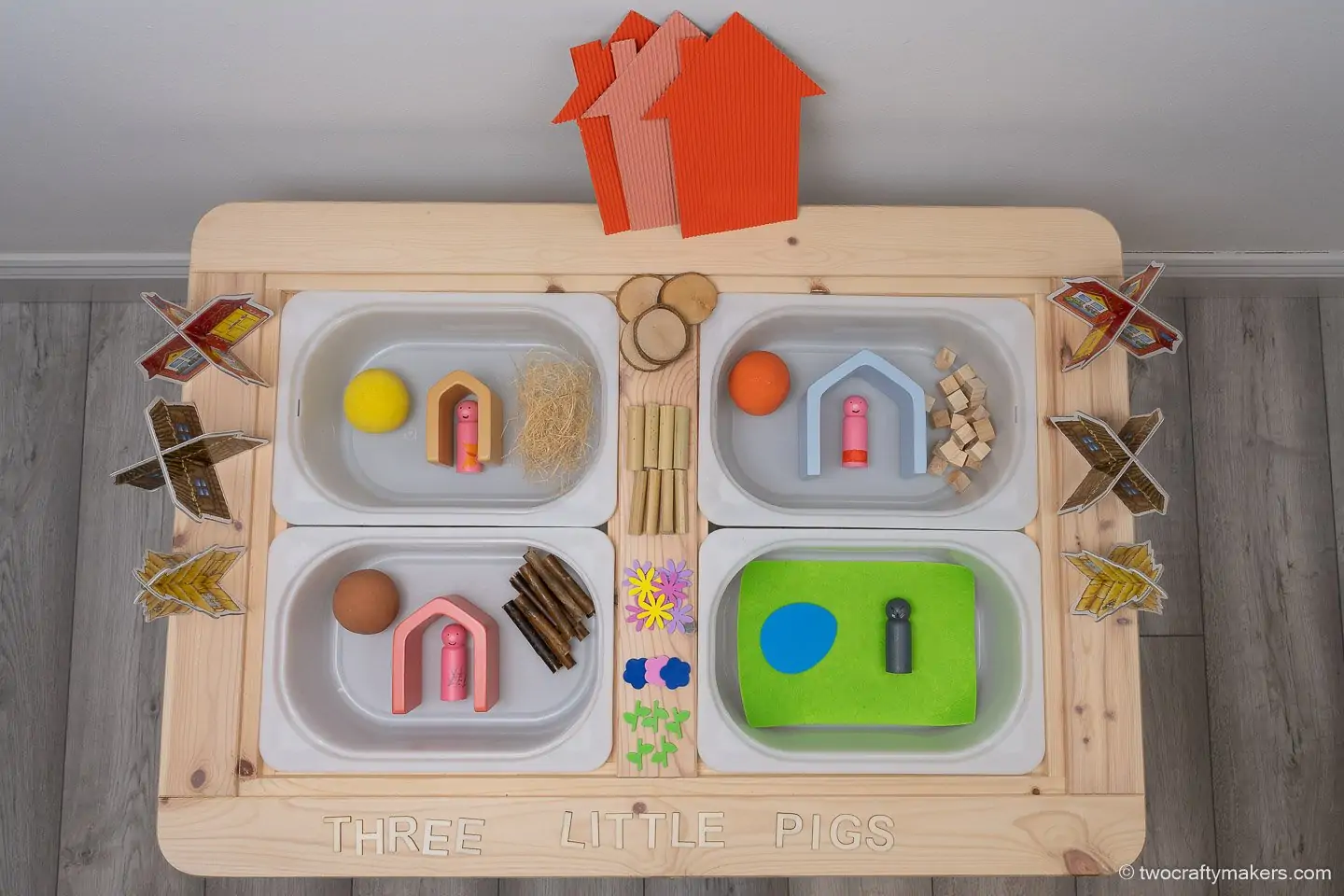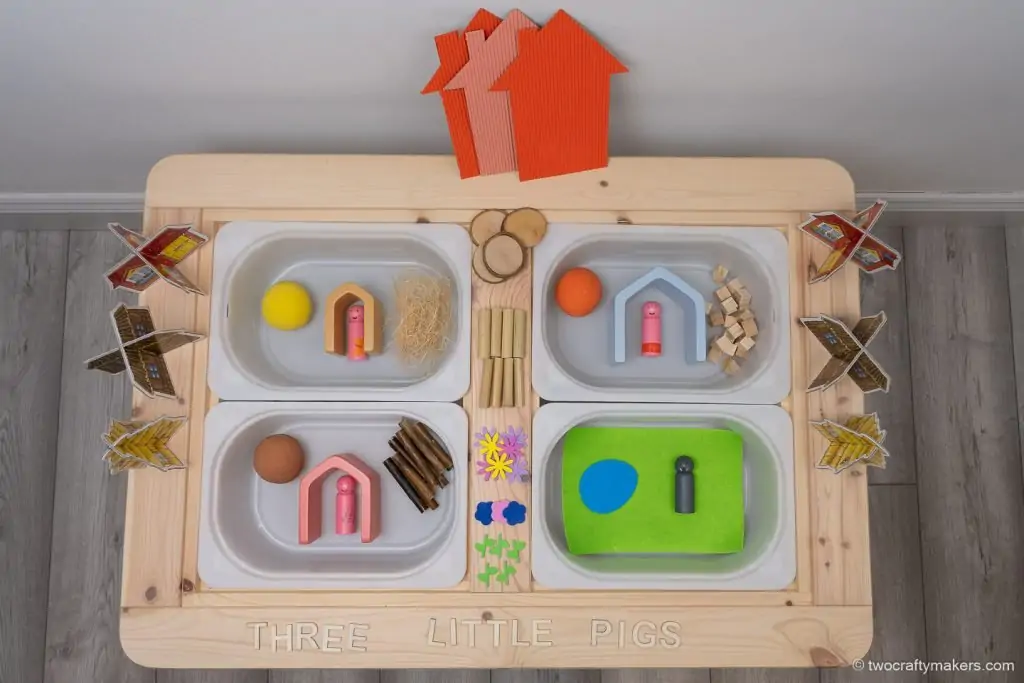 3 | Cardboard Crafts
During our next Three Little Pigs play session we focused on building hay, stick and brick houses for the Three Little Pigs.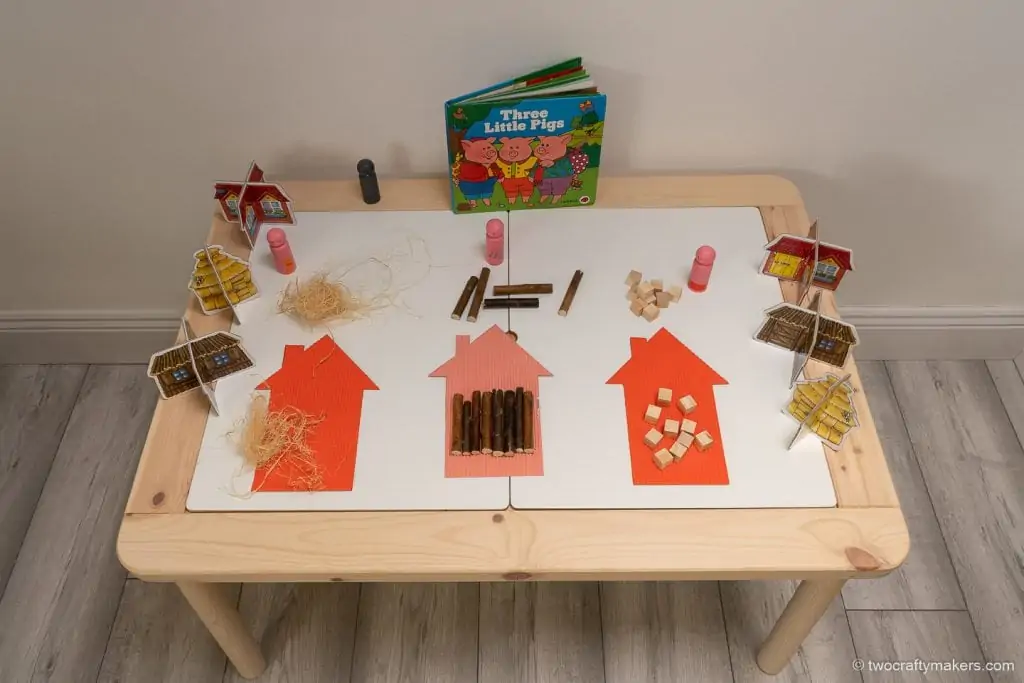 Three Little Pigs activities tip: we split our Three Little Pig activities over multiple play sessions. I find this help keeps our toddlers engaged and excited about each theme we focus on for sensory play.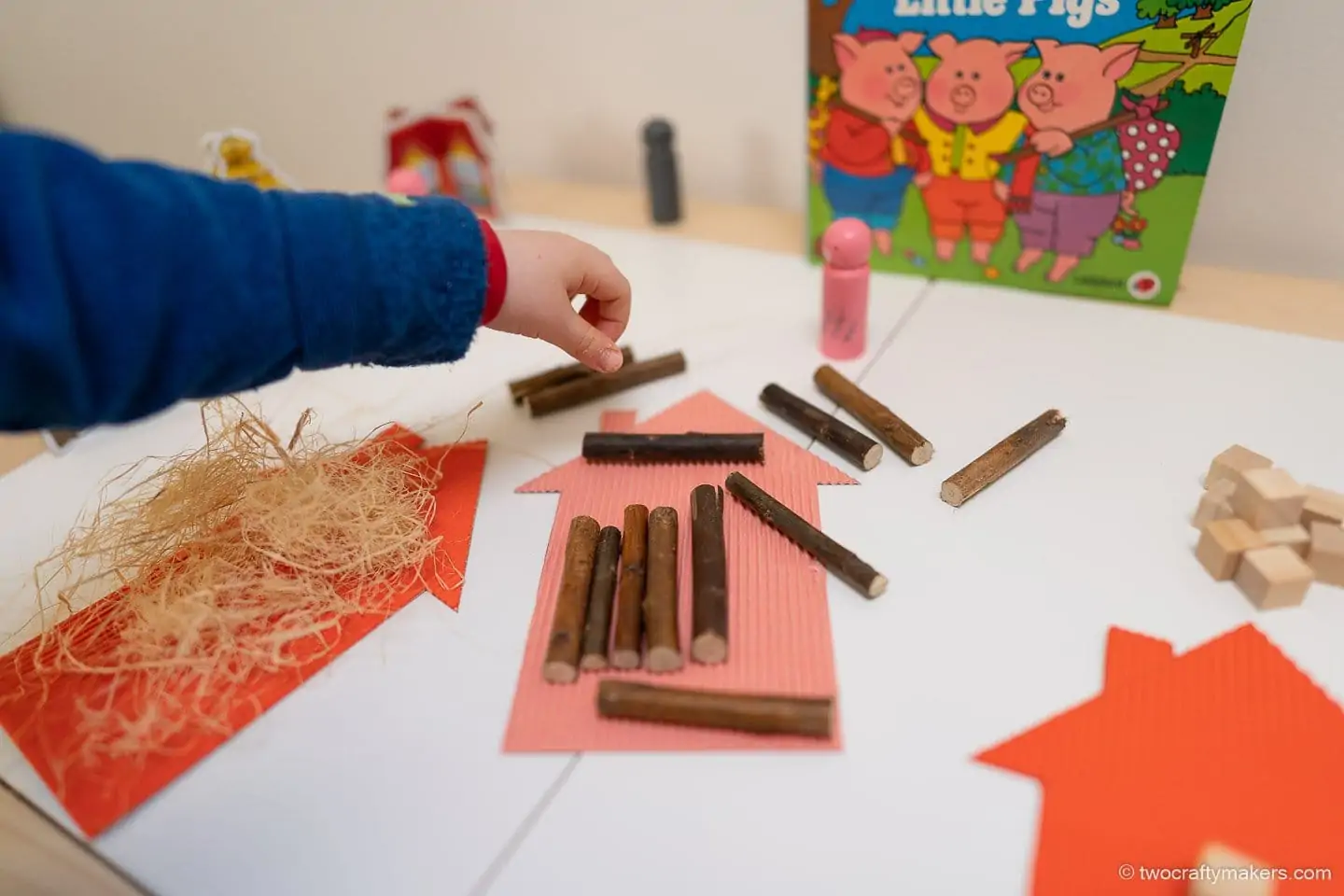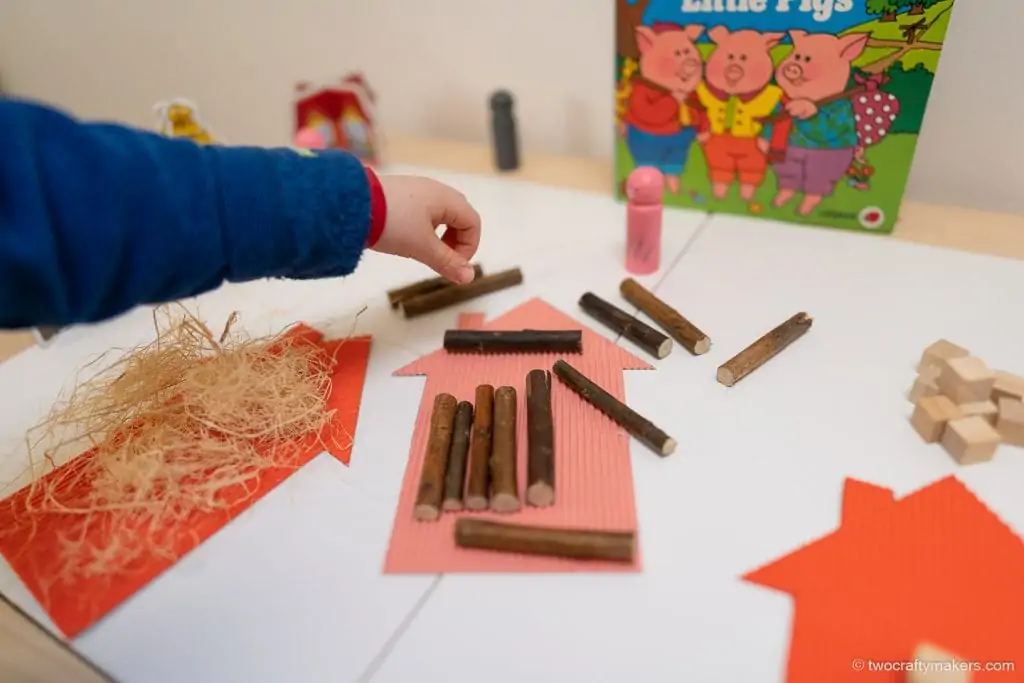 The materials are readily available from craft stores:
corrugated cardboard: regular cardboard will work fine too, I just like introducing different textures for crafts.
wooden cubes: representing bricks
natural raffia: for the straw house
natural willow branches: for the stick house
glue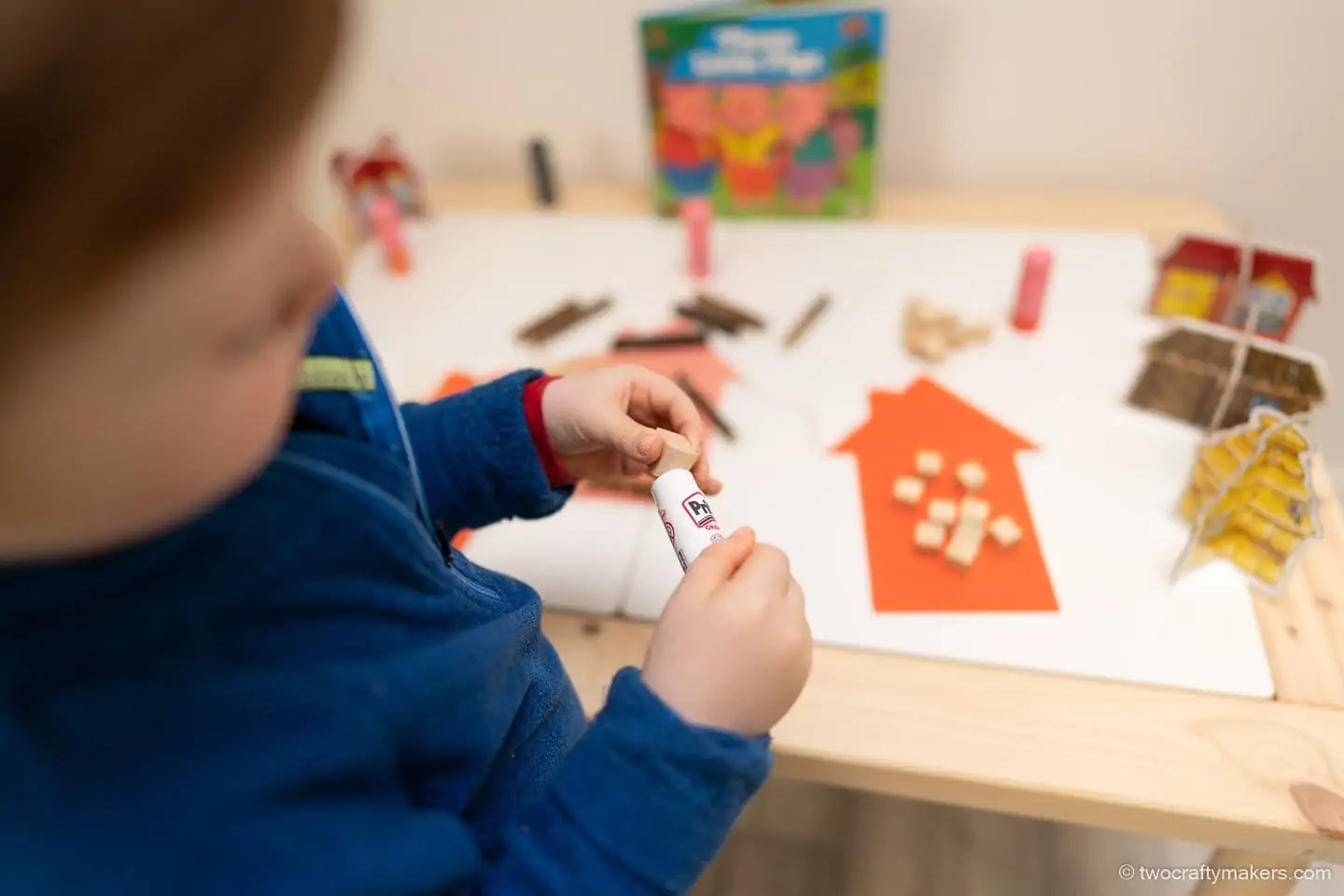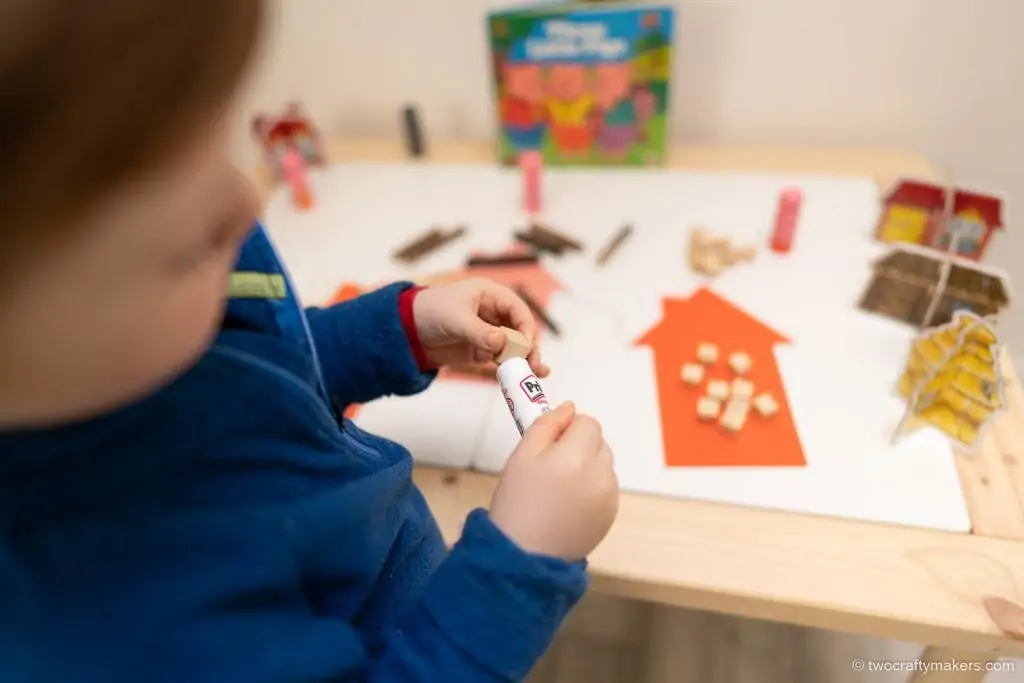 4 | Storytelling
With our play dough and cardboard houses constructed we set about telling the story of The Three Little Pigs.
My 3 year old had a blast recreating the story using the wooden peg dolls, his play dough and cardboard houses and, his star of the show, the big bad wolf! My one year old helped out with the huffing and puffing and could easily follow the story.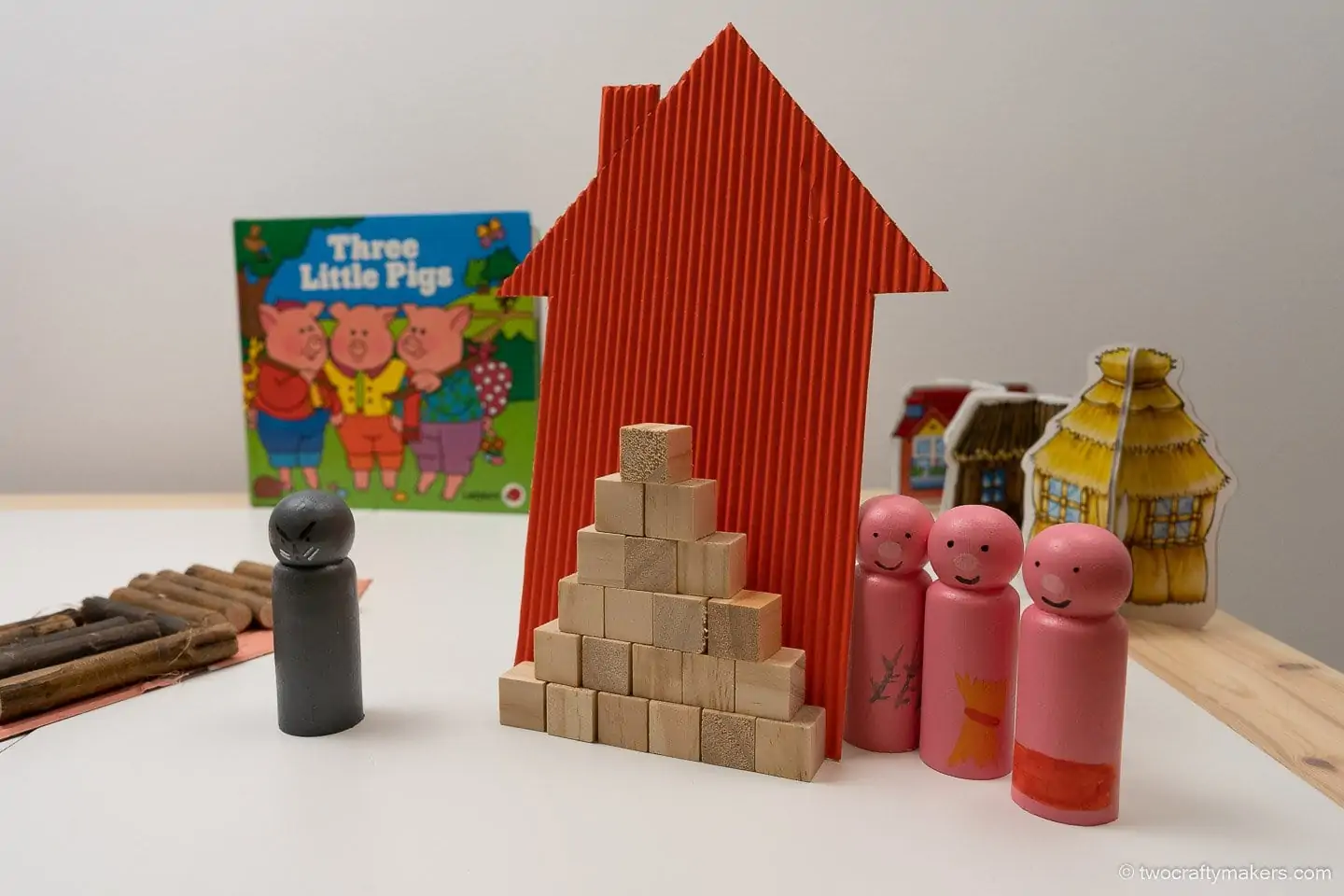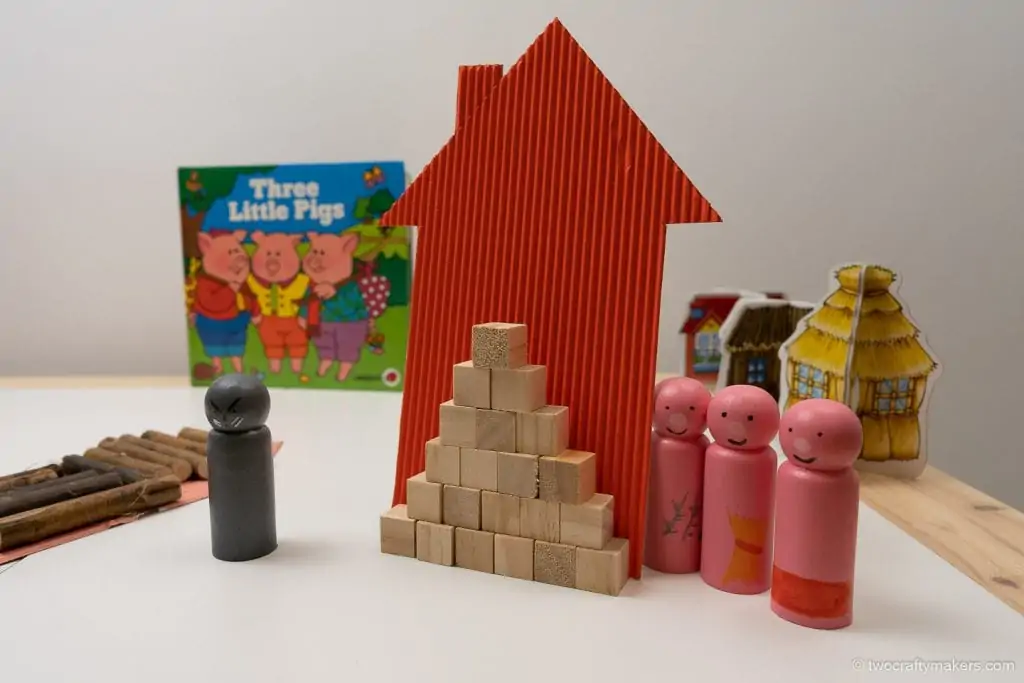 After we'd finished re-enacting the story of the Three Little Pigs I spent some time highlighting how important it was to try and do a job well. Hopefully they managed to take a little of the book's lesson onboard – either way, we had a lot of fun!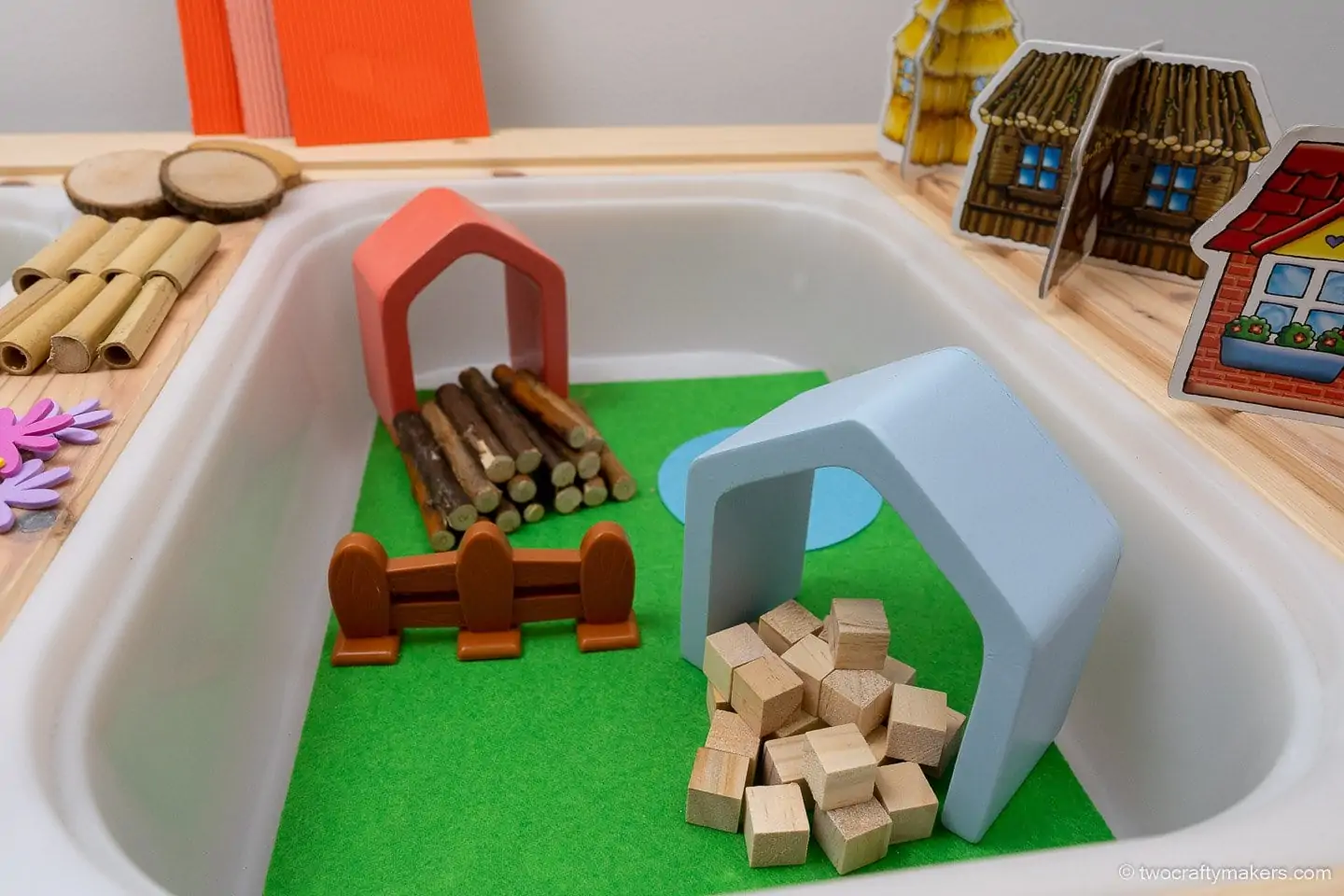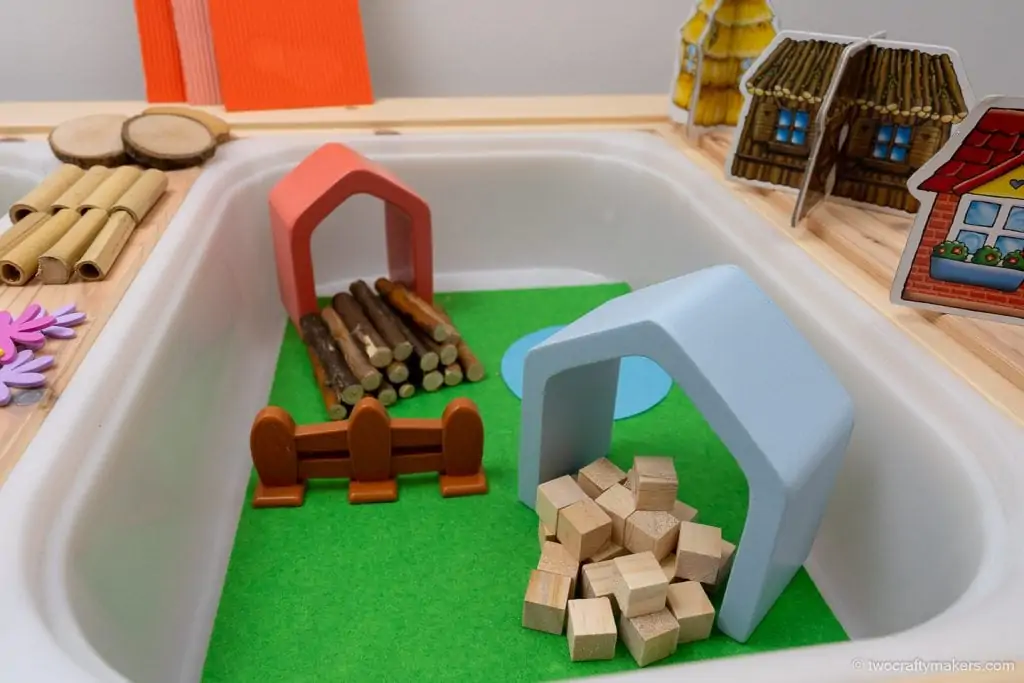 I set up some sensory bins to set the scene using:
green and blue felt as a base for lawns and ponds
wooden peg dolls
Three Little Pigs story book
extra props: fences (from a farm set) to set some space boundaries, flowers and plants for the gardens, wooden discs and bamboo sticks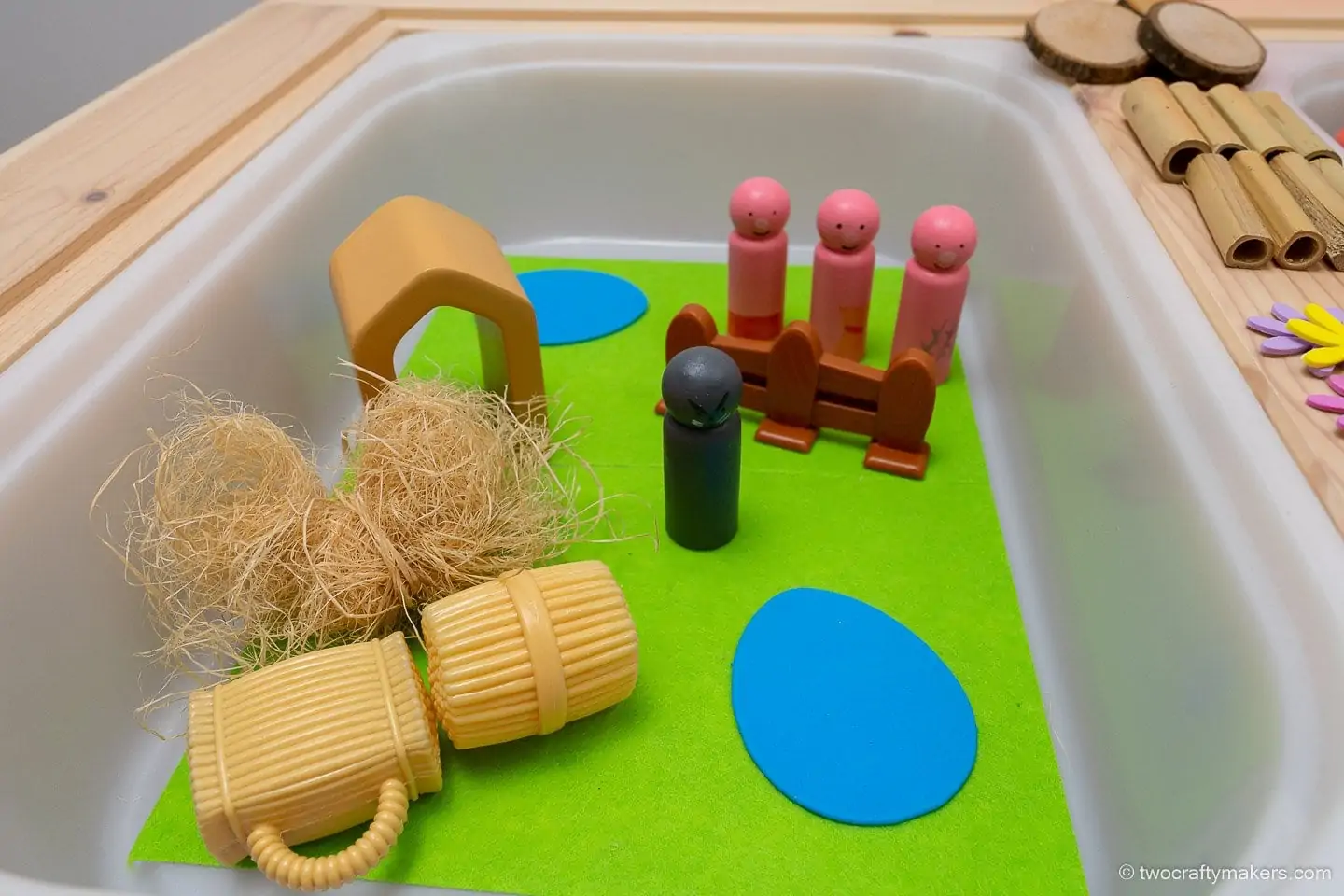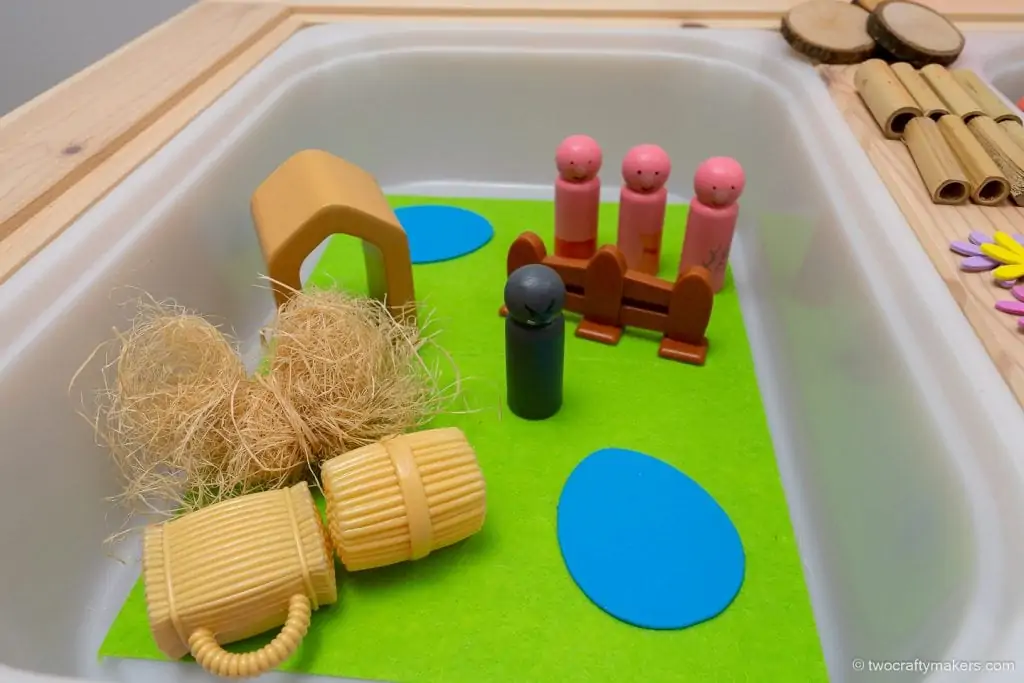 5 | Other Ideas
If you have any other Three Little Little Pigs themed accessories then be sure to incorporate them in your Three Little Pigs activities. These can really help set the scene and bring the story to life. Some ideas are:
Three Little Pigs nursery rhymes or audio books: I just did a search on You Tube in advance and made sure the content was appropriate. I always make sure to set my phone face down and only focus on the audio element so my kids aren't distracted by screen time during our play sessions.
If you don't have peg dolls then check your farm set if you have one. Most will include a pig which you can include in the Three Little Pigs activities.
Jigsaws or games: I set up our Three Little Pigs jigsaw during one of our play sessions and used some props from a Three Little Pigs game we had in the playroom.
Puppets or soft toys