With Spring approaching and the bee world awakening, I wanted to incorporate some bee learning into our sensory play by creating some bee sensory bins for our toddlers to explore. From honeycombs to life cycles, these are our favorite bee sensory bins setups to date!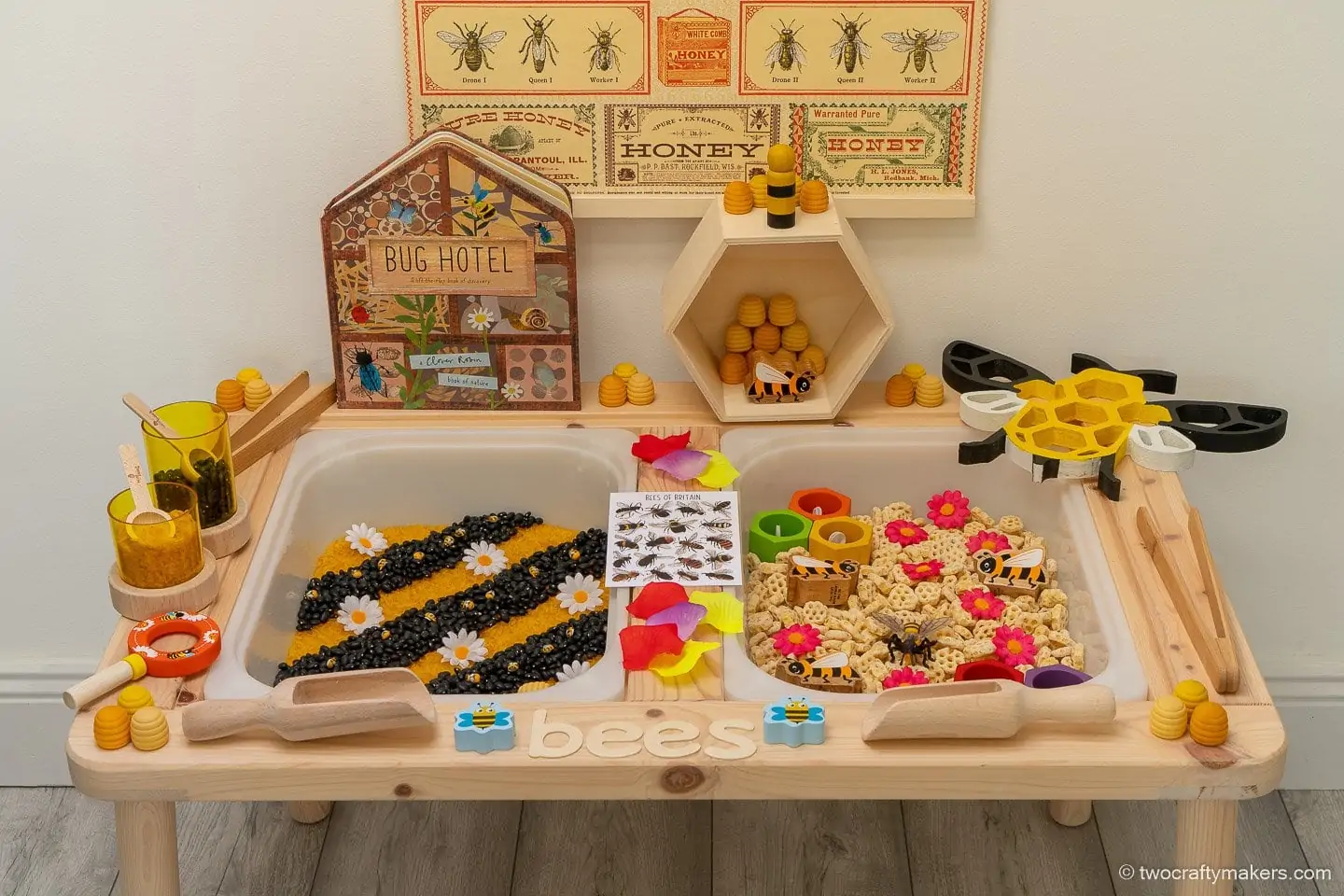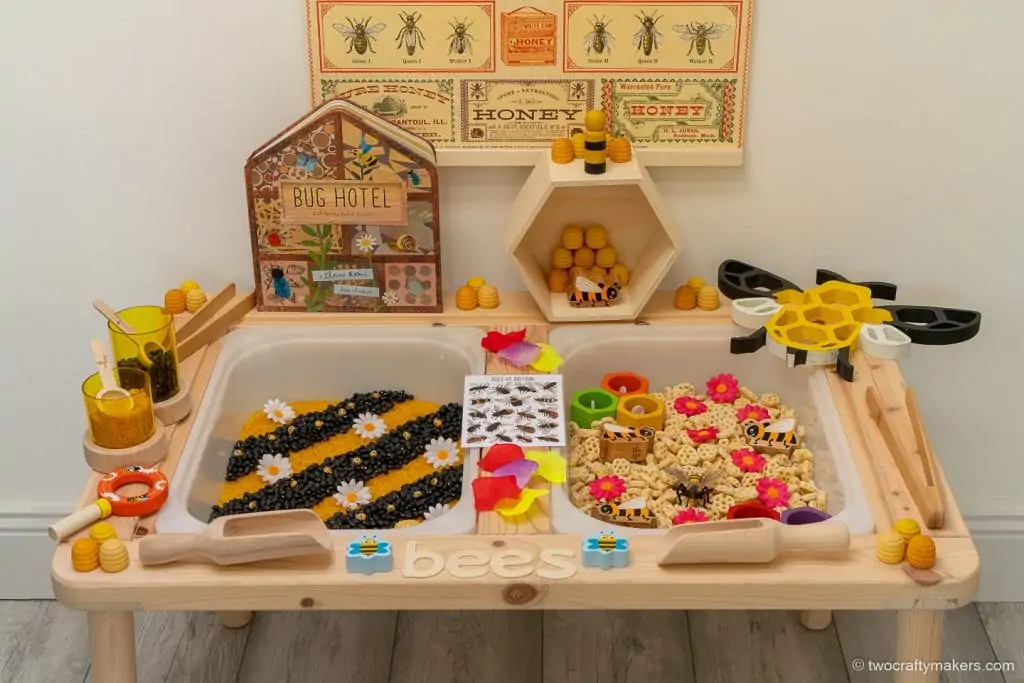 Bee Sensory Bins
Sensory play is a fantastic tool to encourage kids to explore, engage and create and it helps kids develop essential skills. Our bee themed sensory bins are focused on developing a range of skills including:
Fine motor skills: our bee sensory bins incorporate lots of scooping, grabbing and pinching. All these activities mean little hands will work hard and improve muscle strength.
Creative skills: bee sensory bins offer open ended play opportunities and aim to capture their imaginations.
Language and vocabulary skills: conversations around these bee sensory bins will introduce extensive vocabulary and bee concepts.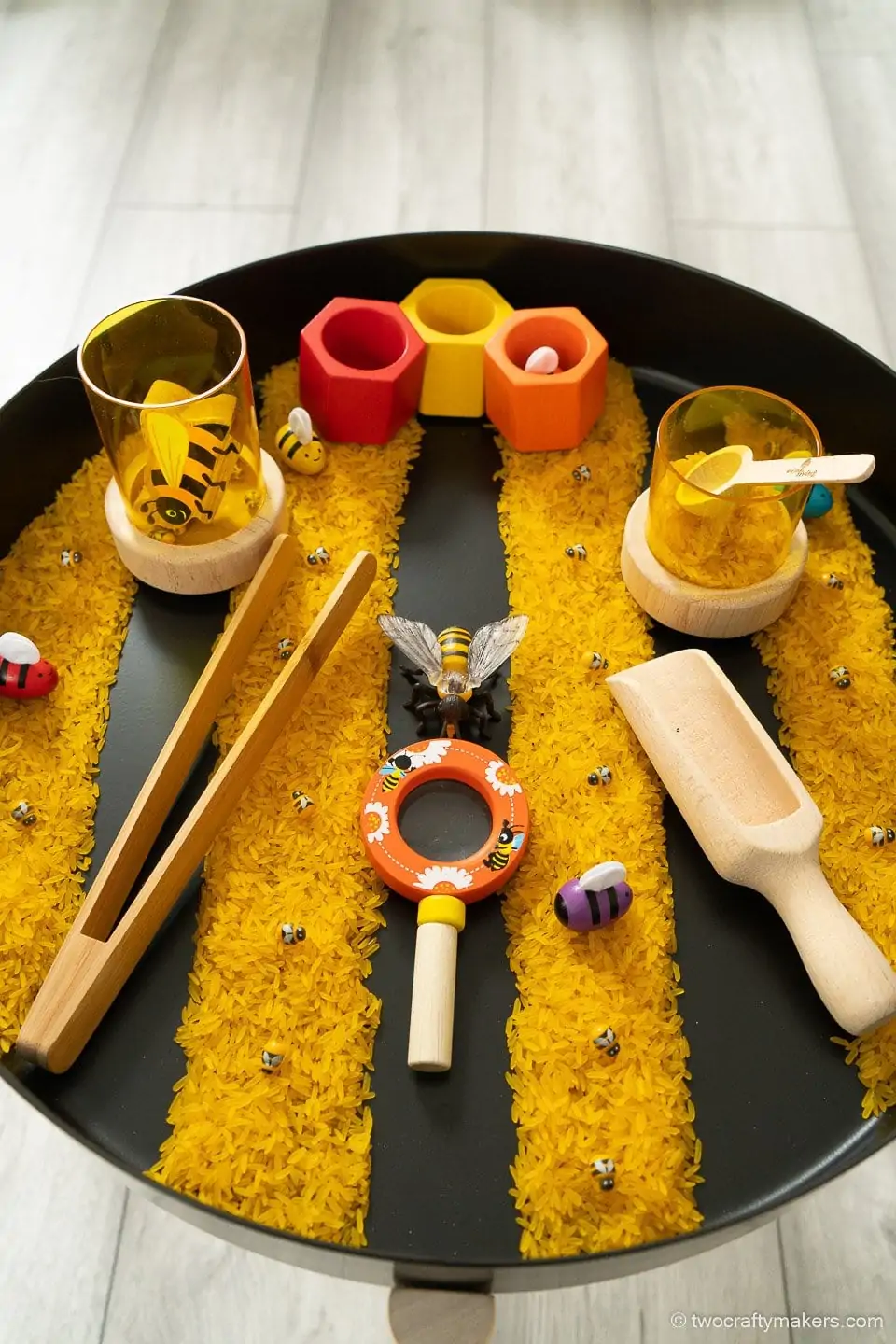 Bee Sensory Bins tip: we use the Ikea Flisat table and a Tuff Tray style table for most of our bee sensory bin play. Don't worry if you don't have sensory table, you can use craft trays or storage bins to the same effect. If you have an Ikea Flisat table then check out our Ikea Flisat table hacks!
5 Fun Bee Sensory Bins
We've included our favorite bee sensory bins. These are relatively easy to set up and were created with ingredients and toys in our cupboard and playroom!
Bee Sensory Bins: I use a variety of fillers and accessories in our sensory bins which I consider appropriate for my toddlers. Ensure that sensory play is closely monitored and that everything you use in your sensory bins is age appropriate/taste safe/not a choking hazard and suitable for your toddlers as per manufacturer recommendations and as you deem appropriate.
Bee Sensory Bin Essentials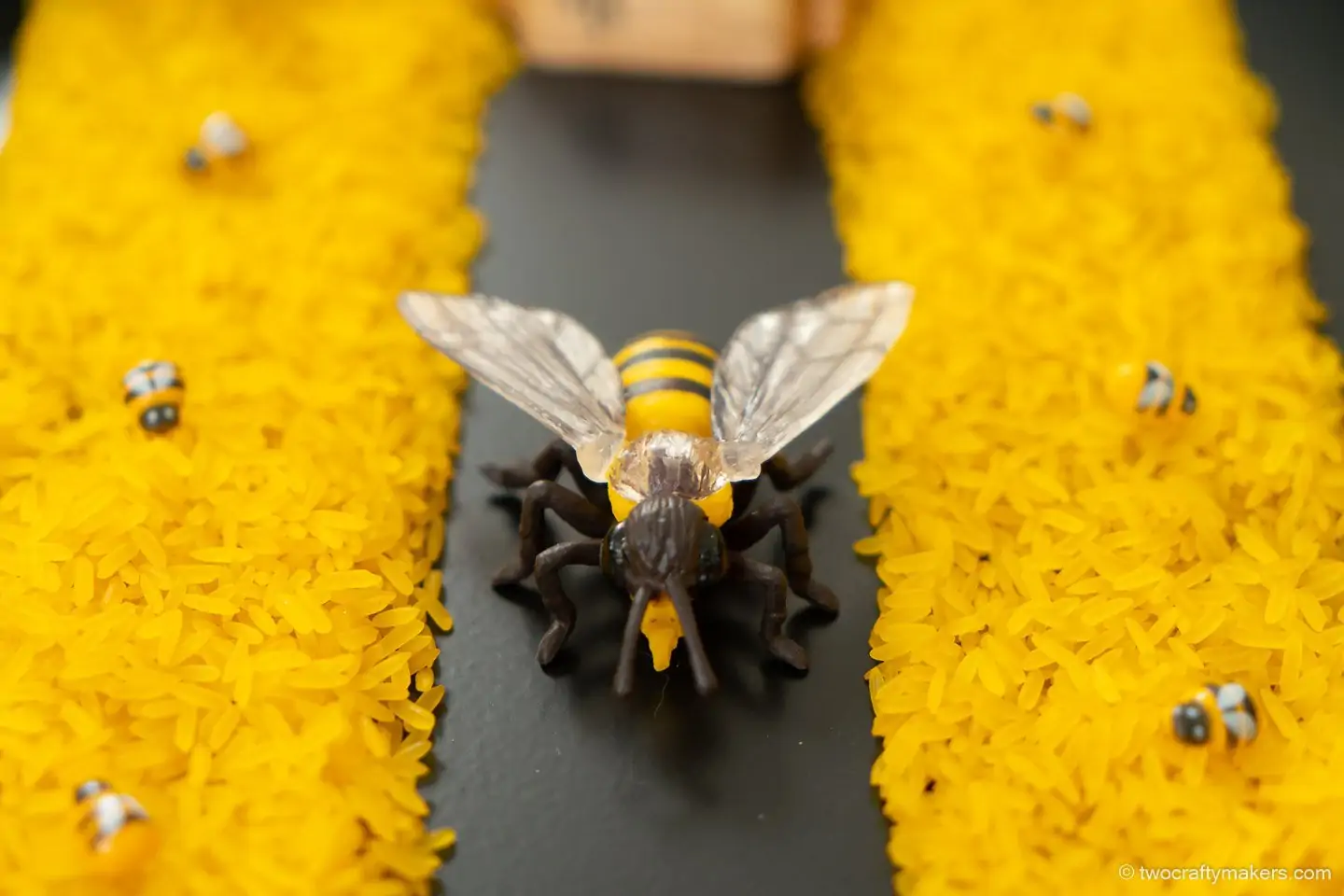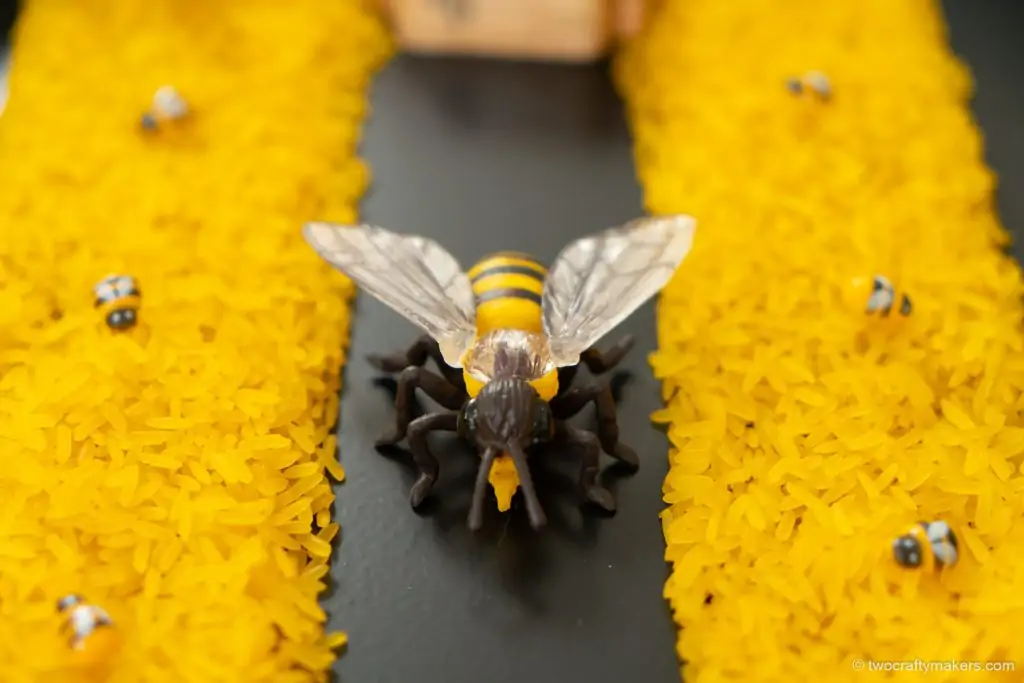 Food coloring or non toxic paint: we use Wilton Icing colors for most of our sensory activities as it gives such vibrant colors. This is the Wilton set I used it for the bee themed rice and also in the play dough we made below.
Wooden scoops and tongs: a wooden scoop set works really well with a small ingredient like rice – something similar to this set will work great. These wooden tongs are great for small hands or you can pick up a sensory tool set if you are just starting your collection – check prices here
1 | Introduction to Bees Sensory Bin
The idea behind my introduction to bees sensory bin is to create a bright and fun sensory bin for each of my toddlers that opened up a discussion on all things bees and allowed them to work on their fine motor skills.
I used black beans and colored rice as a sensory bin filler for my older toddler (age 3) and taste safe Honeycomb cereal for my 2-year-old.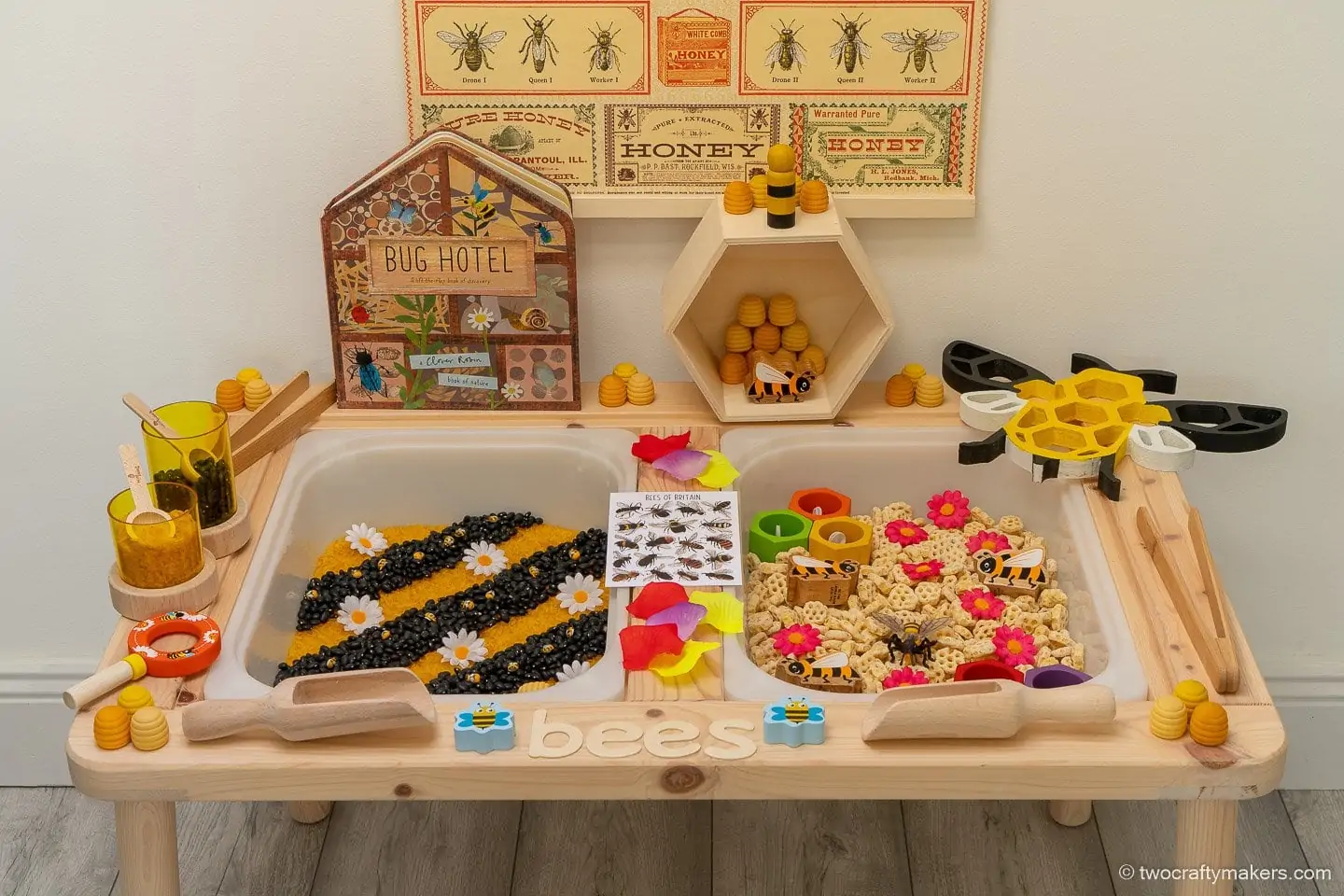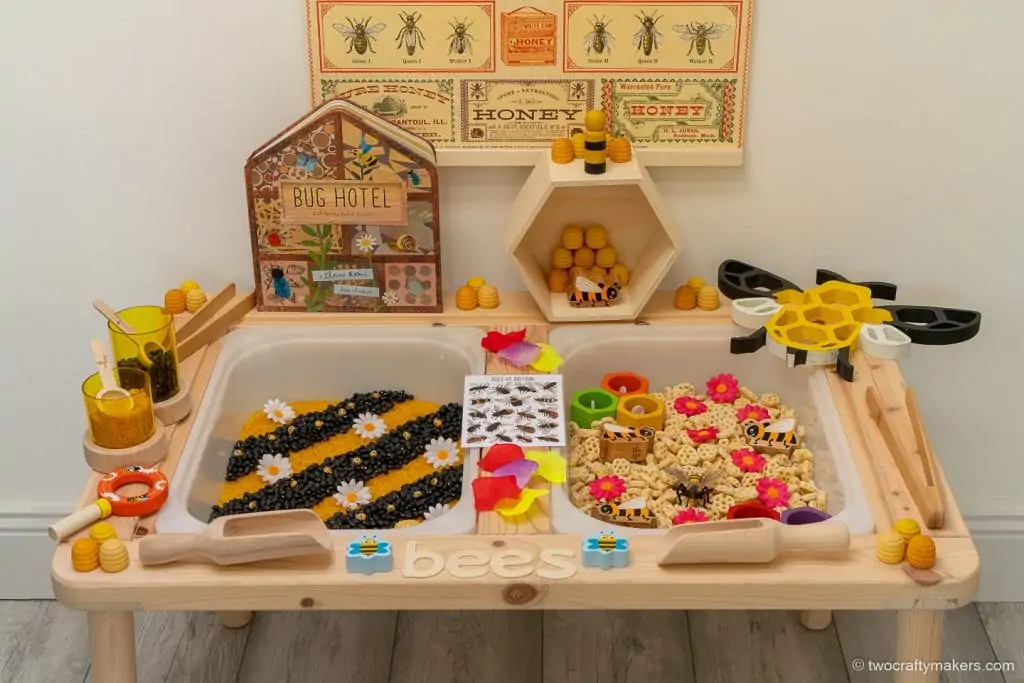 How we played with this sensory bin: we talked about the shape and color of bees, where bees live and how bees help flowers grow. After reading through some of the information in our books, the kids got to work with their scoops and tongs. They had so much fun trying to transfer the bees with their tongs and filling bowls with their rice, beans and cereal. This session was a real workout on their fine motor skills!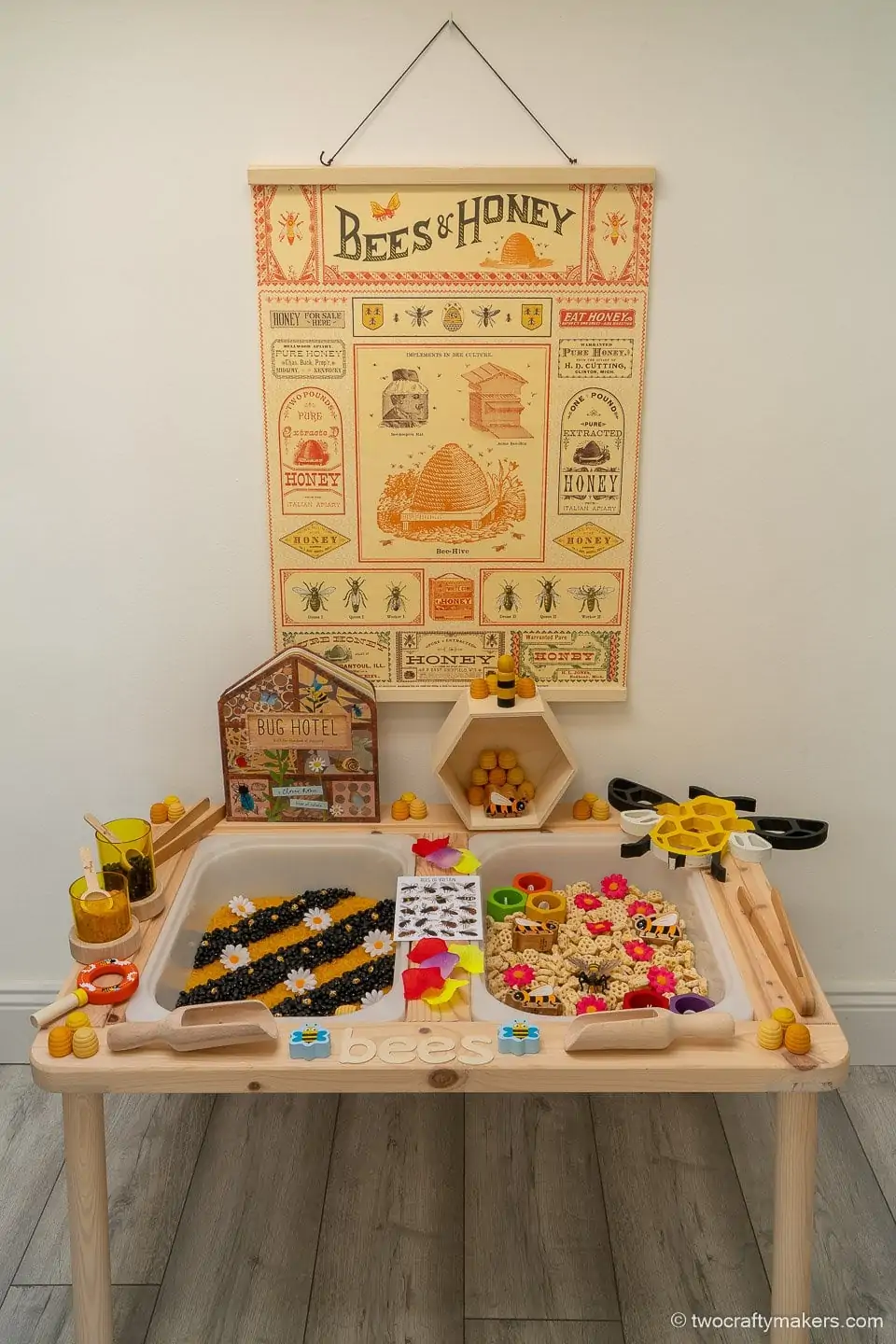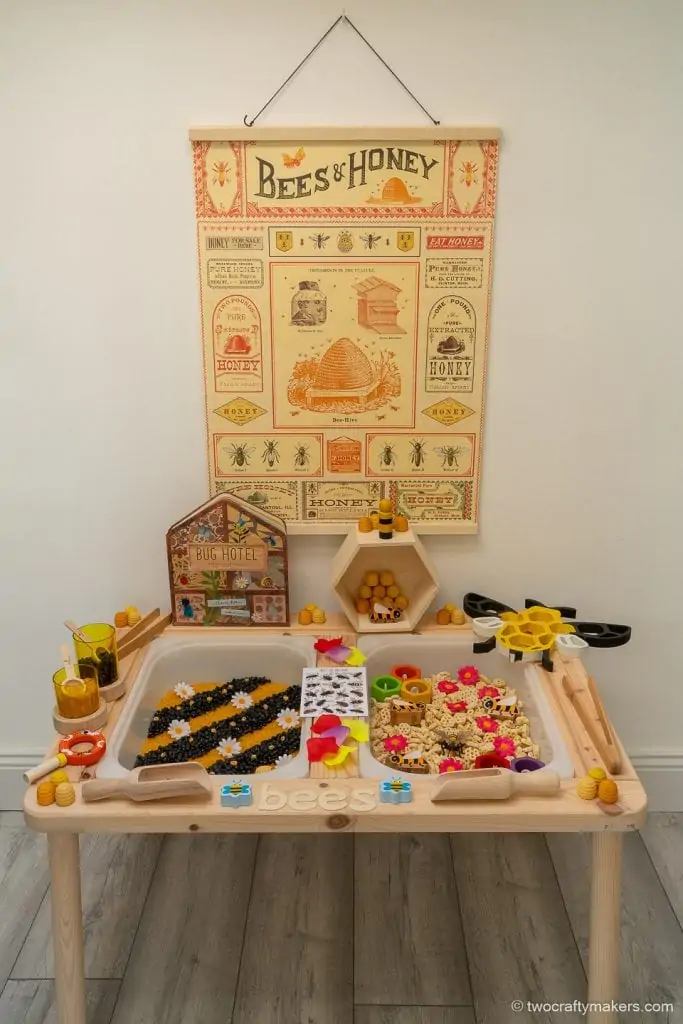 What I used in my introduction to bees sensory bins: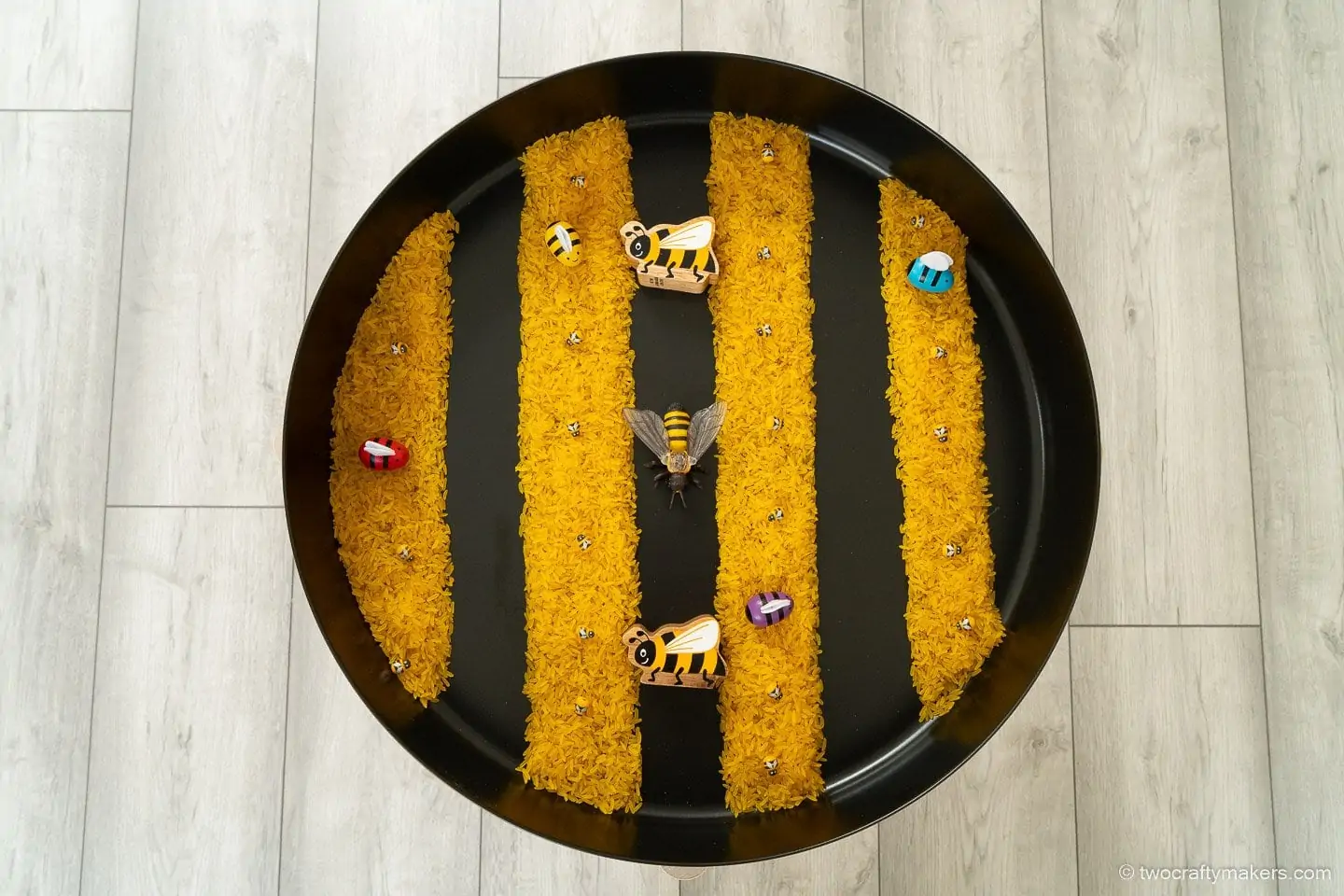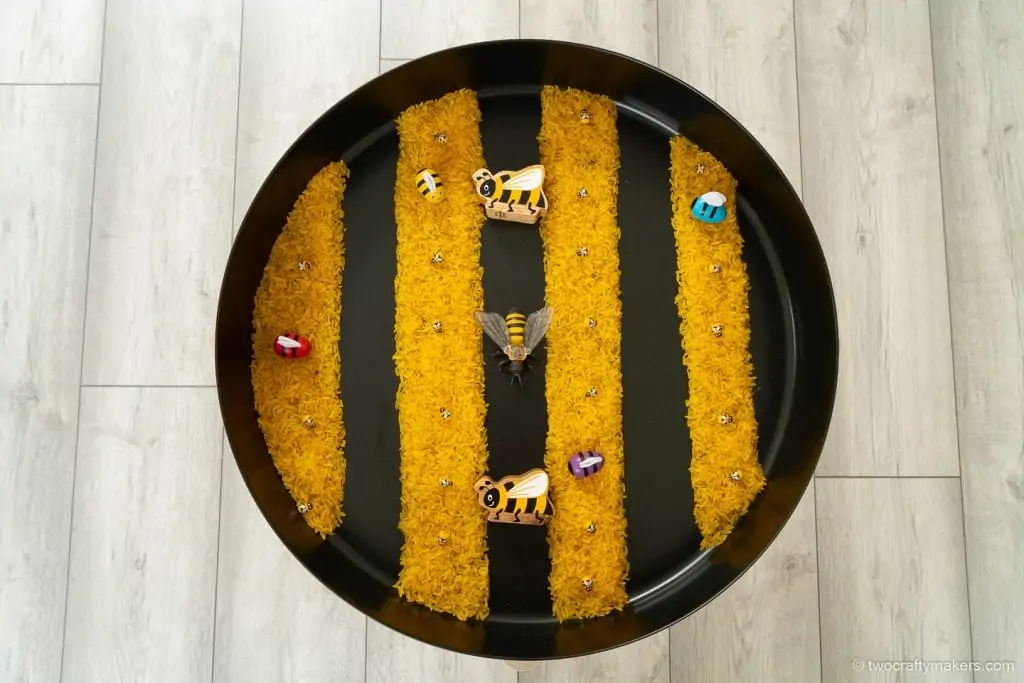 Honeycomb Sensory Bin
Accessories: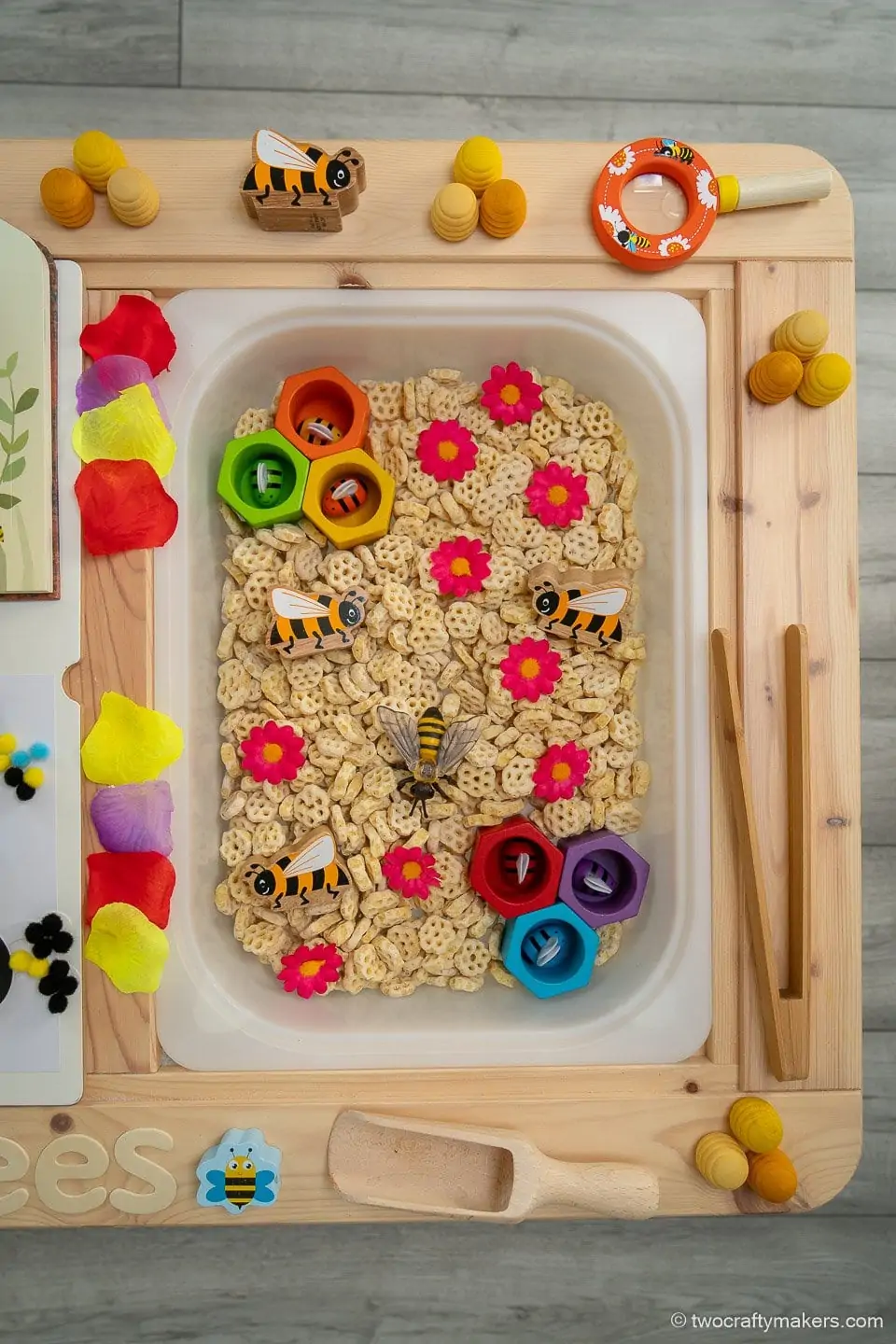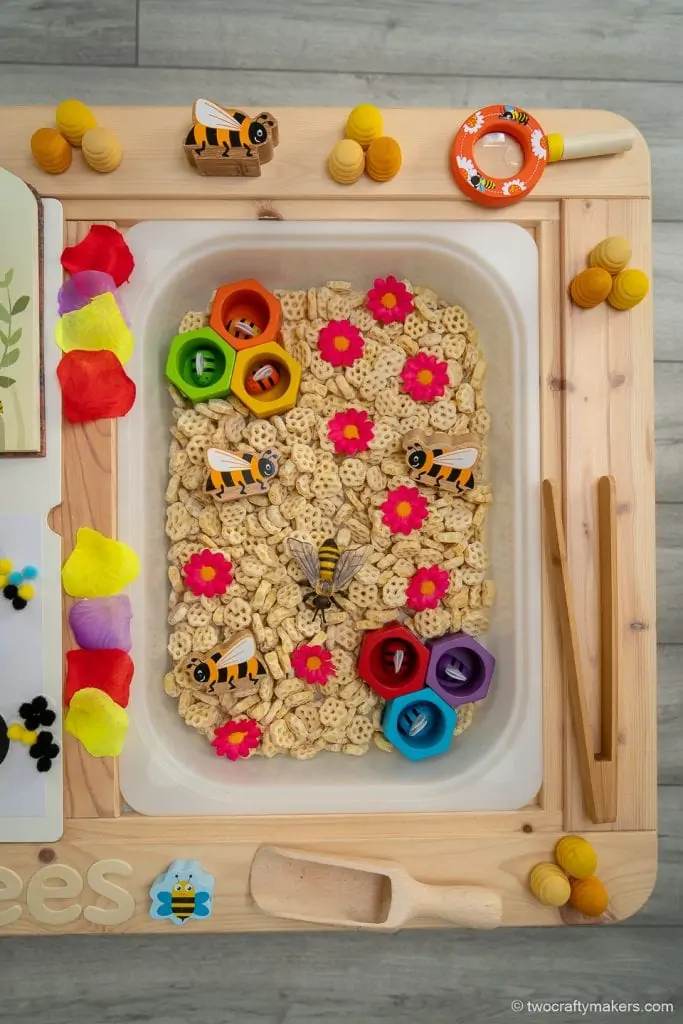 Bee sensory bin tip: when we started out with sensory play I worked with a 3 strikes rule when it came to my kids putting things in their mouth. I explained to them before we began to play that sensory bin items were not to put in their mouth and, if they continued to try after two corrections, I cleared the sensory bin away immediately. I still watch them extremely closely but they are very good when it comes to putting sensory bin items in their mouths!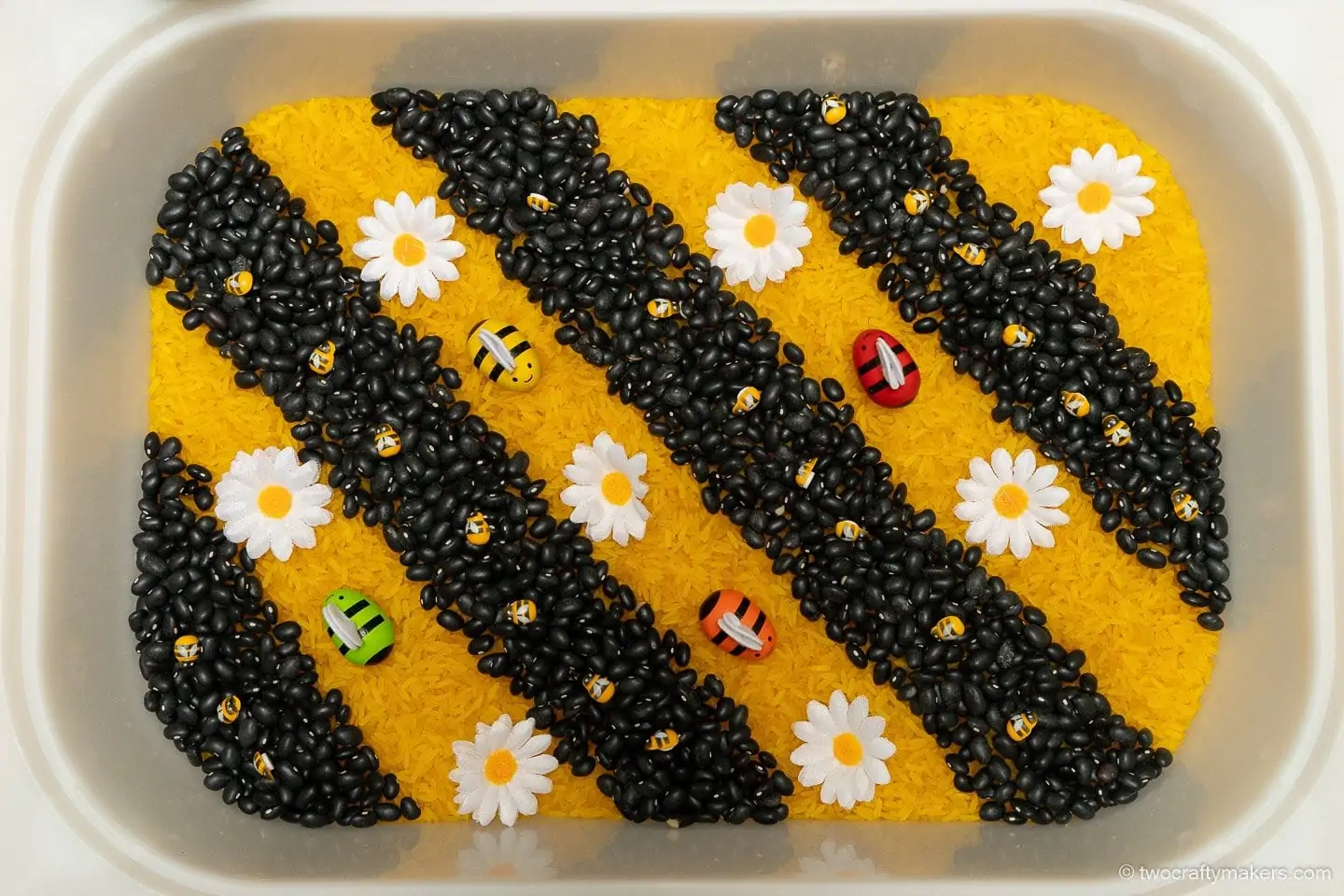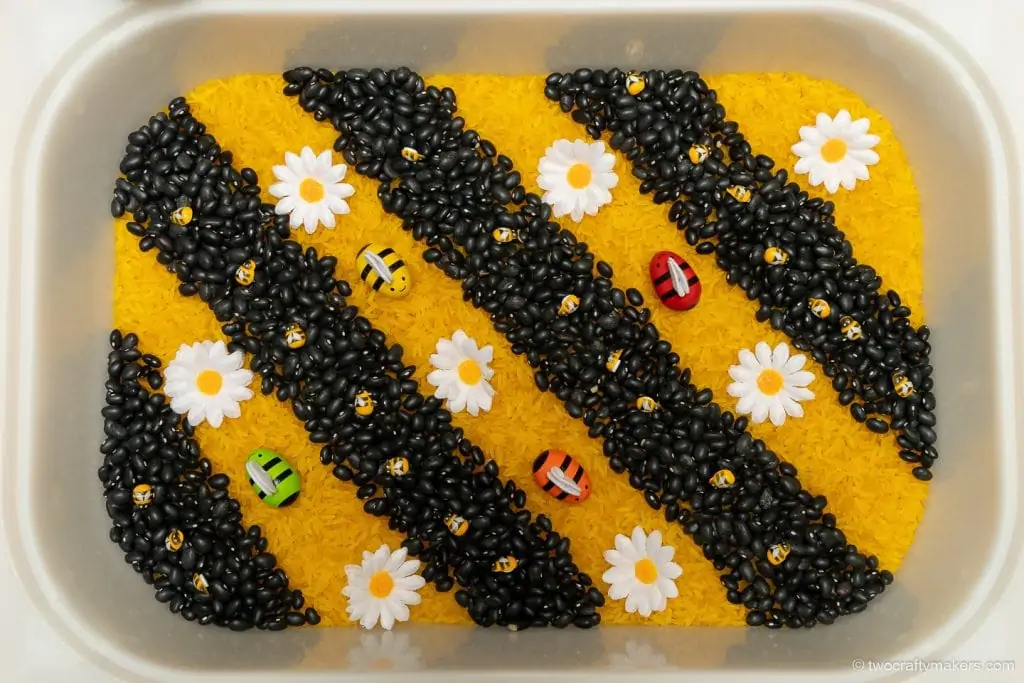 2 | Bee Sensory Tray Fun
I spotted a fantastic bee sensory insert for the small Flisat trays and knew my toddlers would love it for sensory play!
How we played with this sensory bin: with lots of rice and black beans being transferred, sensory trays provide a great opportunity to work on fine motor skills! I also used the insert to introduce the body parts of the bee.
What I used in my bee sensory play set up:
Bee Flisat sensory insert: I picked mine up in the UK. Etsy has an amazing choice of Flisat inserts from a variety of makers – check prices here!
Accessories and Bee Colored Sensory Bin are the same as our first bee sensory bin set up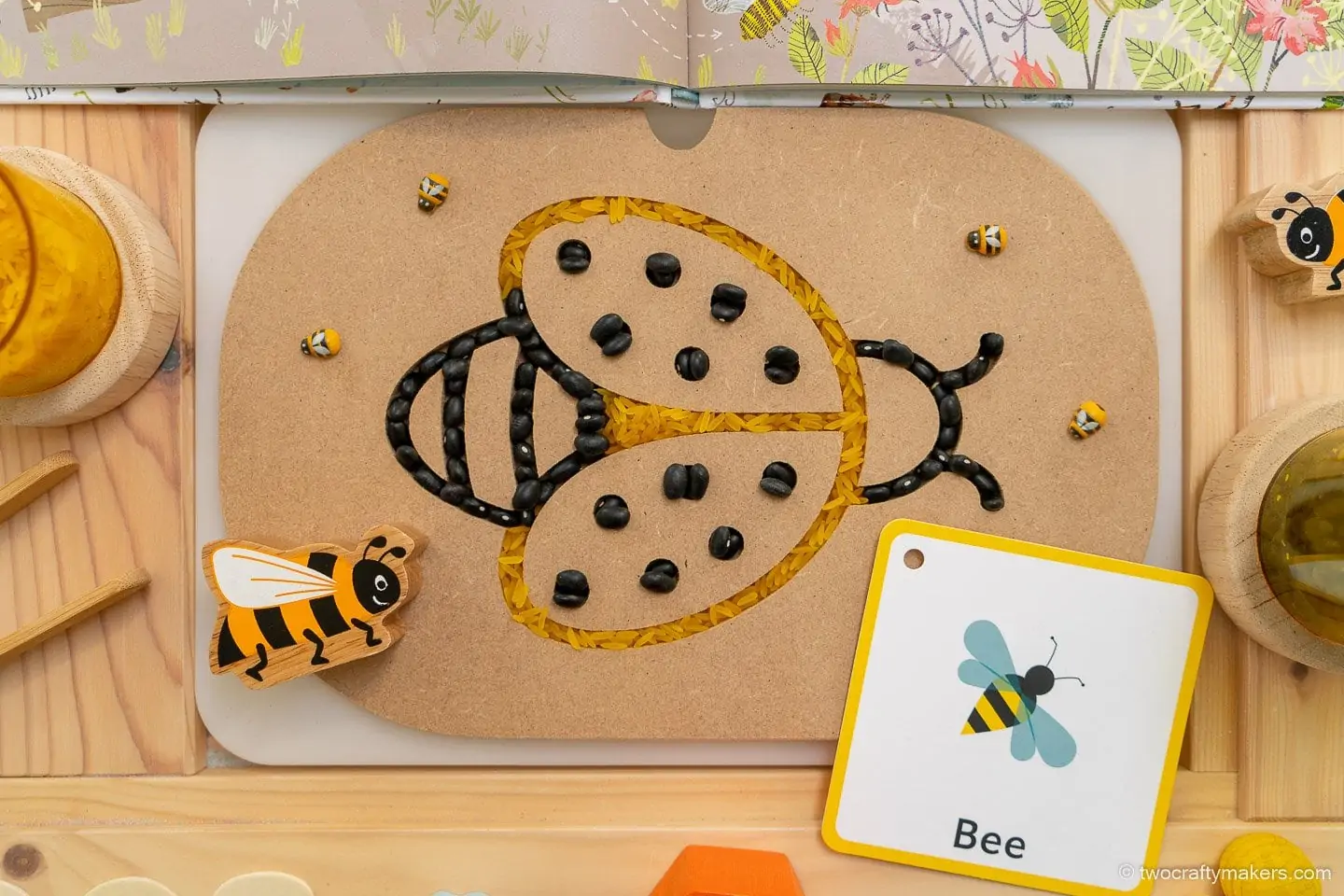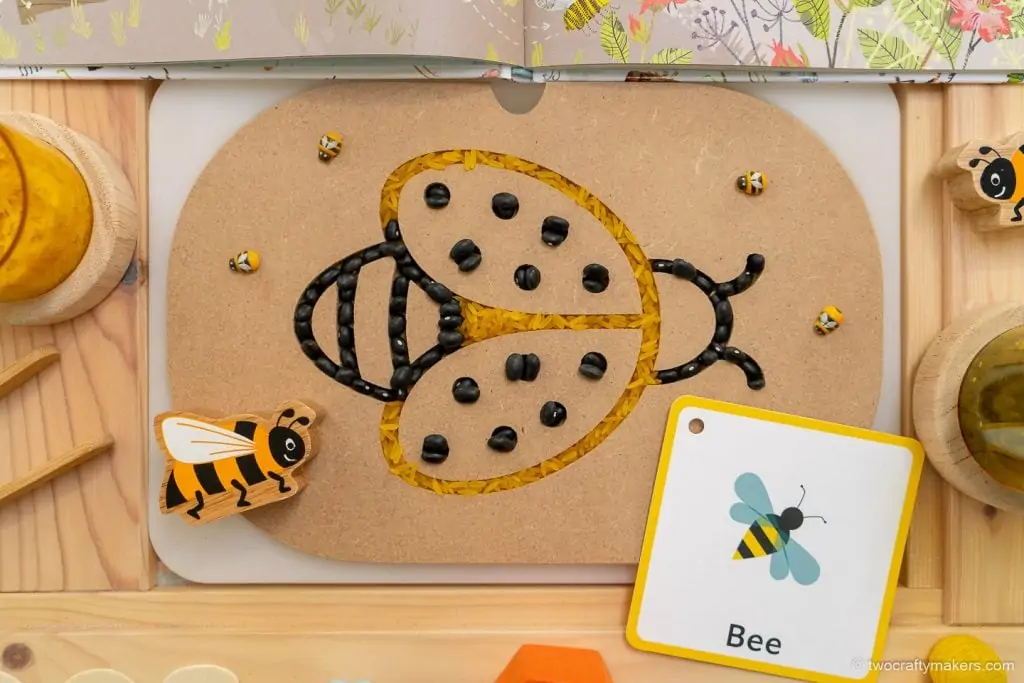 3 | Life Cycle of a Bee
My three year old is fascinated by insect and bug life cycles so I wanted to include the bee life cycle in our sensory play.
How we played with this sensory bin: I explained each stage of the life cycle of a bee. My toddler spent time ordering each stage of the life cycle and matching it with his bee life cycle puzzle.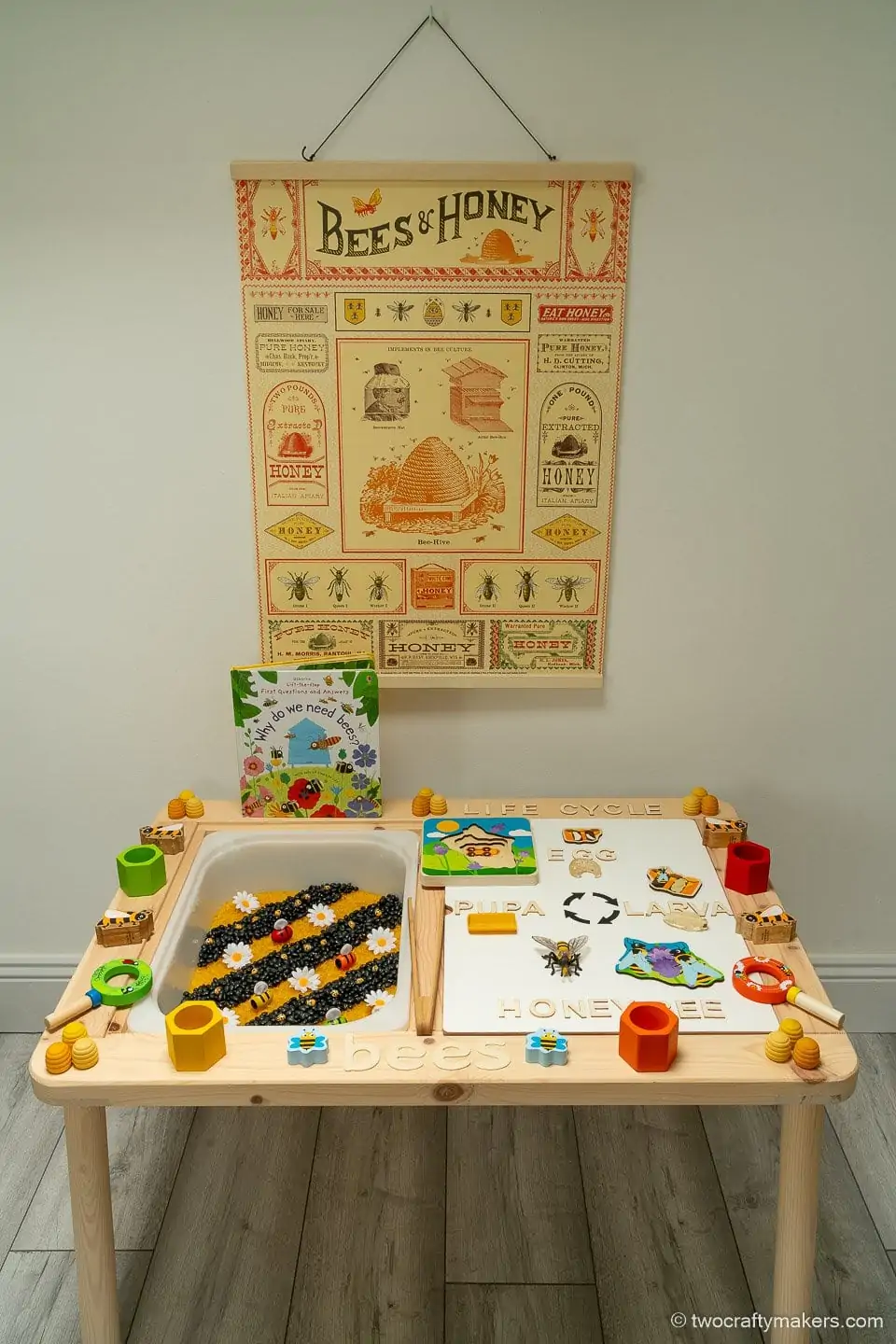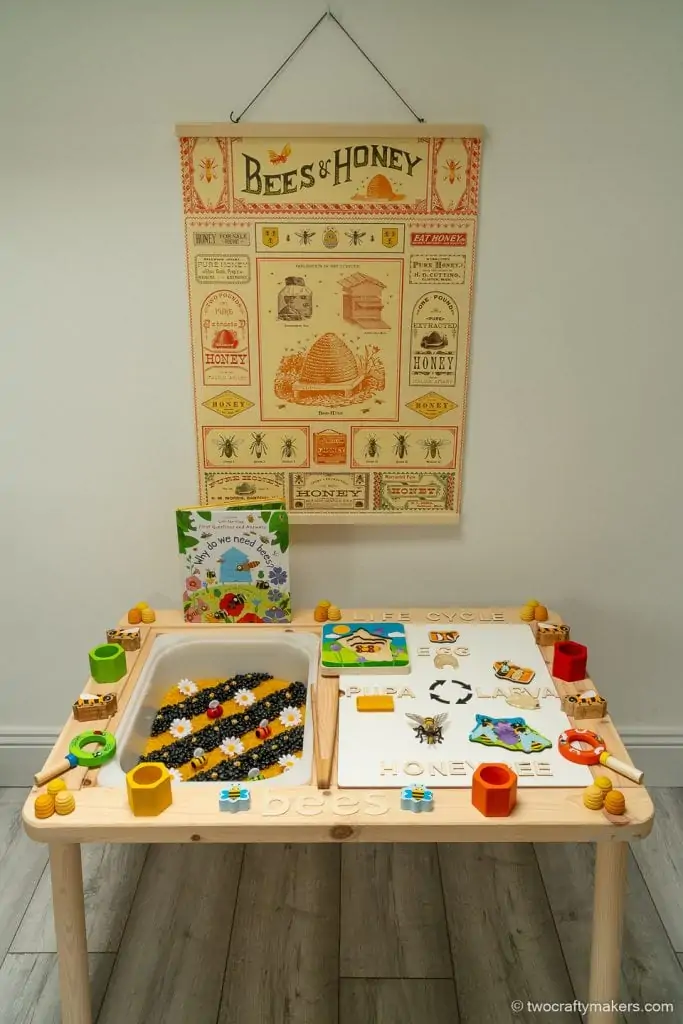 What I used in my bee life cycle set up
Accessories and Bee Colored Sensory Bin are the same as our first bee sensory bin set up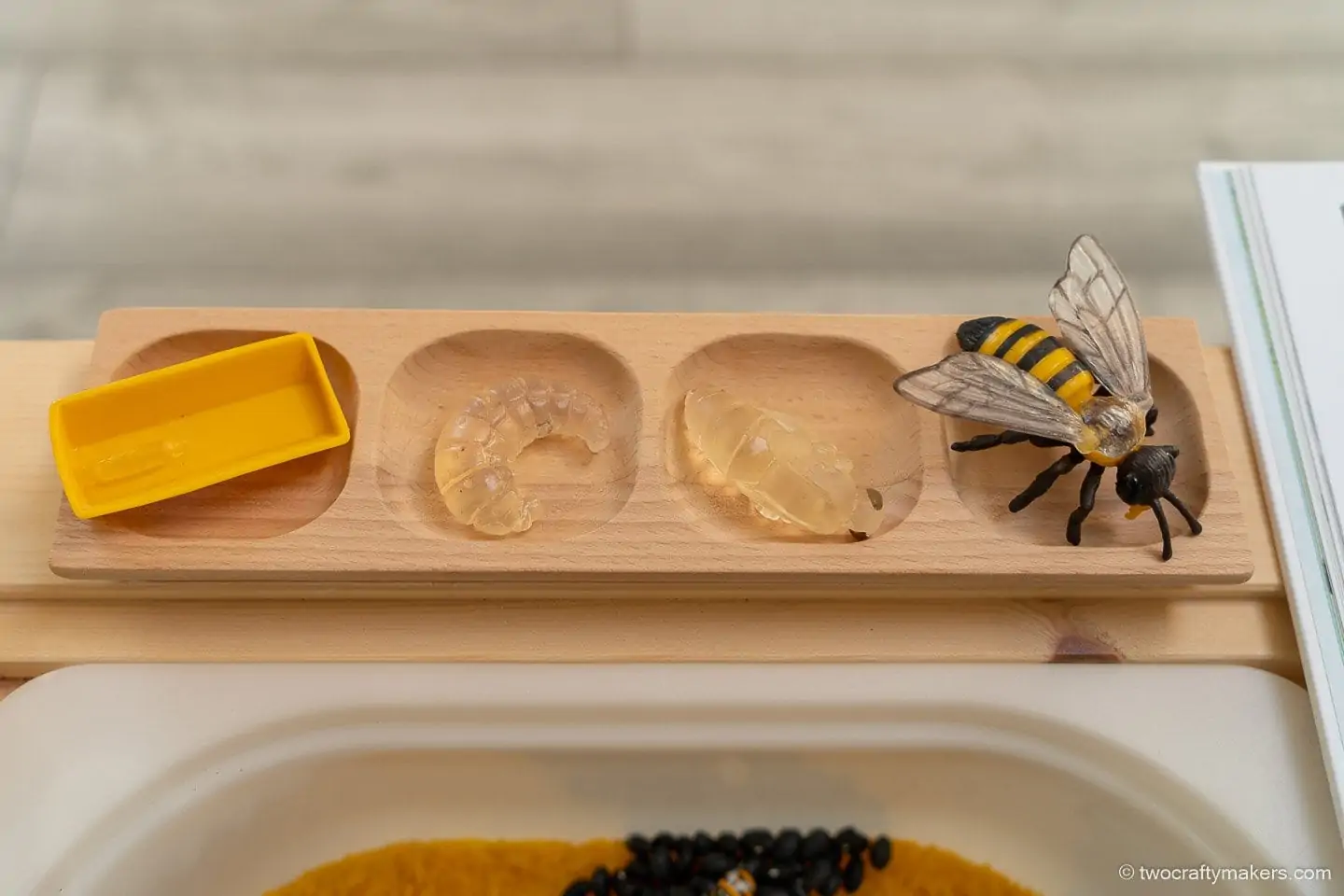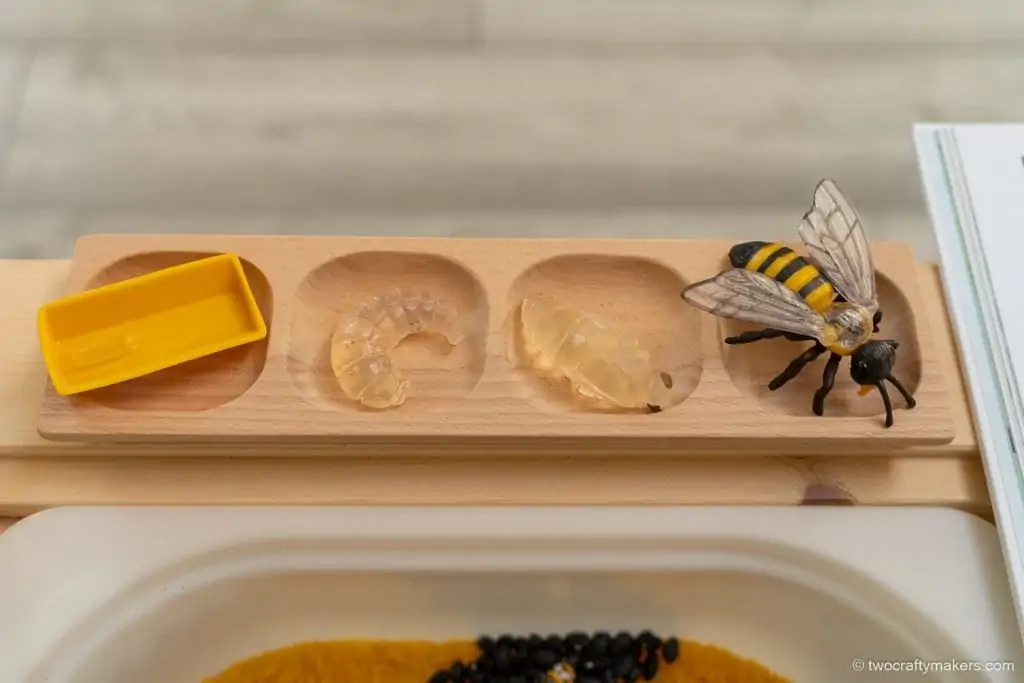 The Life Cycle of a Bee
We talked through each stage in the life cycle of a bee and I tried to frame it as simply as I could:
Egg: a queen bee lays over 1,500 eggs which are a mix of fertilized and unfertilized. Fertilized eggs produce queens and female workers and unfertilized eggs produce male drones.
Larva: it takes around 3 days for these eggs to hatch into larvae. The only difference between the future queen bees and worker bees is their diet. Queens are fed a royal jelly from the worker bees and workers are fed pollen and nectar.
Pupa: the pupa stage is where the parts of the adult bee begin to form and the pupa begins to develop eyes, wings and legs. This stage takes around 6 days for a future queen and 11 days for a worker.
Honey Bee: female workers tend to young bees and tend to and guard the hive or work in the field collecting pollen, nectar and water. Male drones mate with the Queen. Female workers live for around 20 to 40 days and male drones between 1 and 3 months.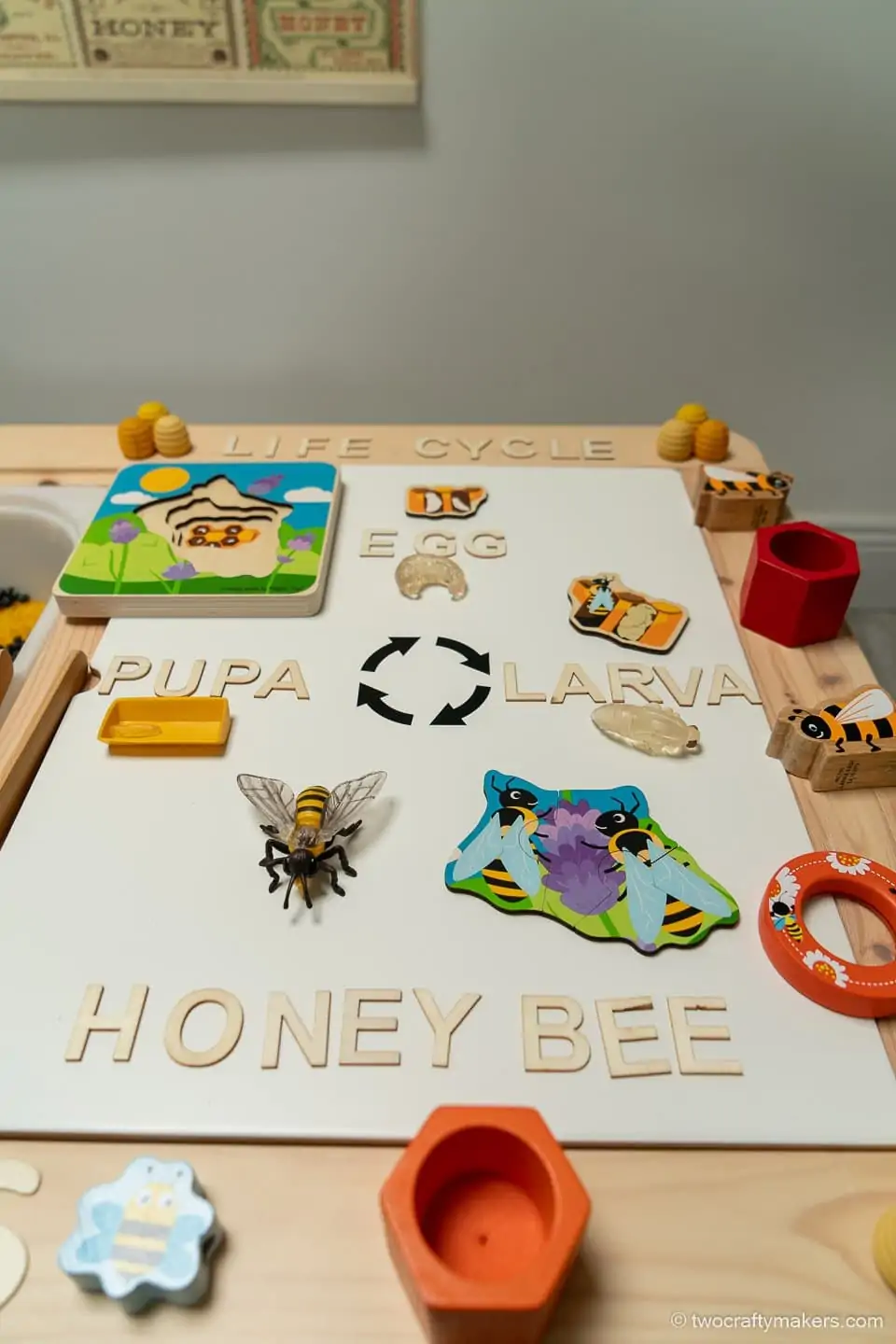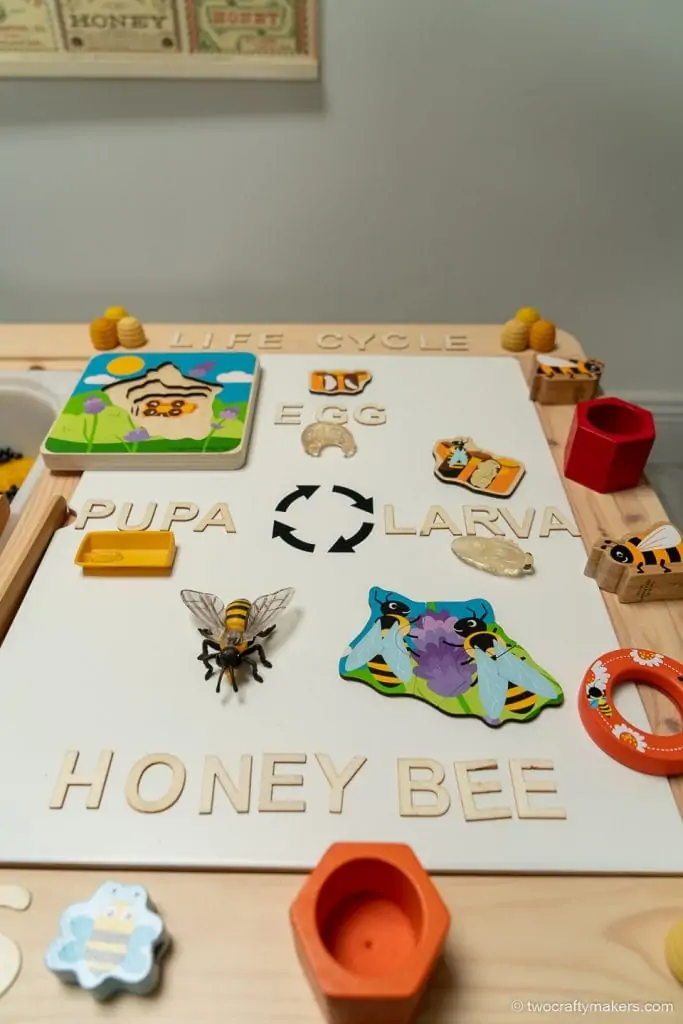 4 | Tactile Bee Fun
One of the great things about bee themed sensory play is the opportunities to introduce some fantastic tactile experiences. Both honey and beeswax are excellent tactile products and are lots of fun for toddlers to work with.
Bee Sensory Bin tips: remember it is not recommended to give kids under 1 honey due to the risk of illness.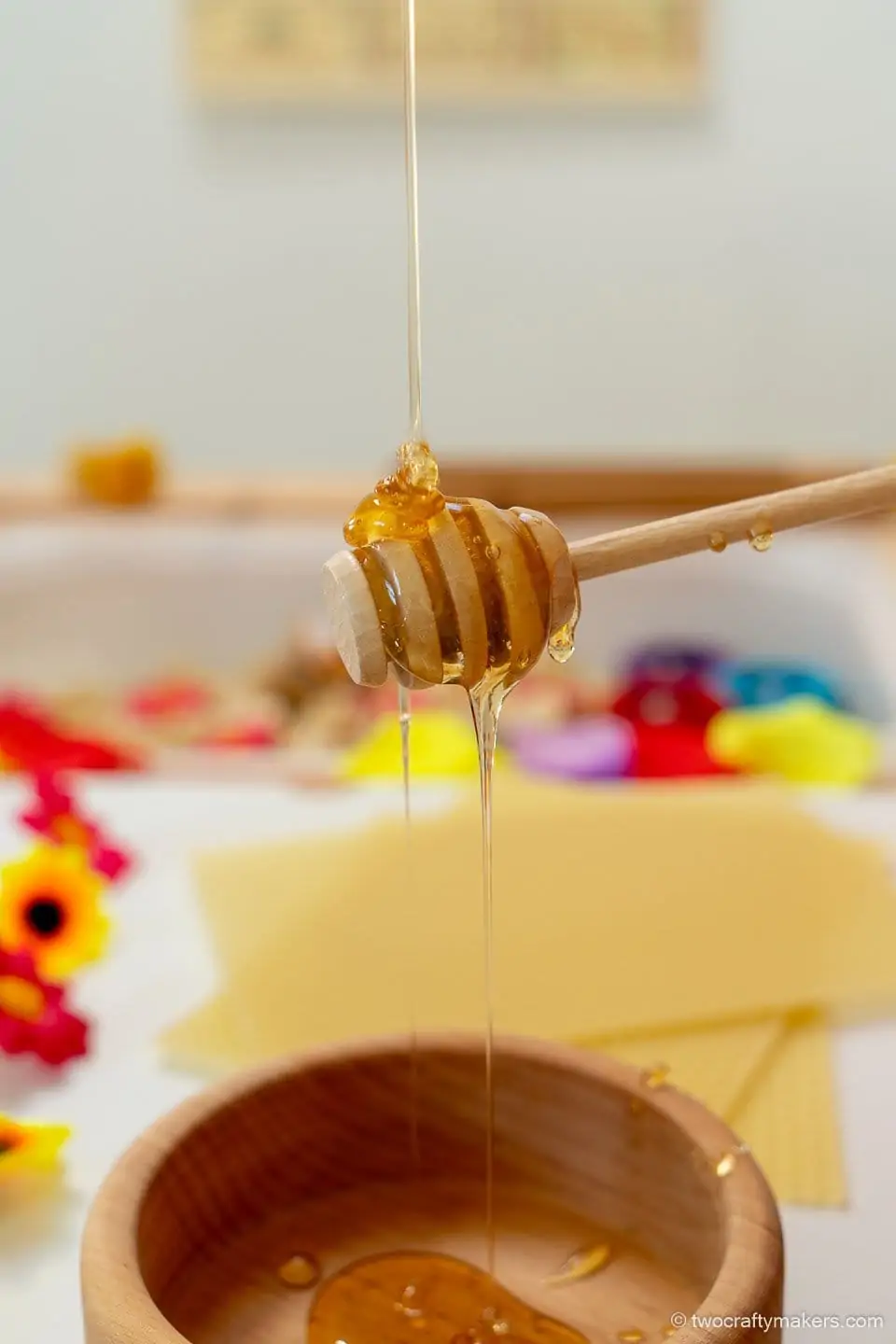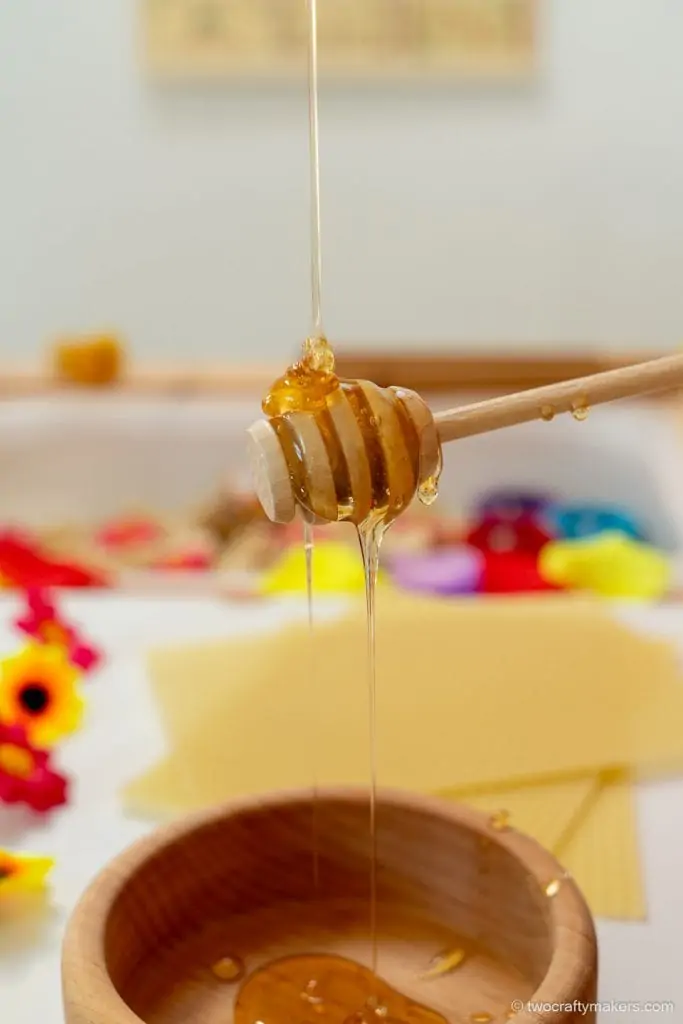 How we played with this sensory bin: if you don't mind the mess, drizzling and manipulating honey was a hit with our toddlers! It opened up a great discussion on the products produced by bees and how we should make sure the bees in the hive are treated well if we are going to use these products. My 3 year old is really interested in where food comes from so we talked about how it's also possible to use vegan honey if we thought the bees were working too hard. I also picked up some beeswax sheets and we made some simple candles.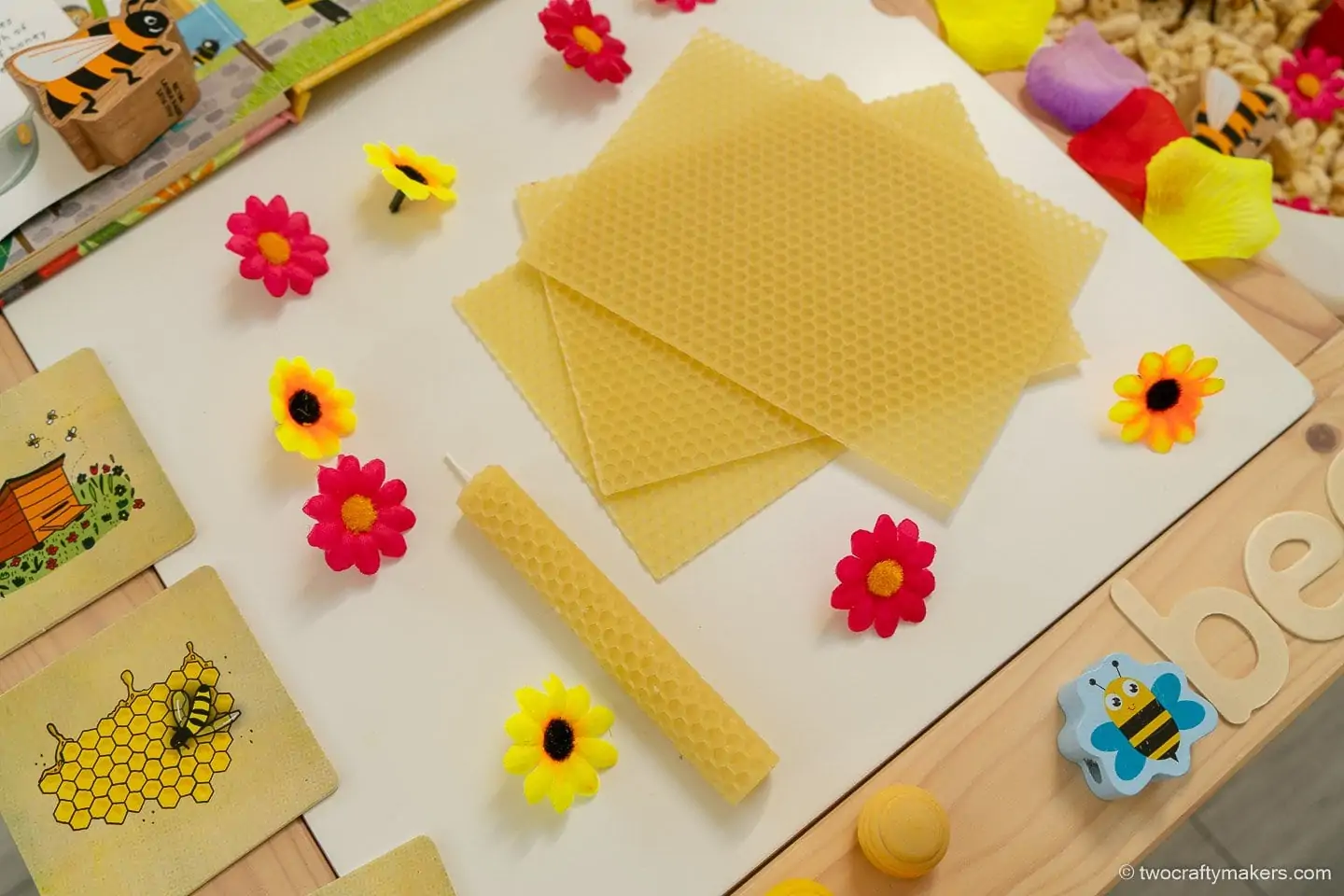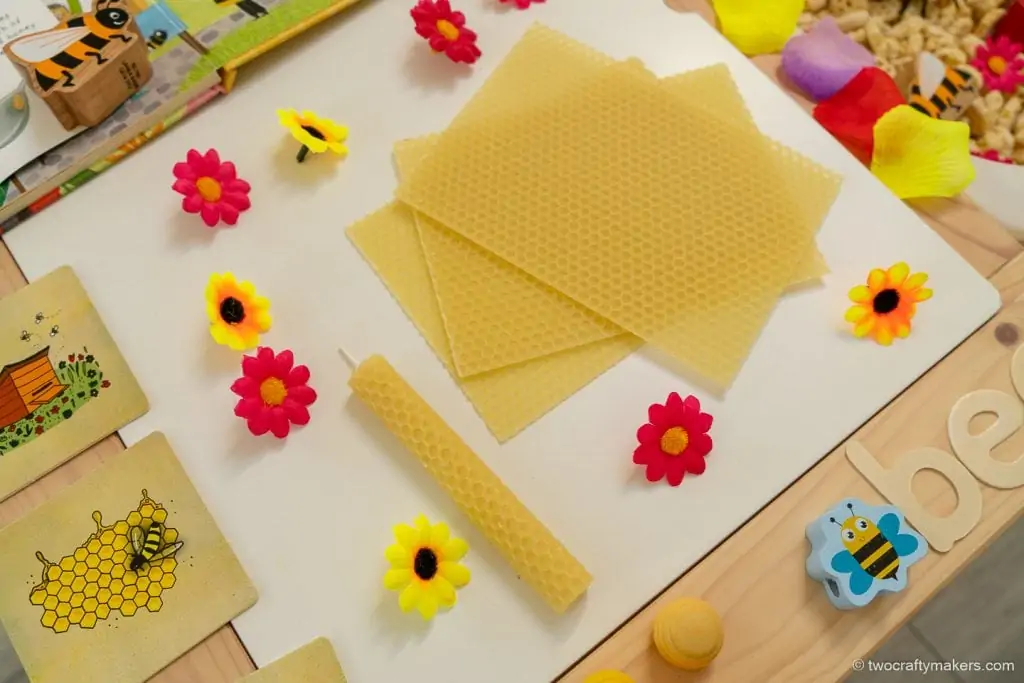 What I used for the tactile bee sensory bin:
5 | Play Dough
Play dough is an excellent sensory tool and I always try to include it in our sensory themes. It works the muscles in small hands and helps with the development of tactile skills. This play dough weather tray can be created with regular or DIY play dough, I made the play dough for our bee activities.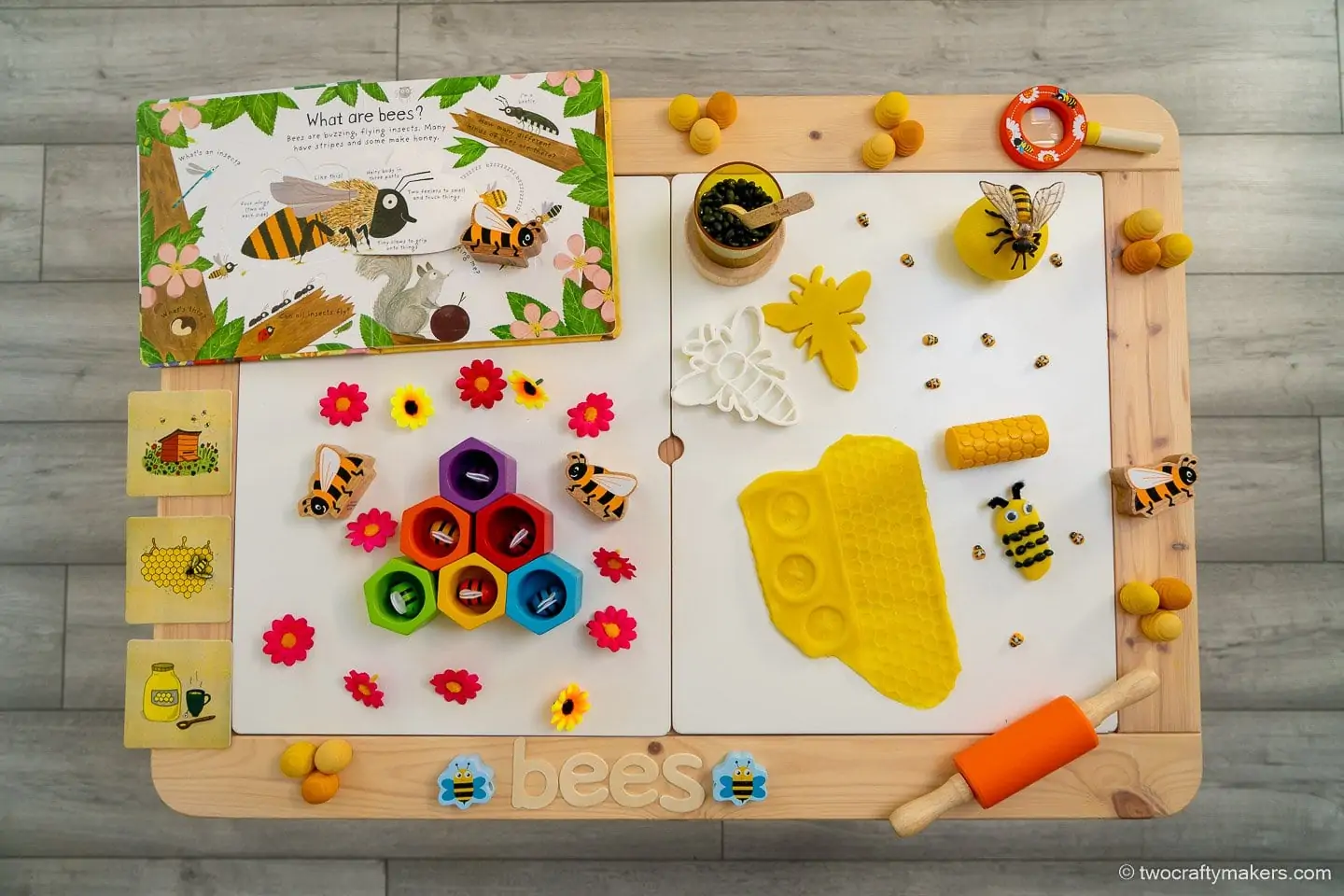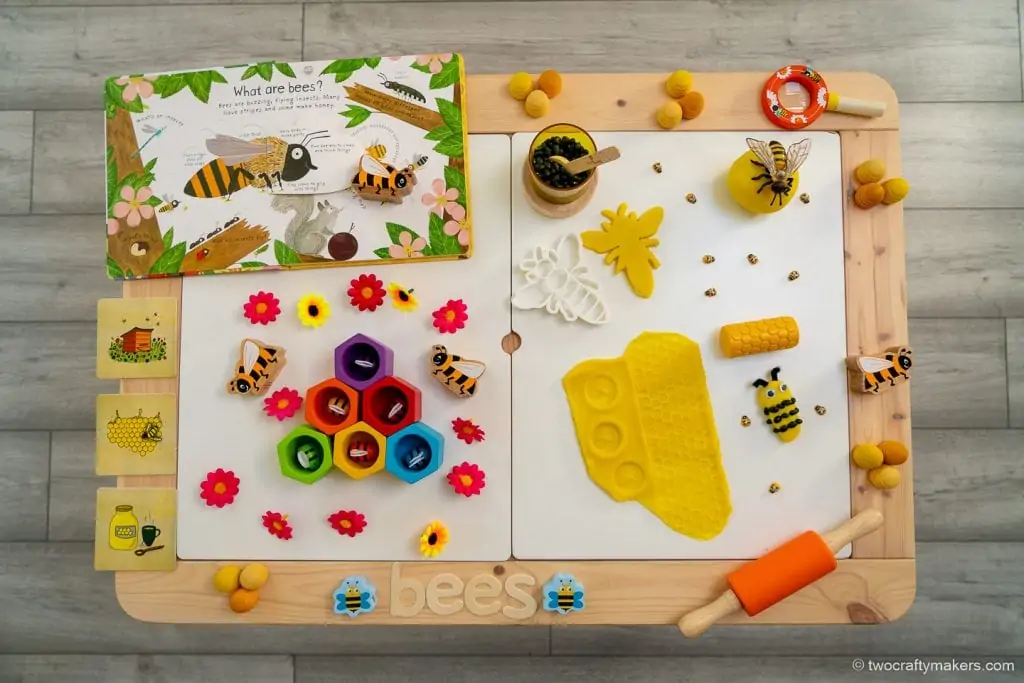 You will need:
Why do we need bees? book
Bee cookie cutters: you can make your bees free hand but our toddlers like using cookie cutters to shape their play dough – this is a great bee themed cookie cutter set
Yellow play dough: I made our play dough from a quick mix of some cupboard staples (flour, vegetable oil,

No products found.

, salt, water and food coloring). The recipe is taste safe and always goes down a treat with our toddlers. We love the Wilton food coloring and find the vibrancy of their colors amazing.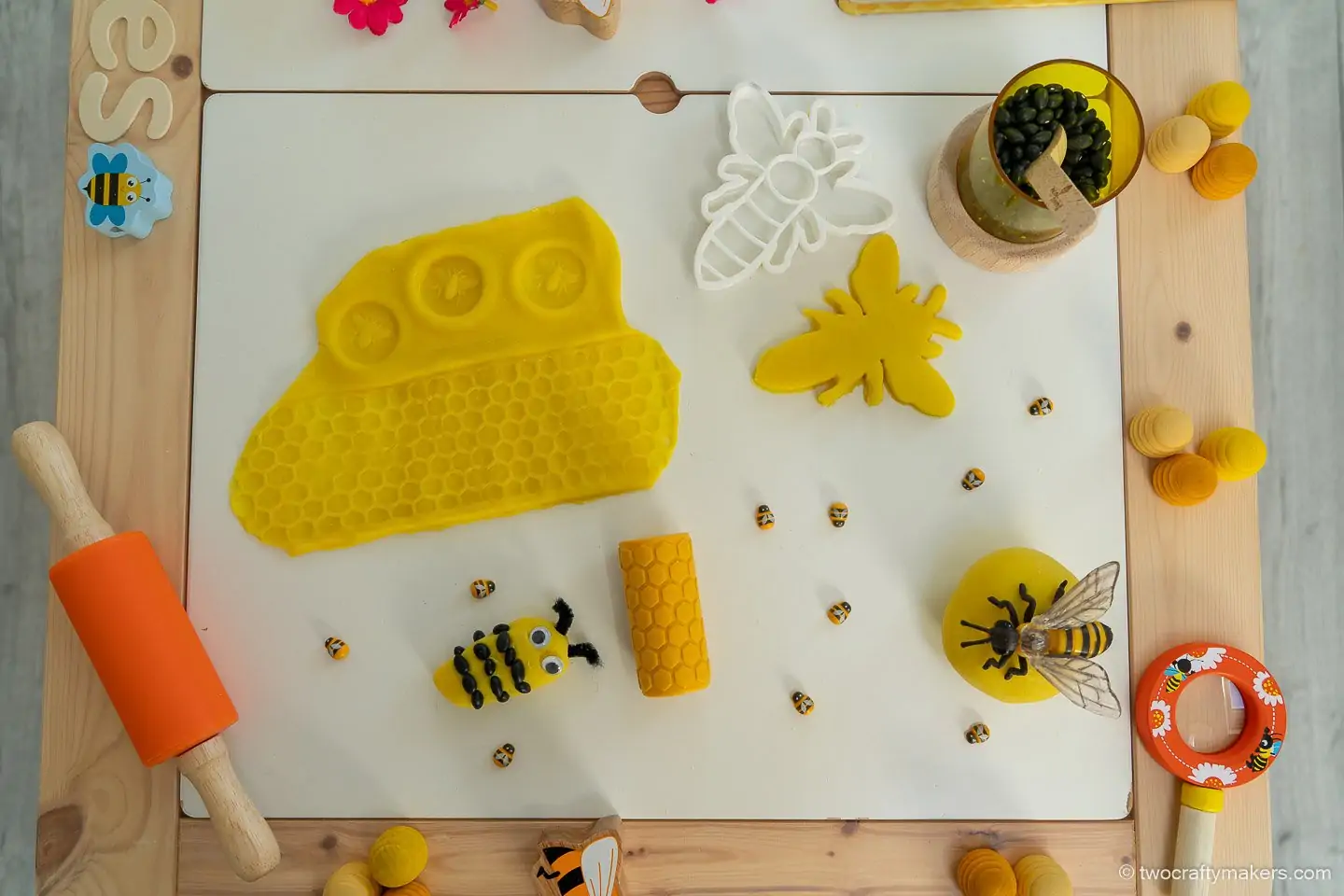 I finished up with some simple bee themed arts and crafts. We painted some bees using our bug stencils and created some fun bees.