Light tables are a fantastic addition to a playroom and my kids have endless fun getting creative with our light table accessories. The table itself is inviting and engaging and it has so many uses. Our favorite light table activities include exploring light, colors and shapes and we also love to build and create. After lots of light table play, I put together this list of favorite light table activities and accessories to share our favorite ideas.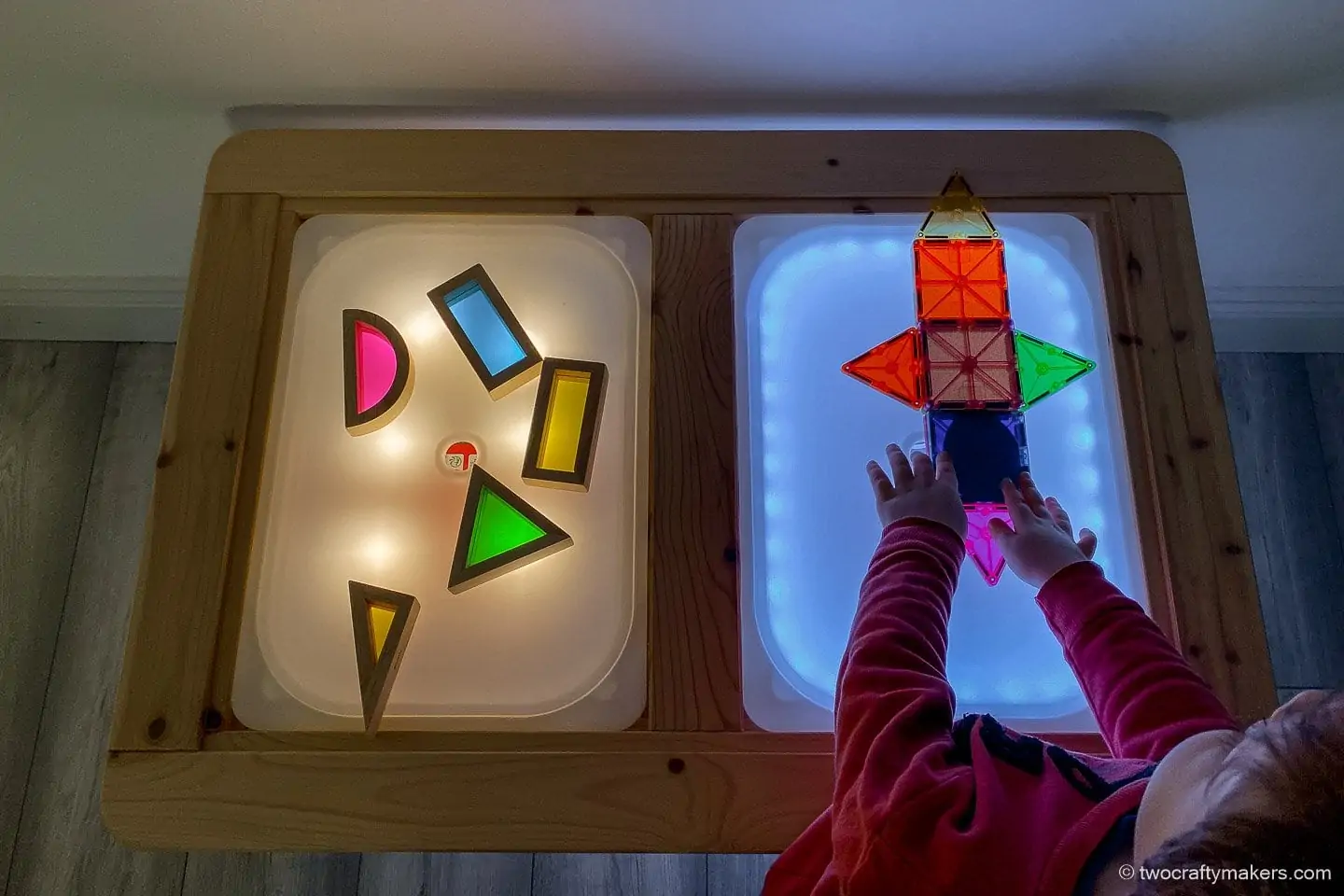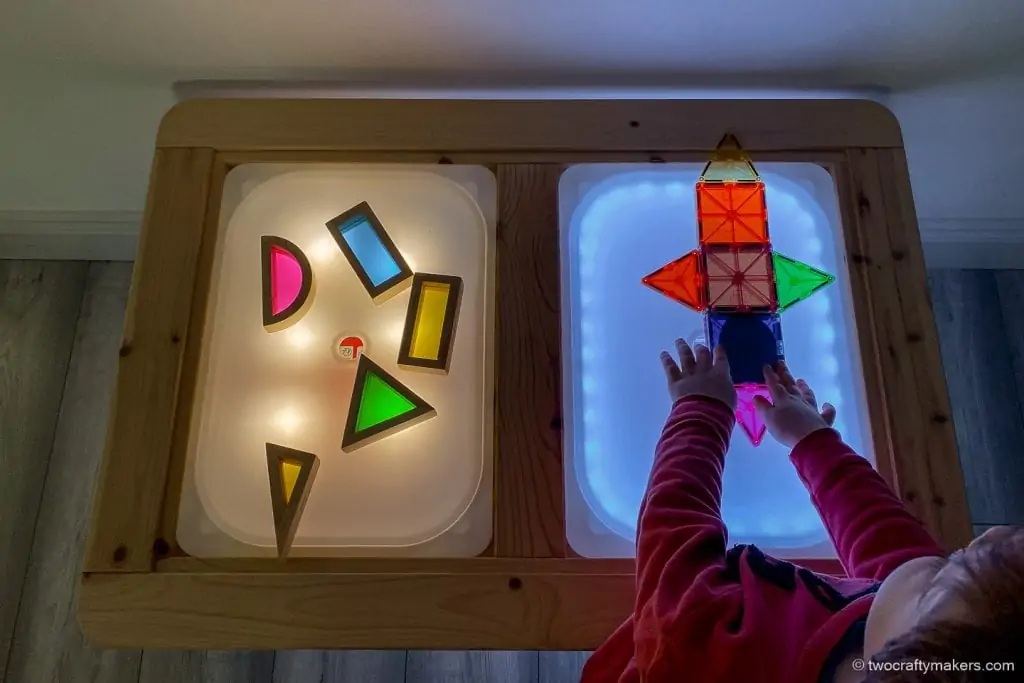 Light Table Activities and accessories tip: we made our light table using our DIY Light Table Ikea hack which involved adding some LED lights to our Ikea Flisat table. Other light table options include a stand alone light table No products found., a light panel which sits atop a table like this one or a box type panel like this. We opted for the DIY route as it isn't expensive and doesn't require any extra space in the playroom.
The Best Light Table Activities and Accessories
From creative play with magnetic tiles to reading X-rays of insects, these are our 10 favorite light table activities and accessories.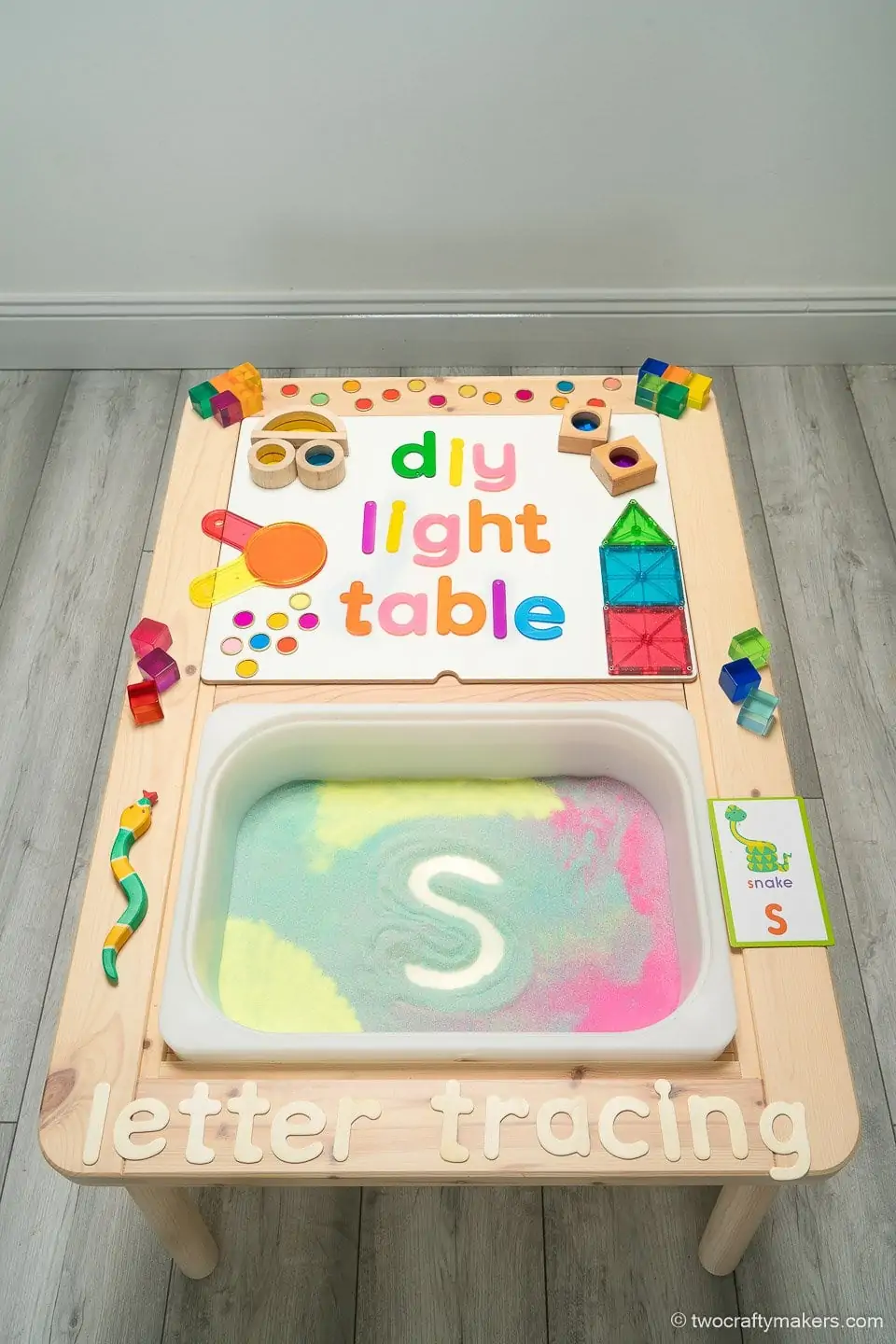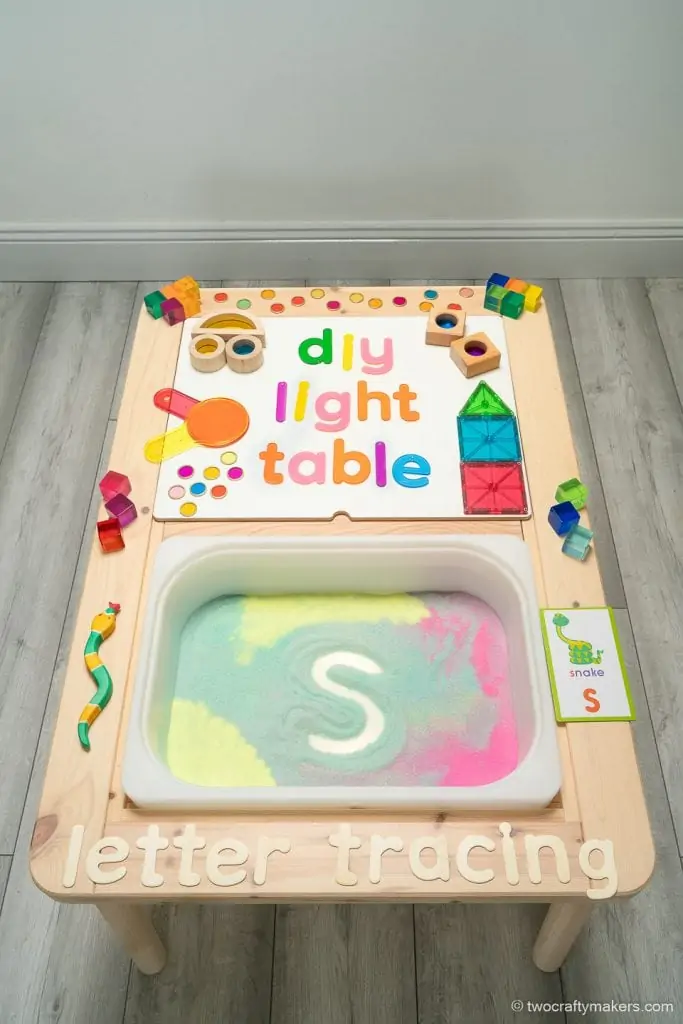 What Light Table we Use
We use and highly recommend the Ikea Flisat kids table as a light table. It's a fantastic addition to your playroom and is super versatile. While it's available from Ikea directly, it's usually out of stock.You can usually grab one on Amazon if Ikea is out of stock although it can be more expensive – No products found.
No products found.
We also use the Ikea Trofast bins for sensory play. They're easy to clean and our kids love them – check prices now!
1 | Creative Play
A light table is fantastic for encouraging independent and creative play and there are some great light table accessories that complement these activities:
Magnetic Tiles: we have a Magna-Tiles set and a Picasso Tiles set which work great for both general play and light table play. Both are excellent for developing fine motor skills and colour and shape recognition. The effect of the light table and the translucent tiles add an exciting dimension to light table play. – check prices now
Rainbow blocks: Our Rainbow Blocks get hours and hours of play on and off the light table. They are excellent for shape recognition and we've used them to introduce the concept of a circle, semi circle, square, rectangle and triangle. They illuminate beautifully on the light table and can also be used to explore color mixing – check prices now
Light table activities and accessories tip: my kids play extensively with both their magnetic tiles and rainbow blocks and use them on and off the light table.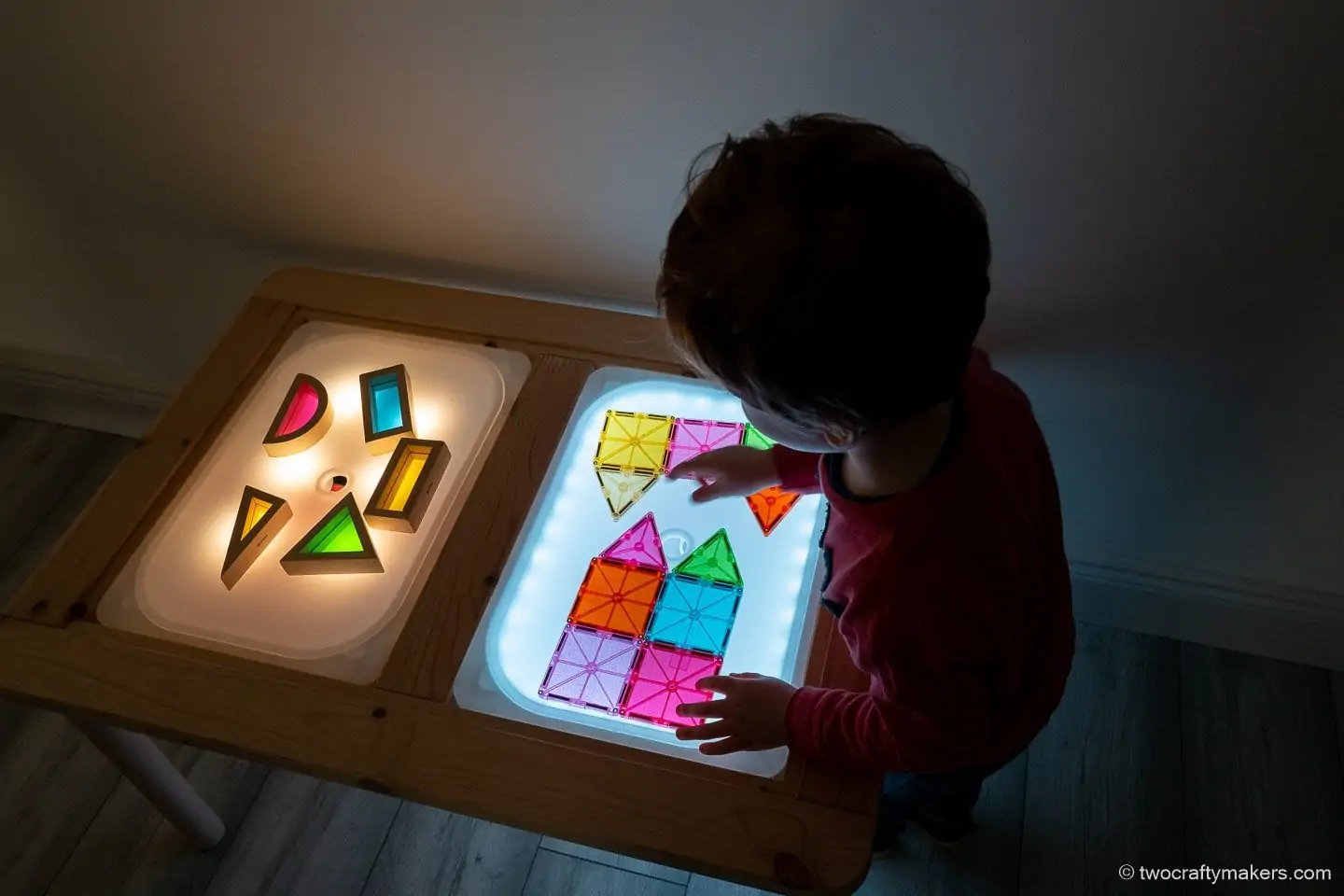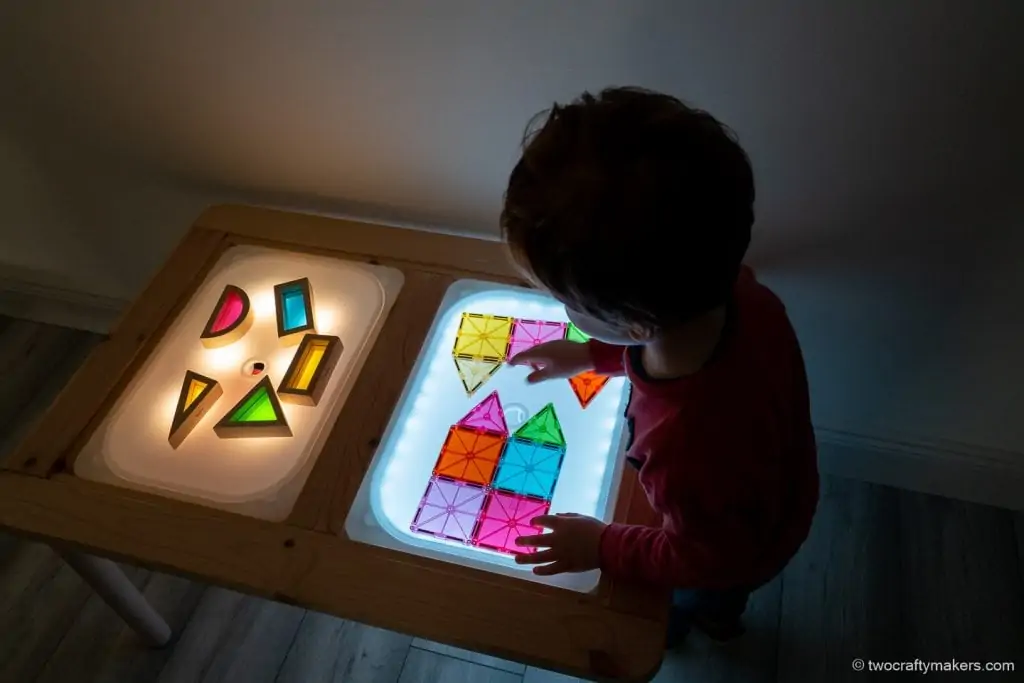 2 | Color Identification
For younger kids, a light table can help assist with color identification. It's really easy to set up: I just group together a variety of our light table accessories in a single color and use this as a starting point to explore different colors with our one year old.
Introducing colors: I introduced the colours using larger shapes like our Magna-Tiles, rainbow blocks and color paddles.
Color sorting: Once my toddler had a good understanding of the individual colors I set out our translucent counting chips so we could work on our color sorting skills. My just turned 3 year old loves color sorting and they happily do activity together.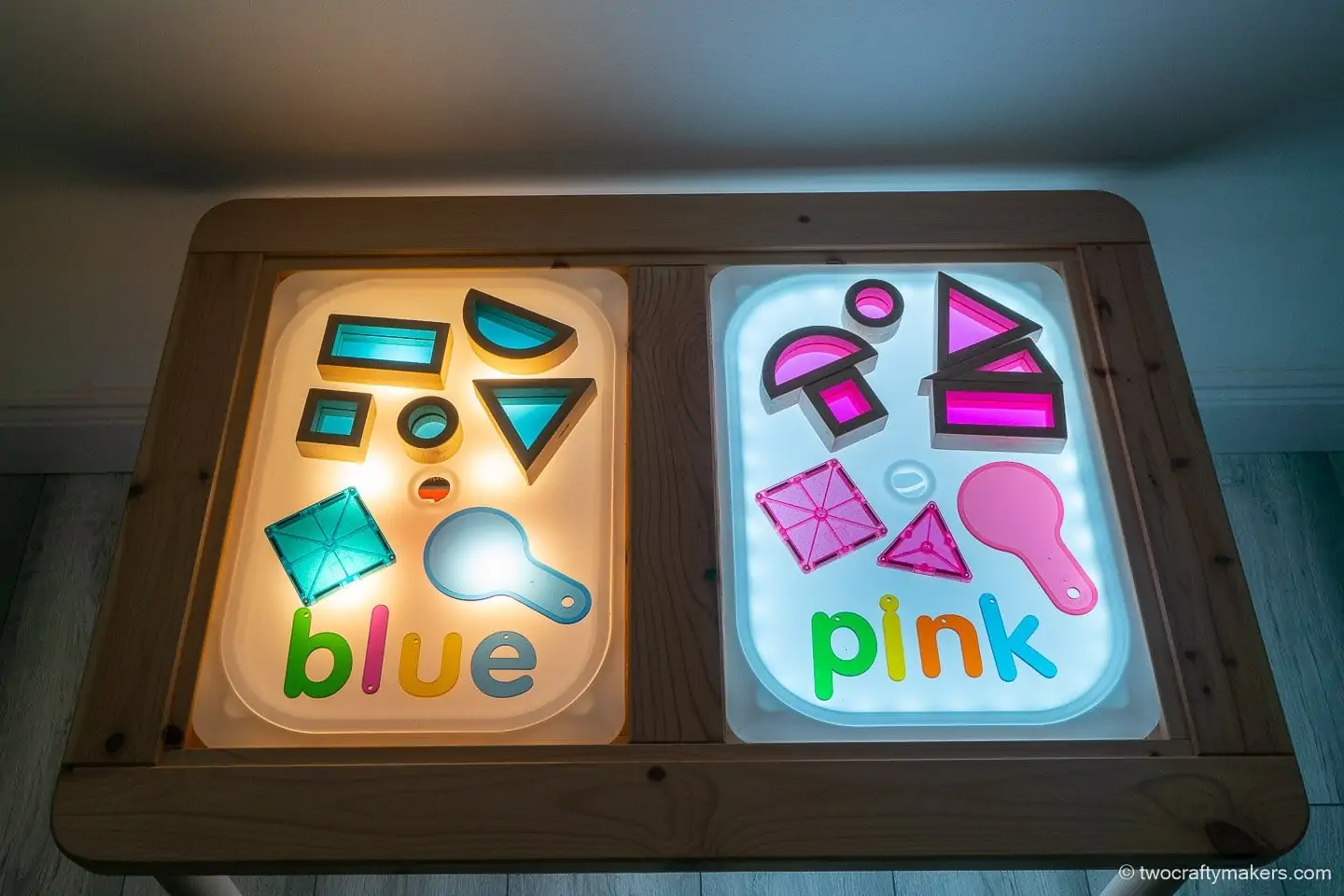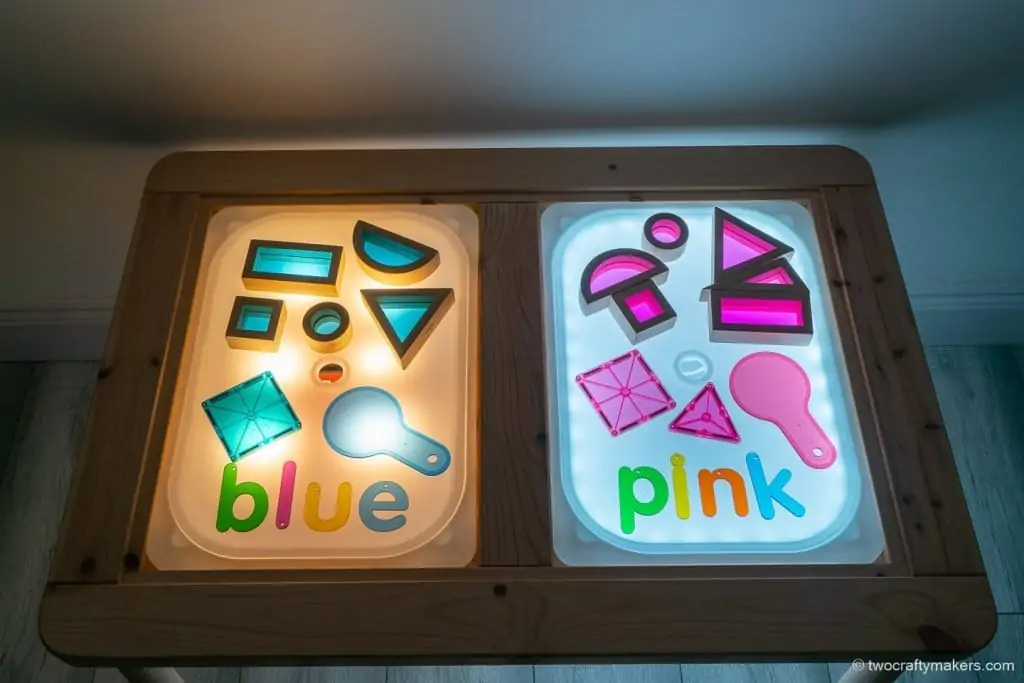 3 | Color mixing
A light table offers a great opportunity to explore colors and introduce the concept of color mixing to create different colors:
Color paddles: These color paddles are great for exploring color mixing and their shape and size make them great for younger kids as well. – check prices now
LED lights: both the LED light sets are color changing and so can be incorporated into the concept of color mixing by changing the light colors. We love setting our LED strip lights to auto and watching the colors change continuously.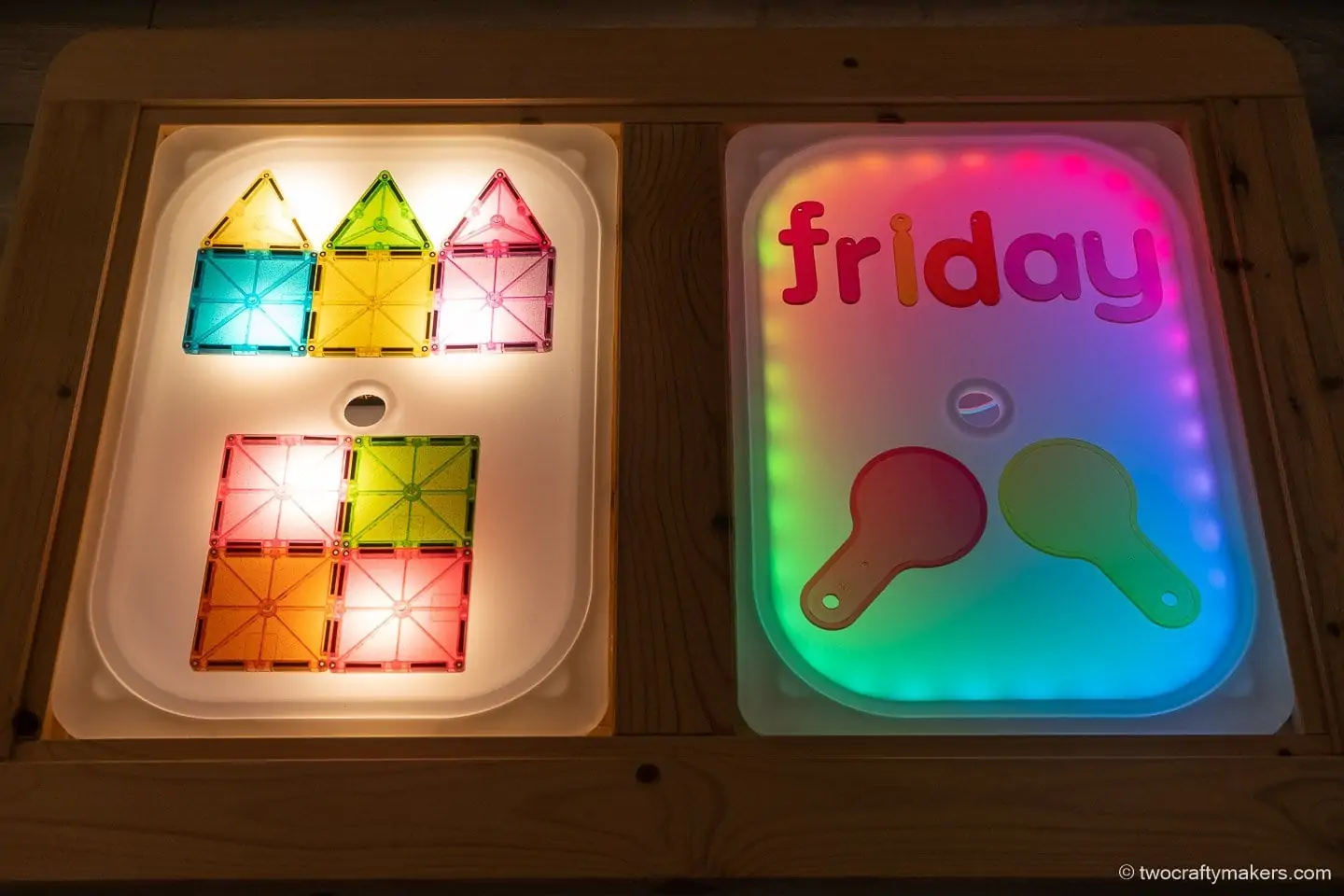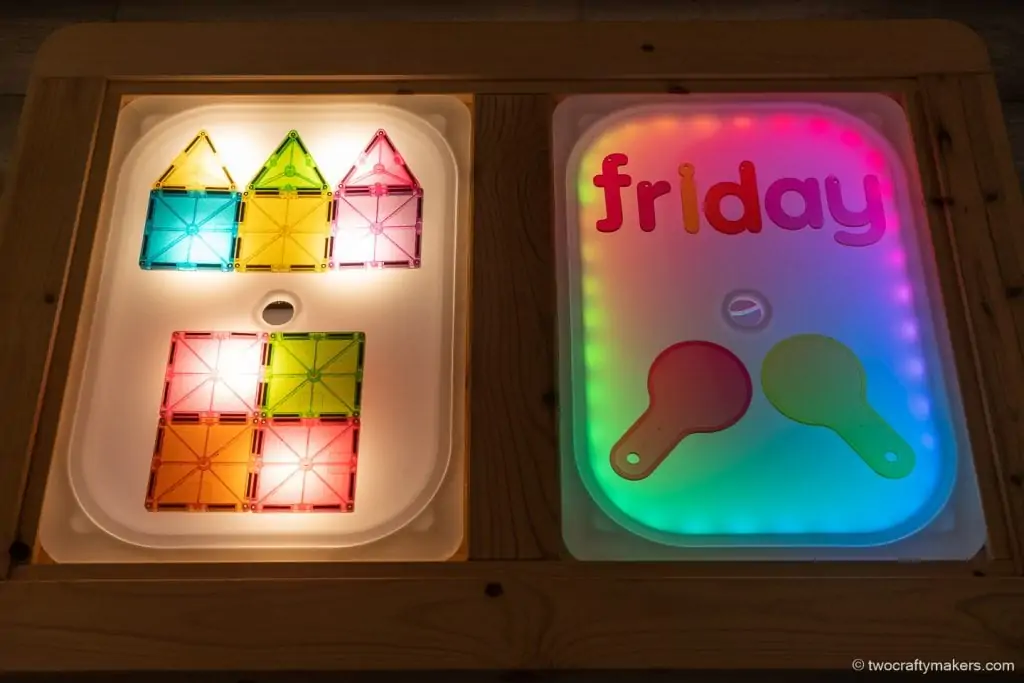 4 | Bug Tray
My kids are fascinated with bugs, birds and, really, everything that moves! Our garden is filled with bird feeders and bug hotels and they love reading books to understand more! I've been introducing my older toddler to the concept of life cycles and he is fascinated by the journey of bees, frogs and butterflies. A light table is also a wonderful way to explore bugs and insects in close detail and adds a whole new perspective to the subject.
Life Cycle kits: we love the Safari Life Cycle kits which illustrate the transformation of insects and animals. We have the frog, ant and butterfly sets along with the honey bee set we are using here. –check prices now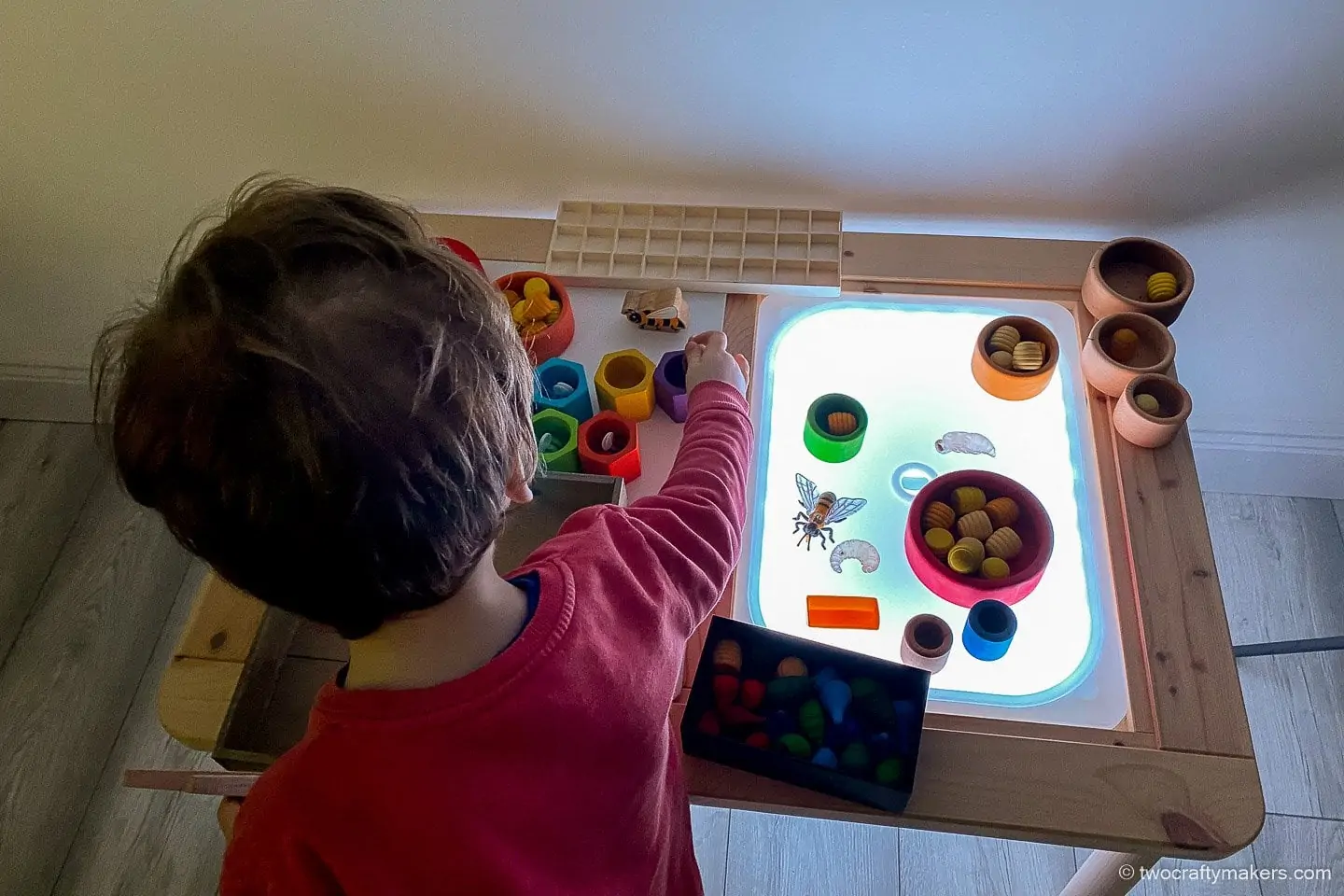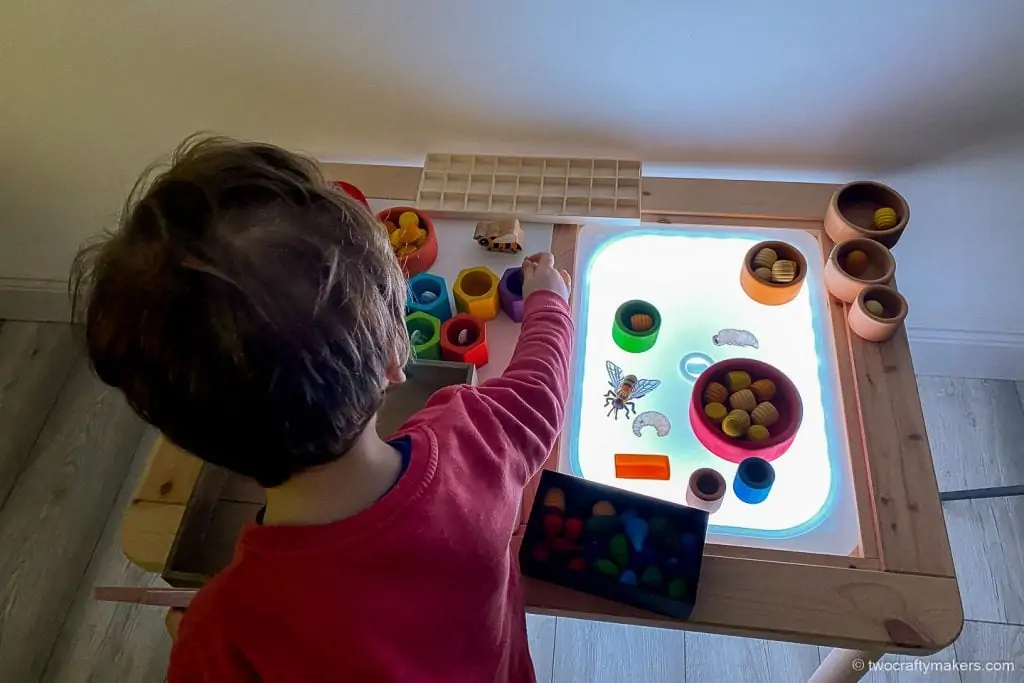 5 | X-Ray Fun
We hit upon this activity in one of our insect activity books and immediately put an order in for some insect x-rays! Using our light table to illuminate x-rays is a huge hit with our kids – I've found that it is much easier to engage my 3 year old when I bring out the x-rays rather than just looking at the pictures!
Insect x-rays: I bought this fab little set of insect x-rays which includes matching pictures. We use them to learn about different insects and my 3 year old loves matching the photos to the x-rays.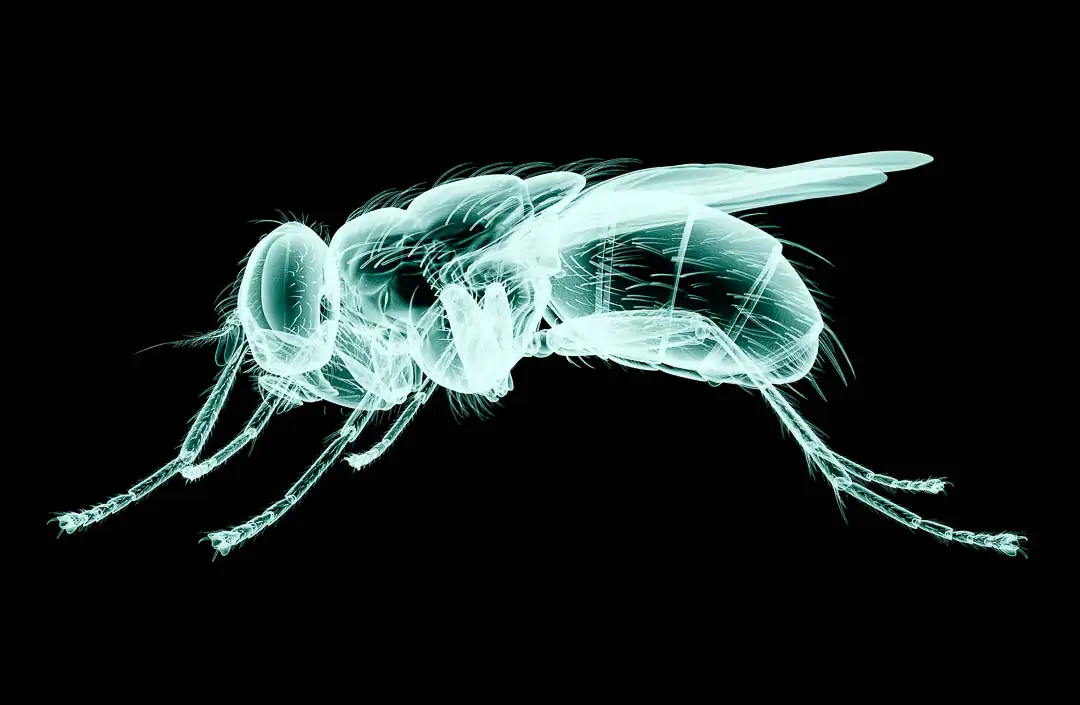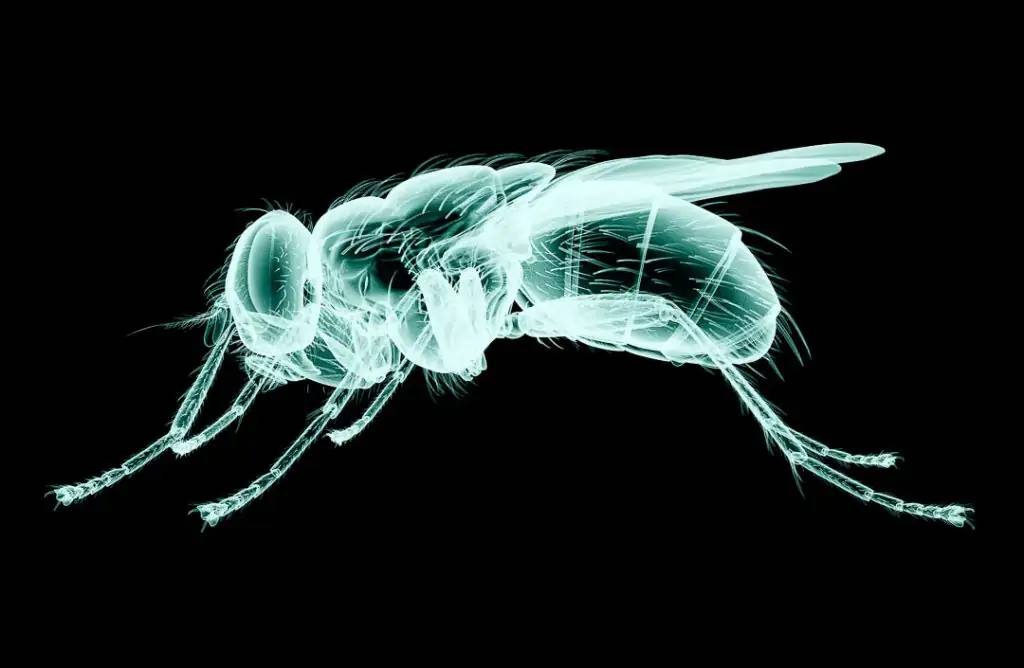 6 | Letter Recognition
We love using the light table to work on our literacy skills and it is fantastic for letter recognition and matching. Again, it adds a new perspective to learning which we always welcome and my 3 year old has started to trace around the letters.
Light table alphabet: we use this translucent alphabet set with our light table. Remember to pick up a few sets if you are planning to use to make words – we had to order some extra sets when we started making words on the light table!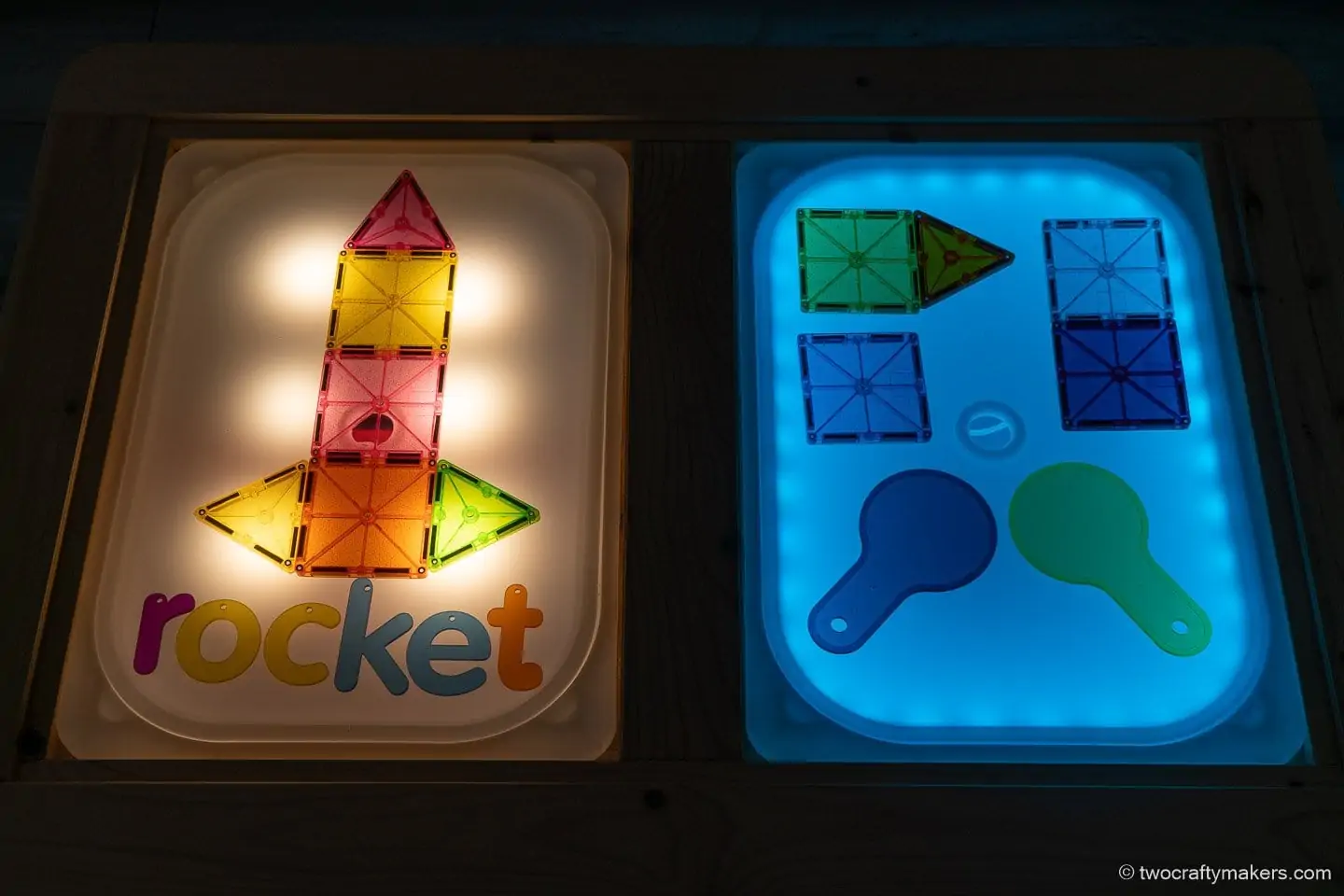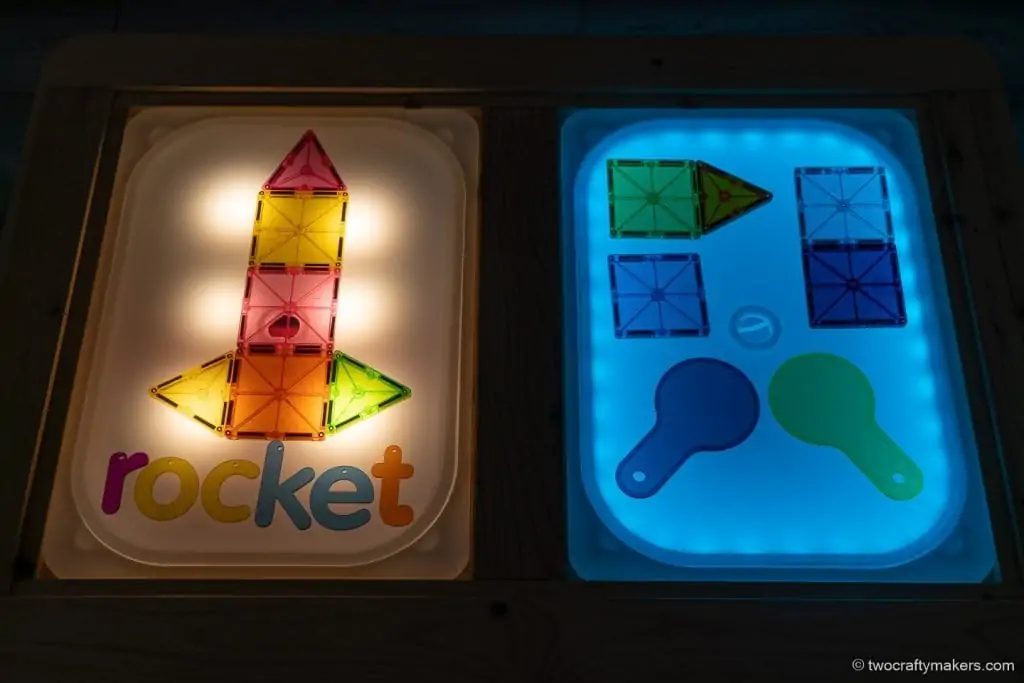 Letter tracing in sand is another really fun literacy light table activity.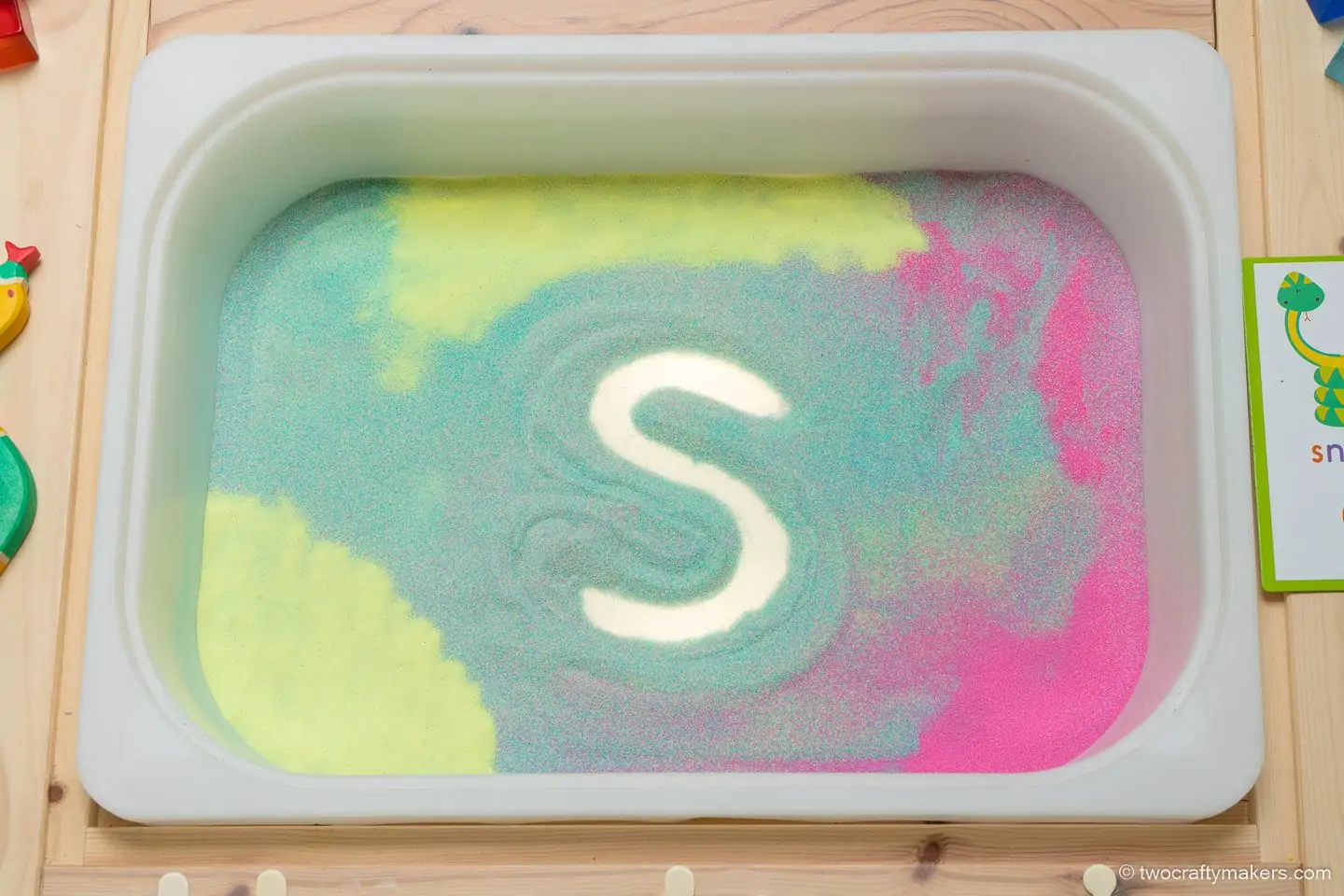 7 | Counting
My 3 year old is just getting into counting and we've been working on building our skills. I got a counting set with 100 or so translucent chips and we use them to do simple counting activities – these are the same ones we use for color sorting.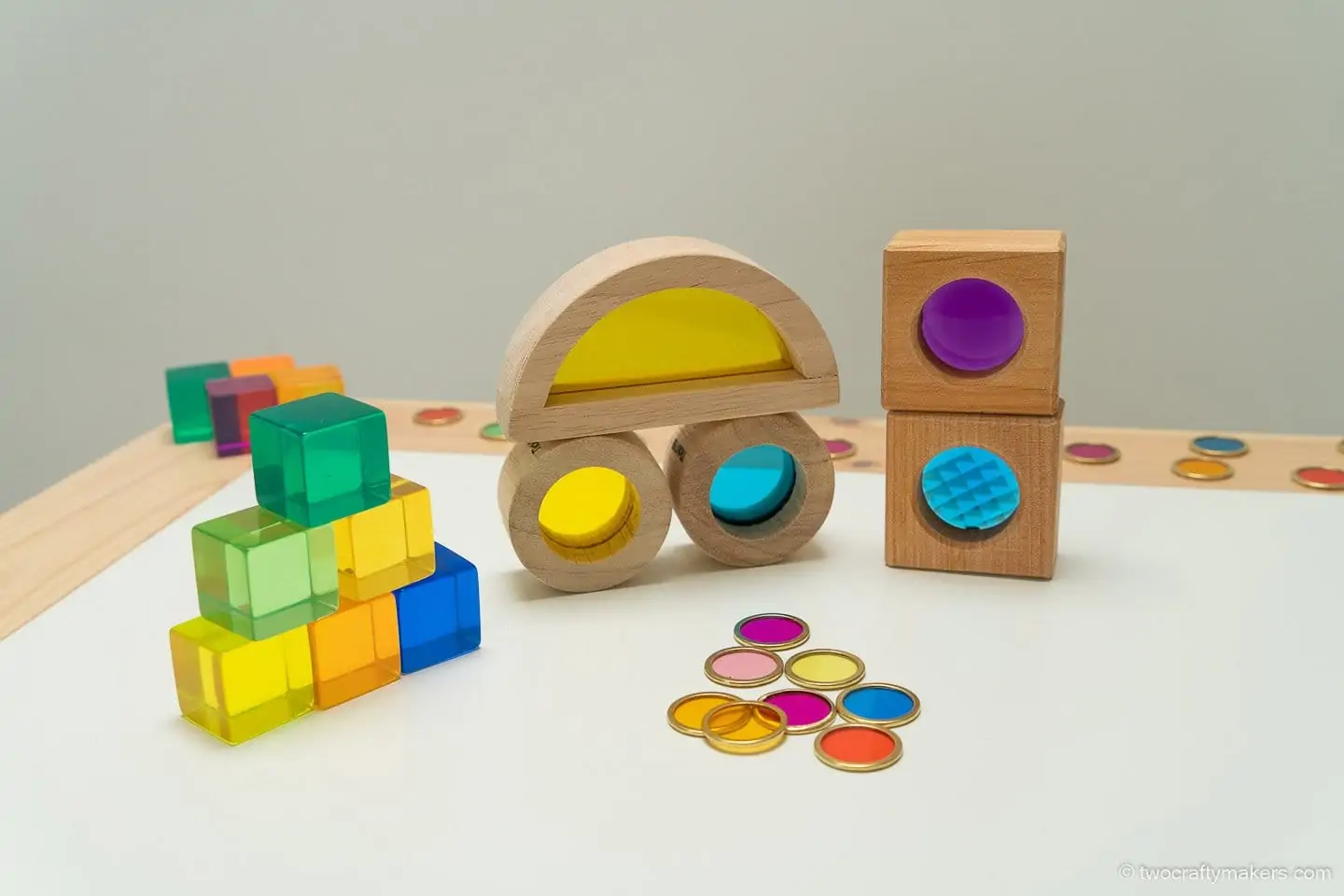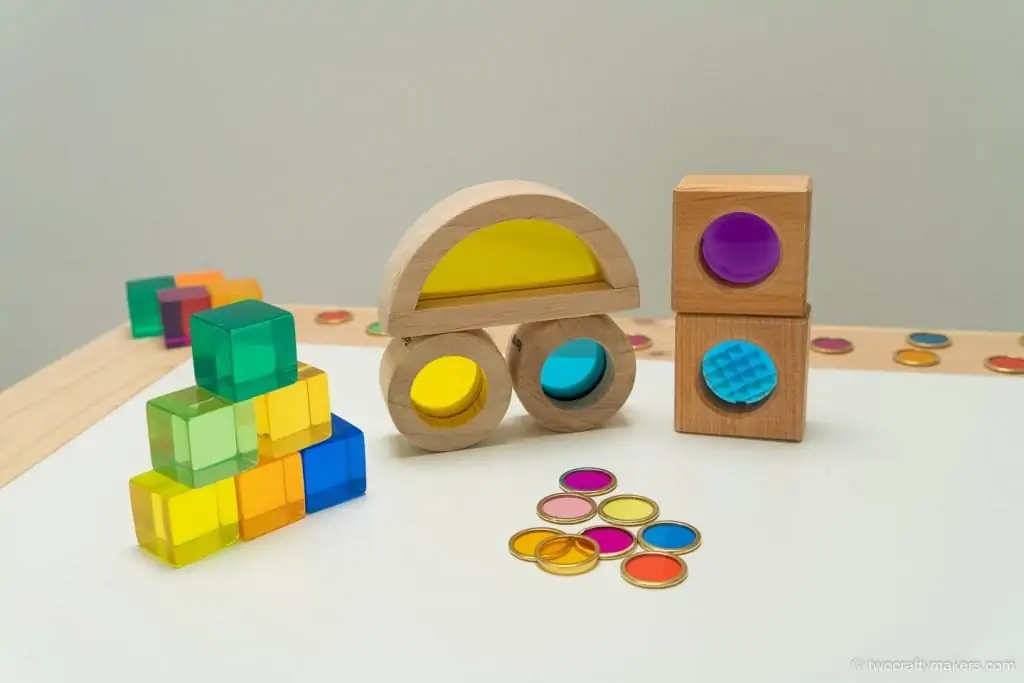 8 | Shape Recognition
Similar to our alphabet set for letter recognition, we love using the light table to add a new perspective to shape recognition: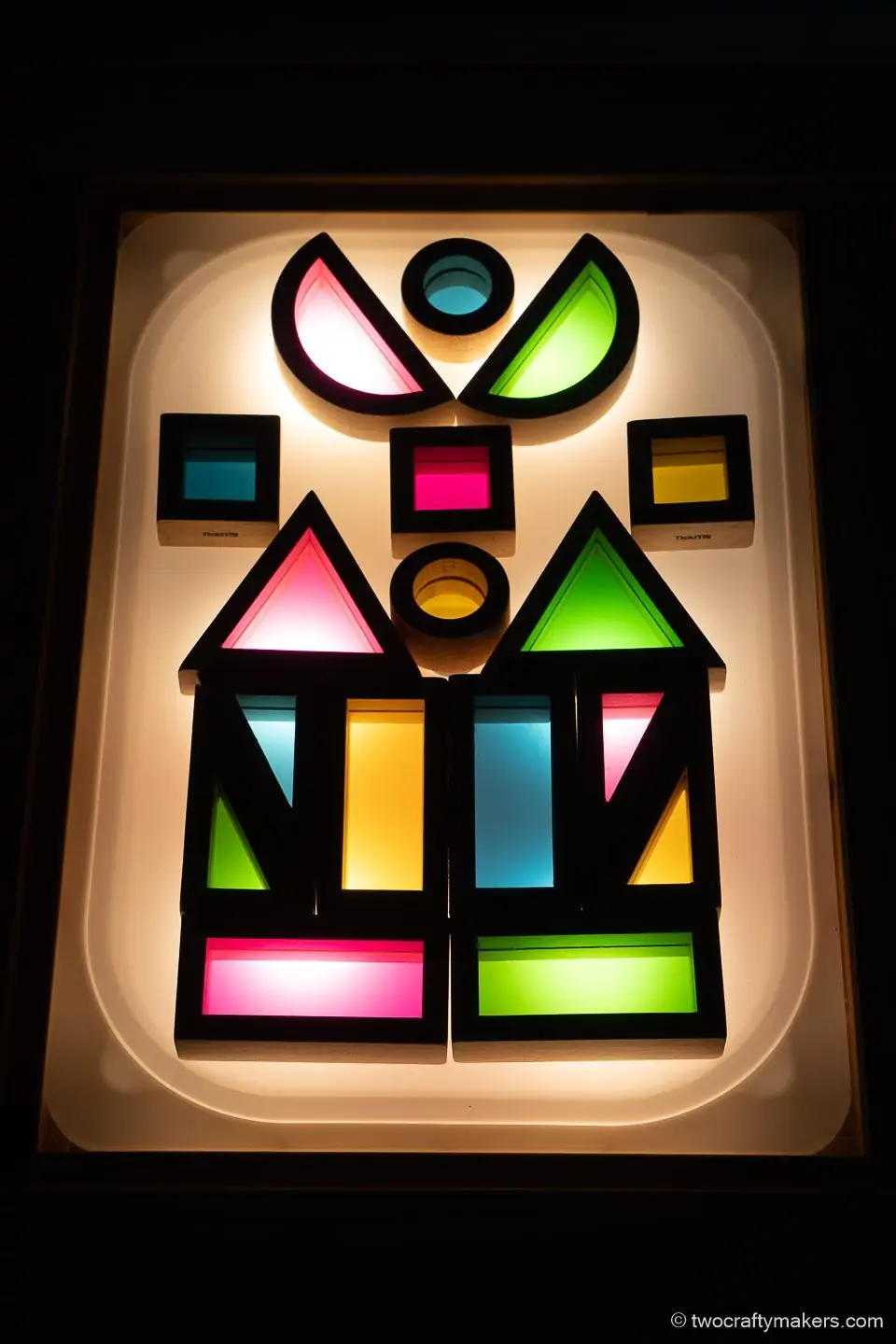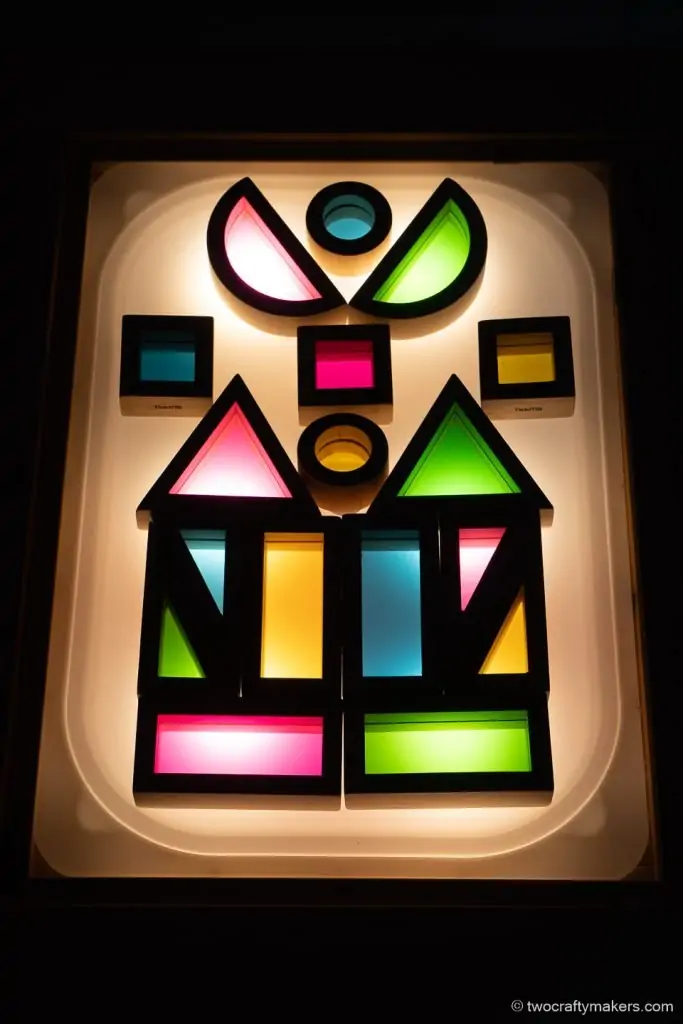 9 | Patterns
My 3 year old loves making patterns. He adores his wooden pattern blocks set (he has these ones) and loves trying to create the geometric shapes on the cards. As soon as I spotted a translucent version of the set I knew it would be a fantastic addition to our light table play. This is one of our favorite light table activities!
10 | Free Play
Sometimes my kids just like to take a bundle of their light table accessories and do some free play! I've seen Magna-Tiles mixed with counting chips and dinosaurs in among the rainbow blocks! They have fun and their imagination runs free. Sometimes, I even get 15 minutes to sit and enjoy a hot cup of coffee so it's a winning situation all around!